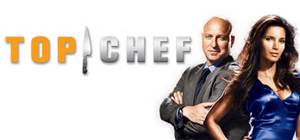 Hi guys, I've been oot with a stomach flu and not able to do much the last day or so (except speak irresponsibly on Twitter), so I'm glad to be back! Top Chef is almost done and it's episode 13 of season 13 and is anyone superstitious at all? Nahh, let's get at it!
The remaining chefs are just as shocked as I am that Kwame is gone, except for Marjorie, who figured it was just a matter or time. Boooo Marjorie! JSierra and I had FAITH!
I can't wait for the challenge; I've been subsisting on buttered noodles for two days, I'm hoping the site of really yummy food gets me back in the mood, ifyouknowwhatImean and Ithinkyoudo.
They meet Padma and guest in a beautiful room filled with sunlight and bread. The guest is Traci Des Jardins, she's a chef / restaurateur in San Francisco; but that's not all! She has two James Beard Awards and owns 5 restaurants in San Fran. FIVE. AND she was on Top Chef Masters as a finalist. I believe I've talked before about this small, incestuous little Top Chef world.
Quickfire Challenge time! Create the perfect Artisinal Toast and eyes rolled so much that I had to sit down for a moment. I mean. Toast. And they're gonna cover a beautiful piece of bread with some hipster tweezified shite and DUDE. Butter. A soft boiled egg with kosher salt and coarsely cracked black pepper: DONE.
The winner of the challenge gets a Rational Oven, which excites the cheftestants and oh, by the way, this is a sudden death elimination, so the bottom two will battle it out with one going home. OVER TOAST. Marjorie and I are squicked out over that. TOAST
Amar is going with fig jam and foie gras again and I don't know bruh...Marjorie is putting Dungeness crab with sourdough and she must have snatched that from Jeremy's table.
Carl is doing seafood and cheese together, which he says happens in Italy. Sure. Jeremy is doing chicken liver mousse and say WHUT? Allllls the herks. Marjorie calls it...aggressive, but since Carl just told a really cool story about how he got interested in cooking, Imma go with him for the sudden death.
Isaac is going fairly simple, but he is mostly focused on the bread not being soggy, the importance of which cannot be overstated, so we'll see.
The dishes:
And the winner is: Jeremy. Oh. Yay. He's VERY 'cited
In the bottom are Carl (told YOU! They HATED seafood and cheese together) and Amar, and I knew when they asked about the balsamic vinegar that he was in trouble. Tom comes in to join the other judges; let's see what they come up with as their best dish. They have 30 minutes: GO!
And Carl is making the so-trendy Crudo; Amar does not want to make the crudo; he's here to COOK! Jeremy is so fcuking annoying as a cheerleader, all "check your seasonings" this and "start plating, guys!" that. Whatever, bro
Tasting time: Amar's is gorgeous but Padma asks if he's familiar with these flavours together and he says no, so..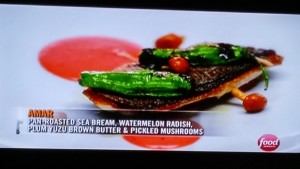 Carl's is pretty too, just very different. It looks like an appetizer.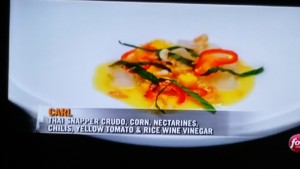 Padma teases him about the crudo (note to self: find out what is this crudo) and Tom just stares like he wants to remember his face always, just as it is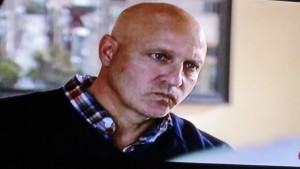 For the elimination, each judge will vote for their favourite and then the other will go home. Padma chooses Carl's, Tom chooses Amar's and Carl gets to stay with Traci's vote. Sigh. Goodbye Amar, your last dish was beautiful and NOT toast.
Now that we've eliminated someone, we're on to the Elimination Challenge! In comes Hubert Keller and Jeremy almost swallows his tongue. It's his idol! Chef Keller was also a judge in the very first quickfire EVER and had some not so awesome things to say about housewives but I can't really get mad; no way I could cook anywhere near their level and I worked in food service for years before becoming a kept woman.
The chefs will be cooking at Hubert's recently closed restaurant Fleur de Lys, only opening for them for one night.
Carl is making foie gras from scratch, in a matter of 3 hours instead of the traditional 3 days and wow, Marjorie is impressed by his risk-taking, but since she's also a dirty player, she may dig the huge chance he will fail. Or maybe a little of column A, a little from column B...people and emotions are complicated.
They have 45 minutes at Whole Foods and $1000. Wow. Jeremy is going with fish, OF COURSE, Bronzinis and I've never even heard of that type.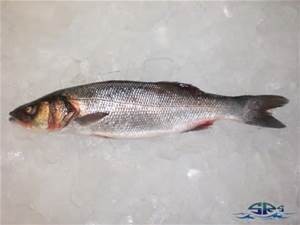 Marjorie is making roasted lamb saddle, sure. With artichokes and olives and tomatoes, sounds kind of Mediterranean? But no, Provencal. Isaac is NOT old school French, by any means whatsoever, but he taught himself to make duck ballotines and eeehh I'm worried for our Ragin' Cajun.
Jeremy's super special old French technique is Pommes Souffle, which involves shaking a pan of very hot oil and I can see why that partic method died out. Isaac is making duck ballotines by cutting the skin off 7 ducks, then grinding up all the meat with added chicken livers (twice in one show? come ON!!), sticking it back in the skin and then rolling it up. That sounds DISGUSTING but I guess it makes it easier to eat?
Tom and Hubert comes in to check on everyone; they start with Marjorie, who is taking almost no risks. Wait until they get to Isaac or Carl! They are sort of flabbergasted by Isaac, wait until they get to Carl! This is FUN!
They actually laugh when they get to Carl, and Tom gently reminds him of the standard procedure for foie gras, but he's cautiously optimistic so...
This is a really big night at Fleur de Lys! So many important chefs to be fed and let's see how our gang does.
Isaac didn't have time to cook the duck they way he wanted to, low and slow then a crisp, but says his lentils are perfect and that makes me worried. It goes out: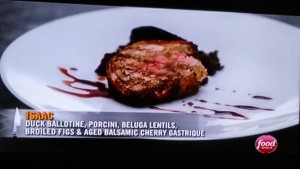 And everyone pretty much says the same thing: great food, needed more time, not quite there.
Marjorie is freaking out about the resting time for her lamb and man I hate lamb. I cannot stand even the smell, but Jeremy is just over how boring her menu is. Tom just wants to know why she went with off-the-bone as opposed to on-the-bone and looks confused when she says she just didn't want to roast it on the bone. I will say that Cook's Illustrated showed me quite clearly that on-the-bone is always better, if you can manage it, because some of the so rich marrow leeches into the meat.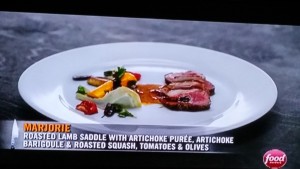 It is not well-received.
Jeremy is freaking out about the Hubert aspect of the challenge; this one will mean the most to him. His food looks really cool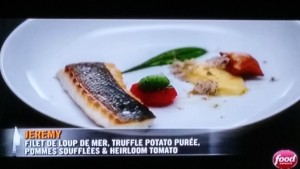 and everyone LOVES it.
Carl's foie gras is up next and this is make or break time. Either it set, or it didn't. Either it cooked in the confit or it didn't and either it tastes good or he's going home. It looks lovely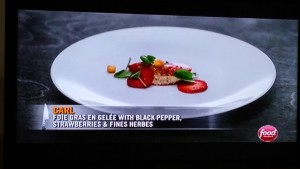 but it is undercured and not good. Too bad, Carl.
The chefs are all cuddling in the back and it's easy for Jeremy to say "stand behind your food" when everyone loves his, pfft. Trickier for Carl. Of course Jeremy wins and absolutely loses his shite, oh my goddddd DUDE. He's in the finals, yay! I will say that I'm impressed how he's turning it around in the last leg; he and Kwame started off really well and then..didn't sustain all that well. He's really showing what he's made of, I just wouldn't let him run my kitchen: full stop.
Marjorie knows her food wasn't 100% and she cries. How she cooked the lamb was wrong and since we got a look at her friends and family at home this episode, I'm worried. Although I do love how Top Chef doesn't typically use a heavy editing hand, not clearly forecasting who is going home each time. She thinks she reacted poorly to the pressure, so Padma reminds her that it's just going to get worse from here on out. I love that Marjorie is honest and says she hopes that will make her fight harder, but. Come on, Marjorie, pull through, you got this!!
Next up in Carl, who apologizes for his ego getting in the way of the experience of the diner, so he must have understood how poorly it went for him. I'm a little surprised by that, given how he said right at the table that he was happy with everything about it and they asked him just a bland "how do you think it went" question.
They ask Isaac about how he thought his duck was; he thought great, but the judges disagree. Emeril has to tell him he missed the mark and I'm sad for my Cajun. I found myself looking at Emeril the most during the dinner, given his relationship with Isaac and I was worried people were going to be rude about Issac's food in front of him.
A very lively judges table ensues, they call the cheftestants back in to psych Marjorie out, then telling her to stand with Jeremy, and finally: they send Carl home. I'm not happy, exactly, he was a great chef, but I like Isaac more and I'm glad I get to see more of his food.
Bai Dr. Funky Fresh!
Isaac is ecstatic! And they're going to Vegas, baby, Vegas! Marjorie can't believe she made it to the finals, she compares Top Chef to an extreme sport and I couldn't agree more, if extreme sports had tweezers and a metric tonne of crudo.
AH HA! I saw a very quick shot just after the Last Chance Kitchen promo and it's KWAME running, woo hoo!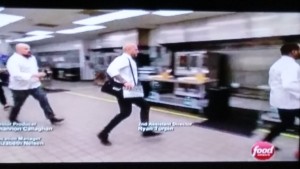 He must have won Last Chance Kitchen and be competing! Yay!!! On that happy note, we oot! I was sad to see Amar go, I think he could have KILLED a classic French challenge after he won so definitively last time, and I thought Carl was gonna hang in there, but that was a big risk. I get it, I've done stuff like that on a much smaller scale while catering a party, but in the end, he dropped the torchon. Buck up, Marjorie! YOU'RE IN THE FINALS!! YOU GOT THIS!! Next week we start the final two shows, see you then!