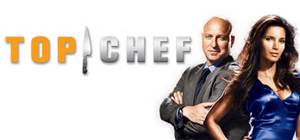 So that's it! We're down to the final two on Top Chef, let's go into all the spoilers after the break!
Last week Jeremy won the first challenge and Amar won the second to knock Isaac and Marjorie out of the finale and set the stage for this week.
Side note: Amar had a run of really good food and really mediocre (Top Chef mediocre, so like still AMAZING) dishes, but his technique is among the best. Although I would have preferred a Marjorie OR Isaac win over Amar, I really hope he beats Jeremy, because I could not have been less impressed with how Jeremy handled Restaurant Wars. He sunk his team and showed what I consider to be major character and organizational flaws and I hope he isn't rewarded with another $125k, however well he pickles his grapes.
The boys are playing pool IN THEIR HOTEL ROOM because that's how Top Chef rolls, son! Doorbell rings! Wait. Do hotel rooms have doorbells? I guess ones with pool tables do. It's Tom! And he's come with champagne and to cook for THEM! Yay! He hasn't cooked a single meal in 13 years on TC, wow and now he's doing it for them! So cool.
He gives them a little tutorial and it's so cute that he wears glasses to cook (nearsightedness is adorbs!?!) and has to get really close to the food while plating as well as talk to himself to remember stuff. It's like he went from hot Tom Colicchio, famous and successful restaurateur and world-renowned chef, to pe-paw in the kitchen trying to not forget the finger limes. Awesome! His food!
They eat their amazing food, talking about their journeys, hopes and dreams. Amar wants to represent his Latino heritage well and I just wanna know if Joanna is gonna be there at the finale! Joanna!!
Jeremy wants to represent for support network, friends, family and the daughter he is raising to believe that super competitiveness is the only way to succeed. So gonna let that go. Any minute.
It's the next morning and showdown time! They come into the Top Chef kitchen to find all the previous cheftestants, and I thought a bunch had arms in slings, but no! It's their knives, they're here to work! Yay! Frances is back, she was one of my very faves!
Amar and Jeremy get to pick. Amar gets to choose first and grabs Kwame. Jeremy is NOT HAPPY. He chooses Carl, also a technical wizard, so all will be fine and equal. I don't know who else Amar would have picked. He didn't seem to get close to anyone and ended up with Phillip by default last time. He wins my ever-loving heart when he chooses Marjorie too, woo hoo! He wants to make desserts and she ain't afraid of no TC dessert-curse no how. Jeremy goes with Angelina as his backup, and that makes sense because she's fast, I just would have liked to see my sous-chef soulmate up there.
The final challenge is to create a four course meal highlighting a different ingredient in each course, as Tom did in their hotel meal. With their own ingredient choices, whew. I thought maybe they had to remember what Top had highlighted as part of their challenge. They will be serving their meals to a full dining room at Tom's flagship restaurant CraftSteak.
Just one more thing... and the chefs mentors walk out. Jeremy is visibly moved seeing Jean-Georges and Amar almost cries seeing Charlie Palmer, but looks nervous too. They had words when a cocky Amar left Charlie's side years ago and ALWAYS STICK BY YOUR CHARLIE! I hope they're able to make up, it's bittersweet for Amar right now.
Their mentors will ALSO be helping prep and cook, then judging. That will either be very good, or very very bad. Amar is super nervous and I really think he should take Charlie aside to settle things right off the hop. Bobspeed chefs!
The menus: Jeremy is starting with a pepper-crusted foie gras with passion fruit. He also wants to do  duck breast, and his four inspiration ingredients are duck, bronzini, foie gras and cheese. I was really excited about the cheese until he explained that he meant sheets of fresh mozzarella. Boooo!!! Gimme camembert, I'm a heathen!
Amar is going with sashimi, hamachi with coconut lime and I'm pretty sure those are all real words. The four ingredients he wants to highlight in his menu are: tuna, sea urchin, lamb and coconut. He's doing a roasted Moroccan-style lamb and a coconut financier for dessert.
Amar is struggling a bit with the power dynamic. He worked for Charlie Palmer and only said "yes Chef, yes Chef, yes Chef", so all this ordering Chef around is giving him the sweats. I hope he gets on with that talk soon.
Jeremy is working some weird ingredients in to his little foie gras tubes: crispy quinoa, ginger, erh ooh?
Over on Amar's team, that rift between him and his former mentor is just this big old chasm everyone is tip-toeing around. His first dish is seared ahi tuna tataki, second is sea urchin and lobster risotto, third is roasted rack of lamb AND braised lamb bastilla and dessert is the aforementioned coconut financier.
Tom and Emeril come in to see how things are going. Lots of reminiscing, etc and it eases a bit between Amar and Charlie. Amar says that after his dad died, he really looked at Charlie as a father figure and I think maybe this will go okay. Prep time done! Back to the hotel
Amar fills us in on another Top Chef superstition: whoever wins the first challenge usually wins the whole thing, and since Jeremy won the first challenge, Amar figures he's the underdog.
It's the next morning and it's SHOWTIME! Amar is like me, game day he just puts his head down and gets to it. Jeremy wants to talk. Now, I'm a big fan of talking but not when there's shite to do.
Wow, Amar won a cooking competition with an omelet and vegetables and won a scholarship to Le Cordon Bleu in London, go bro!
Jeremy is sweating like a hewer in church, he doesn't cook! He's a Chef de Cuisine, he tells others what to cook, says Amar. But. He's been cooking all along?
The restaurant is packed with friends and family and former contestants. Padma says "welcome" and Tom says 'WELCOME TO MY RESTAURANT!!" and we just know there was a "PADMA!!" on the end of that.
Both chefs realise all of a sudden that their families are there; everybody tears up.
Now the food tasting! Jeremy's is up first with foie gras two ways: hot and cold. I gather that foie gras in two days has been featured in the last two finales (and once in three hours) unsuccessfully, but the judges all love Jeremy's. Jean-Georges wasn't so sure...but Charlie calls him out as the person who made sure that foie gras was successful. So pretty I had to show it twice
Look how pretty Amar's is? It's got habanero pepper in it, which gives the judges a little bit of pause and a whole lot of HARD PASS from me.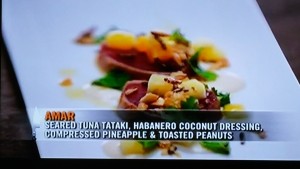 Jeremy is having problem with his fish fillets, he packed them all ten in a spot and a bunch didn't cook through and the rest all have to be pawed through now. This is where him not cooking that much might come into play, but he's not done yet!
Amar is concerned also about the big risotto risk he's taking, that being the kiss of death on Top Chef, along with desserts, but we have faith!
Next course food: Jeremy's looks prettier but Amar has butter poached lobster and shellfish froth, soooo you can probably guess where my vote is going.
Back in the kitchen, Jeremy's disorganization has run him short on duck cooking time, just straight up execution error. I hope he manages to pull it out, he has time and help, so maybe. Nobody wants to lose that way.
The food:
Amar's lamb is undercooked. Everything else is delicious, but the lamb is definitely undercooked and that will be a problem. Jeremy's duck is ALSO undercooked, that's the only thing that saved Amar just then.
Last course and last chance to dance, fellas! The choices could not be different; Jeremy is incorporating a lot of fancy technical stuff involving nitrogen and Amar is making cake with icing. Again, I would much rather go with Amar's food, but I admire Jeremy's style.
The dessert:
Jeremy's dessert is all technique and no heart, Amar's is heart but a little bit tough. So.
Judges Table! The final JT! They're talking about their moms and then their dishes: Jeremy thinks his duck was perfect; Tom thinks that's "interesting" and explains how awful his was. If I was a betting woman, my money'd be on smirky Amar just now. They turn to smirky Amar just then and ask how HE likes his lamb cooked, rare or medium rare? Let's just call that course a complete wash all around.
The judges tell our chefs that it was too tight of a race to call. They need to chat! Go...  Sit! Overall, they come down to: the winner is Jeremy. Amar looks so sad.
And we're oot, chefhumpers! Huh. Y'all know I wanted Marjorie to win and failing that, Amar, but I respect Jeremy's work and good for him, he earned it. Peace and angelwing froth with shellfish jelly!
Join us! One of us! One of us!