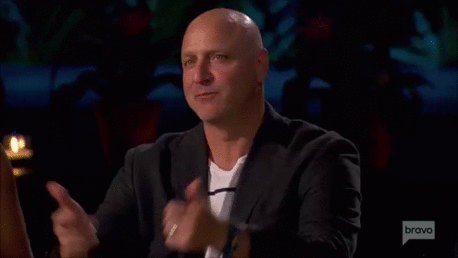 Welcome to the final finale of Top Chef Charleston! There are only three chefs left and only two will make it to the final showdown, who will it be? I know who I think will take it, how about you? Let's find out so I can go back on the Twitter!
Brooke Williamson figures she's ready to take that final step to WIN Top Chef instead of being a runner-up; cheftestant Shirley Chung figures this just cements that cooking is her thing. Um. Shirley? Were you not sure? Sheldon Simeon is just here to party, y'all. He's awesome and ready to get his mink coat on to party with Jay Z in the heat of Playa del Carmen. Hard pass on all of that
The chefs go snorkeling, there's so much cool stuff in the water! Turtles, neat looking fish, too bad it all wants to touch me ;(
Brooke calls Top Chef "selfish" and I can't agree with that; tending to your own personal growth is not selfish. You can't take care of anyone else if you aren't taking care of yourself.
A note from Padma Lakshmi warns them to beware of heat, is it going to get HOTTER than Mexico? That's just mean, yo. She looks manic, yes?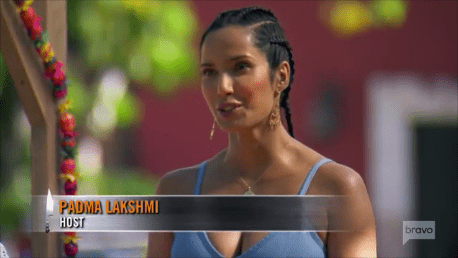 Whereas guest judge Ricardo Munoz Zurita couldn't look more chill if he was asleep. Is he asleep? Next to Padma from the Block there in her powder-blue jumpsuit.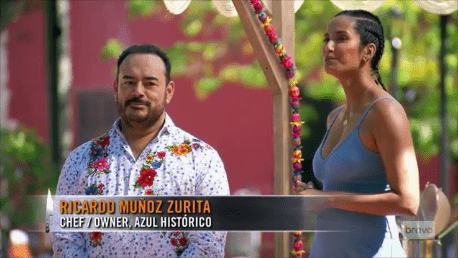 Padma hopes the chefs are liking Secrets Akumal because the challenge winner gets 7 days to any Secrets resort anywhere! Wait, is Secrets an adult-only resort? That's kinda what it sounds like but I couldn't find any suggestive materials on their website. Only $2400 per night for a couple for the Presidential Suite, though! Sign me up! I'll need a plus one, thanks.
The habanero pepper is the focus of their final Quickfire Challenge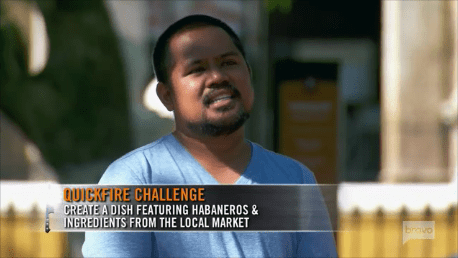 But since I throw up just tasting food that may have come in contact with habanero peppers, Imma take another hard pass. I don't even know how they're going to accomplish that but I'm just enjoying watching it from safety where it can't hurt me.
Sheldon doesn't speak Spanish and has no idea what he's bought; good luck, Sheldon! He feels the same way about habaneros!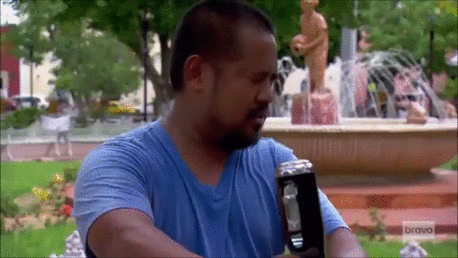 Oh shite, Sheldon thought he bought cheese at the market to stuff his something-or-rather but it turned out to be a tamale. Sweaty Brooke can't get her salsa blended, how do you get over-sweaty HANDS?
Time for tasting! Brooke's first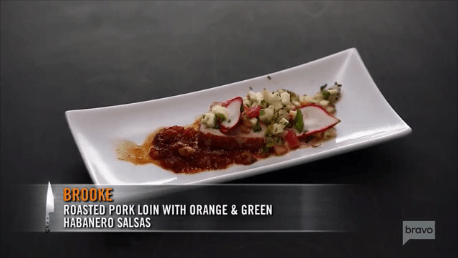 Sheldon has an unusual presentation but the guest judge recognises the tamale / not cheese right away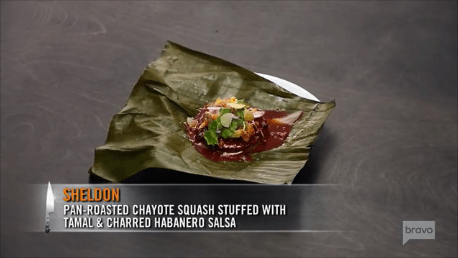 Shirley used poached eggs and an orange habanero pepper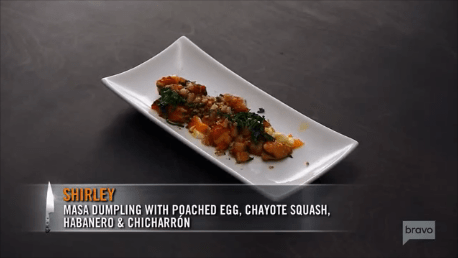 They all did really well! Shirley gets great reviews, Sheldon's was too spicy but Brooke gets raves. And she wins, yay! Mexico is her victory lap, amirite??!
Jeremiah Tower is here to tell the chefs what their last challenge is as a trio; Brooke is starstruck. This is an old but cool photo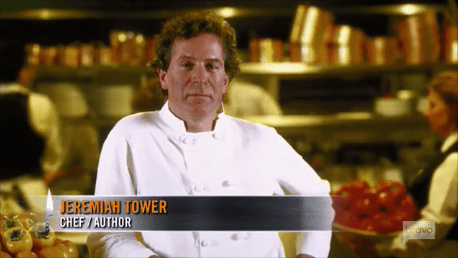 The challenge is to go back in time, using traditional Mayan foods and methods, i.e: cooking over an open flame and no tools except their knives. Mannnnn. I agree with Shirley, this is a gimmicky as hell challenge for the LAST challenge, throw 'em a rope!
Chefs Zurita and Tower explain a bunch of the ingredients and methods to the cheftestants, that looks fun! Then the drinking and visiting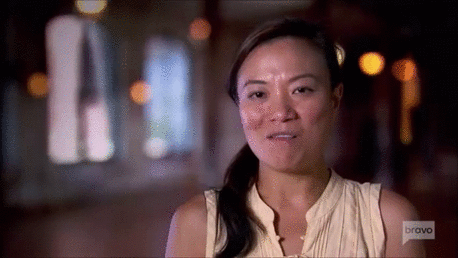 Sheldon ain't 'fraid of no lady chefs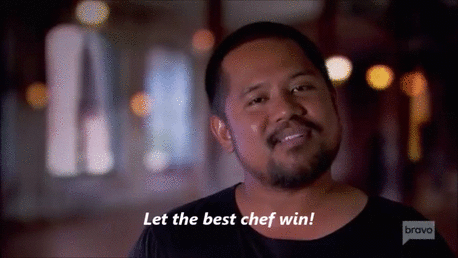 The pit is crazy archaic; and there is no acid within the ingredients. Brooke and Sheldon freak out, but Shirley just rolls with it. The meat keeps sticking to the grill too, they are not giving these chefs anything to work with!
Brooke's dish is the first to be tasted, hey look! Graham Elliot is there! And everyone wants to know why it's sweet, which is her BUGBEAR. Graham loved her grilled snapper, Guillermo Beristain thought her garnishes worked against each other. Roberto Solis just felt it was flat.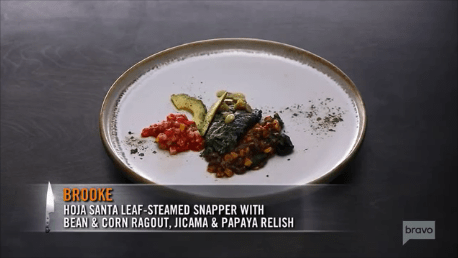 Sheldon's dish already has Tom Collichio crying "spicy"; people do not like how hot he went with his food and the fact that his fish was mostly still on the grill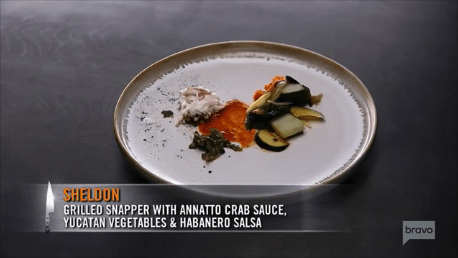 Sigh and I've just realised that we are NOT in the finale! There is still another episode to go, my bad. That's two weeks now I've run it up the flagpole to no avail!
Shirley's up!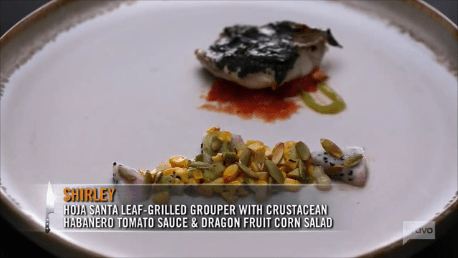 Jeremiah Tower is impressed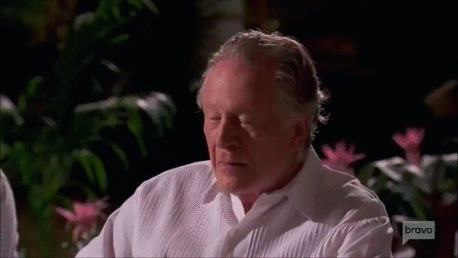 BUT SHE'S A GROWN WOMAN, JEREMIAH. THANKS. Such a pet peeve.
Judging time! Tom is 'CITED!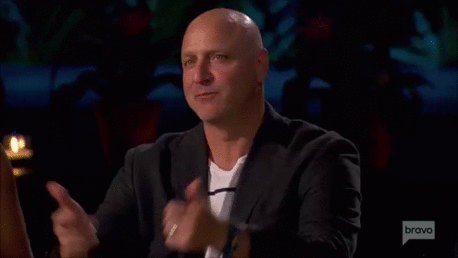 And the other judges wax ecstatic about how awesome it is to cook like this, Brooke motions them over: HAVE AT IT, ARSEHOLES!
And then Shirley wins and I am bummed, I am not going to see my favourite two in the finale. Which should be next week or maybe the week after that, apparently I can't read episode guides.
Yay, Shirley, I'm so glad you're sure this is your vocation, yay, awesome.
Aw and Sheldon's lack of testing his fish on the grill is going to send him home. Or Brooke's lack of cohesion and plain fish will sink her.
But in the end, it is Sheldon who is sent to pack his knives, which means Brooke makes it through to the finale and I can't even be happy about it, because I am so sad Sheldon is going. He was just so solid and consistently amazing. Go on, Sheldon Simeon, you impressed me greatly! There was maybe some crying on and off screen when he left.
And we have an all-ladies finale probably next week, if not the week after that, so sharpen your knives and get ready to see some amazing food! Cheers