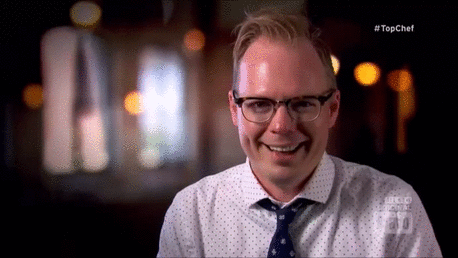 Hi everyone! I'm excited about this episode of Top Chef not JUST because it's Top Chef, but also because I love southern cooking and it makes me think of my friend HGM. Let's roll Southern Hospitality! Wait, WHAT? I just see now that I missed who went home last week, I thought they left a cliff-hanger
Last week Jim won and Gerald was sent home after a sudden-death cookoff against returning chef John Tesar. Gerald has five kids, man! He did great for coming out of the gate, though, Tesar had TRUFFLES.
Now it's time for the cheftestants first elimination challenge; Jim can smell the Old Bay and he thinks he knows what's cooking. Guest judge Frank Lee is gonna break it down for the rest of us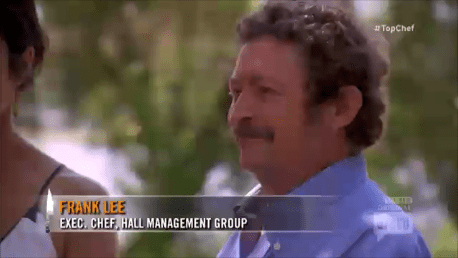 This is Low Country Cooking and I'm sure they're gonna explain what that means. We don't have to eat frogs, do we, HGM? It's a Low Country Boil! Sheldon would like a beer, peez.
I'm sorry for the quality of my pictures, they're looking a leetle hazy.
Jamie has a restaurant right around here, cool! I really really dig his voice. Now for the challenge: the group will be split into two teams, each time will dine at the home of a renowned local chef. This will give them their inspiration for creating their own family style meals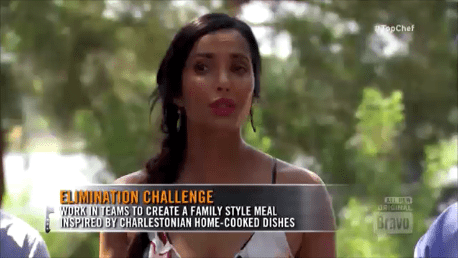 There was a caption! I had to use it. The teams are split along expected lines: Rookies vs. Veterans. Emily chooses to take this personally.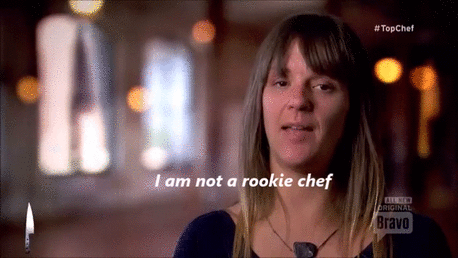 She's the feistiest person with no chin I've ever seen!
Look!!!!! BJ gets a caption AND a last name!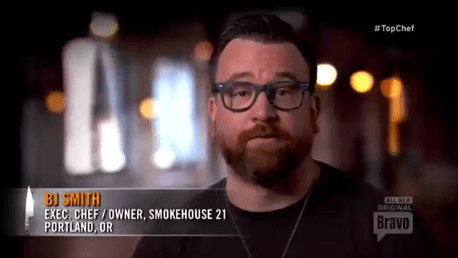 Hey BJ! Everybody loves BJ
The Rookies will be dining at the home of Carrie Morey, who has a business called Callie's.Hot.Little.Biscuit and really??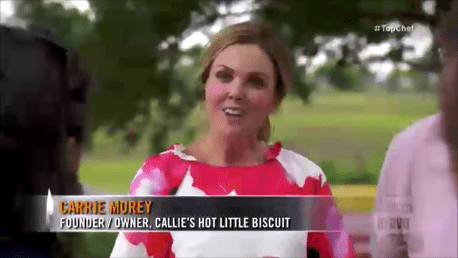 The Veterans will be dining with ANOTHER BJ, I told you everyone loves BJs!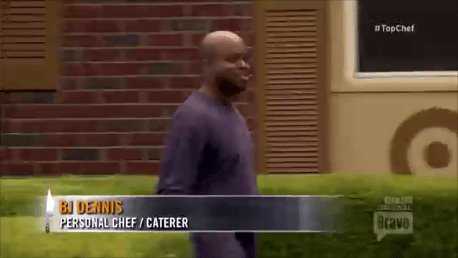 BJ has the same colour Le Creuset dutch oven that I do!!!! His is just oval instead of round like mine. I choked on my tea. He will be teaching them about the Gullah culture, which Sam explained to us comes from west Africa and was brought over during the Slave Trade. BJ will be making OG gumbo, who wants to help him cook?
This is the second time they've mentioned the Slave Trade this season, it's making me flinch. Charleston must have been a hub.
Carrie's girls are helping cook, now the chefs are going to jump in. Of course they're making biscuits, cream cheese makes them twice the fat, yay! I think Emily fainted in the corner when she heard that. Next up is deep fried porkchops, which gets BJs wheels turning. He's known for meat, and he's frying these massive porkchops in a cast iron skillet and then I pass out. Honestly. How is Carrie so slim?
Sylva will be pulling chicken, it's just like when he was a child in Haiti. Look, I'm not even getting twitchy when we hear backstory, let's meet everyone!
Casey grew up poor in the south, she knows all about hush puppies and cornbread.
Um
BJs Le Creuset dutch oven still has it's label. WHY WOULD IT STILL HAVE IT'S LABEL?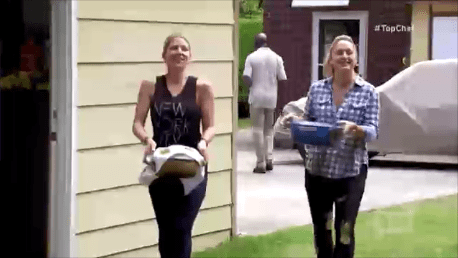 That's exactly the same colour as mine, though!
Carrie and the Rookies are serving up Hopping John, buttermilk biscuits, squash casserole, fried porkchops, permanent slaw (?) and a tomato pie.
Awww, Annie grew up in a hippie commune too! Hers looks warmer. Jim calls supper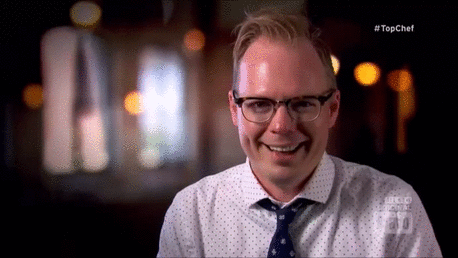 Casey cries while she thinks about the communal aspect of food, everyone looks very happy in the less formal backyard bbq-style supper at BJs house. Awww!
Menu planning time! The Rookies will be making variations of Carrie's menu, which confuses me because weren't the supposed to be inspired by the cooking and not copying it? The difference between homage and plagiarism.
And the Veterans are cooking Gullah-style
Annie is not very assertive; everything she tentatively suggests she would like to do, someone else has already spoken for it. She's upset, but again: not SAYING anything, so she gets stuck with Tomato Pie, which looked great, except for that it has tomatoes instead of cherries so I'm confused. Little help?
Shopping at Whole Foods time! $500 woo hoo! Brooke is sourcing corn from the stockroom, the list is lost, or it isn't and Sam Talbot figures the timing of this challenge couldn't be better. He's going to be opening up a fried chicken joint in Brooklyn!
BJ bought a $120 pork loin. The whole loin. $120 and the whole team only has $500. Emily and I want to know: is he shitting us??
The Rookies fight it out and Shirley just smiles. Rookies.
Casey throws "whore" out there again; you're a great chef, Casey! Try to focus your branding.
The Vets are drinking and laughing and having a great time while the Rookies sit tightly on the porch and talk about the fact that they decided to not make biscuits.
They went to a chef's house; one whose entire empire is built on her double-fat biscuits
And didn't incorporate their little hot biscuits into their menu
In FACT, Annie didn't HAVE a menu item to work on, and she went with Tomato Pie, grudgingly. INSTEAD OF BISCUITS. I'm just going to say goodbye to her now, if not BJ and his stupid entire pork loin that was 25% of their budget.
Cook time! Jamie is doing the summer squash casserole, he will not be burning veg tonight!
Brooke's making biscuits on the Veteran team; but there are no oven racks. How can there be no oven racks? She's just going to cook them on the bottom? What?
Casey's doing collard greens with coconut milk and a delicious-looking pineapple, trout roe, etc etc. She doesn't want to "cook the piss" out of the greens, as her family would say, it's a risk, but one she is willing to take.
Tom and Frank are coming to see what's shaking; John's making a crab gravy with Carolina rice and caramelized okra. I swear, I wasn't hungry when I started watching this show!
Silvia's Italian Hopping John sounds interesting, it has farro innit. Sheldon is making eggplant stew (hand hovering over the Pass button) but oh, he's making it Filipino-style, woot! I'm in.
Annie's still pissed about making the Tomato Pie; too bad she couldn't have chosen another southern bakes delicacy instead. She was just featured in the Wall Street Journal for her Green Tomato Tart, so maybe she'll knock it oot anyway. Looks purty!
Annie is struggling and she's just not speaking up enough. These chefs need you to throw some 'bows if you want in there, nobody's going to give you anything, they're all scrambling too.
We have a bunch of guest tasters for the challenge; Sean Brock looks all calm waxing nostalgic about the room they're dining in being around since 1778, but he has a massive chest piece tattoo. Incongruous!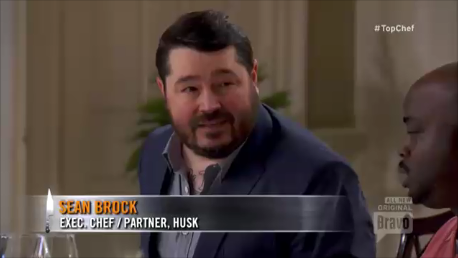 Jamie burnt his vegetables.
Again
Time for service! Emily is humbled by all the accomplished chefs at the table, eeeh! Rookies first: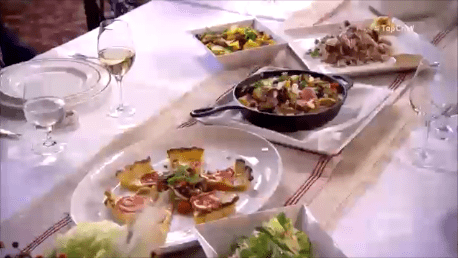 Don't THINK Carrie hasn't noticed that you didn't serve her biscuits, Rookies! You could call that a
Rookie Mistake
*ba dum tish*
Okay, Padma calls it a "glaring omission" and not just because it's expected, it's also disrespectful to the chef who hosted you at her house. Padma and Tom do NOT like it when cheftestants are disrespectful to their guests.
Food time! Jim's up first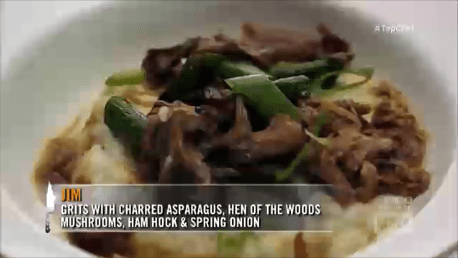 Silvia's is under-seasoned and fussy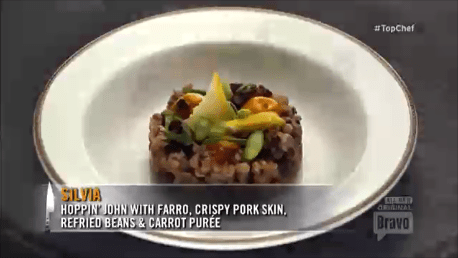 Emily's salad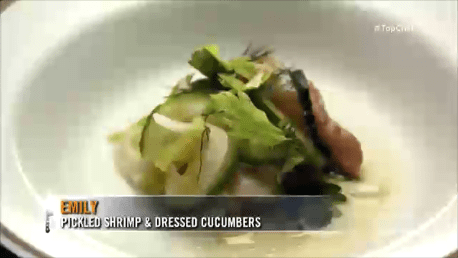 BJs inconsistently-cooked pork puts paid to his assertion that he's a meat guy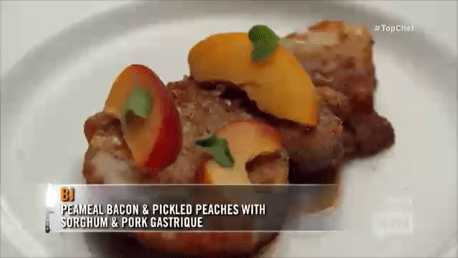 Let's see how amazing Annie's Tomato Tart is; erp. raw dough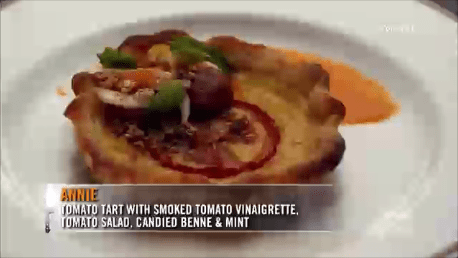 Sylva's cornish game hen needed more permanent slaw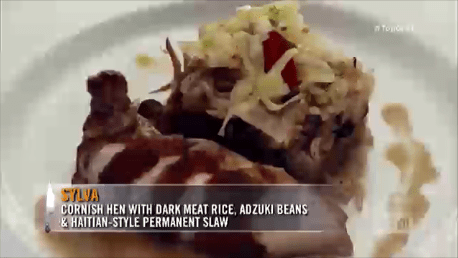 Jamie's veggies are complicated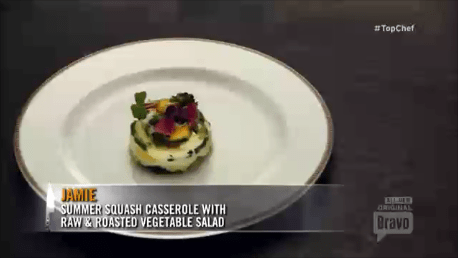 Tom calls it overall a nice meal, yay! Good job Rooks
But here come the Veterans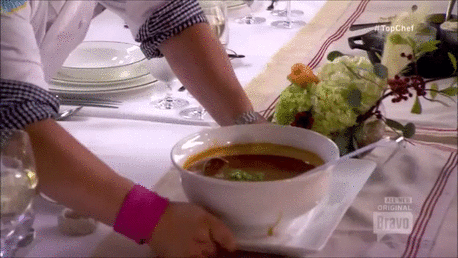 And broken down, starting with Shirley's soy-y stew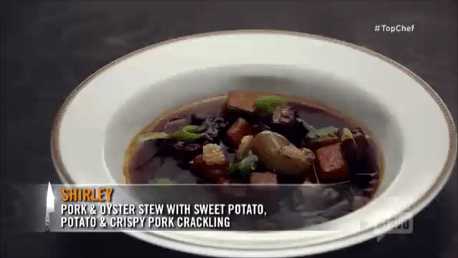 Followed by the Carolina rice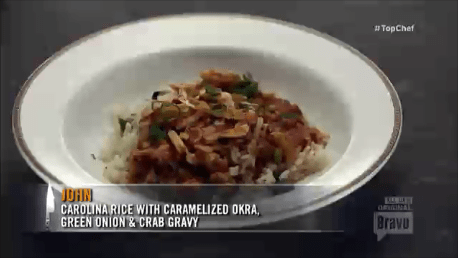 Brooke's sweet corn biscuits are standing in for dessert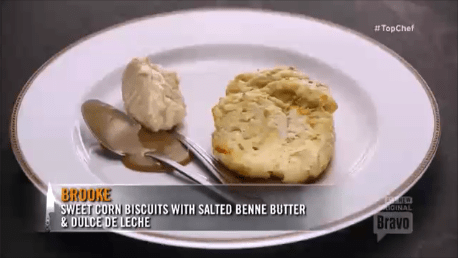 Amanda made ceviche, which is southern? But a lovely palate wakeup, BJ approves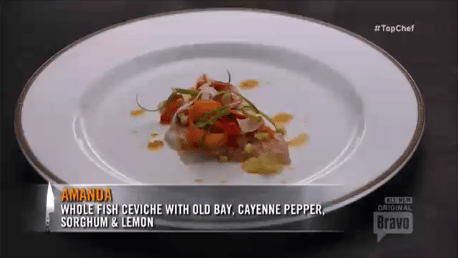 BJ also loves Casey's take on collard greens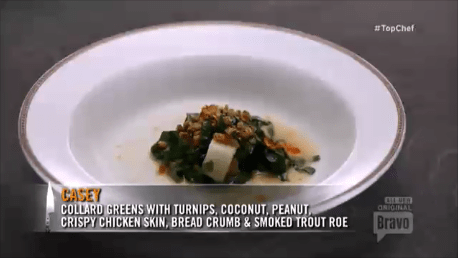 Not sure about Sheldon's dish and neither was Michelle Weaver, but it made her a believer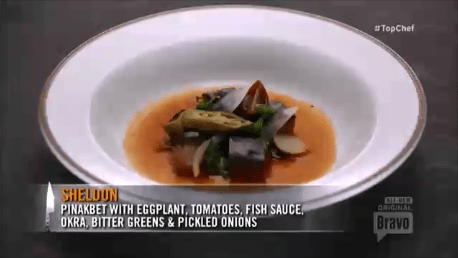 Katsuji's shrimp soup is delish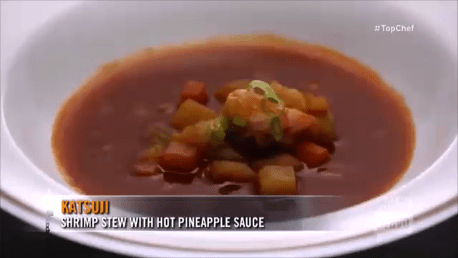 Sam's fried chicken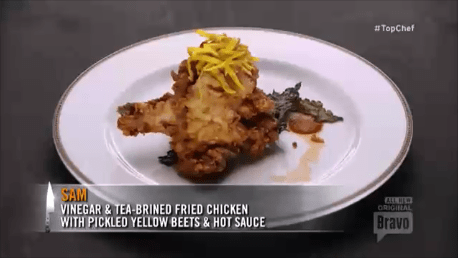 Cheers and rose wine for everyone! Woo hoo!
The Veterans won the challenge; top three are Casey, John and Sheldon. Yay guys! Go Casey! John looks like he's gonna cry. Casey takes it, yay! Good job!
Now for the Rookie team; BJ, Annie and Jamie are up for elimination. Jamie looks as though he wants to cry but BJ's meat was super terrible. I think Annie is really in trouble here, it was a conception error. I can make biscuits, start to finish, in 45 minutes, WITH kids helping (and making dinosaur-shaped biscuits no less), but pie dough takes too long.
And going home is: Annie, as foretold since time began. Last Chance Kitchen starts this week! Go Annie! You know she's not going anywhere, right? Until next week, guys! Love you, mean it!