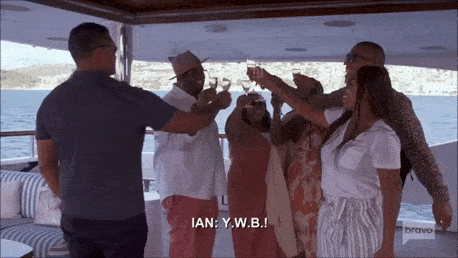 G'day mateys and welcome back aboard Below Deck Down Under where the food is bad, the chef is lit and at least one steward has nipples gone rogue. Rolling into my recap of BDDU S1:E07 The Safety Dance after the break!
We're in the middle of a night out on Below Deck Down Under with no fun shenanigans in sight, just poor management and a lot of Jack and Coke.
The team is at supper with bosun Jamie Sayed taking deckhand Benny Crawley to task over an unsafe incident earlier, but in front of everyone.
I'm a bit confused as Jamie also said that deckhand Brittini Burton performed a very unsafe act but hasn't seen fit to yell at her at a table full of mostly relaxed co-workers getting off their faces.
Never mind, everyone is more distracted by drunk chef Ryan McKeown spilling his shot JUST BEING HIMSELF as hard as he can. Chief steward Aesha Scott and second steward Tumi Mhlongo both get blasted, the difference is that Tumi has a bit of a crush on Ryan and thinks he's just not like that all the time. He's really a nice person deep, very deep, down inside.
Right.
Time for shots and dancing at another club where Ben physically hangs all over Brittini and Ryan talks to Aesha about how awesome their work relationship is. He can just tell her to go eff herself and go vacuum and everything is fine!
Aesha: NOTHING IS FINE.
Ryan cautions her to never ask people how many yachts they've worked on, he's joking, right? I am so sad that he is genuinely sincere right now.
Third steward Magda Mirbek is in an intense relationship with her soulmate; she's furious to see he's out doing something in wetsuits with another woman. Party's over!
Back on Thalassa, Jamie walks in on Brittini with her boobs out, who would just walk into a room?? He could knock! Brittini says she's in heat and will be disappointed if this is the most action she sees this season, so allow me to shut up.
The next morning it's quiet and busy, charter pickup must be just in a few hours. Captain Jason Chambers is very happy to see the clean laundry room; I hope Tumi doesn't get stuck down there just because she's so good at it.
As usual, Ryan's not working much, watching videos on his phone while Aesha judges him from across the galley.
Preference Sheet Meeting woooooo! Our next Primary Charter Guest is Jenale Scarlett who is a aerospace engineer with NASA?? I love smart peeps! He has some artistic looking friends joining whose names I was not able to catch.
Nothing really crazy for food requests; one guest is lactose and gluten-intolerant so Ryan will have to do some work. Aesha takes Captain Jason aside to give some feedback on Ryan's work, how is it she hasn't said anything until now?
Captain Jason listens, I think he plans to become more involved like he did with the deck crew.
Three and a half hours before charter Benny's toilet overflows again. Deckhand Culver Bradbury slaps on one of his mullets and attends as Keith Stone, Plumber. They find one of Magda's white service gloves has blocked up the toilet, no idea why.
Captain Jason wanted to leave the marina at 10:00 am, it's much later because the deck crew isn't ready. Jamie and Culver take the tender to dock to receive the guests, who look young and trendy and extremely attractive. We've got Tom Gay, Luda and various other Black American guests so I getta use my Yachting While Black gif with Jemele Hill!!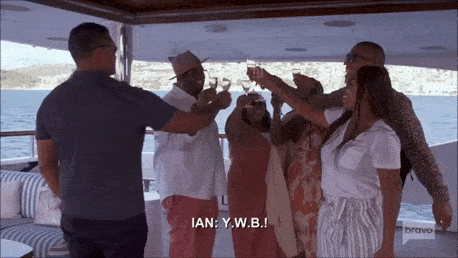 Wooooooo!
Aesha leads the boat tour, Tom Gay from the USA is acting suspiciously like a certain Australian Exotic Dancer of the Year. He's on the ottoman, the master bed, if he gets in the shower too we'll know Dazza has been reincarnated!
Benny struggles with the lines on the swim platform; how can ordinary boating tasks seem to catch him so off-guard? He said he had all of his qualifications, right? Like loads of them. Captain Jason comes to help then calls Jamie to tell him what he should have done.
Guest Tom and another fella watch; cute little deckhands, yes?? Yes!
Magda accidentally lies to a guest, telling the one against gluten that some of the food is gluten-free when it is not. Aesha brings up gluten-free crackers, Magda argues with her in front of Tom Gay from the USA that Aesha lied to HER and Aesha about pops a biscuit.
Not in front of the guests!
Captain Jason directs the deck crew in a montage that made no sense to me while Ryan brings up a tonne of shellfish. Guest Tom Gay asks for some carbs; surely there will be some salad or something? Ryan grudgingly agrees to make one; Captain Jason is watching everything. Later he texts a chef who is a friend, asking him to stick around.
That's an unusually fast move for someone who wasn't aware of what's going on two hours previously.
After lunch it is all water toys all the time, woooooo! The deck crew sets up a station on Whitehaven Beach, the sand is gorgeous and Culver is allllllll over it.
Aesha looks all over the boat for Magda, finding her cleaning up her own room below deck. What.
The guests go for a wander out of sight of the deck crew on beach; Jamie unsuccessfully tries to reach Thalassa to have them send out a tender. Why does he stand out there so long? Why is nobody in the water with them already? Why didn't they keep the mini-tender? Jamie swims out to see everyone after Captain Jason swings by in the mini-tender.
Just before sunset, the guests head back to the boat for welcome drinks made by Tumi as Magda chats with her boyfriend below deck.
There are few relationships that can take long distance; an obsessive one with jealousy and lots of contact needed is not going to work.
Captain Jason has been pushing the deck crew all day, they're only going to learn from it! Except now he's going very fast with the tender not properly hooked up and Jamie is losing it.
Captain Jason does not take Jamie's feedback and suggests instead he talks to his crew about what needs to be done because they're not doing it.
Jamie tells his crew exactly the opposite of Captain Jason's suggestion; telling them to not perform any unsafe actions regardless of whether or not 'that guy' tells them to. Then he threatens to leave the boat, maaaaan, I know you're new to management, Jamie, but this is not a good look whatsoever.
With that, we're done for this time! Cheers!