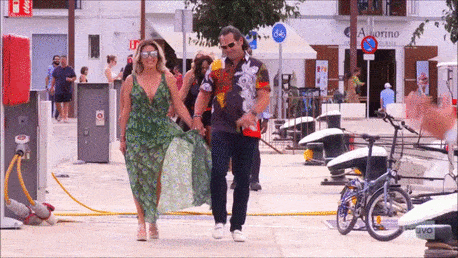 Hello! We're on our way to Ibiza to pick up Johnny and Michelle Damon on Below Deck Mediterranean, no way anything could go wrong, right? We've got our fave kiwi on board, let's find out what's shaking in my Below Deck Med S5:E14 Whole New Ballgame recap after the break!
I didn't realise we'd just met new/returning second steward Aesha Scott, I already thought we've had her forever! She just turned up, though.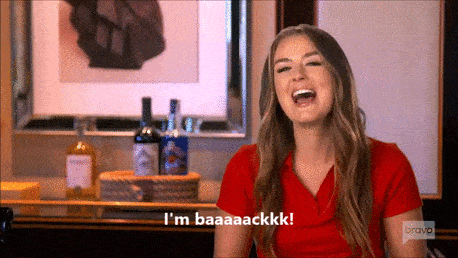 And is now meeting everyone new. She gets hugs from Captain Sandy Yawn, chef Tom Chekkets (wait, he has a Michelin star?? That's how Captain Sandy just introduced him), third steward Jessica More and a handshake from her new boss, chief steward Christine 'Bugsy' Drake.
Now that Aesha is aboard, Captain Sandy sets sail for Ibiza to pick up Johnny Damon, his wife Michelle and the rest of their charter group. It's super quiet as it's not even quite 7 am, full speed ahead!
(That was for the less camera-friendly crew members actually doing the boat-y parts)
Aesha was here last time Johnny Damon and his gang were on, in episodes S4 09-12   so she knows what to expect, at least. I really like Aesha because she's super positive and doesn't seem able to hold a grudge. She's basically my opposite and I love her sunshiney personality!
Deckhand Robert Westergaard is not looking forward to Ibiza, he used to party when young and avoided it like the plague, he didn't think he would come back from it. According to all the Bravo teasers, his relationship with Jessica might not make it either after Ibiza.
Aesha finds out about Rob and Jessica then fills us in on her relationship with deckhand Jack Stirrup. It ended badly, he was cute but lazy and went back to an ex-girlfriend. She's happy that Rob and Jessica share a room, they can have a "cheeky pound" before heading back to work, yeah? Rob likes Aesha already!
Jessica likes her too, but she still wonders about one thing:
It's because...you're kinda slow, Jess. For reals. Bugsy takes her team into the salon for a meeting, Jessica will be just in the laundry getting caught up from the last couple of charters. Boooooo but basically, yeah.
Bosun Malia White leads a very tight docking in Ibiza, lookit this hug!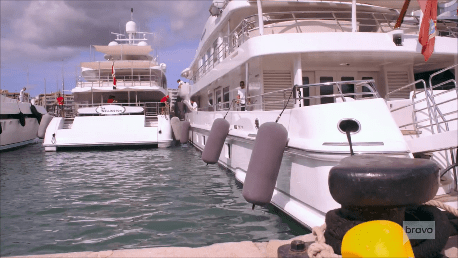 Hundreds of people watch as Captain Sandy carefully and blindly guides The Wellington into its berth with Malia's assistance, both boats on either side have their fenders out too. It goes like buttah.
Time to get into dress whites and meet the Damons!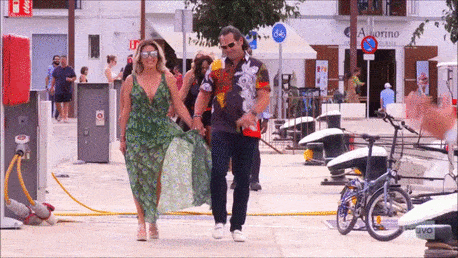 They're so happy to be there and the crew is happy to see them! Especially deckhand Alex Radcliffe from Boston where Johnny played some ball? I dunno.
Bugsy takes the group on a boat tour, I think...she lacks the authority former chief steward Hannah Ferrier had, yeah? Bugsy is all about customer service, but doesn't have...gravitas. I quite like Bugsy, that's not a slam.
Hannah has a new podcast called Dear Diary, You're Effed AND a service called Ocean International Training Academy she launched with Anastasia Surmava to get people into the yachtie lifestyle! Check 'em oot!
After the boat tour, the crew switches into their red shirts and prepares to leave the teeny tiny berth they squeaked into. Malia stays calm, but they're literally rubbing all over both boats next to them, it's nuts.
Oh wait, we've got crossover! One of the charter guests is a woman named Adena, Aesha is waaaay better than me because she picks up that Adena was on charter before, but with the Queen of Versailles, not Johnny Damon. I quite liked the S4:E07 All Hail the Queen episode with the QoV, there's a touching vulnerability to her.
Johnny Damon and friends were in three episodes, starting with this one: Below Deck Mediterranean S4:E09 A Whole New Ballgame.
Speaking of Adena, she's already literally falling down drunk and even cut herself. Wait. I don't know if she fell down because she's drunk, but she broke her glass and cut herself and none of that is good. Malia comes up to perform first aid and more drinks are poured!
Aesha asks Bugsy where the white gloves are for setting the table, Bugsy about faints from happiness at this level of service.
Aesha and Jessica bond in the galley over preferring to not be in charge while Rob gets a series of suspicious texts I'm sure we'll hear allllllll about.
Chef Tom has been super quiet this episode, but only because he's worried about pleasing the Damons. Last time they had mediocre food that was cooked by a third stew, so anything Tom throws at them has to be better than that. Can he cook American style, though? Big cuts of meat, Tom, you got this!
They sit for lunch at a baseball-themed table setting while the deck crew sets up all the water toys. The first meal is always so important, wow them, Michelin Man!
And he does! The guests love Tom's food, it looks amazing, even the baby de-boned chickens. Awww. Primary Johnny even says it's the best food they've had since they've come to Spain.
Lookit Tom's dessert!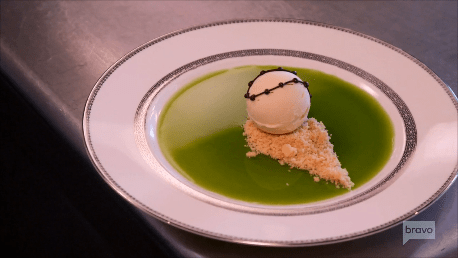 After lunch, the guests hit the water toys but are warned to watch out for jellyfish, which are all over the place. One pops up near Primary Johnny, he tells his wife not to worry, "I'm already peeing on myself."
Johnny's a self-starter.
Not so Adena, who passes out on the couch alone instead of playing in the water with everyone else.
Jessica checks in on Rob on his break, but he's distracted by texts from his ex-girlfriend so doesn't talk much. He's not sure how to explain any of this to her and...just say something, fella. This is not a good look if we know and she doesn't.
Jessica has to admit it; her job has been easier since Bugsy took over with her clear direction and stupid organized lists and stuff. Hannah was kind of checked out this season.
Bugsy is also all about themes, she's got tutus for her and the girls, fun! 100% would wear all of them right now, at the same time.
Captain Sandy asks Rob if he's tired and he tells her, no, he's just checked out. Well rested, just in his head and not focused on his work.
Captain Sandy and I are perplexed at this unusual honesty.
You can't...tell the Captain you aren't paying attention at work and more concerned about personal stuff. You have to at least fake it! That's just common sense. Oh and Malia was there too, Rob's direct boss, not just his boss's boss.
I do think it's totally lame that Malia runs downstairs and tells her boyfriend Tom, in front of everyone else, about Rob being checked out.
Captain Sandy waits until Primary Johnny is served his first dinner course, he likes everything very hot. The scallops and pork belly are not hot, but warm, even though he says they're fantastic Captain Sandy runs down to the galley to tell Tom his food wasn't hot enough.
I am so over Captain Sandy micromanaging the galley. SO.OVER.
She's such a good captain!! Why won't she leave the chef alone??
She asks Tom to put a bowl over Primary Johnny's plate, this leads to the bowl falling off during service, good thinking on your feet, Jessica, with your "Opa!"
Tom has a spare portion handy and the crisis is averted immediately, food is hot and everyone is happy!
Until...
Guest Shanna says, out of the blue, "Michelle has Spanx on" meaning Primary Michelle Damon. We met Primary Michelle last time facing down a guy twice her size, she doesn't back down from ANYTHING. She pulls her dress up to reveal not only no Spanx, but no underwear or undergarments of any kind.
Wow, Bravo used to blur stuff, I guess now it's just anyone's arse anywhere is fair game?
Primary Michelle goes all in on Shanna, who retreats to her room to be yelled at by her boyfriend for being disrespectful. Shanna changes clothing and comes out to apologize to Michelle.
I'll say this: Michelle doesn't start the drama but she always finishes it. You come for the queen, you best not miss.
The next morning, Jessica hears Rob's phone blooping and asks what's up. She's not happy to hear that he's been communicating with his ex and says so.
Captain Sandy pulls anchor and we're off to a new location, Cap Blanc! The guests will be going ashore to enjoy a VIP table, that's a very American thing too, isn't it?
Hey! There's First Mate David again, he's purty, why isn't he on more?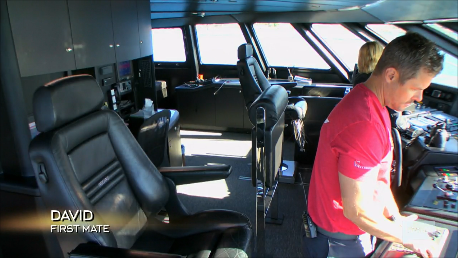 He probably understands things like physics and keeping it in your pants.
Oh. Maybe David also understands that texting your girlfriend she shouldn't make "this" about herself is a very bad look, Rob. Jessica's probably wondering why you're allowing 'this' to affect 'your' relationship.
Alex's advice to remind Jessica that Rob could have just not told her is even worse. C'mon, Alex! You and Jessica are friends, that's how you want your friend treated?
This is making Rob rethink going to Bali with Jessica, you know, the flights he just arranged last time we saw them.
Dating suuuuuuuucccccckkkkkkksssss.
Alex tells Jessica to be more understanding, I mean...at least he said it TO her? So there's that.
Bugsy decides to send Aesha to the beach closing party, her shrieks of joy garner this response from Captain Sandy and all of us.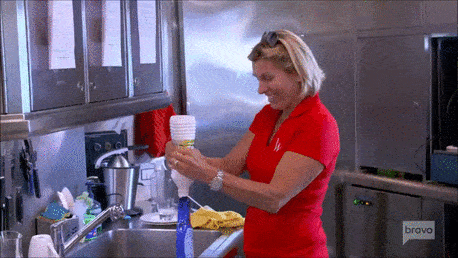 Jessica and Rob chat a bit on their shared breaks, Jessica is not one to mess with. She trashed an ex-boyfriend's new house, what did that involve?? Was there a golf club? I have questions.
The guests head to the beach party with Aesha; Malia left the water toys out so the crew can sneak in some fun before they return.
This Ibiza closing party is mental! There's a giant inflated parrot with a go-go dancer on its nose and all the giant sequins and feathers you could ever want! There's a flying piano that lands in the pool. IN.THE.POOL.
The crew has a great time on the water toys, Alex and Bugsy take off on a jetski and he FINALLY says some nice stuff to her that isn't joking! Yay! Good for you, Alex, you're almost grown enough to take her out!
Everyone but Rob has a great time in the water, even Tom gets on the slide! Jessica stops suddenly, her heart palpitating, and sits down hard on the dock. That's where we leave it for today, with Malia our medic checking on Jess as she clutches her heart.
I have to commend Bravo on their razor-sharp editing of deckhand Pete Hunziker, he didn't get one single frame to himself, an interview or one word spoken out loud on camera. I wonder why they didn't censor any of his sexist shite earlier, but either way: he's been cleaved.
Until next time, everyone! Cheers.