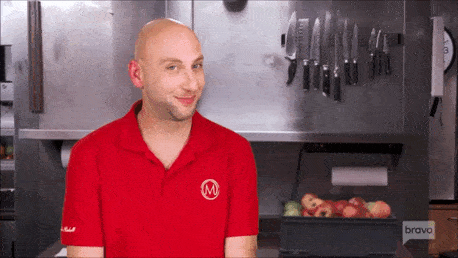 We're back on Below Deck Mediterranean for our last charter of the season! We've got a sick deckie, one less stew than we should have and a motivated chef. Let's find out how it all shakes out in my Below Deck Med Sleepless in Croatia S6:E16 recap after the break!
First how: how is deckhand Lloyd Spencer? That's all we really wanna know, right? I mean, we're got a bunch of famous rich people coming on board but Lloyd just left in the tender and we're WORRIED.
Captain Sandy Yawn calls everyone to the main salon for a team meeting 90 minutes before guest arrival. We're going to think positively about Lloyd getting better! The problem from a ship perspective is that we're already down one steward so the deck crew has been helping out more in the interior. They're not going to be able to do that if they're down a person too.
What's going to happen for service? Guests don't want to feel like they're not getting super fancy service on their super fancy luxury vacation.
**Did you know there is a conspiracy theory out there that there IS no labour shortage in the US? That instead it's manufactured by companies in the service industries to keep their costs low? The only ones who would suffer from that are…customers. The news has had quite a few headlines about worker shortages with the idea that people are too lazy to work now that COVID paid them money for just existing and stuff. Interesting.
Who are the guests coming aboard in 88 minutes? I'm glad you asked! Primaries are: Ian Wallace and Jemele Hill, Jemele Hill was on Below Deck!  Below Deck S7:E17 Let Them Eat Penis Cake! Recap
And here: Below Deck S7:E18 Big Girls, Do Cry Recap
Michael Eaves and his wife Crystal Eaves are joining our gorgeous couple, as is Terrence Williams and his wife actress Deborah Jo Winans so yeah, everyone is incredibly symmetrical on this trip. Including Ronnie Lott and his wife Janeiro Lott.
Provisions are heyah! Lots of booze for our last charter of the season, it's a longer one as well. They want lots and lots of special events, including a crew talent show which will surely be excruciating.
There is zero margin of error on this charter, bosun Malia White takes her team aside to explain their priorities. They're definitely going to be pulled in multiple directions, she lays out what they're to do first. Deckhand David Pascoe is apparently fully healed from his plot device slip/fall hot tub incident, he's ready to step up wherever needed.
It's just that everyone kept screwing up last charter, Mzi 'Zee' Dempers seems to have his head in the game again. He's lovely but should watch all the falling down while drinking.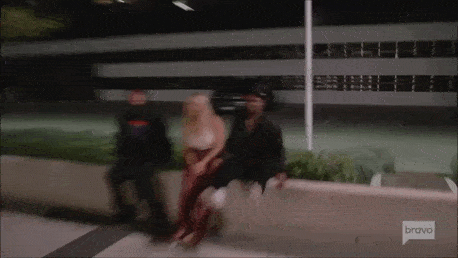 Guest arrival looks a little different this week, because of the wind Captain Sandy anchored out at sea and the guests are brought out in a taxi. Welcome, hot people!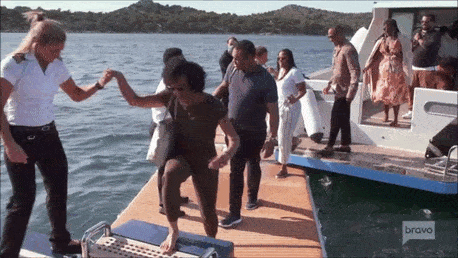 They're YWB!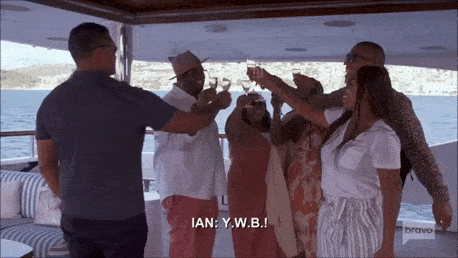 Boat Tour! It's our Primaries one year anniversary! They're so cute.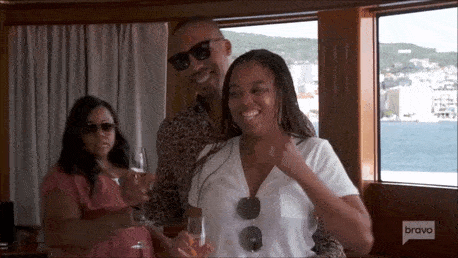 Chef Mat Shea is READY!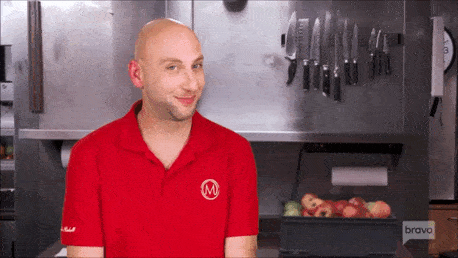 So are second steward Courtney Veale and Zee, dancing in the kitchen! Off to the bar for Court, where chief steward Katie Flood is getting worried about the amount of care these guests are going to need. Guest Michael already broke a wine glass, Primary Ian wants a bunch of things steamed: there are just two!
But don't you make it any different, Katie! I'm telling you!
Courtney heads to the laundry room while Katie serves lunch and Zee dumps the trash. Awww Mat's fish is hella bland, the Primary Jemele is disappointed.
A call about Lloyd! He's okay! He had an EKG and his heart is okay. It was a panic attack! That's what I thought! He was really worried about his future in boating and it was making him extremely anxious. Yay that he's feeling better and no heart condition to worry about at this time! Whew.
Mat is devastated to hear that his fish was underseasoned, he's almost in tears when Katie tells him. He apologised for ruining the charter.
Mat is SUCH a drama king.
One of the guests comes down to the swim platform looking for a suit, I totally thought of the scene in The Incredibles.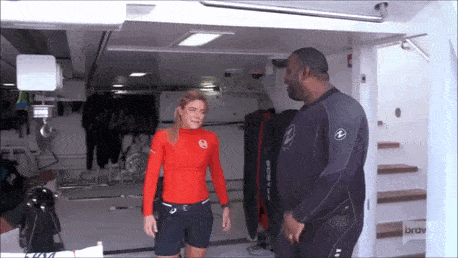 Everyone is down at the swim platform except Primary Jemele, chilling in the giant hot tub by herself. Not for long, a couple others jump in, then the guy in the wet suit and it's a party!
Mat is simultaneously moping while seasoning the f out of everything, head back in the game, Mathew! These guests are adorable and ready to celebrate one year of marriage!
They're also ready for the surf and turn supper they're already expecting, it's probably not a good thing that you can smell whatever is cooking throughout the whole boat.
That sounds like a ventilation problem, get the hawt engineer below deck woooooo!
Mat sends out the newlyweds the exact same meal they had at their wedding! Do they like it? We get SO MUCH anticipation and then a: 'it's fantastic!'
Captain Sandy didn't hear the bad feedback on the fish, all she heard was the guests loving supper, whew.
Katie is up serving drinks until 3 am, washing dishes and vacuuming. Oh wait, it's longer than that, 3 am is just when she almost passes out. Lloyd video-calls Zee, he's coming back in the morning yay! The guests crash at 4:10 am, she is in bed by 4:30, breakfast is at 10 am.
Ryan is the Wetsuit Crossing Guard, he's up bright and early at 8:30 am, just as Katie rolls out of bed four hours after her shift.
Do we need to discuss why Katie is working for 20 hours straight? I think we do. Katie started with three stews: second stew Lexi Wilson and (now second) stew Courtney. Lexi, besides being the very definition of locker-room poison, was lazy.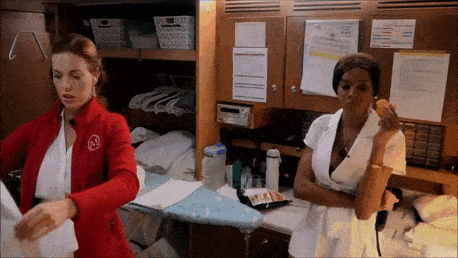 She wasn't pulling her weight. So. Because of COVID, they had an extra deck/stew (okay all deck, no stew) sitting in quarantine being paid anyway. Katie made the decision to bring Delaney Evans on board to help out as fourth stew. Delaney knew absolutely zero about stewing BUT she wasn't lazy. She's the one folding laundry in that image above.
Turns out, Katie would have to move everyone around to accommodate the addition of Delaney, however, and that was too stressful for our laidback kiwi. She decided to let Delaney go instead of Lexi, the day before Lexi was fired for physically threatening Mat. (And also a bunch of abortion talk, but you know), which had it happened when Lexi was lazy, could have avoided all the rest of that. Now Delaney left the boat before Lexi was fired, could she have been brought back? We don't know because Katie decided to go ahead with only two stews which was fine as she was relying on a LOT of help from the deck crew.
Thus: twenty hour sucky work days and extra work for everyone else.
These guests are going to be full-on, too, especially since the weather is sucky and they can't be distracted with water toys.
Lloyd makes it back, yay!
I love that his panic attack is treated with the seriousness it deserves, completely differently than Mat pretending he had a hurt knee to get a night's sleep at the beginning of the season. Although. I wondered then if it was a panic attack too.
But then the chef is a crew member whose presence can not be covered for!
The guests decide to play on the swim platform anyway, they're awesome! Guest Michael invites Zee to a competitive round of…hit the rubber ducky with a golf ball? Nobody is prepared for Zee's mastery of the smallest of white orbs.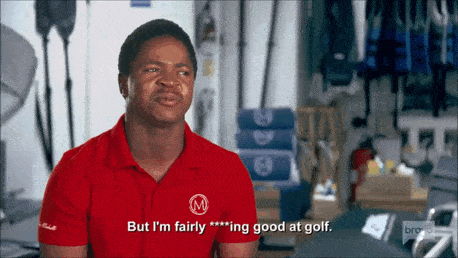 He's been playing since he was 7 and his mum was a professional, yeah, I guess he's good!
Captain Sandy finds Lloyd smoking in the rain on deck and pulls him to a dry side. She gives him her number, that should allay some of the worry he has for finding work.
Inside, the guests play more cards and decide to test Katie's memory with a vast and varied drink order. They place bets, even!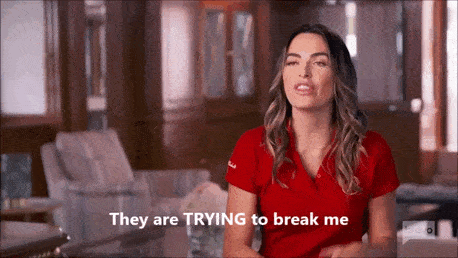 Katie wins that bet, yeah she does!
This is exactly the type of guests that likes a crew talent show. David is worried about his role tonight, he's got no displayable talents.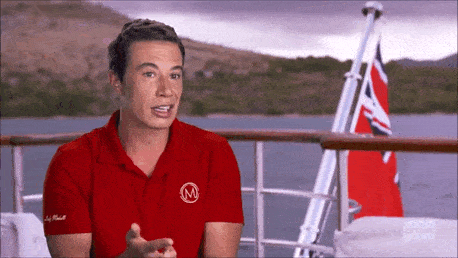 I feel like I must see the drunken Aladdin stuff.
Lloyd leads off the talent show as Emcee, it goes…okay? I love Lloyd, he can do whatever. Zee does some golf ball tricks, scoring 32 points, too! Malia does gymnastics, I knew she would. She just always looks as though she's counting money while she's doing it, ehh. She scores 30 and David scores a 40 with a weird leg hop thingy.
Katie and Courtney do the whitest white girl rap ever, earning a solid 40 points because they included guests in their rap while Katie tries not to die inside.
Time for dinner! Captain Sandy is joining, Mat is extra nervous. As he should be, did he use beet greens in his micro-greens in his entree? That's an act of aggression, Mat. guest Crystal is not happy and neither are a couple of others.
Mat comes out to the dining room, calling the greens 'blood something' but not beet-related. He looks it up on his phone when he gets back into the galley, he used "bull's blood beets."
A) that sounds disgusting, why would you serve people that?
B) you LIED
C) to their FACES
Supper is over, Captain Sandy manages her contact with Mat carefully. Mat is not a person who can take any feedback at all without interpreting it as feedback and falling apart. As someone kind of like that, it's interesting to see it from the other side. Also, personally dealing with five years of near-constant repetitive criticism helps one learn to focus on the positive.
Katie is taking drink order after drink order.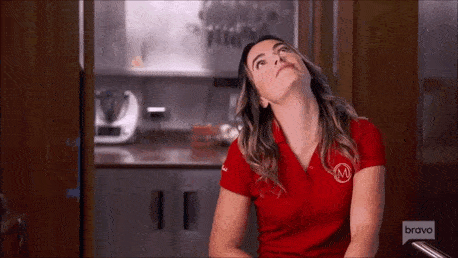 Then they ask for food, Katie covers for Mat by saying he went to bed and putting together nuts and chips. She is up until 4 am again.
I love that the guests are really doing this trip, they're not wasting any time at all and I dig it. Primary Ian says: you can sleep when you're dead.
He says that first thing the next morning to Katie, who just got up, after they did. They have breakfast orders ready to go! Katie keeps dropping everything; Mat can't figure out how to crack an egg and everything is sticking and it's a mess. Breakfast is not good, but if they tell the chef…he's already overwhelmed.
Next week is the season finale!! We finally meet Chef Luka!!!!! I've been WAITING! Until then, cheers!