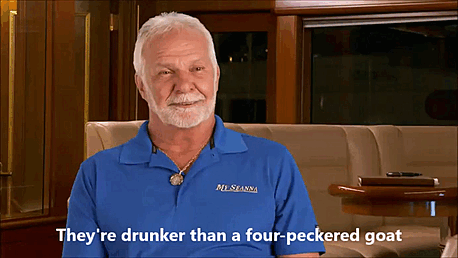 Hai! Happy New Year and welcome back to my recap series of Below Deck. I had a bit of an issue with my Bravo subscription AND have been working on a developing side business but will bang off as many of these recaps as I can. Because I lurve this show in all its trashiness. Rolling into my recap of Below Deck S9:E03 after the break!
Okay, it's 6 am, we're in St. Kitts, we don't know what's going on because it's literally been months but we're gonna figure it out.
The crew went partying together for the first time last night, deckhands Rayna Lindsey and Jake Foulger ended the night by making out on deck after everyone else went to bed. Jake…got special really fast. He mentioned pegging early on in their first charter and brought it up again last night. I have a warm spot in my heart for people who like to live life their own way with other consenting adults but bringing it up twice in that short a time frame sounds like he's more into experimentation than he is into specific people.
If you don't know what pegging is, apparently you don't have Twitter and maybe get news from actual news organizations so: good for you.
Rayna enjoyed the making out so much; she shows us with her hands the "pulse" in her "coochie" during.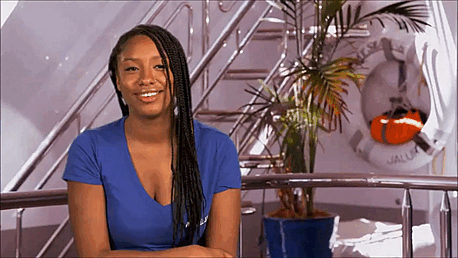 Is this…what people do now? Mimic genitalia bloodflow using hand gestures?
Rayna, her coochie and Jake all work under bosun Eddie Lucas, who is as congenial as it gets. He sends them out on deck to get the teak washing party started while chief steward Heather Chase gets the interior crew moving.
Second steward Fraser Olender is going to be a problem for Heather, you mark my words. Also: does Heather not look like an amalgamation of all the bombshells in 80′ sexploitation movies? I'm thinking The Sure Thing, Revenge of the Nerds, Private School and others, you know right?
Either that or a cheerleader.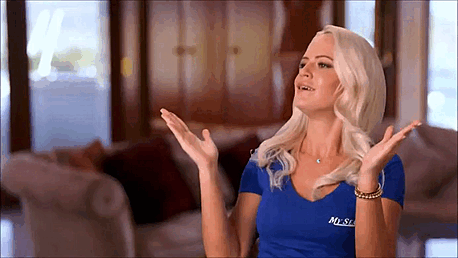 Again: here I am sitting at home hiding from temperatures hovering around -40 degrees Celsius making fun of someone making bank in the sunshine so…
Captain Lee Rosbach calls chef Rachel Hargrove, Heather and Eddie to the crew mess to discuss the next charter boarding shortly, who's coming?
Well hello Michael Durham from Seattle! I love these intros, who writes them??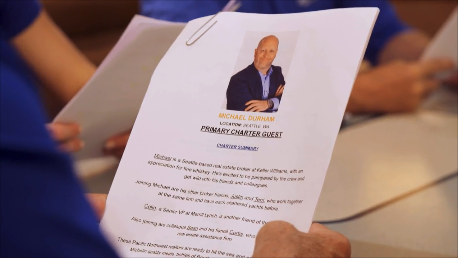 Excited to be pampered and looking to get wild, this sounds like a Sugar Baby website profile! We've also got Justin Richards, Curtis Smith basically a bunch of realtors.
The usual parties and shenanigans are to follow, including a luau. Yay roast pig! Rachel and I are 'CITED!
Fraser kind of liked Jake last night, at least during the part of the night he remembered, so he goes to Rayna to find out what he did and how it ended.
I do not miss nights like that at ALL.
Rayna admits to the snogging but she has someone she's been trying things out with so while she's single…she's not completely uninvolved.
The day shift knocks off around 8 pm, that's still a pretty long day since they started at 6 am after a very late night. Jake is feeling frisky again, flirting with Rayna but Rachel is feeling a different type of way.
Rachel calls Eddie to the salon to discuss their working relationship, which was damaged by his being completely honest about how freaking impossible Rachel was when she'd been drinking. Usually chefs only last one season unless they're named Ben Robinson so maybe Eddie didn't think he had to be careful. Rachel is hurt but I haven't seen her drinking this season yet so.
Eddie apologizes for not talking to her directly and acknowledges it must have been very hurtful for her and I think they're okay. No hugging yet but Rachel is smiling.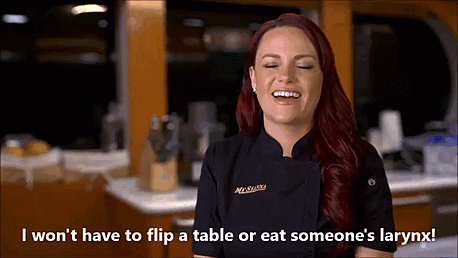 Third steward Jessica Alberta calls her mom, who sounds like a pistol. She's smoking and drinking in the garage while gambling on her phone. She teases Jessica about her old lady pyjamas and I will guarantee you two things:
Jessica has probably had to raise herself and is most likely the responsible one of this mother-daughter duo in a harmful-to-child-development kind of way
I bet Jessica's mom thinks Jessica's mom's immaturity is awesome
Captain Lee chats with deckhand Wes O'Dell who so far has been hardworking and quiet, meaning he gets very little screen time. There is a hinted-at romance with Jessica so we'll see!
Oh look at all the crew members eating takeout and not anything prepared by the chef, someone tell that jerk from Below Deck Mediterranean.
Captain Lee gives his usual speech to the crew about his expectations: don't embarrass yourself, don't embarrass the boat and don't lose your damn radio! "Work hard or get fired."
Captain Lee excuses everyone then talks to Eddie about Jake. They both want to use him as a lead deckhand but Captain Lee is leery of promoting too soon. This leads to a series of flashbacks of promoted crew breaking yachts, awww, I miss Kelley Johnson. He was smoking hot and I can't not think of that bathroom mirror selfie.
Where were we?
Heather calls her team to the salon to motivate them to a better service than last charter; I suppose as long as she doesn't spell at them they might take her seriously. I don't think she's figured out their working styles yet; rather I don't think she and Fraser have sorted it out. He loves to clean but she's got him in a service role; he's not good at being redirected mid-stream. He's not fluid yet, but that's what Heather requests of he and Jessica both.
Speaking of saying things to worry about at the reunion: Fraser has been bitching non-stop on camera about Heather.
It's charter time already, what?? Meet the charter!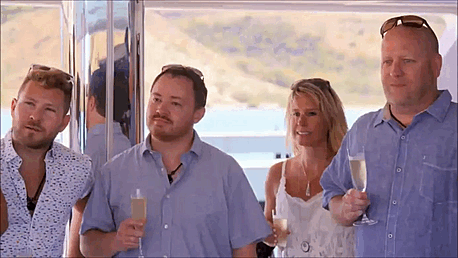 It's a big group of guys with one woman, I'm pretty sure everyone but her is drunnnnk. Heather thinks this is awesome, in her experience that means everyone will be hungover and skipping supper wooooo!
A smooth de-docking later; did you know people are still going on cruise ships???
Nothing really happens, except the primary's friend Justin asks for his whiskey to be in an insulated travel mug.
Eddie talks Captain Lee into promoting Jake to lead deckhand already, he's called up to the wheelhouse as supper is being prepared.
I think Jake is cute, but I can't really tell because he has all this stuff on his face.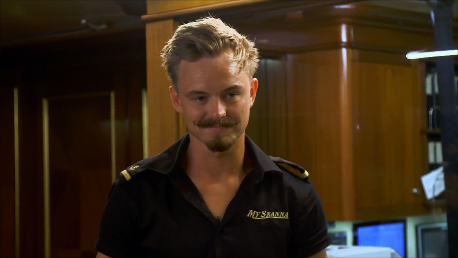 At any rate, he'll be running the luau tomorrow, good for him! Extra work for no extra pay and Wes suggesting your moustache has been darkened while bobbing for titles? Priceless.
The guests are loaded, it's difficult to get lost on a yacht by yourself but they manage it.
Everyone makes it to the table for supper, even Captain Lee eventually. Guest Justin is drunker and even more belligerent, he keeps picking on other guest Terri, the sole female who is no longer sober.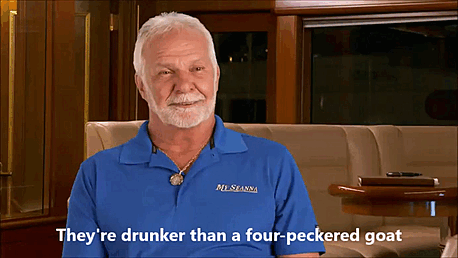 Captain Lee listens to the guests bicker, this is cringe for everyone. Good old Justin with the travel mug is now fighting with everyone, THEN orders tequila. When someone else protests as this is a whiskey pairing dinner, he storms out and sits on the edge of the boat to pout.
Wes is there immediately, good job Wes! He thinks the whiskey is the problem here, he once got into a fight with an empty jeep while drinking whiskey and still not going to agree with you there, Wes.
Another course rolls in, still Justin has not eaten anything to soak up that bourbon. Wes offers to bring him supper to the swim platform.
Fraser complains about how Heather speaks to him while Jessica sets up a table for Justin by the water.
Captain Lee is from Michigan! From Saginaw even!
I am so worried about these guests are stairs…but they mostly go to bed except Justin, Terri and Sean. Terri makes her way to the swim platform to swear at Justin and threaten to kill him a bunch. There is definitely something other than this night at play here.
Heather has a theory, it also involves pegging which means we have a new drinking game! Something about Terri usually being in charge and she and Justin being a couple and now he wants to be on top and yeah.
And now Justin is threatening to throw Terri off the yacht and this is escalating to a point where the crew is going to have to be involved. That's where we leave it for tonight, cheers!