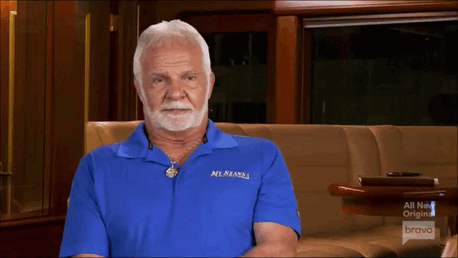 Hi! It's time for Below Deck again because it just IS! Have you been watching? Are you obsessed with Jake like everyone on the show seems to be? Let's roll into my recap of Below Deck S9:E05 Leave Your Emotions at the Cabin Door after the break to find out what his pending marital status REALLY is.
Last episode wasn't a great time for anyone in a relationship or looking to get into a situation; deckhand Rayna Lindsay was shocked to find out that Jake Foulger, the almost complete stranger she made out with a few hours after meeting has things in his life she.doesn't.know. Like the fact that he's "technically' engaged.
I was more shocked that she was still interested in him after how mad she was at his being made her boss.
Anyway, Jake's also been messing about with second steward Fraser Olender in the form of three-way kissing and flirting; I say this with all respect, Jake. You may not be quite ready to settle down just yet.
Also riding the relationship struggle bus is bosun Eddie Lucas. He's in a serious relationship with someone who is seriously not okay with his partying with the crew, including picking up chief steward Heather Chase in the hot tub and throwing her over his shoulder.
Yachting is hard for all these reasons.
And because you're away from all the people who you love, like Jessica Albert's grandmother, who had a procedure the day before.
It's a very hungover morning that follows, thank god they have 28 hours until charter. Heather calls a meeting in the salon with her team, Fraser is ecstatic that Heather got completely off her face the night before.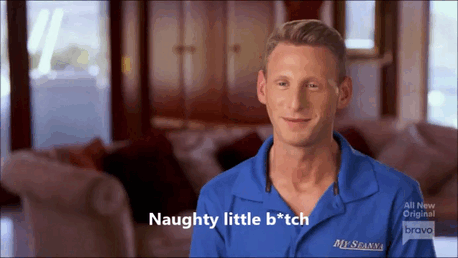 He's like…cartoon villain evil, even when he's being nice.
Rayna brings up Jake's engagement to the whole deck crew, deckhand Wes O'Dell is all whaaaaa until Jake explains that he's engaged to his fiancee, she's not his girlfriend.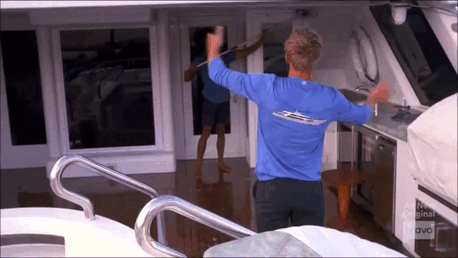 Rayna is not down.
Oh wait, he's not polyamorous, he's just marrying his fiancee Paris so she can have an English passport. He's going to continue spreading the love.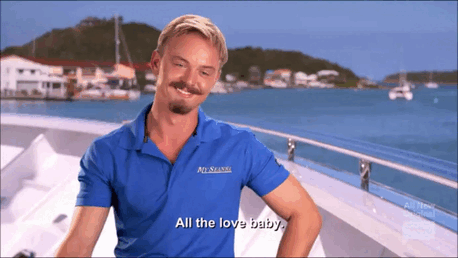 Aww I'm so sorry to hear that chef Rachel Hargrove and her adorable Italian boyfriend broke up. She was 100% in and I was hoping the reason she hadn't mentioned him was that she was trying to be private. But instead it's that he broke up with her and I'm so sorry to hear that. I didn't realise how invested I was until then, boooooo.
She's regrouping.
Pre-charter meeting wooooo!! Who's coming aship, Captain Lee Rosbach?? It seems we will soon we welcoming co-primaries Jeremy Morton and Ronnie Weiss. You know, it's hard to tell by looking, but these two men look very, veeerrry different. Jeremy Morton looks like a very intense man of a certain age, Ronnie Weiss looks like a love child of Martin Short and Robin Williams in Toys.
We only get a couple of other names, both are kids and I don't know if it's okay to mention names? I mean, I guess they showed them so Sam Ventimiglia and Alexander Morton are joining their dads along with presumably the moms we glossed over.
Wait. Primary Ronnie is 75?????? He looks 30 in the picture! He wants an 80s aerobics dance party for his birthday, so he's got great taste, anyway.
On the deck, Jake's trying to make his team move faster without success. Wes understands that type of thing during charter but strongly disagrees with any kind of work ethic being displayed while guests (and the Captain) aren't looking.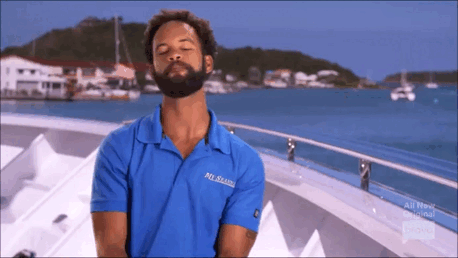 As soon as Jake goes inside, Rayna and Wes slow back down so they can talk about whether or not Wes 'would' with Jessica. Turns out he would, he just has a fear of rejection that makes him 'clammy.'
I am old already, this is making me feel so much older.
Fraser is quite concerned about Jessica's attitude, she's just very quiet and down these days. I mean, she may be upset about her grandmother; I think she said she used to care for both her grandparents in Florida. We already know she'd rather be driving listening to her tunes with a burrito in hand.
Heather thinks Fraser is right, it only takes one Gloomy Gus to bring down the whole team. Heather plans to have a tough talk with Jessica so she doesn't take Fraser 'down at the knees.' Heather has her talk but I don't know how well her "WHAT'S WRONG YOU'RE BUMMING US OUT SNAP OUT OF IT" went over well in the face of Jessica's concern about her family.
The crew knocks off around 6 for the night, Fraser and Jake end up chatting on deck with a couple of beers. Jake somehow did not realise Fraser was gay until just the night before so he asks for Fraser's coming out story. I like Karamo Brown's take on that, calling it an 'inviting in' instead but I haven't even done mine so let me shut up.
He had a great experience with telling his mum, even though there may have been cannibalism involved? LOOK HOW MUCH FRASER LOOKS LIKE TOM HOLLAND.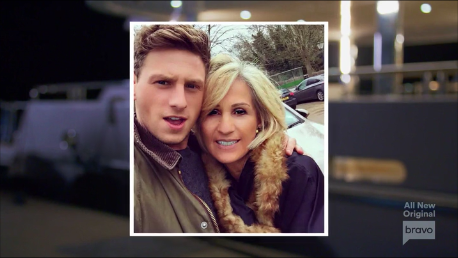 And he loves his mum, of course he does, all amazing boys do.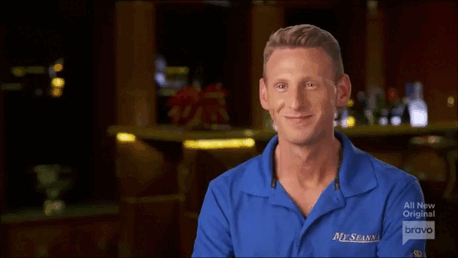 The next morning is a charter day, so super busy super early. Fraser has lost his radio already, Captain Lee HATES that. Jessica has decided to be happy today, which is almost as creepy as Fraser trying to be friendly but sounding evil.
Captain Lee asks Eddie about his team, how everyone is working out and remember we had that bad docking last time?
Yeah. Eddie suggests that the runtimes are too quick (no idea what that means), maybe if Captain Lee went slower. I will tell you: Captain Lee does not think his runtimes are too quick nor that he should slow down so the crew can catch up.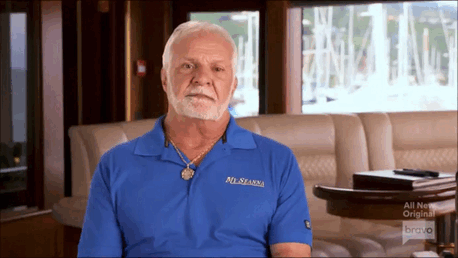 It's charter 3!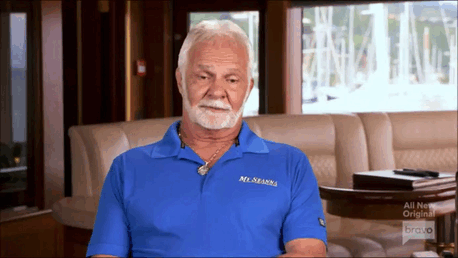 He would not like it if they sat any of their bums on the porch, really.
Guest arrival!!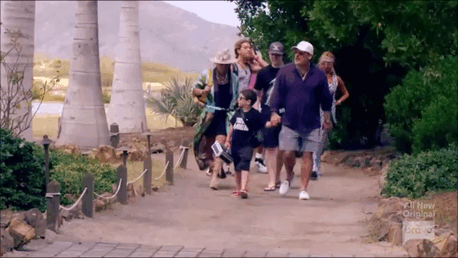 In case you misses it, 6 year old Alexander Morton has a case handcuffed to his wrist. He calls himself the 'mini-primary' and just like that I hate this charter. Okay I don't, I love children, I have three that I spend every single moment with that I can.
Heather talks him into opening the box, it's their tip! Heather involuntarily starts dancing alone, swivelling her hips as she holds champagne up high.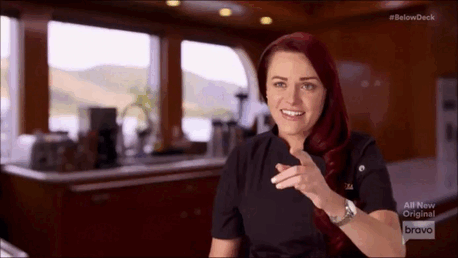 Boat tour! The guests are all very different, Captain Lee can't figure it out but here's what I see so far: Primary Ronnie Weiss is AWESOME. He's 75 and walks with a cane and maybe has tanned himself into shoeleather but he's perky and cannot stop smiling. His offspring look like him and have that same laidback happy vibe: 100% love them already. I can't say I love his wife Stacie that much, she pretends to kick him in the head for walking too slowly down the stairs while he apologizes and calls her honey.
Captain Lee is not looking forward to this de-docking, prevailing winds make it messy but they are eventually away.
With the kiddo aboard, we've got someone on babysitting duty at all time and that's super weird to me. If you know you're going somewhere with a kiddo, you would expect to take care of them, right? And if you're the kind of family who can afford and likes having domestic help, you bring that, right? I'm trying to imagine myself walking into Chuck E Cheese and telling the staff to make sure my three boys are never left alone.
Fraser is up first! LEGO time! He used to be a nanny, but hates kids because they're gross and I bet he wasn't a great nanny.
Jake's decided teaching Rayna more things on deck will get her more interested, or he'll make her walk the plank.
Fraser still hasn't found his radio. How long until Captain Lee finds it?
Or until Captain Lee notices that Jake lost the soccer ball into the water? Eddie joke-yells at the crew in whisper; if you lose something overboard, DON'T SAY IT ON THE RADIO WHERE CAPTAIN LEE CAN HEAR YOU!!
I mean, Fraser wouldn't hear it. He still can't find his radio. This has led to an existential crisis about his inability to follow basic rules which led to trouble at school and an inexplicable photo of him cuddling a pretty young woman.
Heather is sort of supportive.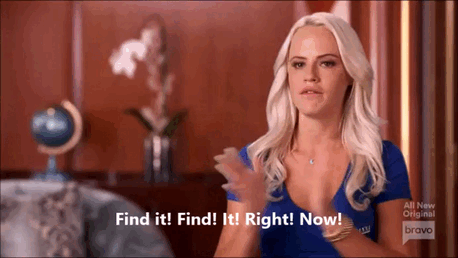 That just reinforces her mean-cheerleader vibe and I am here for it. He finds his radio, yay!
Heather sets up for the guest Casino Royale night, they have an actual craps table set up. I didn't see it arrive but I did see an exercise bike show up that nobody knew what to do with. Just…random.
Awww, Eddie and his honey-bunny make up, yay!
The guests dress for their casino night and dinner, this kid cracks me up.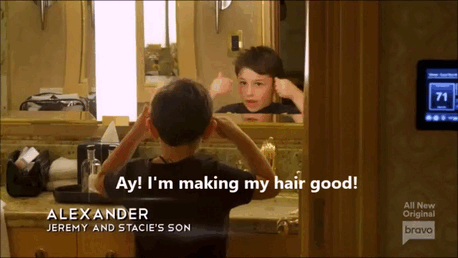 Hahahahahahahaha so the guests are in the middle of a charter of a lifetime with a whole gambling table set up and what do they play first? Left Center Right! We got this for Christmas, it's an awesome game!
Supper is served  with Captain Lee at the head of the table; Heather heads downstairs to check on the cabins. Jessica said they were good; but these are not good turndowns. Heather walks her through all the mistakes and misses; Jessica is defensive. Heather workshops this with Fraser, she may have to go past 'coaching with inspiration' and move into: do your f***ng job. I mean, after all, when at work you've got to Leave Your Emotions at the Cabin Door.
Jessica is not sympathetic to Heather's plight.
Rachel knows supper is out of the park, course after course, but guest Stacie isn't paying much attention to the food. She only has eyes for the Captain. It's making Captain Lee uncomfortable.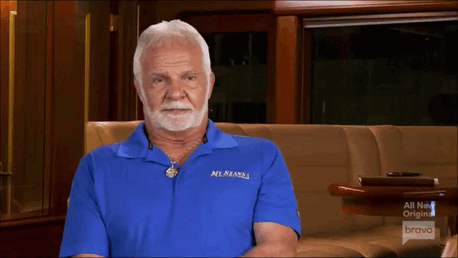 I am inordinately proud of myself for accurately identifying the Mortons as being from Michigan.
A few poop out before dessert, but they missed out! I think macarons are bullshit but the panna cotta and other stuff looked GREAT.
Jessica eats alone in the crew mess, talking with her family and missing them so hard as her team members shit-talk her moodiness in the snake smoke-pit.
Guest Stacie follow Captain Lee to the Bridge; she was pretty determined for someone that intoxicated. Ronnie deserves better, awww.
Guest Todd gets up early to work out on deck, he's my new favourite after that and after he went to bed super early the night before. Rachel maybe likes the fact that he's always shirtless and has a bunch of abs.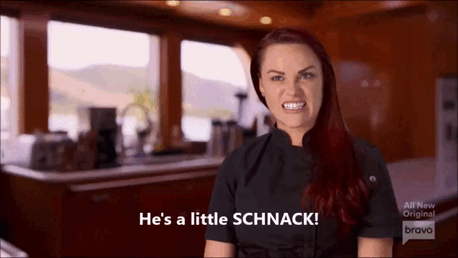 We know she really likes short, fat and funny. I'm so sorry that didn't work out!
Jake spits on his socks to assist with putting them on because they're too tight. I am sad and Heather laughs hysterically.
Breakfast is served while the deck crew loses yet more shit over the side, it's super windy. Captain Lee is furious, more old-timey sayings are spit in between profanity, invisible engineer Jon has to go retrieve the large cushions from the ocean.
Eddie defends his crew, that's exactly the opposite of what Captain Lee wants to hear right now. Eddie yells and yells at his crew, nothing else better come off this boat!
*Cut to promo for next week when an entire trampoline flies off into the wind*
See you next week, when a very drunk Jake makes out with Fraser! Cheers!