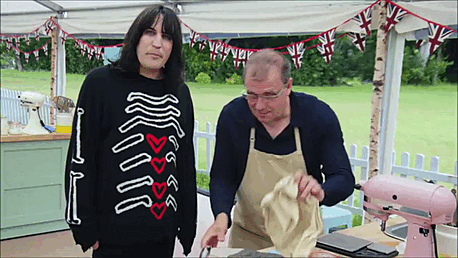 It's time for Caramel Week on the Great British Bake Off! Why? I don't know. I don't get a lot of the themes but you know what I do understand? Watching people bake delicious things while other people cheer them on is the most effective self-care known to people-kind. Let's roll into my recap of GBBO S12:E07 Caramel Week after the break!
It feels as though we're running out of people on the Great British Bake Off, you know? One minute ago we had four hundred biscuit-makers pottering around and now we've only 6. Last week Amanda went home on the heels of a structurally unsound terrine and Crystelle won her very first Star Baker of the season. The game is afoot!
This week we've got to watch people carefully stare daggers at pots full of sugar, willing them into a smooth and sticky caramel whilst I shout nonsensical reckonings from across the pond. Are you ready?? Let's goooooo.
Hosts Noel Fielding and Matt Lucas help judges Paul Hollywood and Prue Leith get this sticky party started, introducing the Signature Challenge of the Week. The baketestants are required to make
Oh wait, I just saw the preview and Chigs is wearing glasses and an unbuttoned button-down. Is it alright to drool just a little bit?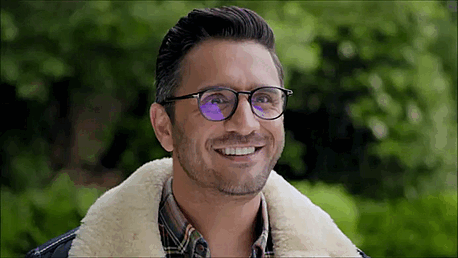 Everyone hates caramel except George who therefore must be medicated.
Anyway! The bakers will be preparing a larger decorative caramel tart, of a sharing size and hard pass.
Let's see the designs!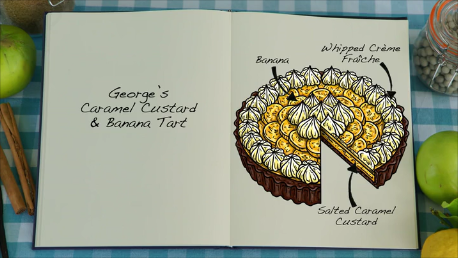 That looks alright, doesn't it? I might try a small corner. Probably not any of Lizzie's, though.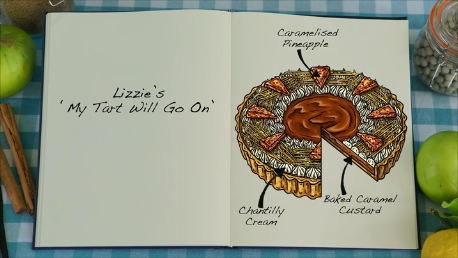 I can't even look directly at Chigs, he's too adorable with glasses! It's like Crystellle, who is so gorgeous she can only be viewed through a prism.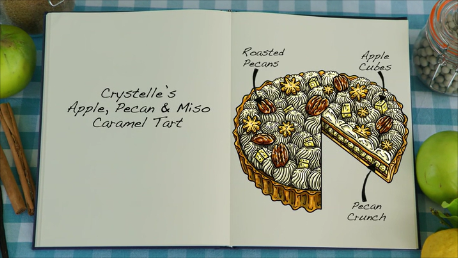 I'm not touching that, however. Miso! I ask you!
Hm. I mean, hazelnuts but also apricots. Could you throw a bit of dark choccy in there, Giuseppe, there's a lad?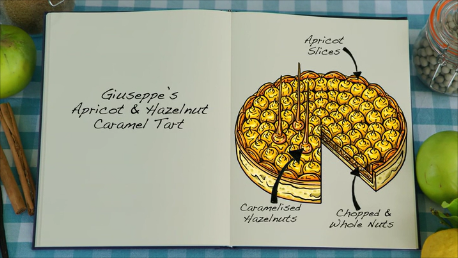 When Jürgen says he's using three types of nuts, I agree to hear him out.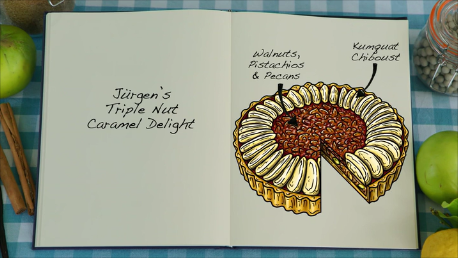 But walnuts, hmm.
Nawwwww do you think Chigs is flirting with me? Chocolate AND ginger!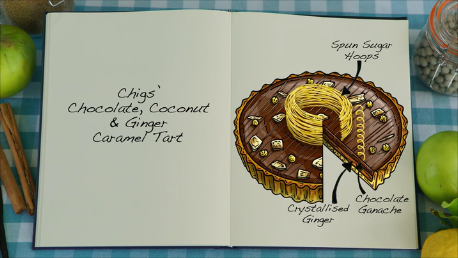 He's rolled up his sleeves and his forearms are.
OKAY STOPPING.
Caramel is so difficult, wet or dry, I wish everyone well and have my non-typing fingers crossed.
Okay, I SAY I hate caramel but I love sponge toffee and that's what one stage looks like.
Oh stop it with your fermented bean paste, Crystelle. Say umami, I dare you!!!
Once again, George has chosen to make something that requires cooling and steps he does not have time to wait for. This is week 7, George! George. You've got curdling and sinking and melting cream and honestly.
Ahhh Crystelle and Chigs' pies look amazing. I am very close to launching my own home baking business, I am seized with a need to make a tart with chocolate filling.
We're at judging already, that went fast, didn't it? Lizzie and her Tart That Will Go On are up first, just a little too warm but lovely flavours. Her motto is "flavour, no finesse."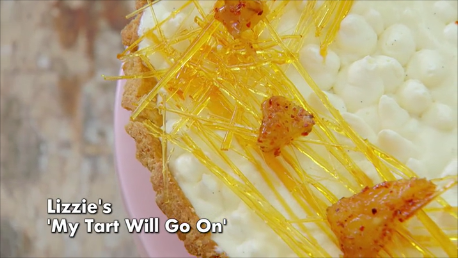 I think Crystelle's tart looks a bit busy and it's bitter but apparently it all works?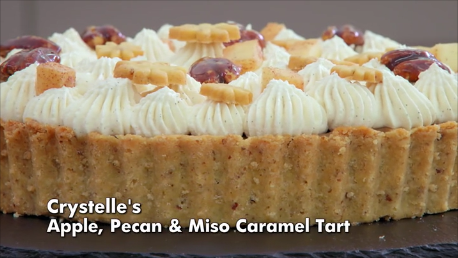 I mean, look at this tart, Chigs? I'm confused by the feedback; he knew his caramel was a bit too dark so that's not a surprise but too much chocolate? And too much caramel in a caramel tart?
Giuseppe's looks like it's for sale, truly. But I gather it tastes too much like hazelnut.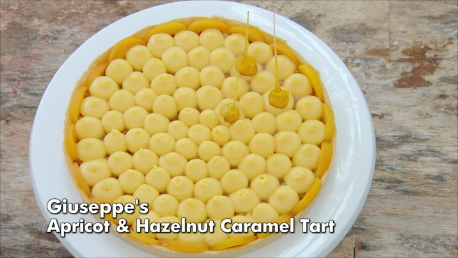 Jürgen's piping looks a little…melty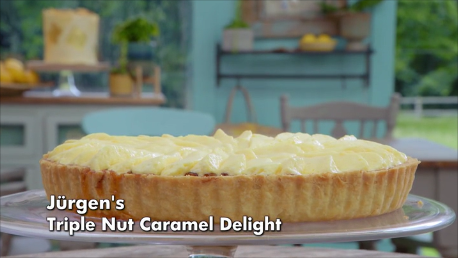 I will show you only the side of George's tart, it almost looks edible from that perspective. The caramel custard was indeed curdled, the caramel topping is liquid and there's no flavour.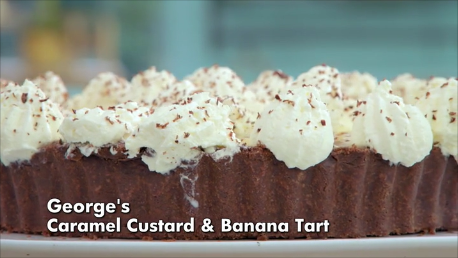 Alright, let's shake off those horrors and move on to the Technical Challenge! Whew, thank goodness, Chigs looks completely cross-eyed at one point and my brain comes unstuck.
The Technical is 10 identical caramel biscuit bars. Is that…like a Twix bar? I shall wait for the picture! 90 minutes, go!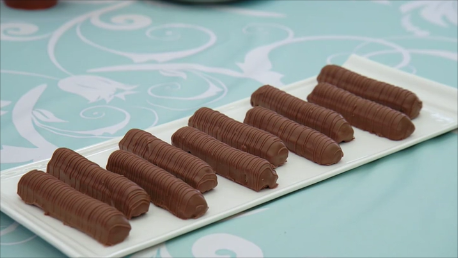 It is a Twix bar!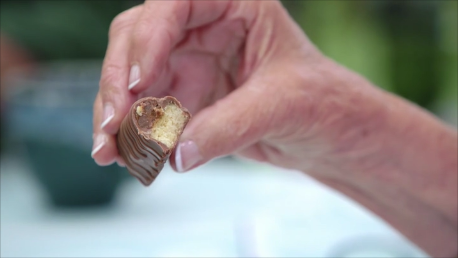 I've given my impression of the bakers as I've gone along, let's see how Noel would describe them in one sentence:
Giuseppe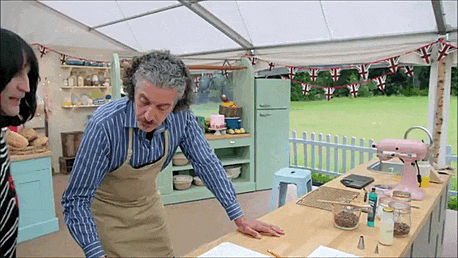 Chigs!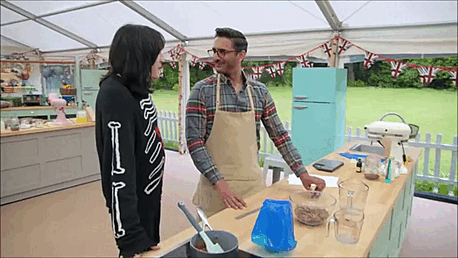 Jürgen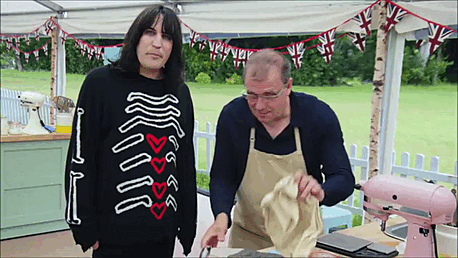 Lizzie!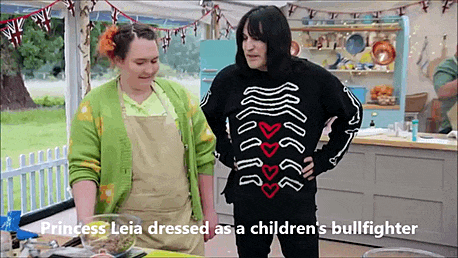 I mean, he's not wrong. But he missed George! Now do George!
Technical baking instructions are usually as helpful as this: 'make shortbread' which means that everyone is guessing at how long to chill and how long to bake and all that good stuff.
Then the caramel!
How is George possibly messing up the measuring of his shortbread biscuit? They gave them rulers! Why is he microwaving the caramel??
*calming breaths*
You got this, George!
I just can't bring myself to pour chocolate over and waste it like that. I would literally be licking my baking bench.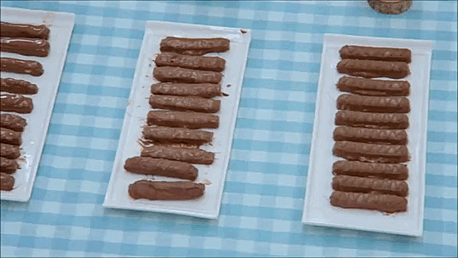 From aces to spades, we've got:
– 6th – George – he is definitely in trouble on this, his last weekend in the Bake Off Tent
– 5th – Lizzie – bit of a mess AND chewy
– 4th – Crystelle
– 3rd – Chigs
– 2nd – Jürgen
– And Giuseppe wins another Technical!
Let's quickly recap Day 1: George, the only one looking forward to Caramel Week has thus far been unable to make caramel, instead he's given us toffee twice. That means: this Show Stopper Day is your day, George! You've got this! You too, Lizzie, pull up those stumps and get in there!
What's the Show Stopper Challenge this week? Oh just a visually stunning caramel dessert with a sugarwork dome or sphere.
Easy peasy!
*I have never made a sugarwork anything.
*I've never even made a sphere, not on purpose.
Chigs is using rather a lot of pecans, isn't he? He's also found out about isomalt, which is much easier to use and stronger than sugar for the dome, so we'll see how it turns out!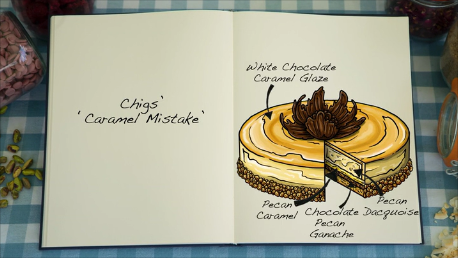 Everything sounds so sweet!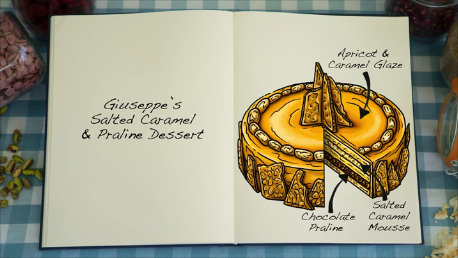 Jürgen has 107 steps in his dessert! Why is he taking so long to spread caramel on one layer, then?? Each of those elements are something like: 'make caramel'. Jeebus wept.
I don't think he even has time to tell us everything her has to do!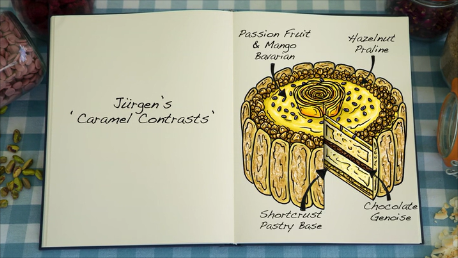 George scaled back his design, good job!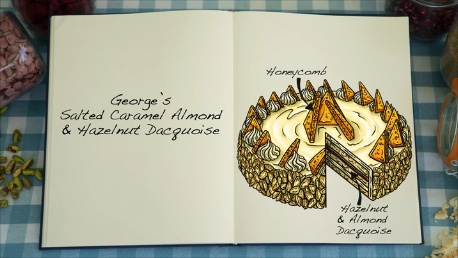 Oooh Lizzie is making sponge toffee!! I wish I could understand her.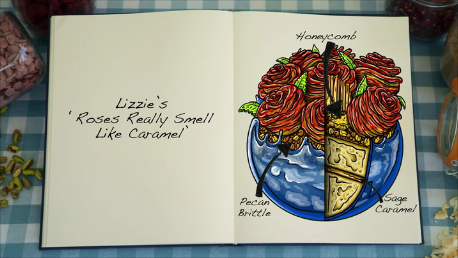 I was so excited about Crystelle's dessert and then I saw MISO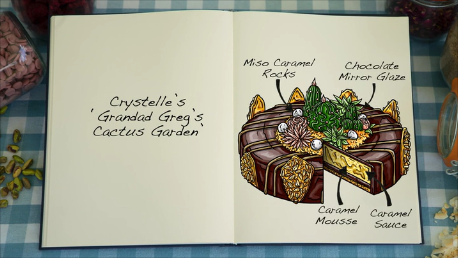 George told the judges he had packed his bags to go home, Noel has unpacked his bags and brought various pieces of clothing to the tent to wave about.
Disaster strikes as Chigs attempts to make a horrid ganache with white chocolate and caramel, he's added the gelatin too soon!
Noel hovers by Crystelle as she pours her mirror glaze, she calls it a 'money shot' while Noel and I try desperately not to make a joke right then.
Most of the bakes are done now (LOVE Crystelle's because I only have to look at it, not eat fermented bean paste with burnt sugar), time to make a clear dome.
Watching them un-dome their concoctions I AM SO NERVOUS!!
But everyone is clear! Wow, Jürgen, yours is crystal clear! Respect, that looked very, very difficult. With 15 minutes left, Lizzie and Crystelle decide to try again, do they have time??
I can't stop looking at Jürgen's dome, it's gorgeous! Crystell goes for her third dome, omigoodness. Lizzie helps her set up for using a balloon for her fourth dome, everyone helps get it out!
THEN
Crystelle puts down her dome back in her bowl so she can hug Lizzie and the dome gets stuck in the bowl!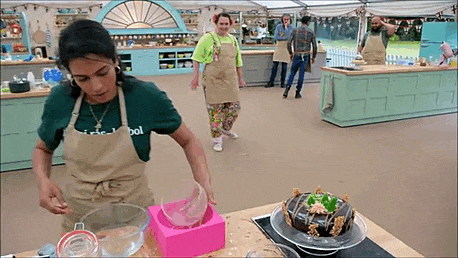 Well, here we go! Crystelle is up first, even. Looks alright, yes? Tastes okay but the textures are not good.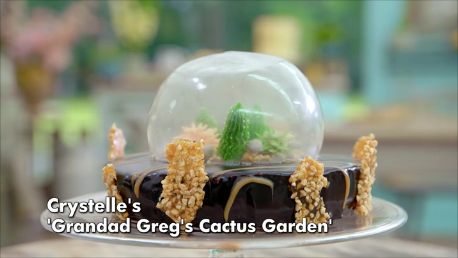 I mean, look at this clear dome!!! Jürgen, gorgeous! And it's a triumph all the way through, all 107 steps.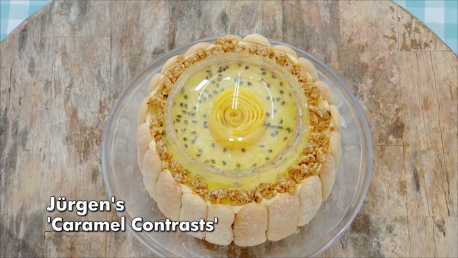 Giuseppe's dome is much murkier, the inside WAS lovely. The textures are not good either.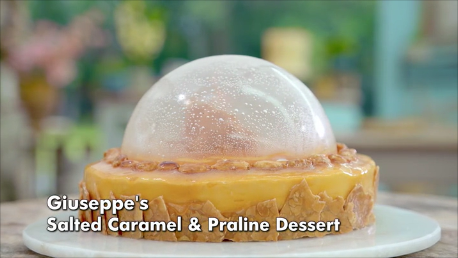 Chigs is up, his textures are off as well but Prue calls it 'nearly perfect' and you can't hate that.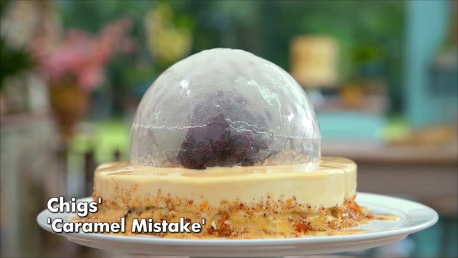 I think George did sponge toffee too!! Look how beautiful this is?? Prue likes it more than Paul does, was it enough to save him? It will really depend on Lizzie's effort at this point.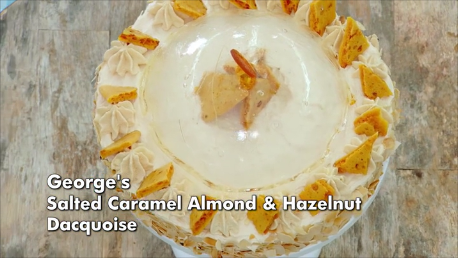 I'm sorry, I think this is hideous. Prue liked it until they got into it and tried to eat any of it, they end up both agreeing she is 'brave' and ouch.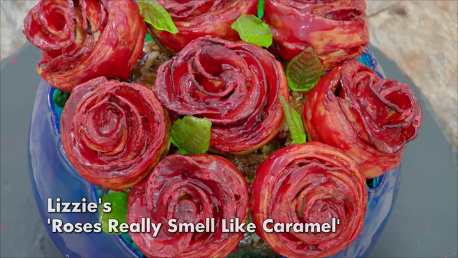 So where are we going to land this week? I have to assume Jürgen will take Star Baker with his crystal clear dome, I have to guess that George will go home, after he re-packs his suitcase, NOEL.
So what do the judges say?
Star Baker: Jürgen
and leaving us, head held high as 6th best baker in all of Britain: George. We knew that but it still sucks! He was my early favourite and I will miss him awfully.
Until next time, everyone, stay warm!