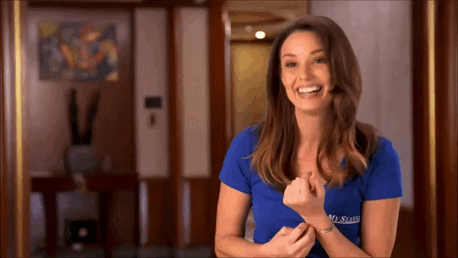 Welcome back to halfway through Below Deck season 9! We're so close to Below Deck Sailing Yacht, can you smell it?? SO CLOSE. In the meantime, we've got some major problems aboard the My Seanna, let's see if things can get sorted out in the next 60 minutes. Rolling into my recap of Below Deck S9:E09 When Eddie Met Sally after the break!
We open on a quiet morning before our fifth charter of the season, I don't understand third steward Jessica Albert. She's always down and complaining and I thought she was just worried about her family but now I think she was checked out before she came. Is she independently wealthy? Is she the beneficiary of a generous trust fund? Because she's tired and mentally drained and ready to bail because of...stewing. It makes no sense.
Chief steward Heather Chase is mostly just concerned her future handj*bs will be too sandpapery so I guess we all have our worries.
Jessica pulls Heather aside for a chat, look, she really wanted to do this but her body is shutting down. The work of wiping things down and serving drinks is too taxing.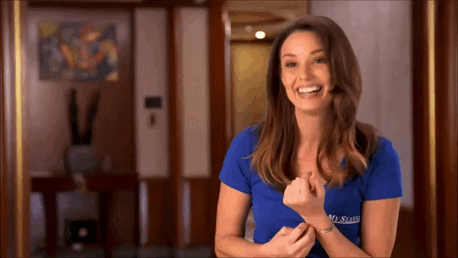 Heather and I try to understand, we really do. Then, with three hours to go before charter, Heather gets mad. She gives Jess 1 hour to pack.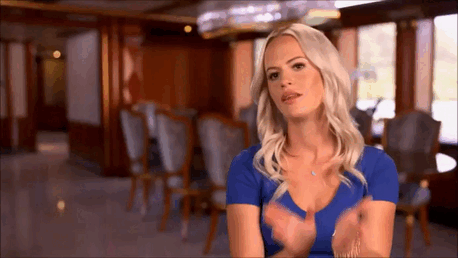 Heather heads to the Bridge to break the news to Captain Lee Rosbach who definitely will not be expecting that. Second steward Fraser Olender is shocked but gives her a big hug and a couple of kisses goodbye.
Heather fills in Captain Lee, who's surprised that Jessica didn't even stop her headlong sprint to freedom with a hug goodbye .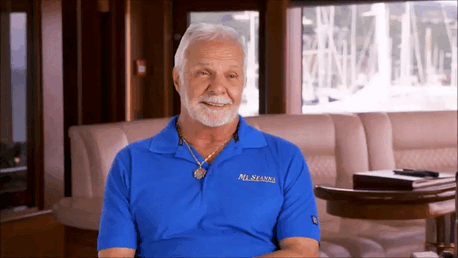 I don't even know what that means!
Captain Lee calls First Officer Eddie Lucas to the Bridge, some of his beleaguered crew are going to have to help the Interior crew this charter. Since they're already on their final warning with all hands on deck, this is going to be 100% dicey.
In fact, Captain Lee calls Eddie in from on deck where deckhands Wes O'Dell and Rayna Lindsey are redoing the shitty cleaning jobs they did the night before. I have no idea what lead deckhand Jake Foulger was doing out there but it involved a harness and a handheld joystick...
Jessica basically snuck off the boat, saying goodbye only to Fraser so chef Rachel Hargrove didn't know she was gone. She doesn't care, though, she had her own shifty exit last season so she's very ehh about it.
Eddie fills in his crew then everyone heads to help unpack provisions before it storms.
Iiiiii don't know what to think about Rayna. There's a big problem in that Heather said the N word a bunch of times (at least twice) while out drinking with everyone. That's a problem because Heather is white and Rayna is Black and it was Rayna that heard Heather.
Rayna talked to Heather about it, warning her about it because of 'cancel culture' and also: Heather absolutely cannot do that.
Rayna was already salty with Heather because although Rayna strongly dislikes how Jake, her deck lead, talks to her at work, she likes making out with him on nights out. Jake was all over Heather instead that night, I can't imagine Rayna having to listen to racial slurs against her race was making that any better.
But see, here's the ting, as they say in NL. Now we know Heather casually uses racial slurs, whether she self-identifies as a racist or not. And that most likely means she thinks differently about at least that race, there's no way that bias doesn't come out in her daily life and interactions to whatever degree. So Rayna now knows she's working around someone with that conscious / unconscious bias, how is she supposed to feel about that??
She's saying this is affecting her work and that's probably the only thing I disagree with. We've got four charters before the N word where Rayna was constantly getting told to pick up the pace, to work faster, to do things better. Not just her, Wes was getting disciplined regularly as well, but maybe that goes back to that bias again. Even though we didn't know Heather was capable of that before, maybe she was still acting in a way...but hold up. Heather wasn't on deck and I'm going to suggest that maybe Rayna's lax work had more to do with her having so little yachting deckhand experience. Both her and Wes have less than a year under their belts.
Back to the show! The storm delays de-docking by half an hour, the deck crew is going to have to work like crazy to get the toys all set up after dropping anchor in the middle of the ocean.
Suddenly, guests are here! We've got co-primaries Chelsea Gonella and Michael Gonella, the former of which has her jaw wired shut. She's already asking for a straw before even getting both feet on the superyacht, I'm surprised she doesn't carry around a silver-plated one or something. I feel like it's going to be ugly as there are only two stews for these 8 people.
Rachel, one of the guests, carries a small whisk broom she calls Sally, the 9th guest. Erm. I have no room to talk, you have no idea what kind of toys I made for myself as a child.
Oh wait but she's grown.
Chelsea finally gets her straw as the deck crew races to finish uncovering cushions etc after travel. Eddie is left to schlep baggage to rooms solo, Captain Lee doesn't miss that. He doesn't miss much. He's pissed the fully-staffed deck crew is already behind.
Eddie tells us using Gold Bond powder on his testicles is a party in his pants and I'm so sorry that I'm now picturing any of that. And now I'm sorry that you are too.
Primary Chelsea talks to Rachel about her meals, she asks to have the exact same meals as everyone else, just blended and strained. Rachel is now concerned, but since it's Rachel she just stares and swears at us a lot.
Rachel the guest is doing her best to get Sally the broom to stand up unsupported, it's somehow turning Wes on...I will say if guest Rachel really had respect for Sally's soul and wisdom, she wouldn't have let someone use Sally to push something off a roof later as though she were a BROOM. *gasp*
Jake prefers being spanked with a mosquito-killing tennis racquet in the galley. That's right, he's got his big bouncy arse out again.
Primary Chelsea is losing her shite at the lunch table; she hasn't been served anything and her friends have been snacking for ages.
Eddie helps in the galley washing dishes during service and running things around, he answers when Captain Lee calls for orange juice. Eddie doesn't actually work here, he's a model, which makes Captain Lee say:
"A HAIR MODEL?"
Hahahahaha
HAHAHAHAHAHAHA
What was his NAME?? The hair model from season one or two, Trevor? You know, the one with the face like a foot. I gotta look it up. Trevor Walker!! That was his name, what a recall on this kid??!
Back at lunch, the guests wait so long for the second course that they think the meal is over. They're getting up and leaving as Rachel shows up with Primary Chelsea's lobster smoothie and everyone else's lobster tail.
Lobster smoothie made me throw up in my mouth a tiny bit 🙁
After lunch the guests head out to enjoy beautiful Shitten Bay on jetskis and slide into the ocean, whoops, we've got one jetski out there by itself with nobody on it. Did someone fall off? Did a jetski just float away? Eddie is not happy with Rayna's performance on the swim platform, he rescues the 25 thousand dollar equipment off on its own.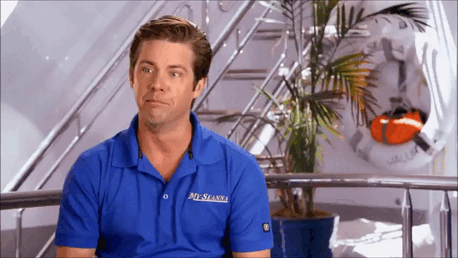 This is my favourite Preference Sheet Vision Board yet.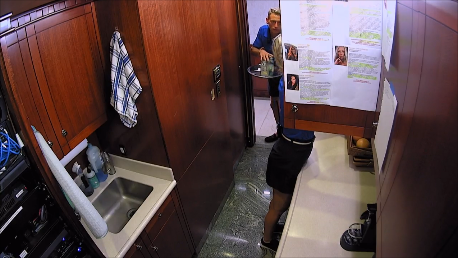 We've got a beach picnic tonight, Jake is super jelly he can't go. This is his kind of party! He and Rayna do...not much...on the beach while Fraser and Heather work triple time trying to get ready for the beach picnic, pink party and silent disco all at the same time.
A couple of guests find Heather and ask for more things, Wes is brought in to blow up balloons with the gang. Unfortunately, another jetski floated away while he was inside. Eddie blames it on Sally the broom, saying the jetski undid itself but Captain Lee isn't buying that.
Noooope.
It's an 'excuse for sloppy seamanship.'
Things are very tense in the Bridge with Captain Lee and Eddie. Eddie rolls the feedback downhill, okay, maybe one clip went back on itself but two in one day?
Time for a Pink Party wooooo!! Everyone has rose coloured glasses and that is 100% right. Fraser is exhausted, but he's ready!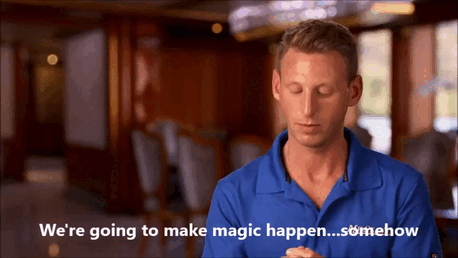 Sort of.
Rachel made supper for the crew, everyone eats as quickly as they can before service but Rayna asks Heather to be more careful with her fingers in the shared food. Heather leaves in tears.
Eddie chastises Rayna for gently berating Heather, wait, did he ever say anything to Heather about her use of the 'N' word? Maybe he doesn't think he should as Heather isn't his department and therefore her behaviour isn't his concern but...oh wow, Rayna brings that up right after I did.
I love the juxtaposition of Jake stumbling below deck into a messy part of the swim platform, picking his nose while the guests swan about in their expensive, gaudy pink evening wear on their way to their inexpensive, gaudily decorated dinner table.
Rayna is super happy to be in the galley with Rachel and I'm super happy to see her happy!
Rachel isn't happy, however, she's got to blend and strain everything multiple times. I don't know who's more frustrated: Rachel or the person with the jaw wired shut who can't get enough grub.
Primary Chelsea is going to tank this tip and it's just not something they could have fixed or anticipated. She leaves the table, extremely hangry while we watch Rachel drop her blended supper on the floor.
We're out! And just in time to see a preview for the rest of the season, which looks...not as much fun. Maybe? I really am just hanging in there to see who comes as steward and if they EVER address Heather's use of racial slurs. Until next time, cheers!