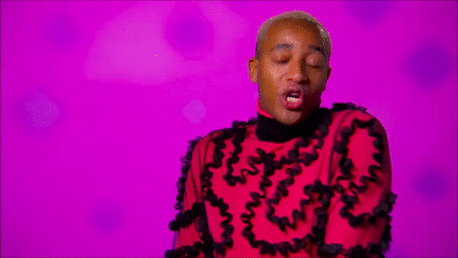 We're back to the frozen (currently sweltering) north for Canada's Drag Race, woooooo! It's the most fun you can have in six-inch heels, honey and we're not done yet! Rolling into CDR S1:E02 Her-itage Moments after the break!
Last time, which was the first time, Quebecois queen Rita Baga took the top prize with her cheese-curd-eating campy runway and we lost (totally not my fave and you can't prove it lalalalala) Juice Boxx to a subpar Much Music Video Dance party video vixen look.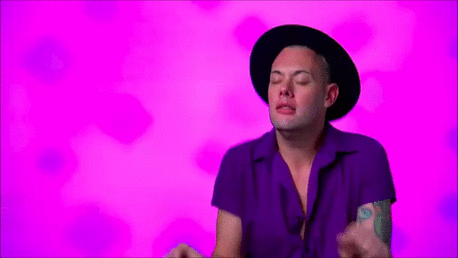 Lemon was in the bottom two lipsynching for her life with Juice Boxx so she's the one who wipes the mirror with Juice's goodbye message but she also cries in gratitude for still being here in interview. I lurve Lemon, I was so unhappy to see them up against each other.
Alllllll the Canadian tea and shade flies in the workroom, I love how they're so bitchy yet polite at the same time, it's very familiar. Just needs more upspeak…
RuPaul slides the goils a taped message and in comes Brooke Lynn Hytes to explain the next challenge. Oh Pit Crew!! Hey, more new Pit Crew guys wooooo!!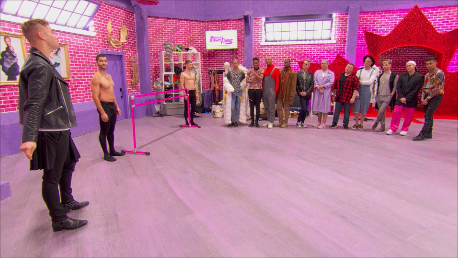 Brooke introduces the next mini challenge, the dragtestants will be using that ballet barre to perform The Nutsmacker! The story of a demure ballet ingenue who turns mean come midnight, with the erm, nutsmacking. Whatever that means.
I can't stop looking at Brooke Lynn, she's just gorgeous in and out of drag.
The performances range from sublime to BOA!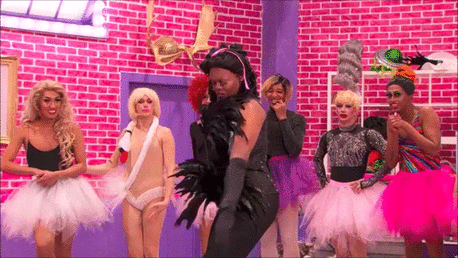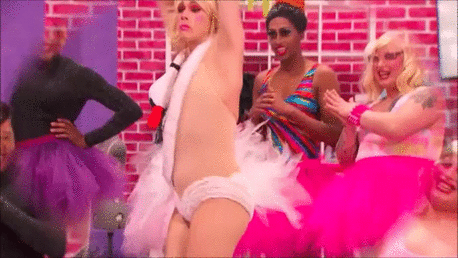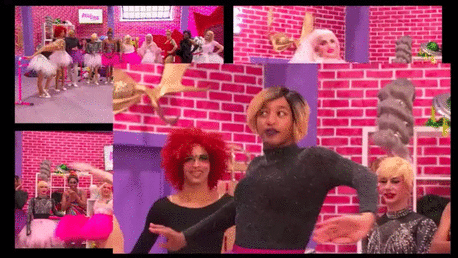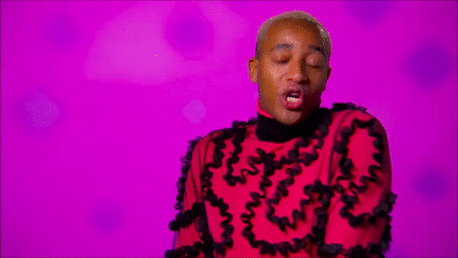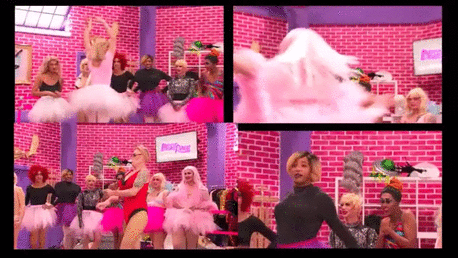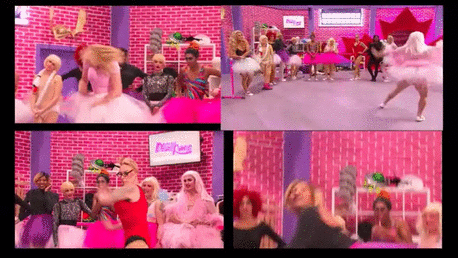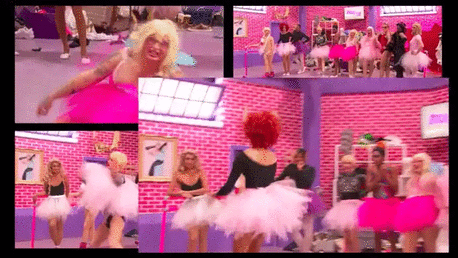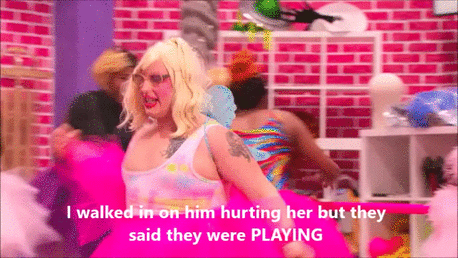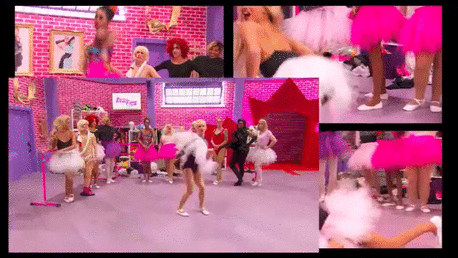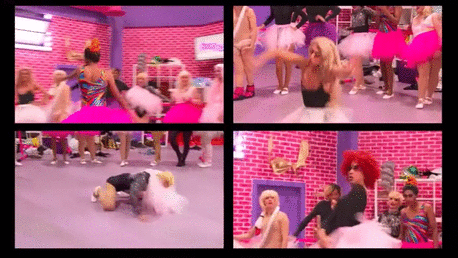 I can't show you Priyanka's coz she dirty.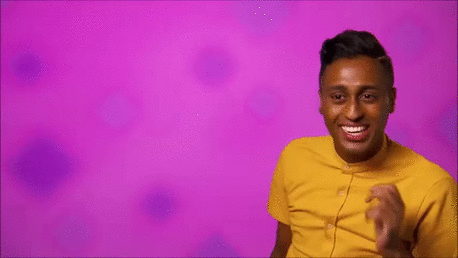 The Pit Crew dances for our ladies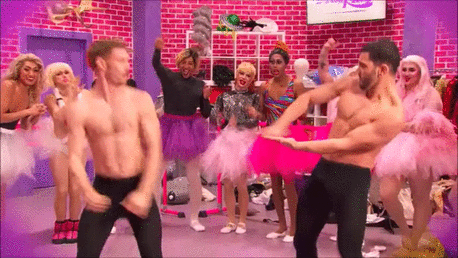 Scarlett BoBo is totally one walking hormone.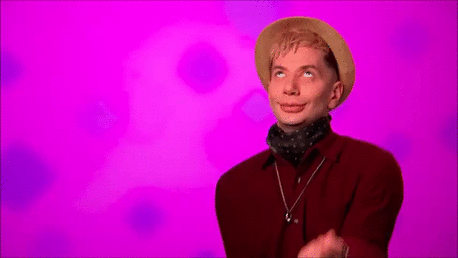 Hahaha and BOA and Anastarzia Anaquway win! They get $1000 worth of wigs from Wigs and Grace (where's ma cheque??) and we're into the maxi-challenge. They're going to be spoofing Heritage Minutes and I'm so happy. So happy. I feel like I don't deserve the amount of joy this is bringing me, I knew watching those (without a choice) as a kid would pay off!
BOA and Anastarzia are team captains, I love when they get down to Ilona Verley, the last queen standing (so what else is new, she says!) SHE gets to choose, woooo! That is awesome. She chooses BOA's team The Muffragettes, which is mostly quirky and not the pretty pretty queens.
Seriously, maybe I'm going through the change or something because I want to watch Brooke Lynn all the time. ALL THE TIME. I'm obsessed with her face.
Jimbo demonstrates a Heritage Moment for us: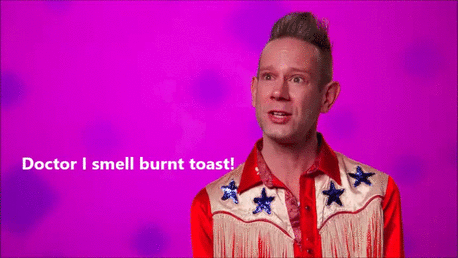 He's not as happy about Scarlett BoBo and Ilona Verley clowning around with harmonies during practice, they're a version of Tegan and Sara (if you don't know Tegan and Sara, are you even Canadian? Are you even queer??) singing together in weird ways.
Team Anastarzia is recreating Burnt Tuck (…) featuring rare drag diseases like contour-ina and tongue pop-itus. It's still early in the season, so everyone is supportive and lovely and nobody's stabbed anyone in the backrolls yet.
BOA is riding the strugglebus over on her team, she's got ADHD which doesn't necessarily explain why she can't remember how to pronounce ILONE-A's name but is tricky for the script for sure.
I love the back and forth between Ilona and BOA, I'm going to have a hard time saying anything mean about anyone, you watch.
Brooke Lynn comes in for her Mama-Tiques, starting with The Muffragettes where BOA still can't pronounce ILONE-A OR remember that she didn't even pick her for her team. Brooke Lynn moves on to Kyne's disappointment at the first runway, girl, did you even see your wig line? That was straight up Woolworth's.
Brooke Lynn asks if Kyne's ready to take her critique this time, she says yes but also that she forgives the judges. FORGIVES.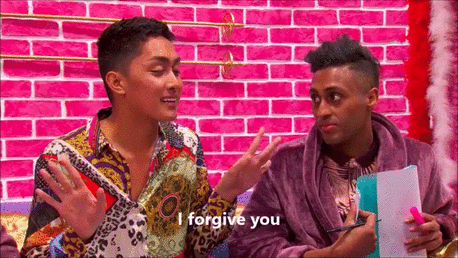 Brooke Lynn saunters over to Team Anastarzia where she finds out that literally everyone but Tynomi Banks is/was an actor. Brooke asks how Tynomi's doing, she was a bit like "a queer in the headlights" in her runway, but she's all loosened up now!
Time for the production, judge/host Jeffrey Bowyer-Chapman is helping the girls with guidance behind the camera. The Muffragettes are first but BOA keeps slowing everything by forgetting or messing up her lines. It's that ADHD kicking in again but Jeffrey is patience and kindness personified. Fuuuuuuuudge but it keeps happening and disrupting the momentum, I want you to succeed, BOA! Are there some ADHD tips she can follow? Halp
Seriously, Jimbo is going to make me pee my pants before this is over. Mark my words.
Finally they get theirs in the can, and on we roll to Burnt Tuck. Kiara said she had a background in improv and acting but we didn't believe her right? She nailed it in one take, Jeffrey was impressed. The whole crew did really well save for Tynomi Banks, who had a hard time with the lines and focus. Lemon jumped in there and supported her because it can also be Canada's Best Friend Race, two things can be true!
It's an extremely emotional mirror time this Elimination Day with most of the girls talking about the support they've received from their families but one in particular most definitely not. Anastarzia is from the Bahamas where it is/was illegal to be gay, she's known people who were murdered for it and she herself was shot three times. It's a harrowing account, everyone gathers around to hug and pat her, especially Jimbo. Well. Not everyone, Kyne stayed where she was and I don't know how Anastarzia cried without tears but it was very emotional!
We're onto the runway already!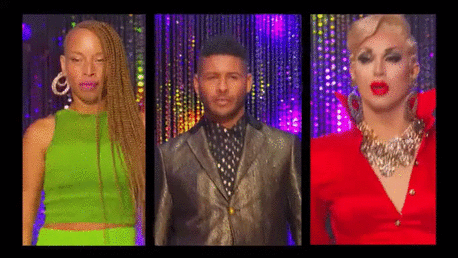 Our guest judge is Jade Hassouné from Shadowhunters!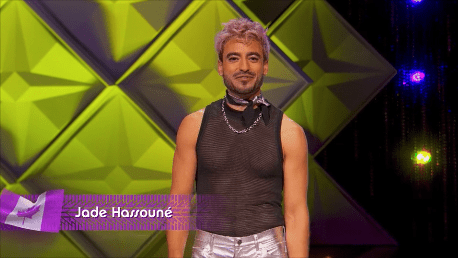 And he's doing Ru's job this week with the announcing.
Category is: Not My First Time (in drag)
Lemon!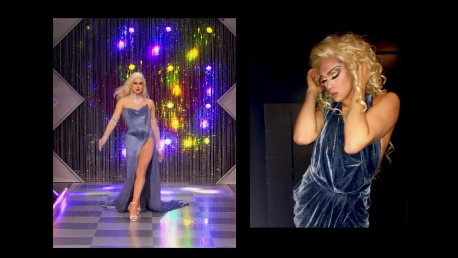 Rita Baga!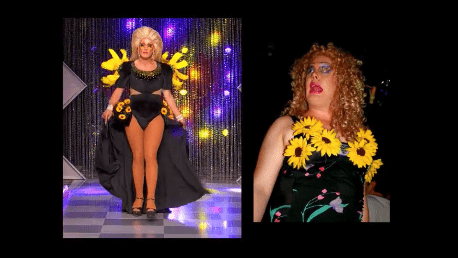 Tynomi Banks!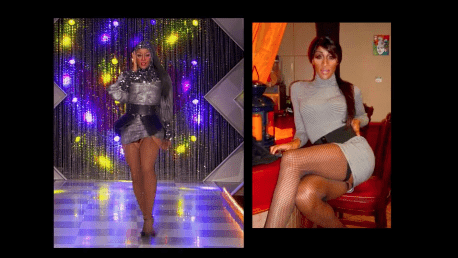 Brooke Lynn Hytes: "you know what gay horses eat? D**k" hahahaha
Kiara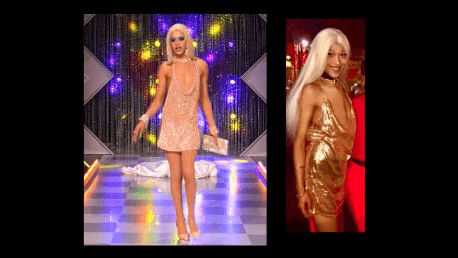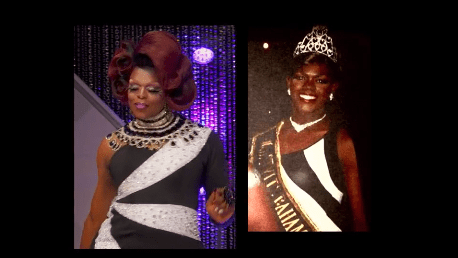 Jeffrey Bowyer Chapman: "She's gonna go this way. Oh look, now she's gonna go that way. Wait no no no she's gonna go this way" hahahaha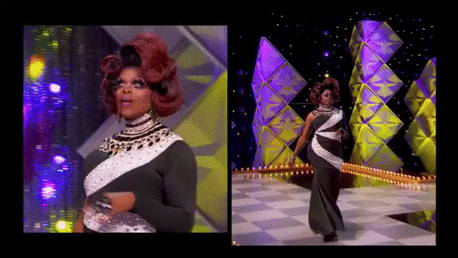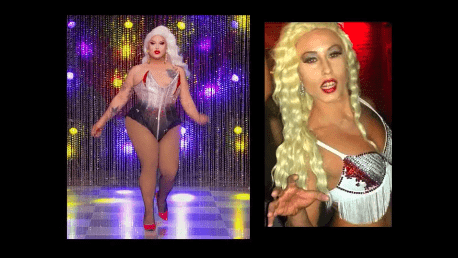 Priyanka walks slooooowwwwly to the stage.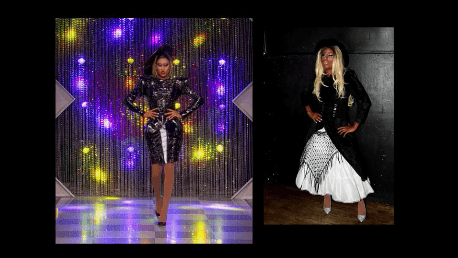 WHAT DID I SAY ABOUT SCARLETT BOBO BEING HALF LEE AARON????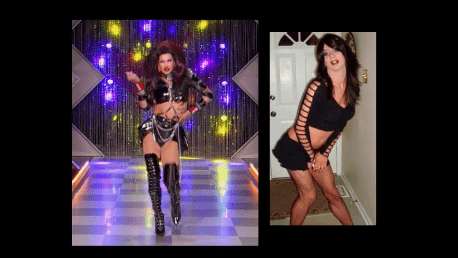 For reference, Lee Aaron, ladies and gents, aka Metal Queen.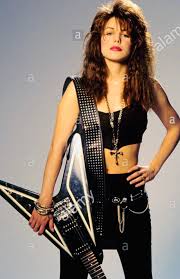 Oh but there's MORE!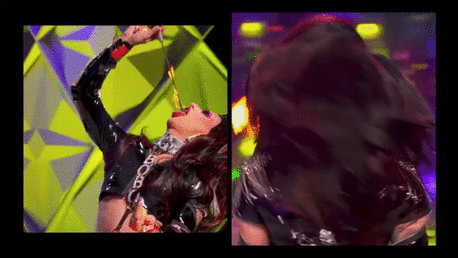 Ilona Verley!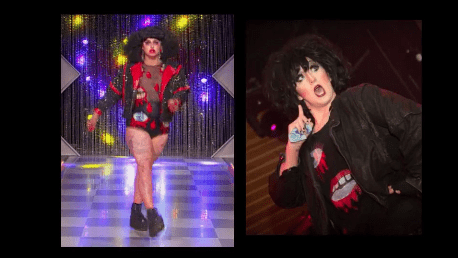 What the fuck, Jimbo?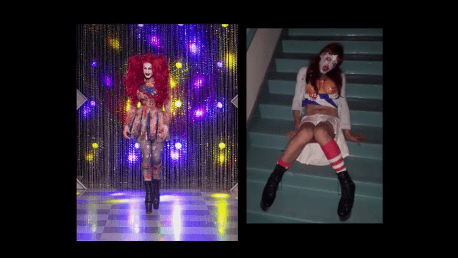 "Back from the dead, looking for head" zombie realness?
Jade: "Mom, my dolly scares me!!" hahahaha
On to the Her-itage Moments where Priyanka freaking RULES in The Muffragettes, I just love her. I'm totally okay with her winning everything, every time.
Burnt Tuck isn't quite as strong, I felt, possibly because of Tynomi forgetting her tongue pops after the first 30 seconds but Rita Baga was insanely good.
Jade takes a moment to tell us he's never felt more peroud to be Canadian or more proud to be gay and then we cry.
Although they competed in groups, they'll be judged individually so Anatastarzia Anaquway, Ilona Verley, Rita Baga and Scarlett BoBo are sent to the back as Safe. Priyanka looks nervous to be still standing, but you nailed it girl!
Critiques!
Lemon killed it, she's a top and in the running for the win. Can you believe she's never done any acting before?? Tynomi Banks…she's not in the top. She gets read for her look AND her acting, Jeffrey even points out that since Lemon slayed so hard, there's no excuse for Tynomi to fail.
*Lemon is going to apologize for that backstage, 100%.
Kiara did a fantastic job in the challenge but her updated drag is….pretty much exactly the same so she's in the running for Safe.
BOA sucked in the acting challenge but we knew that was likely given her difficulty reading. Her updated look gets raves but not her lack of confidence in her sexiness.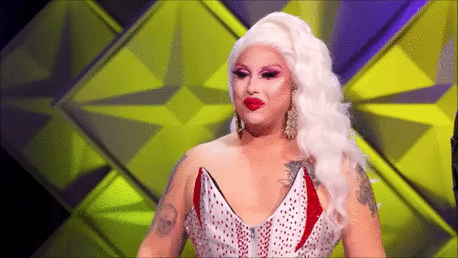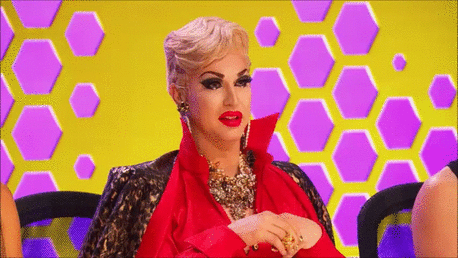 Kyne gets a mehhhhh and still chooses to not listen to the critiques. Priyanka is definitely in the running to win, she was excellent from start to finish. Jimbo is also a top and now it's time to deliberate between us mooseknuckles!
And we're to it: Lemon wins! The week and $5,000 worth of Anastasia Beverly Hills makeup wooooooo!
Who's lipsynching for their lives?? I'd be shocked if Tynomi Banks and BOA didn't go head to head. Oh. Okay, Kyne and Tynomi, I was close!
Oooooh and it's to one of my fave CanCon songs: "If You Could Read My Mind" although not by Gordon Lightfoot, that's okay!
Checking in halfway, I think Tynomi Banks is killing it, Kyne's mostly silently screaming and pointing a lot. Once someone brings in a deathdrop, though, it's anybody's game! Okay, Tynomi does a slow splits, what's going on Kyne?? Are you the Dancing Diva of the Kitchener-Waterloo-Cambridge Tri-City area or NOT??
Tynomi Banks, whatever happens, you were sublime and I'm so happy I got to see your performance. She cries, Kyne tries to comfort her by saying "don't cry. I'm about to go home. This is MY moment."
Hahahahahahahahahaha
I love that Kyne always stays on-brand.
She's gracious as she leaves and we're done for another week, honeys! Just happy to be here witcha. Cheers!