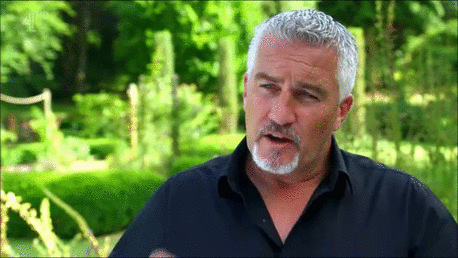 This is it, the finale of series 8 of the Great British Bake Off and there will be BREAD! Wooooo! Who's ready to find out who was our top British Baker of 2017? Me too! rolling into my GBBO S8:E10 Final recap after the break!
We're in the finale with our three remaining bakers: Steven Carter-Bailey, Sophie Faldo and Kate Lyon.
I would say it's anyone's guess who could take the platter today on the Great British Bake Off but I'd be lying. This is Steven's win to lose, he's shown his baking brilliance since the day we met him and it's really going to be about nerves for him. Sophie is no slouch with her tidy and frequently fabulously executed bakes, but Kate is super streaky. She is all high highs and low lows, let's see where we land today!
Since it's Bread Week (my FAVE) and the finale, the Signature Challenge is extry difficult. The bakers are tasked with making 12 small loaves of three different types, including three intricately shaped, three with alternative grains and maybe plaited?
Hosts Sandi Toksvig, Noel Fielding and judges Paul Hollywood and Prue Leith looked almost gleeful during the delivery, it's just mean to make everyone do maths too.
Paul knows exactly what he's looking for.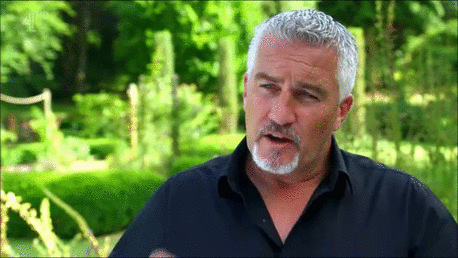 Sure! Sophie's making two breads (ciabatta, brioche) with long proof times, this is going to be tricky.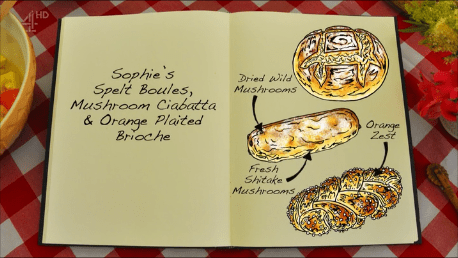 But that's not the point, my friend! Or maybe it is and if you got that reference we shall be friends forever and I will bake all the breads for you.
On to Kate, who is choosing some more conservative breads filled with weird stuff because it's Kate.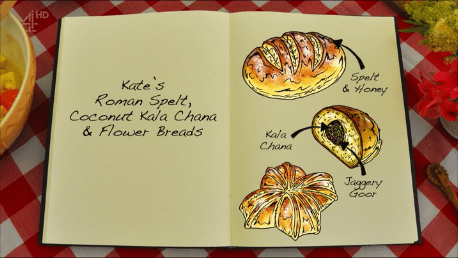 Steven is roasting garlic for his bread and I'm listening, Steven! Go on!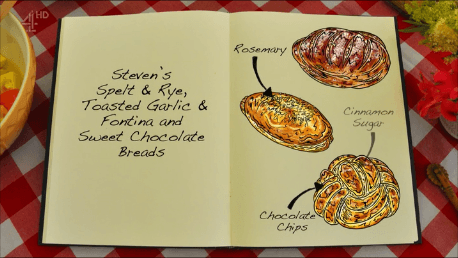 We meet his family! His sister cries as she tells us that Steven is doing everything for their mum, she inspires him. His mum, so quiet and lovely, loves him to the moon and back.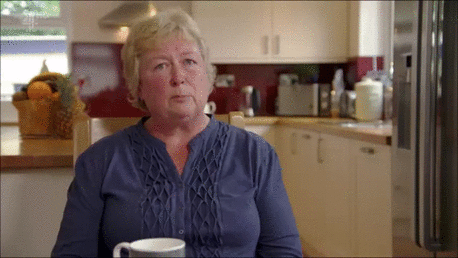 I totally didn't cry at that, stop!
The bakers are in for it, I can't believe Sophie chose to make ciabatta and brioche at the same time in a three hour window. That's going to be near impossible to get good proofing. That and everyone using spelt flour is tricky, too. It goes gummy while you're looking at it.
We get to meet Kate's family too, she's so busy! She's got a full time job, is pursuing a masters degree in OH&S and practicing Bake Off bakes in all her spare time when she's not blacksmithing.
Awww, Sophie's got the most adorable Irish boyfriend, he actually applied to Bake Off for her! That's awesome and they're super cute together.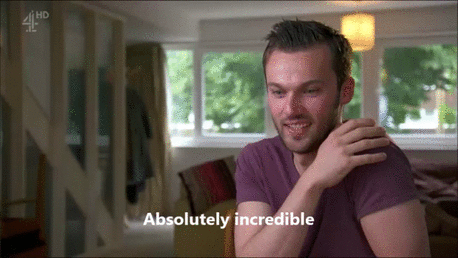 Oh I love watching them roll together their buttery little loaves of stuffed bread, it's so soothing. We can't proof any longer, all the bread is in to bake and we're perched in front of our oven windows like lumpen birds of prey. Steven has a loaf split almost immediately but Sophie's loaves are rising magnificently. She keeps saying she's terrible at bread, but I don't believe her.
All of Steven's loaves split, he hates rushing. I felt everything he's feeling here after placing his final Signature Bakes in their basket.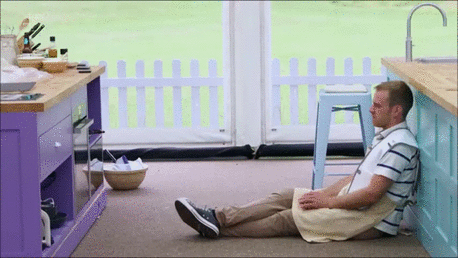 Sophie is up first for judging, slight underpoofing and baking dogs every loaf, but overall she did well.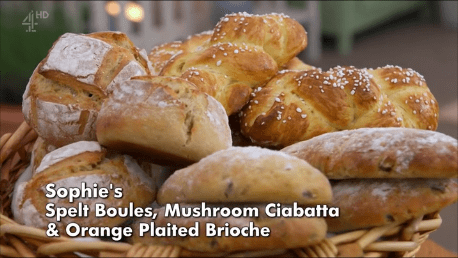 I'm not sure Steven's are as pretty and they're awfully baked across the board save for his chocolate/cinnamon Windsor knots. I'm sorry.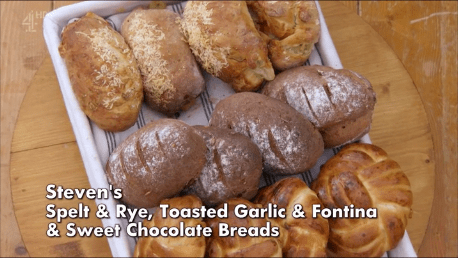 Kate does very well with all three of her loaves, the spelt is slightly under-seasoned but properly springy and baked.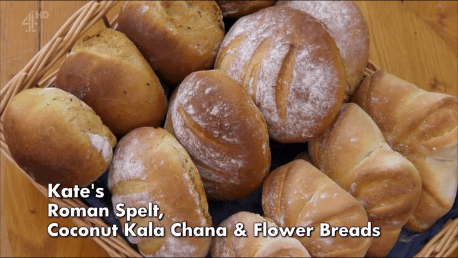 Going into the Technical Challenge, Steven's a little down but determined to pull through. Since Prue is giving us the recipe this week, I brace myself. She's suuuuuper mean.
Oh. But today the baketestants will be making 10 intricately iced ginger biscuits, half oval and half square. That doesn't sound hard, does it? Oh. Maybe the decorating will bring the difficulty, they have to look exactly like this.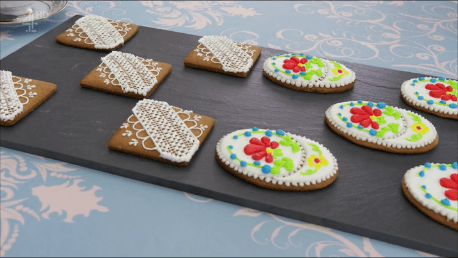 Everything goes fairly well for the cookie part, except Kate has to do quite a lot of patching and messing about. She'll get it! She's the only one to bake her dough en masse and not after cutting them out, but I think you'd want that for the snap, wouldn't you?
The piping is what separates the bakers from the herd, this icing is all Royal Icing, which is stiff. You need two consistencies, one for flooding and one for decorating. As we see above, you also need some in different colours. Kate does her details THEN the flooding and that is unequivocally wrong.
Guess whose is whose??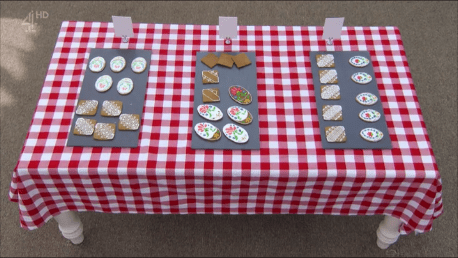 Steven handily wins with his excellent piping, followed closely by Sophie with Kate trailing at the end with her unfinished biscuits.
Steven is extremely happy with that comeback.
We roll into the final Show Stopper Challenge of the season with the crown up for grabs, who will make the best Entremet? They need five elements and flavours, this is what they're sort of supposed to look like.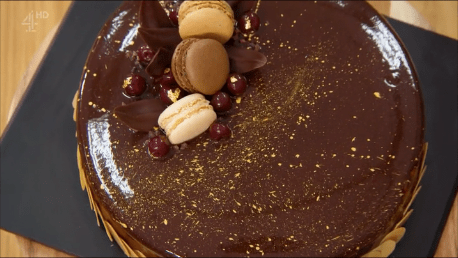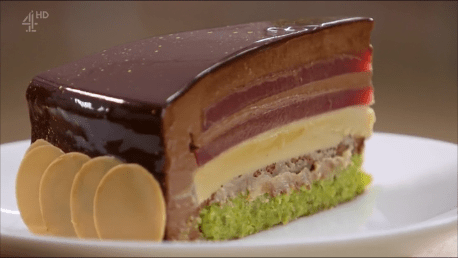 This is exactly the sort of thing Sophie excels at, she's going with a bee theme.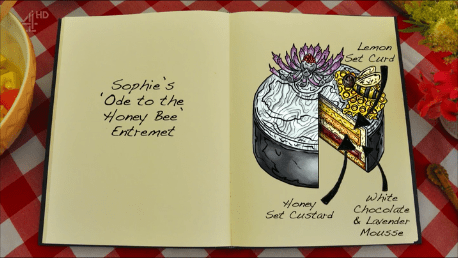 Kate is making a splashy show stopper with some interesting flavours.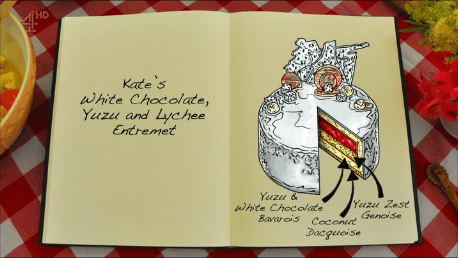 This looks fun!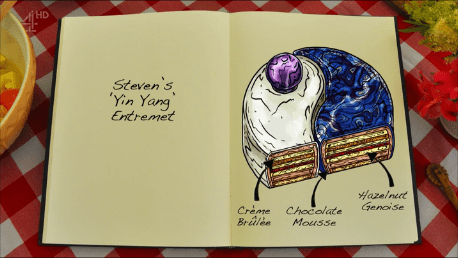 Oh but he's not setting the layers individually and I worry this will screw him.
The judges sit and discuss the flavours on offer, Paul is really confused about Sophie's choices.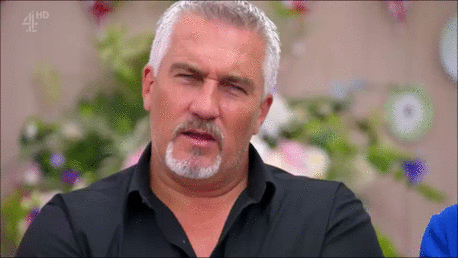 Steven is really struggling with his time, he tends to make method errors and they bite him in the bum. Remember when he baked his meringue too fast? This is what he's doing with cooling his layers.
Kate and Sophie calmly assemble their layers as Paul points out that Kate lacks finesse and I hadn't thought of it that way, but it's true. She's an excellent technical baker, but doesn't always finish things properly.
The last hour is all decorating; why is my pug so farty? WHY. Steven is struggling with his nerves, his entremet needs half an hour more than it's going to get in the freezer so he's walking around taking deep breaths and trying not to pass out.
There is only one minute left and I'm about to pass out watching everyone struggle to get their cakes set up on stands, I literally held my breath that whole time.
Oh Steven. You're such an excellent baker.
Time is up and everyone is so relieved! Yay, last challenge ever in the Bake Off tent!! Group hugs all around! Except for…Kate? Oh, there she is.
Everyone heads outside where we see all the families and also the other bakers! Hai Liam Charles and Julia Chernogorova! Ah I see Stacey Hart and Tom Heatherington! Yan Tsou, Flo Atkins!
Inside the tent, we've started judging, Sophie is up first for her last heart-in-throat effort review of the season.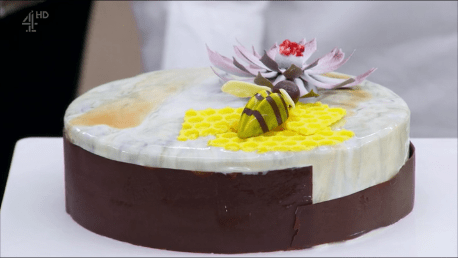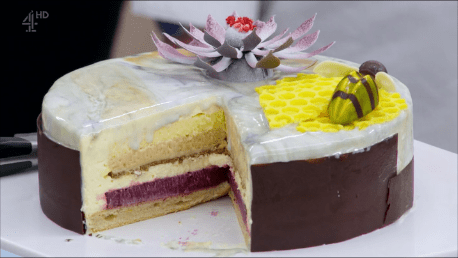 She knocked it out of the park! Steven looks like he's going to throw up.
Now Kate's pretty cake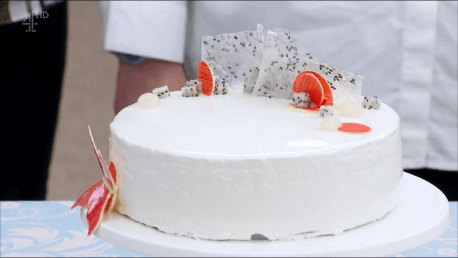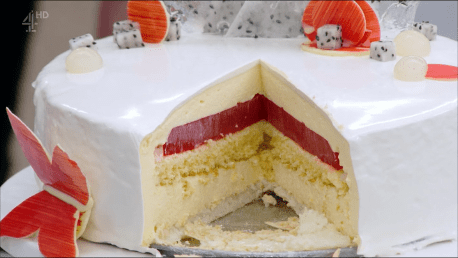 She also did a fantastic job.
I'm sorry, Steven.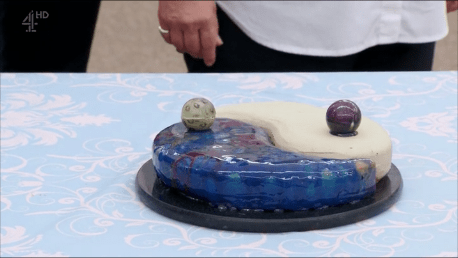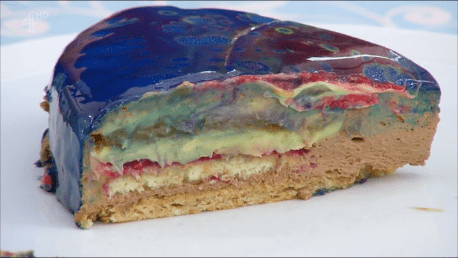 I keep calling him the best baker in the tent and I stand by that, but he will not win today.
The judges deliberate, then everyone gathers up their cakes and heads outside to find out who won the eighth series of Great British Bake Off.
And it is: Sophie Faldo who wins the GBBO 2017! Yay congratulations Sophie!!
(I think Kate is an excellent baker but I would have rioted)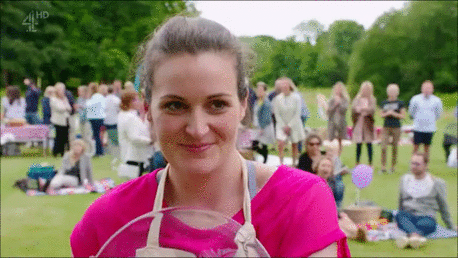 I maybe cried when she cradled it like a baby.
Captions of Truth take us out, yay, I love CoT!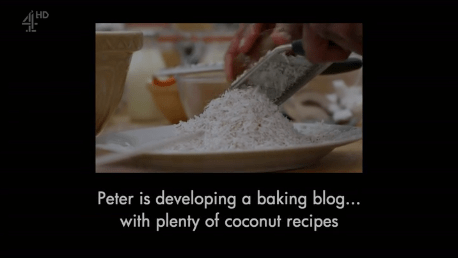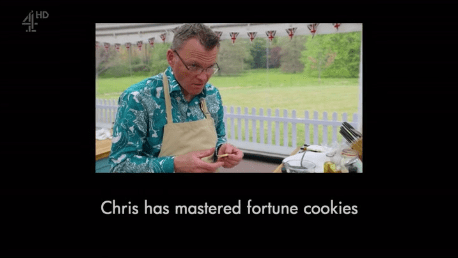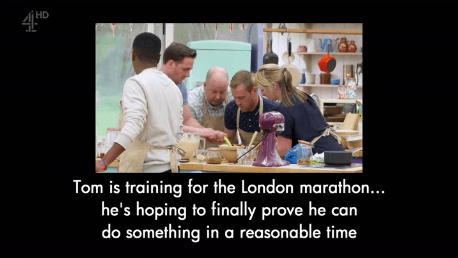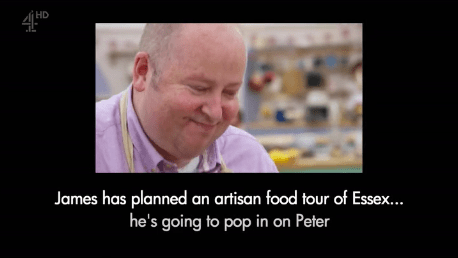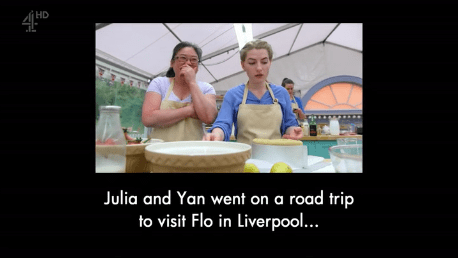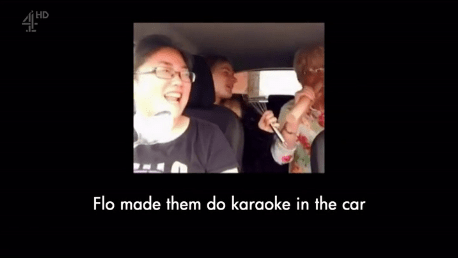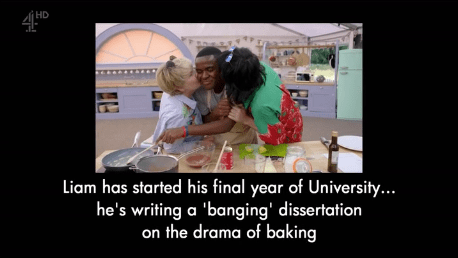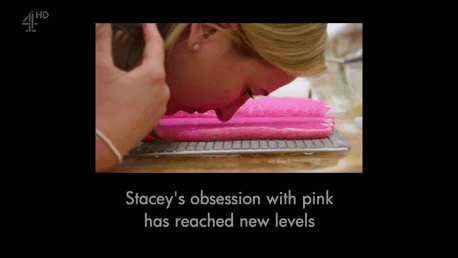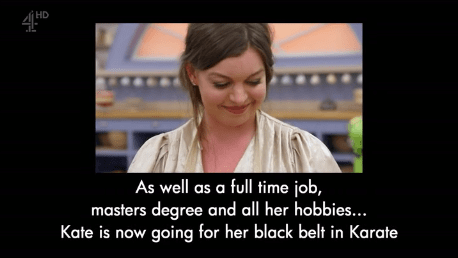 Until next time, when I go back in time to 2016 and recap GBBO series 6! Wooooooooooo I can't wait to see Mel, Sue and Mary Berry again! Cheers.