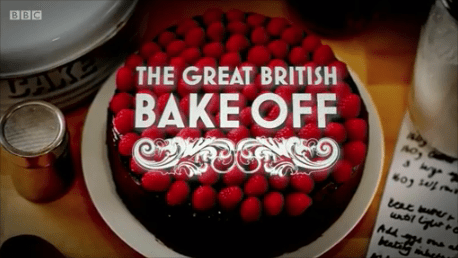 You guys. You GUYS! Last week I was all "poor me, I can't get GBBO, I'll just sit in a corner with my thumb innit" but I was finally able to get it up and running using an app called FilmON (which is brilliant) thanks to a couple of reader friends PL and JS. Thanks so much ladies, let's roll The Great British Bakeoff Pastry Week after the break!
Everyone's reeling a bit from last week, even Benjamina is wary of the Curse of the Star Baker (still not at actual thing, but I like to reference it for Mel and Sue) but it's Val and Rav who REALLY need to be watching out.
We start with our Signature Challenge as always; 24 breakfast pastries of two types of the Danish variety. Totally clear? BAKE!
The important parts of this challenge are explained by Mary and Paul, the baketestants must make their dough quickly with lots of butter (you have my attention) without allowing it to melt and with allowing time for the dough to proof.
I know they call it proving the dough on GBBO but I was taught that you proof dough and I don't feel like being questioned by my flour today.
Benjamina is making Good Morning America Swirls and Peanut Butter Banana Pinwheels and YES PLEASE!
Jane is making TWO doughs because she's clearly lost the plot, but her Orange Pain as Raisin, Raspberry, Chocolate and Almond Danish is getting a pass from me. Raisins are for children, because they don't know any better.
Everyone pounds their butter to flatten it (not a euphemism) while Candice explains her breakfast dessert: Danish Pastry Croque Monsieur Kites and Cinnamon Apple, Vanilla Cream Rose Danish. COMPLICATED as always is our Miss with the Lippy.
Andrew is precisely engineering his Mum and Dad's Breakfast Pastries but Selasi is doing something he should never ever, EVER do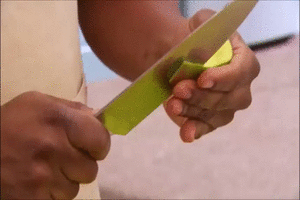 Cut AWAY from yourself! He's making Rhubarb, Mango and Ginger Plait and Pineapple and Coconut Pinwheels. Pass. Paul and Mary like his flavours and Paul even goes so far as to pick ingredients to pop into his mouth. Imma need a minute.
I'd just like some chocolate, can we do that? To go with my cuppa?
Val's not helping me out either, she's making Pecan and Maple Syrup Pinwheels and Apple, Sultana and Cinnamon Swirls. Sigh. She has the same lemon juicer I do though! She's using dental floss to keep the shape and oh Val. Oh Val.
Rav's making Cinnamon Swirls and Pecan, Walnut and Maple Plaits. I do not understand using pecans and walnuts together, they're very similar, just one is like a red-headed stepchild (Imma red-headed stepchild!) and generally left out entirely.
Everyone works on the math of how many folds vs turns they need; they all look confused but they're all doing the exact same thing, so figure out who brought a calculator. My money's on Andrew.
Tom's making Mega Breakfast Bonanzas; Granola Spirals and Wheat Foldovers. I'm going to let him finish, but my pistachio granola with pumpkin seeds and pecans is the best of all time. He's doing weird stuff again, the wheat is an unusual choice, so we'll see if that comes out for him.
Filling montage! It seems Jane and Candice are using the same folding technique! Baking montage! At 23 minutes to judging, Candice hasn't baked anything yet and Benjamina has only done half. Eeep!
Oh shite, Jane's Selasi'd hers, they're burned and the others aren't cooked.
I just would like to say at this moment how blown away I am that these bakers are all creating these delicious treats from scratch before our very eyes. They're just making them! Like it's nothing! I was always shite at pastry.
Candice had a little bit of trouble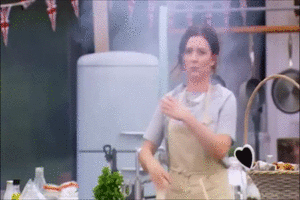 Judging time!
Val has all her pastries present and accounted for, but they're slightly underbaked and Paul isn't buying that is how she and her family like them. They look great. Selasi's are underdone for a change, but the flavours are uneven. Tom's are dry as a bone, Paul's not even trying the second ones. Rav's look great, but he's short a plait. They're also very dry. Andrew's dad kept dates in the glovebox (?) and the first Danish... is too small. The second looks DELICOUS! Although that's probably just the dark chocolate. Also too thin. Benjamina's are a complete fail; raw and un-proofed and gross. Paul and I didn't understand peanut butter and banana together, but I have to confess that I make a smoothie all the time with frozen banana and peanut butter protein powder, so I should probably shut up. Paul asks: who was Star Baker last week? Curse of the Star Baker!
Jane has put on a master class on pastries, she's one to watch for Star Baker this week for sure. Candice has made fantastic-looking Danishes, but they savory ones are dry and the sweet are underdone. Mel makes off with a good half dozen anyway, they looked great!
Tom needs to pull up his boots! Jane is blown away and Rav is worried. He should be
Technical Challenge time! It's Mary's recipe this week: a Bakewell Tart. That was my nickname 20 years ago!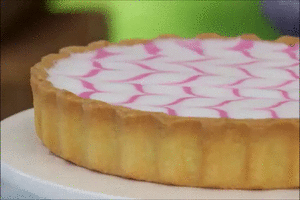 People sort of know what they are, Candice's nan used to make them (wait, does she mean her original nan or Mary, who's adopted us?) and Jane quite likes to make Bakewell tarts. The key is
I would like one in my FACE
Why does every single technical challenge involve jam?? Why??
The younger gents have tagged this as an Olds challenge; for example: Val probably knows her way around a Bakewell tart, right? Retro, classic and classy, not OLD, sure sure. Benjamina totally means that, too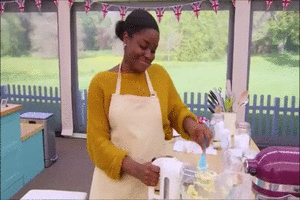 Val has made an unfortunate mistake, she completely guessed at everything because she missed that there was a whole second page of instructions. Sue cracks me up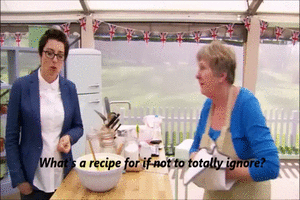 Chilling then baking time! Val's gone extremely thick on her pastry, er-ooh. Andrew's allllmost sure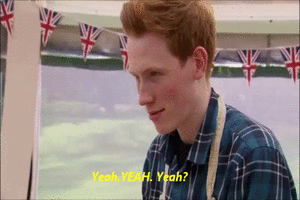 And Candice's is crying again, this time about her nan, awww. Andrew will be crying soon, his oven wasn't on and that's why his bake is taking a little longer than usual.
NOBODY does well with the icing, everything is too hot, some of it's falling apart, it's a gong show all around.
Judging time! Rav's is the only one that really stands out, it's AWFUL. Andrew didn't finish his icing and I'm sure glad they have three challenges before they send anyone home. Lots of time for redemption. Not for Val, I'm afraid, we've got our first soggy bottom of the series.
From worst to best: Rav, Val, Andrew, Benjamina, Tom, Selasi, Candice and Jane takes it! Yay! She's definitely one to watch.
The next morning, the judges discuss who's at the top: Jane and Candice and who are at the bottom: Benjamina (Curse of the Star Baker!), Tom, Val and Rav. I think Rav and Val are the ones who really have to be looking over their shoulders, although Tom's done miserable work for ages. You know, for the Top Nine Bakers in Britain.
The ShowStopper Challenge is 48 filo pastry amuse-bouches; 24 sweet and 24 savory.
Filo pastry is NOTORIOUSLY difficult to make, and Paul reminds us that an amuse-bouche must also be tiny, no more than an inch and a half. Basically, you want to be able to pop it into your mouth (bouche, whatever) in one bite.
Rav better pull this out! His Chinese Style Prawn Filo Tartlets and Spiced White Chocolate (NOT chocolate) and Hazelnut Samosas have my attention.
Val is making Carmelised Red Onion, Goats Cheese Tartlets and Mincemeat and Apple Spiced Parcels, I will take ALLS the savory ones, please! In my face! They are two-biters though, which makes Paul's face look very grave and Mel talk about gobfulls.
Jane's are too big as well, but I like how different they are! Her Roquefort, Fig and Walnut Parcels and Cherry and Chocolate Cones sound at least half good!
Andrew is using a wet dough for his Spicy Chorizo Squash Parcels and Baklava Bites: yes please!!
Baklava / filo dough history lesson! Mel will be eating ALLS THE BAKLAVA. There is a tiny Mediterranean restaurant in a nearby town that makes it's own Baklava, to.die.for.
Tom is making weird stuff again, since that's been working so well for him lately. His Yin and Yang Amuse-bouche have chili and a bunch of meat covered in cocoa powder. Pass
Candice is making Sausage (good to give your sausage a nice squeeze), Black Pudding and Apple Rounds to go with her Banoffee Whiskey Cups. They look fun! She's using a pasta machine to do the rolling, Mary approves.
Benjamin is using plantain in her recipe, it's a Nigerian staple and her Plantain and Spinach (Spinach. What?) Samosas and Chai Pear Cups sound like a Hard Pass.
Now Selasi's Parma Ham (I have some really good ham from Spain and I can't THINK of what to do with it, so I'm listening closely), Asparagus and Cheese Filo Cigars sound interesting, as do his Coffee Cream Filo Cups.
Ohhhh nooo, Rav says he has spare time! WHAT?? Dough stretching time! Then buttering; 48 buttered layers and that may even be too much butter for me. Just kidding, bring it ON!
Baking time! I make a Tortierre amuse-bouche with filo pastry from my recipe blog, this is so reminding me! I did not make my own filo pastry...
Oh no, Val's is a MESS. She didn't separate her layers properly and it's goo. So many look fantastic and Selasi actually takes a moment to help Jane! I love this group. And this show. Let's not talk about next year!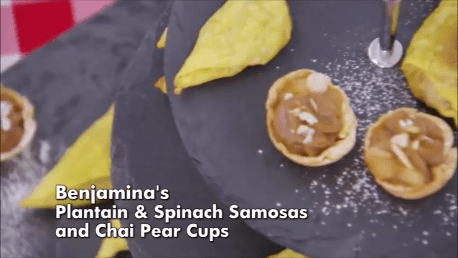 Benjamina's taste delicious and are exactly the right size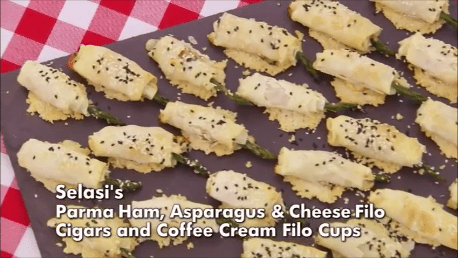 Selasi is up next and they're a bit dry
Andrew's tiny amuse-bouches have GREAT flavour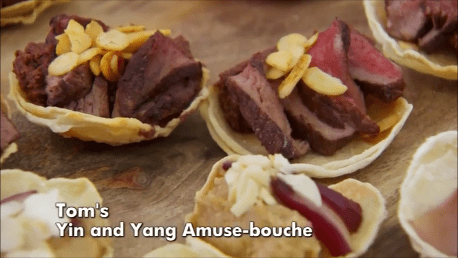 Tom's are too big and they look a bit ''informal.'' The flavours are off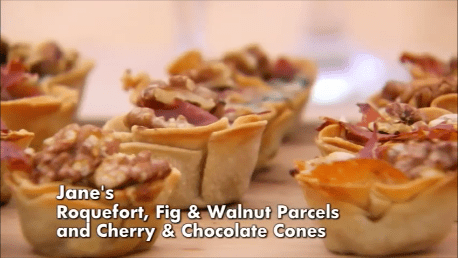 Jane's are terrific if too big
Val does not do well. 12 mincemeat parcels are still baking and the ones that made it aren't cooked.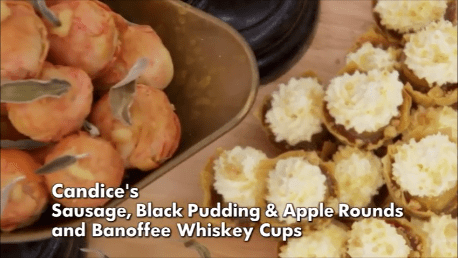 Candice's are ADORABLE! I would like all of hers in my face, right NOW! Jane hisses ''Star Baker'' in the background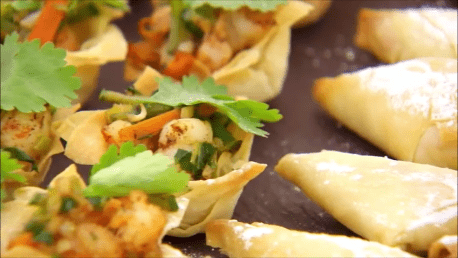 Ermagahd, Rav's look FANTASTIC. They taste even better, yay! He needed that to go well.
Judging time! They discuss in the back and munch of various goods, and now we have the results.
Star Baker: Candice again! She's our first repeater! I will say I was surprised since she bled all the butter out of her dough in the first challenge, but then her little apple filo whatsits at the end were to DIE for.
And going home is: Val. ''When you bake, you're doing it for a reason. You're giving it to people and you make it as best you can.'' She makes me cry when she cries, she didn't expect to ever be here!
Tom and Rav count their blessings again, that was a close one! See you next time for Botanical Week!