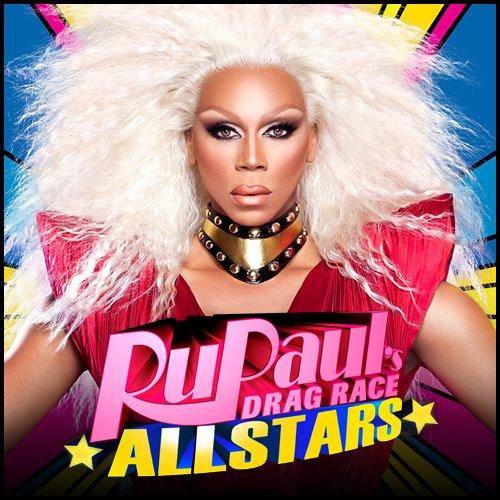 Halleloo huntys! BeckyMae's been doing a FABULOUS job of 'Capping the Kweens the last two weeks, now I'm back for a week! Hi! Let's roll RuPaul's Drag Race All Stars because the B*TCHES ARE BACK, Y'ALL!! Let's see who gets their RuVenge on S2:E5 Revenge of the Queen.
You remember we left PhiPhi running her mouth in front of a mirror where the eliminated queens could hear her, right? The Face Crack of the Millennium! Let's see what Alyssa Edwards has to say about all that shaaaaaadeee. Actually, that wasn't shade, that was being a bitch. Figure out the difference, PhiPhi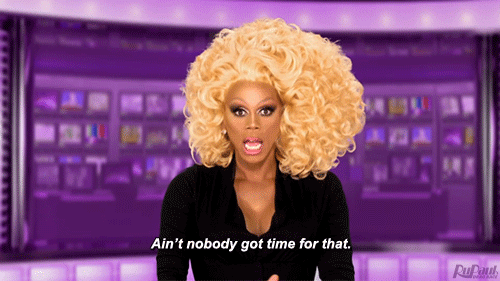 All the Gone Girls are doing THEIR two-way looks, I gag!! Lookit Coco's swerve!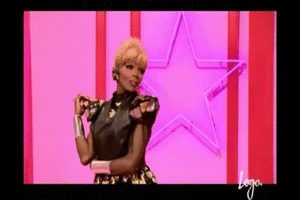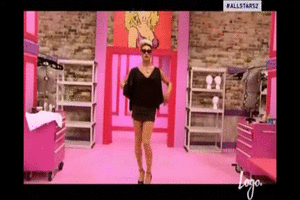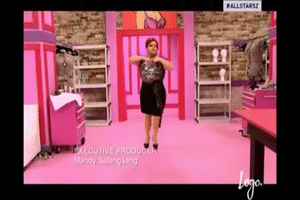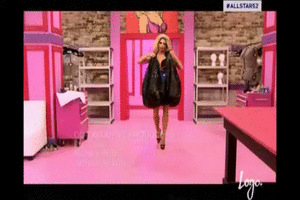 But the best part is PhiPhi's face when she sees Alyssa.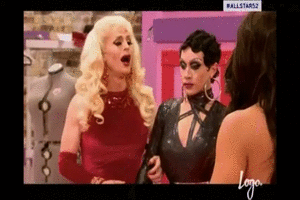 Alyssa figures she'll clear the air; PhiPhi, you got something to say? Oh no, not to Alyssa's FACE she don't, which Alyssa does not understand: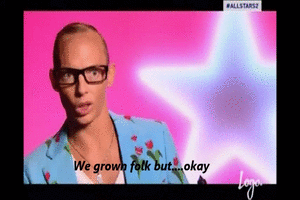 PhiPhi throws and throws and calls Alyssa out for playing the victim and gurl. You need to sit down and shut up. You got busted and you're talking fast and throwing 'bows and none of it changes that everyone just saw you be a raging bitch on the teevee. I don't understand all the hate PhiPhi's getting online, but she's not exactly redeeming herself like she wanted to right now, is she? Shhhh
Ginger interrupts the dramz to say she wouldn't have let Katya get sent home ANYWAY and it's exactly that kind of bullshite that makes me eye Ginger from arm's length. She should NOT have been sent home that week and her saying it makes her seems shady AF. Roxxxy doesn't understand what's going on, but she don't curr either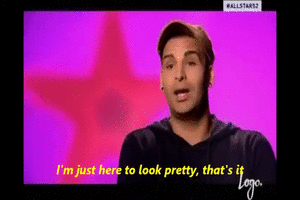 I LOVE that Tatianna is back! I wanna see what she's aboot!
MamaRu time! Oooh the challenge this week is doing standup comedy, but in pairs. The top two returning queens get to send someone home AND return to the competition, so I hope Tatianna wins! It's gonna be a tough gig, huntys, they'll be performing in front of an audience of Drag Race Alumni, the ones they beat out to be on All Stars. Katya is worried, but it's a sisterhood! They'll be fine!
Team picking time! Alyssa chooses Alaska, Ginger picks Katya, Tatianna gets Detox (choices!) and CoCo is stuck with PhiPhi. Nobody chose Roxxxy so she is the EmCee, that's probably a blast!
My brother was an EmCee at a wedding this one time and he had a great time! The bride and groom didn't speak to him for a YEAR, and he doesn't even drink so I can't wait to find out what he did. True story
Oooh and that's not it for Roxxxy, if she wins she gets a chance to cut somebody AND decide who gets to stay!
Planning time! CoCo's trynna work but PhiPhi is still trying to hold down her vomit at being caught being a catty bitch by all and sundry and can't concentrate. Look: I don't hate PhiPhi, she's just...young. And mean. And shady AF
I just love Alaska. I could eat Alaska with a spoon and her pumping Alyssa up for the standup set has me all acquiver. She's playing to Alyssa's strengths!
Detox swings over to check on Roxxxy, who's looking forward to working alone and I think that's a good look for her. PhiPhi undermined her confidence before on Snatch Game but I remember how she was the first time I saw here: she's got this hosting gig. Nail that mofo, Roxxxy!
Coaching session time! This time we have Ross Matthews, who is awesome on this show and terrible everywhere else and Chelsea Peretti, who everyone thinks is funny, but whose work I'm not quiiiite aware of.
Ginger and Katya do okay, they're trying to explain why they're friends, since they're so different. It doesn't necessarily come across all that well.
Tatianna and Detox come straight out the gate with prolapsed arseholes, AIDS and backdoor theatrics. When Ross Matthews tells you you're too crass...
PhiPhi and CoCo are not funny. Ross: "Oh my god you need jokes." Neither one really have any personality, but I remember how funny PhiPhi was as a Miami beach babe.
Alyssa and PhiPhi decide to have a nice calm chat about their disagreement...but they're not really cooled off yet. It goes about as well as you could expect, PhiPhi starts talking faster and blanking stuff out that she said and Alyssa's trying to work through what happened, but she's throwing a little in there too, until she calls it and they squash it.
OHMYGOD I JUST SAW MY LATRICE IN THE AUDIENCE!!!!!!!!!!!!!
If there is a god or a goddess or any kind of supreme being (eeeehhh), I will see Latrice Royale perform live in my lifetime.
Runway time! RuPaul looks like she wove a coat of many colours into a sequinned robe and then cinched it with shower curtain hooks.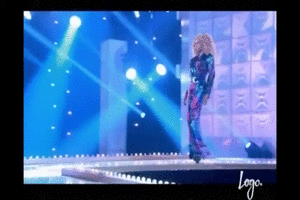 I MAY have taught myself to do gifs just so I could get the Monster in all her glory
Drag Race Comedy Show Time! EmCee Roxxxy looks fantastic but she diiiiessss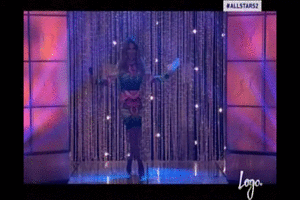 First up are CoCo and PhiPhi and PhiPhi is really funny as a Latina pregnant hooker and she has a natural charm, but the whole thing doesn't really work. CoCo just isn't that kind of funny. Katya calls is an off off off off off Broadway play about Hookers on the Point and I couldn't say it any better.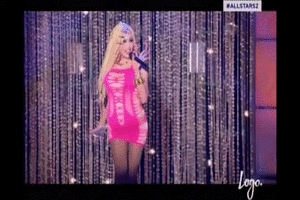 Roxxxy again! Ehhhhh medium?
Alyssa and Alaska KILL it and I don't understand. Alyssa is over the top and Alaska is slow and that part is ossum, but the response is WAY over the top.
Roxxxy can't spit a word out tonight! Not hardly ONE!
Ginger Minj and Katya look great, if expected. Katya always looks like HookerAbba and Ginger always has the exact same silhouette. Crossdresser for Christ did make me LOL but a lot of it seemed..forced?
Roxxxy, well, bless her heart, she's trying.
Tatianna and Detox are AWESOME! They left out the AIDS jokes: that was a GOOD choice.
Judges Critiques!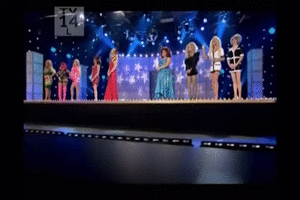 Roxxxy: gets read, we know she sucked
CoCo: your makeup is beautiful! But she and PhiPhi turned their SNL skit into an After School Special and MICHELLE DOES NOT FEEL HEARD. If you do not give proper attention to Michelle's critiques, she will CUT YOU.
Alaska and Alyssa: did fantastically, OF COURSE
Ginger and Katya: get read for being joyless, it was funny, but there was no continuous flow.
Detox and Tatianna: GOT this. Nailed this challenge, even if Detox's put on accent was too strong.
Top teams are Alaska/Alyssa and Detox/Tatianna, y'all know I love Alyssa Edwards, but I need to see more Tati hunny, mmmkay? I would NOT want to be lipsynching against Alyssa Edwards is all I gotta say.
Bottom queens are: PhiPhi and Roxxxy, I'm good with either going, but I wish Roxxxy had fought through a little more. I KNOW she can do betta than this. PhiPhi just needs to get out of her MeanGirlPlace, she's fine when she doesn't get in her head.
Ginger and CoCo are going home AGAIN, boooo!!
RuPaul and the judges are scrapbooking (hard pass) with the ladies are untucking in the Absolut lounge, PhiPhi IS too proud to beg, but if I've learned anything in my 43 years, its what Tatianna says: You gotta let a bitch know. If you can't sell yourself, how the hell you gonna sell somebody else? WERK
Side note: I am TERRIBLE at selling myself
Oh and Roxxxy cries, she's so beautiful and I hope she can KITT. PhiPhi's being her usual shady self over with Tatianna, who isn't buying it for a MINUTE. PhiPhi's going on about how funny Tati was and how you couldn't hear Detox when Tati already heard PhiPhi going on about how much funnier Detox was. Bitch please. I hope Tatianna takes it so she can send that SHAAAAADY B swinging out the door.
If you go by critiques, it's gotta be Roxxxy.
Lipsynch For Your Legacy Time!! GO TATIANNA!!!! Show us whatcha got!! Her facials are whack, but she can actually stay on beat, so I don't know! And then she does it, she wins (I'm not gonna lie, I cried. I'M EMOSH)! Oh and now we have to say goodbye to Alyssa again. Aww, I love you Alyssa! I think I even know your secret!
UM
WHAT??
Alyssa gets to stay TOO!!??
So they're splitting the tip
AND
THEY BOTH GET TO CHOOSE A QUEEN TO GO HOME??
Oooh gurl. Alyssa chose PhiPhi and so did Tatianna, so PhiPhi is DOUBLE eliminated. She hugs everyone BUT Alyssa, who she shuts down with a facewave. Guuuurl
I don't even know what to say about that, except that it is OSSUM I getta see more of Tatianna and less of PhiPhi's dramz. It's RuPaul's world, we're just living in it, huntys. Cheers!