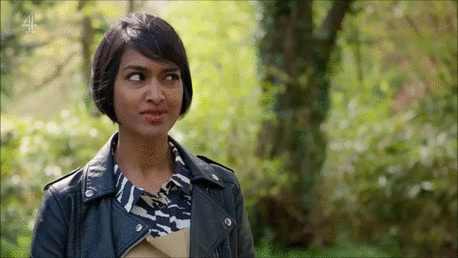 Who says I can't recap two seasons of the Great British Bake Off at the same time?? WHO? Nobody, that's who, let's roll into season ten of GBBO and see what kinda awesome other bakes we get! Starting riiiight after the break.
We're in the Wizard of Oz!! And it's not just hosts Sandi Toksvig and Noel Fielding playing around, judge Paul Hollywood is in there too!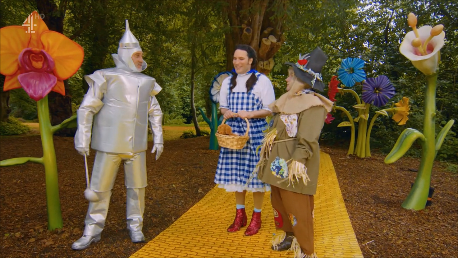 I do love a man in uniform. Oh wow, even Prue Leith gets in on the action! I'm all discombobulated.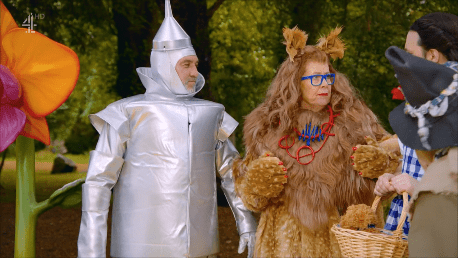 They're off with a chant of "cakes and quiches and pies, oh my!" then thankfully we're at the Bake Off Tent, with only Noel in drag as should always be. Sandi maybe even fancies him a little like this..
Oh. I should maybe have thought about spoilers. This is the tenth year of GBBO and they did a little retrospective where we saw all the winners including last year's. Congrats, Not Who I Thought For Sure!
The new contestants file into the tent, we've got a YogaDude that I shall call Namaste, an Orderly Looking Type, a Young Fella, it'll sort out better once we get names! There's Elderly But Spry Gnome, Ingenue, Young Tidy Dude, Football Matchigan, Bit WooWoo, Fleabag's Sister In An Uptight Turtleneck, Cool Hair and Bake In My Spare Time For Relaxation And Now I'm Here And Gobsmacked. Plus four more.
It's hilarious to me that they still call these creations "home bakes" while we look at a tree stump made out of sugar and look back at a mobile made entirely of cookies. Nobody's baking those at home!
Awww I love the credits!
We're in the tent for the first time, yay!! All Baker's Dozen of them, which means we've got a spare and also means at any moment two people could go home. NO PRESSURE.
It's time for out first Signature Challenge of Season 10 and it's a….fruitcake. Yuck. Really? Can you just throw random fruits on a cake and call it done? Coz that rummy bit with gummies stuck inside is kind of nasty. Let's see! Damnit, the challenge calls for a "significant amount of dried fruit."
Ready, set bake!
The bakers spend a few moments finding things and dusting pans, I like the pretty lady who sings her thoughts like a musical. They're going to give me names really soon so I won't even complain.
What…is Young Fella doing with his knife? Is that supposed to be chopping? Do you think he's held a knife before? (Not a euphemism, although I've already pegged him as pure)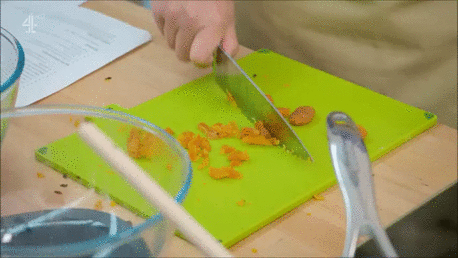 We meet our first baketestant! This is Cool Hair, aka Amelia Le Bruin, a fashion designer from Halifax who is using her mum's recipe for boozy fruit.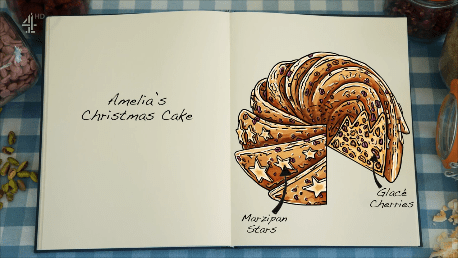 Hai Football Matchigan Jamie Finn, what are you doing here, lad? Are you lost? (You have G&T in a can in your apron, doncha?). How does one get by on being a part-time waiter? Asking for a friend.
Fleabag's Sister In A Uptight Turtleneck aka Michelle Fecci-Evans is making something tea-infused like her Grandma with her farm fresh eggs. I just recently found a fresh-egg supplier, you just can't go back. They're glorious.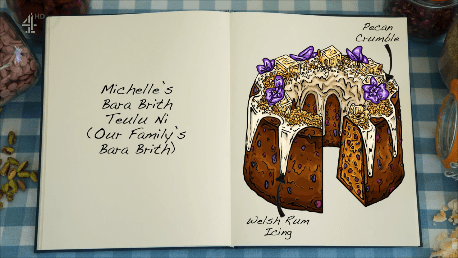 Michelle's husband thinks she and Noel look similar, but that's only because he hasn't seen Fleabag. EVERYONE should watch Fleabag!
Onto Steph Blackwell with the pretty eyes and Great Grandma's recipe.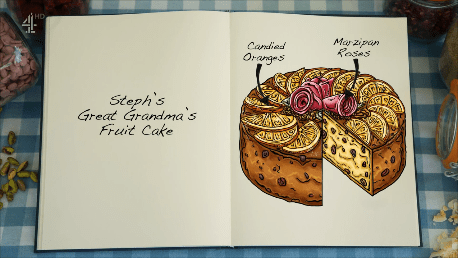 Bit WooWoo Rosie Brandreth-Poynter is doing a family recipe too because of course she is, young people don't make fruitcake on purpose! She's a vet, that's lovely! But proves her bread in her snake's aquarium so.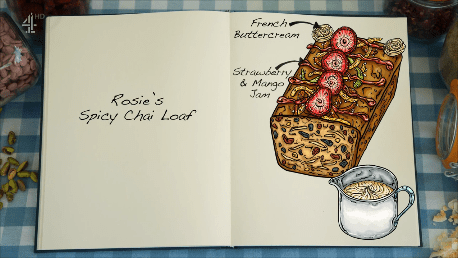 Young and Pure Fella Michael Chakraverty is using Indian spices in his cake too, he's half Indian and half Scottish but all pale. He's cut himself three times already!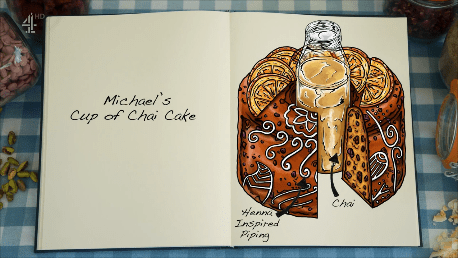 Namaste Dan Chambers is taking a risk, he's doubled his fruit, right now on game day. Hm. He's a support worker and I called that before I met him.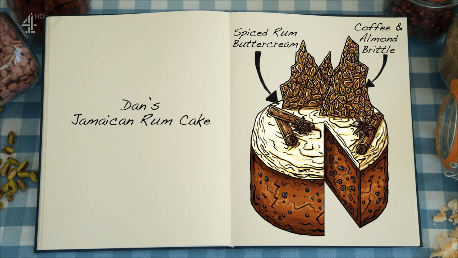 Young and Tidy David Atherton is a doctor or medical professional of some stripe, he's fanatical about healthy baking so I like him already! Anyone can make anything tasty with enough butter and sugar, let's see you do that with Splenda and a smile! Watching him run around in his light footwear is lovely.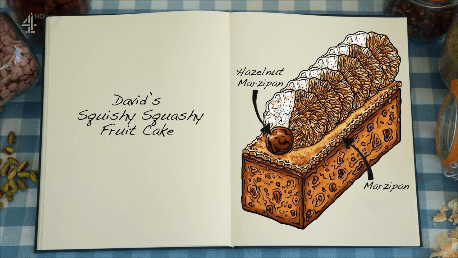 Bakes are going into the oven, I repeat, in.the.OVEN! Woooo! Timers beep and chirp but not for Elderly But Spry Gnome Phil Thorne! He's making a marzipan ring around his and it's slowing him down. Turns out he's not elderly at all, he has two young daughters and an appalling disregard for food safety in the shape of eating dough and smearing it on noses. Herk.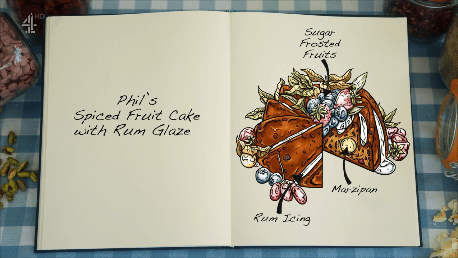 Now it's time to decorate!!
Orderly Looking Type Priya O'Shea is making some adorable decorations for her loaf!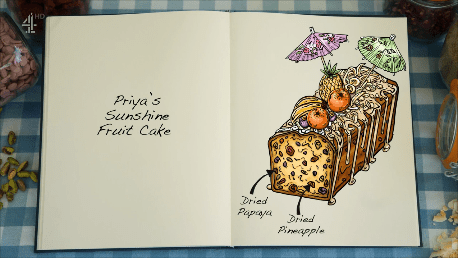 Ingenue Alice Fevronia loads up her cake with walnuts while I wince but dig her hair tying back game.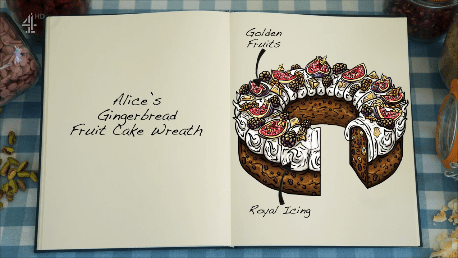 Now we meet Jamie! He has an identical twin and learned his baking from his Dad, lookit how cute his little chicks are going to be!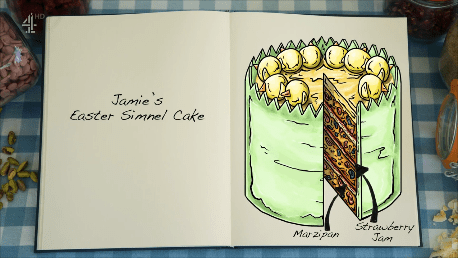 Pretty Musical Lady Helena Garcia is making a Hallowe'en themed fruitcake…ohhh but she has a baby Flora too! Shout out to Last Tango In Halifax woooop woop!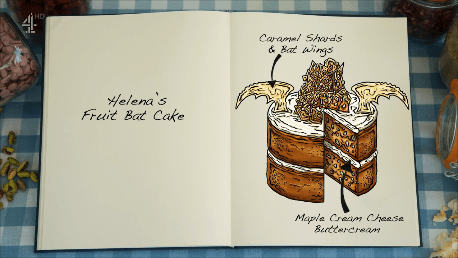 One more baketestant! I think! There seems to be a lot, but Henry Bird may be the last we meet today, with his fussy and difficult piping on the side of his fruitcake.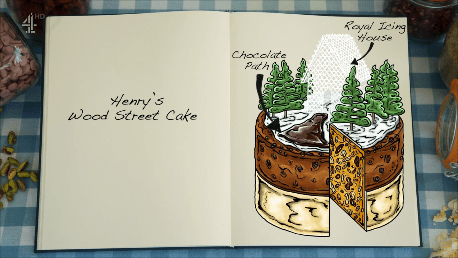 Half hour left! They still have to decorate the cake, but raw cake is no bueno, so they're all still in the oven. Jamie and Amelia are not having any luck.
But others are already decorating, wooooo! Dan's in serious trouble with his doubled cake not sufficiently baked in time, Rosie is threading cold skewers through hers…after poking them…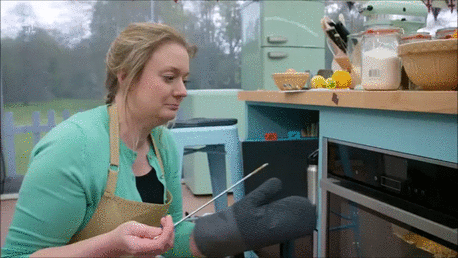 Most of the de-caking goes well, Amelia's lost a bit and Dan's cake is smoking hot. Last 5 minutes!!! I love how the finished bakers are over at Dan's station making the "brittle brittle" but disaster strikes young Henry.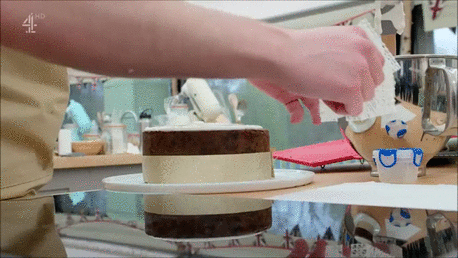 David does a big showy sigh at the end, it's going to be impossible to capture how absolutely fey and adorable he is.
I need to shut up because Jamie's is AWESOME! Several of the other ones look rather ramshackle, but his is lovely and I'll give his 20-year-old arse props for that.
Bloody hell, is anyone of age????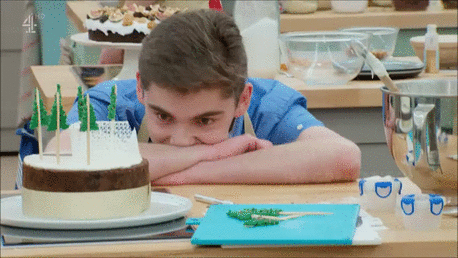 Judging! Priya is first with her Wham! video cake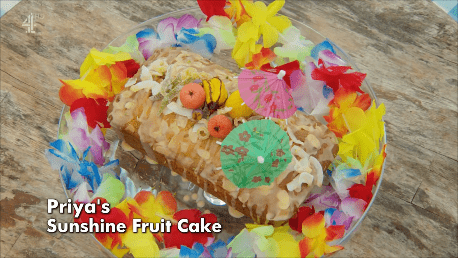 Well baked, original and different cake!
Lookit Jamie's cake!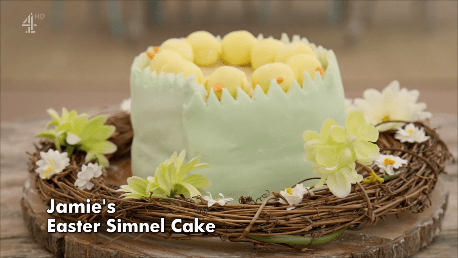 Delicious, great bake!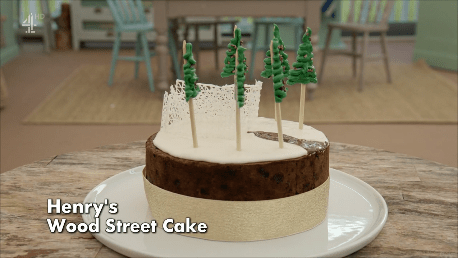 Another very.good.cake.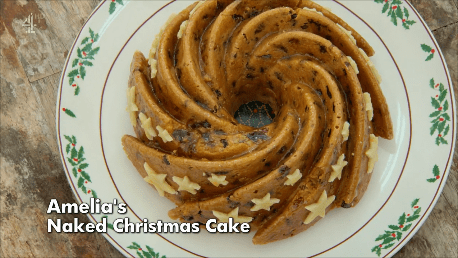 Moist and great flavour, everyone is doing so well!!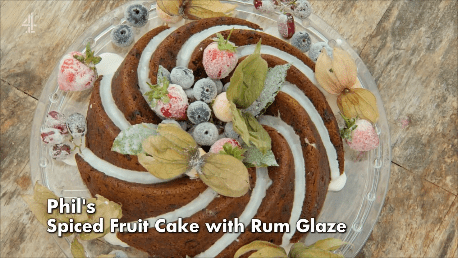 They love how it looks, but it's too spicy. The flavours are unbalanced.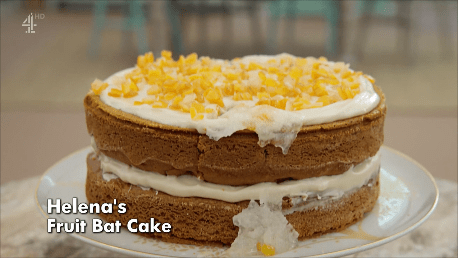 Also spicy, almost savoury. They spend zero time with Helena's sad bat cake.
Michelle!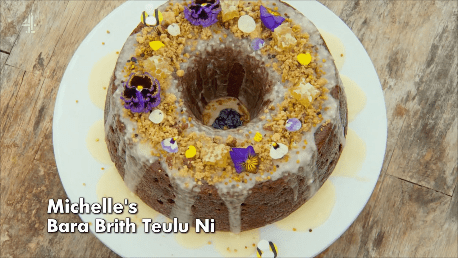 Icing is baaad, great flavour but texture is rough.
I hate Steph's cake so much. Just looking at it makes me angry. YOU CAN'T EAT ORANGE PEEL LIKE THAT.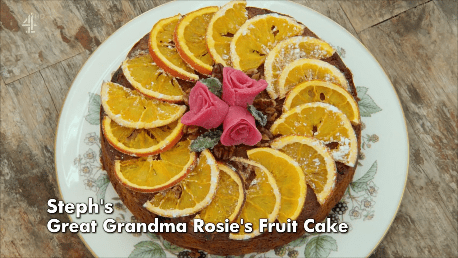 Great cake apparently, so whatever.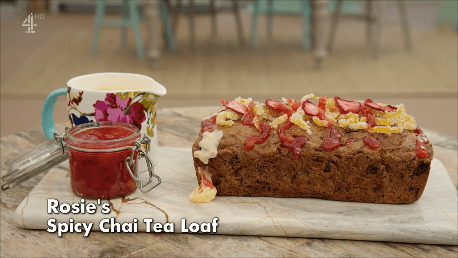 Sad, flat cake is cinnamon-y!
Heeeey fat-free-cake, how YOU doing? I am emotionally invested in David's bakes.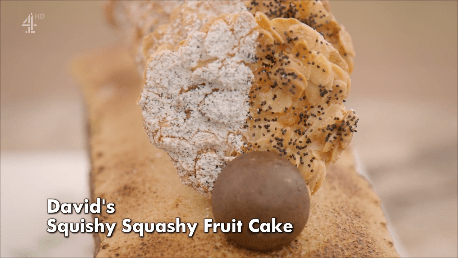 Too much almond essence, everything else is perfect. Woot!
Alice's whatsit thingy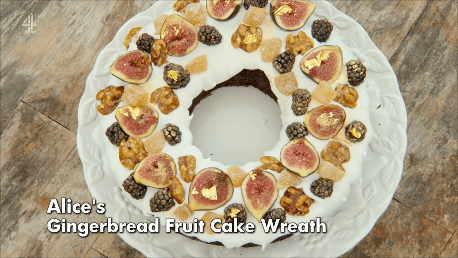 LOTS of ginger, Paul advises that she go back to basics which is absolutely never what you want to hear.
Well. Michael got it half-iced?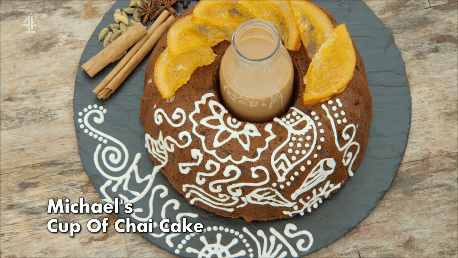 (Stoopid orange peel again) Absolutely lovely flavour!
Oh Dan. "Rustic"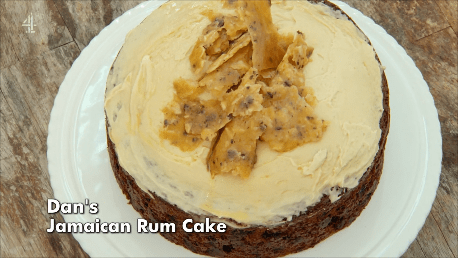 And the cake is raw. Damnit, I just met him and he's in trouble! I like support, it's awesome!
The bakers interview about how they feel going into the Technical Challenge, I'm sure this isn't foreshadowing!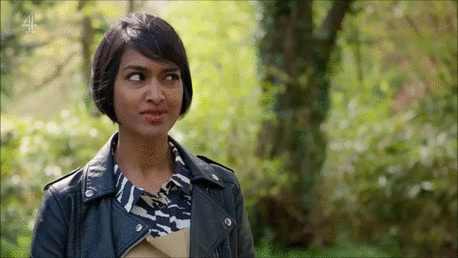 Prue came up with the Technical Challenge this week and the "gingham shrouded mystery" will require accuracy. Hm. Helpful.
It's Angel Cake the bakers will be making! Genoise sponge makes everyone groan, perhaps it's the fact that they're so prettttty.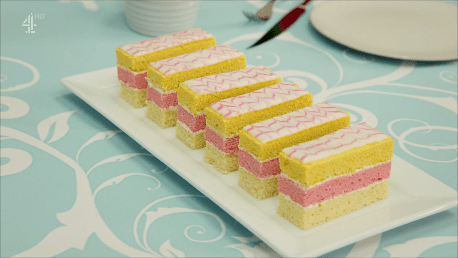 The bakers are away and we're already running into diverging methods; some are whisking by hand over steamy water and some are using mixers. All are using thermometers. I'm concerned that Priya is whisking hers so slowly, she'll never get enough air into her sponge like that!
On to slices, separating ingredients between bowls. Jamie's in trouble, his Genoise is flat and has no air. He starts over while everyone else throws their slices in the oven. Jamie pulls his new sponge five minutes before the challenge is over. Yikes.
David is killing me, he just has such a good time whatever he's doing. I'm expecting jazz hands at any moment. He's so twinkly, you can see him saying to himself "these look good, YEAH THEY DO. KILT IT!"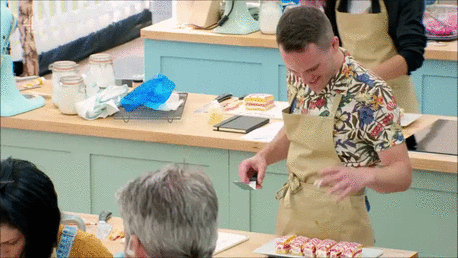 Time for judging!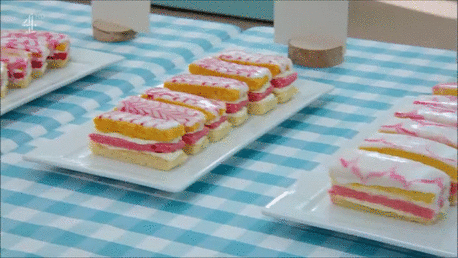 David and Alice do okay but Amelia knocks it out of the park. From worst to best, we have: Jamie (course), Helena, Michael, David, Dan, Phil, Priya, Michelle, Alice, Amelia, Steph, Rosie and Henry wins our first Technical!
Wooooo Showstopper Challenge! It's a birthday cake that the bakers wanted as a child..hmmm. I'm sensing so many sparkly things!
This is already raging out of control, so here are the plans, presented without comment: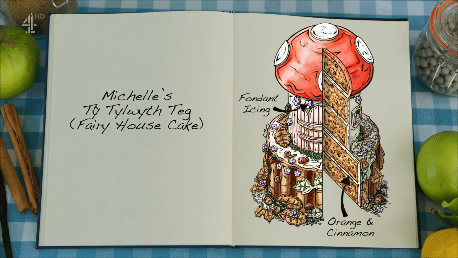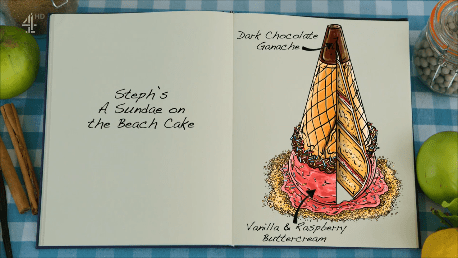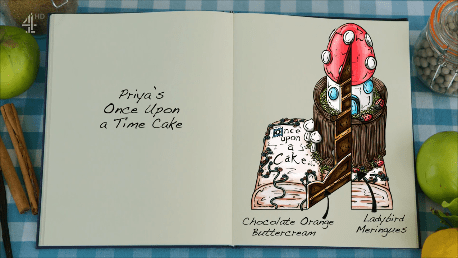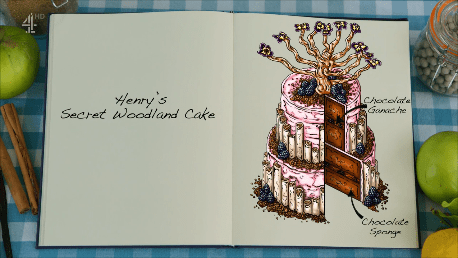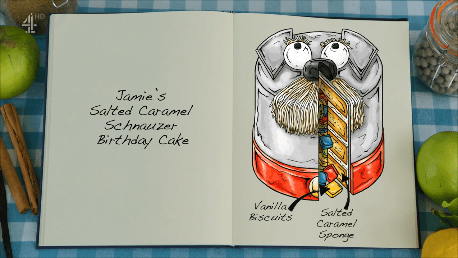 Not pictured: Helena's because apparently I forgot.
Oh damn, Jamie forgot to add the eggs to his batter and has to start over AGAIN. Now it's between Jamie and Dan in a race to the bottom.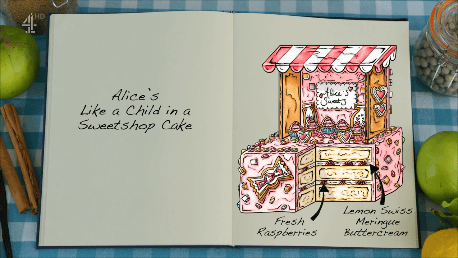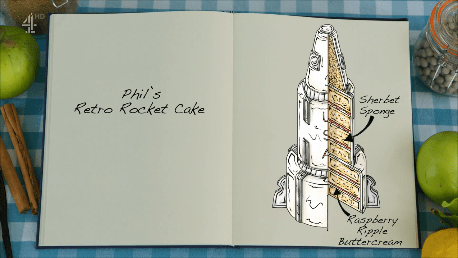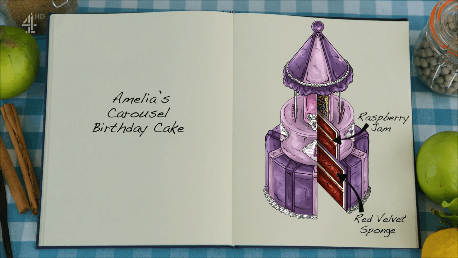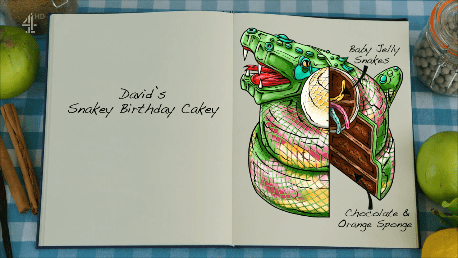 We're two hours in! Most of the cakes have been baked, now the cooling and decorating.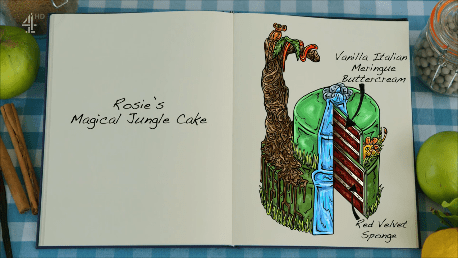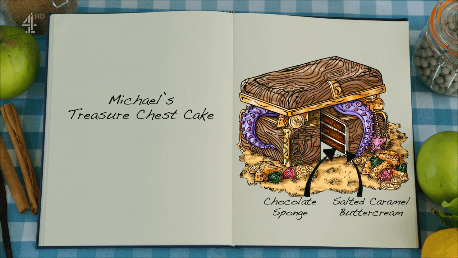 Pardon me, TWO pirate cakes!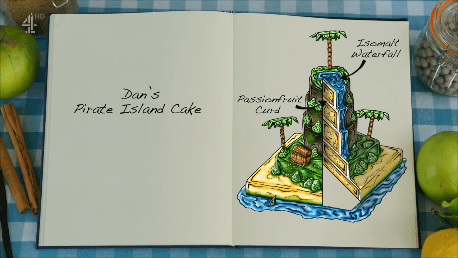 I guess if we have a load of fairy cakes…
One hour! Did…Helena spit on her presentation board? The Michael drops his cake and everyone forgets how to breathe. It's all right!
So much assembly! And fondant, jaysus so much fondant. PHIL. Stop fondling your fondant rocket nose! This is a family show!
10 minutes!
Judging!!
Michelle is up first with her dribble-worthy cake. FAULTLESS.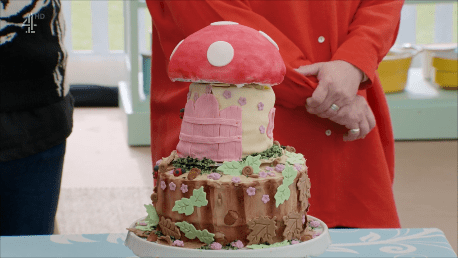 Look how beautiful Helena's cake is!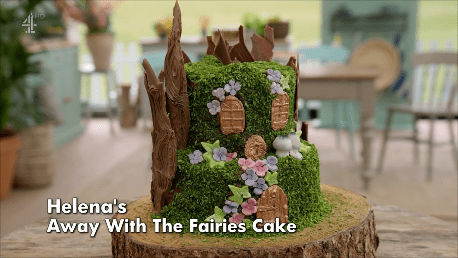 Oooh and Priya's is pretty but Prue gives her the kiss of death: "if I hadn't just had a better one…" SNAP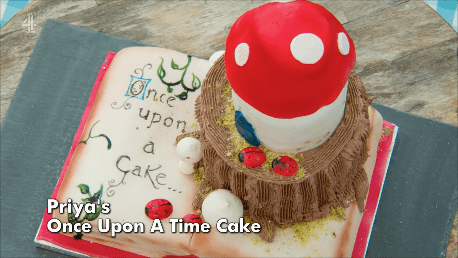 Alice's is so cute, even if they call it "rough and ready"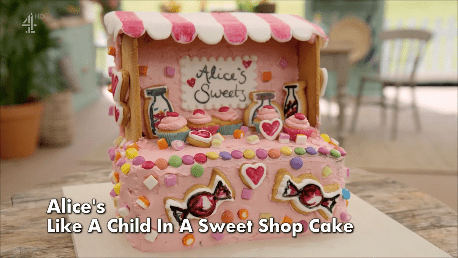 Phil's leaning tower of rocket is kinda cool but a little too sweet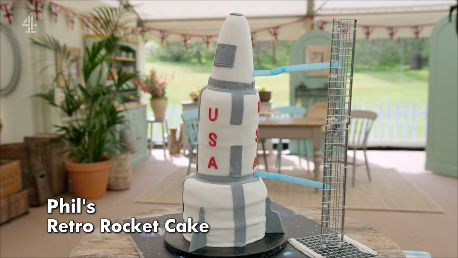 Henry's cake is awesome, he's one to watch for sure! He would have been in trouble if he hadn't used blackberries to offset the sweetness.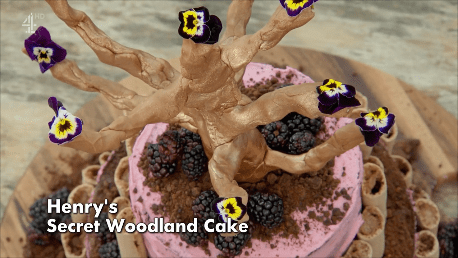 Amelia's carousel looks really tiny, doesn't it? But it's not quite sparkly enough and the cake is claggy.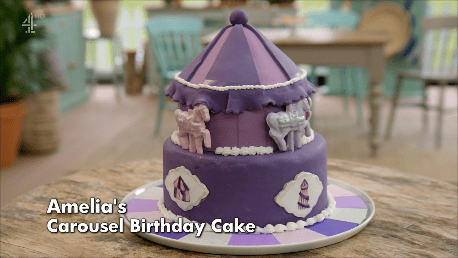 Hm. Steph's cake looks very messy to me. I don't think I would want that as a birthday cake, child or not. It's a little dry.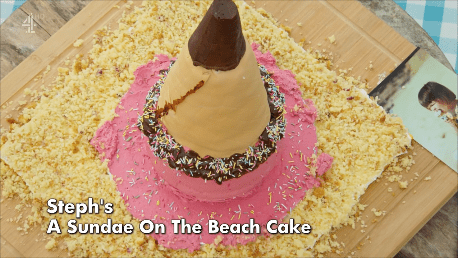 David's snake is super cool and is beeeautiful tasting!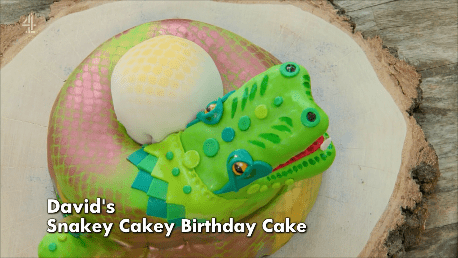 Off to our other snake with Rosie, Paul thinks the outside is simplistic but loves the cake itself and its "silky smooth buttercream."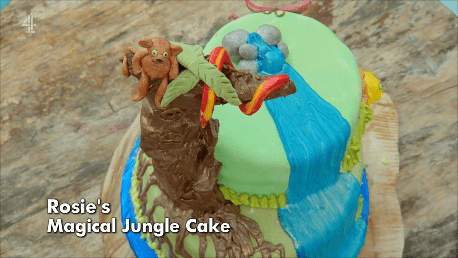 Michael's cake looks awesome but it's not quite chocolatey enough.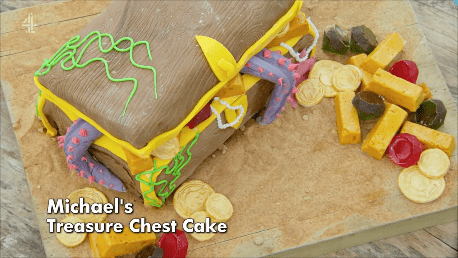 Look at Dan's awesome cake! Paul is not impressed, he can't find the lemon curd, no matter where he tries.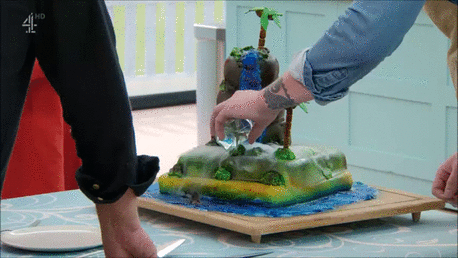 I would not like to eat a dog as a cake, but apparently this is Jamie's family's jam, so. It's overbaked and too heavy on the salted caramel.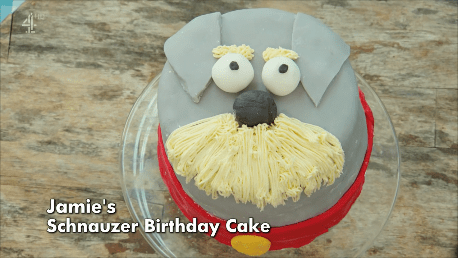 The judges deliberate while Jamie berates himself outside the tent. I can't even guess as far as Star Baker, but I feel confident I know who is in the bottom.
Star Baker is: Michelle! Yay Fleabag's sister! Even after the Signature icing!
And first to go home on season ten of Great British Bake Off is: Dan. Awwww, there goes my support. He's such a nice fella, just struggled a bit under the pressure. He cries and the group forms around him for a hug.
Jamie felt the whistle of that bullet, he'll be hunkering down. Michelle cries, she's just happy!! She calls her husband: Prue wants her carrot cake recipe! Yay!! Cheers, you lot, see you next week!