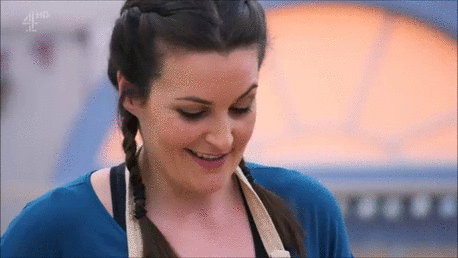 Are you ready to watch grown people baaaaaaaake some delicious combinations of butter and sugar in THIS HEAT? I said, ARE YOU READY for the Great British Bake Off???!! Wooooooo!!! I am and I'm not waiting any longer, diving into GBBO S8:E08 Forgotten Bakes after the break!
This is the quarter finals, Steven Carter-Bailey won his spot handily by capturing his third Star Baker and I'm so sad Yan Tsou didn't make it through to this point. She went home after a series of underbaked Italian goodies last time.
Onward we roll once more into the breach, my friends! The theme this week is escaping me; I'm pretty sure hosts Sandi Toksvig and Noel Fielding were joking when they called this Forgotten Bakes Week. Or Classics? I don't know and I can't look it up or I'll spoil myself for the whole season. Being several years behind is exhausting.
Okay! Our Signature Challenge is a Bedforshire Clanger which sounds like me wandering through the north of England on a bender. However! It's similar to a Cornish pasty which isn't helping. Noel tells us it's made of suet pastry, sweet on one end and savory on the other with a pastry wall; I'm pretty sure I just threw up in my mouth.
Judge Prue Leith explains that a Bedforshire Clanger is like a sausage with two fillings and just like that: I'm back in the game. I'm always up for sausage!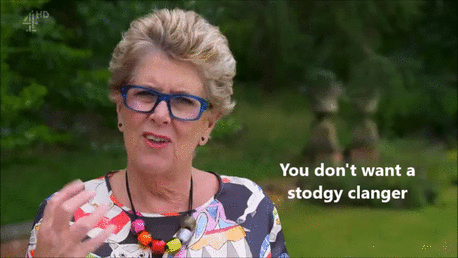 Judge Paul Hollywood gives us more information, the suet in the pastry is key. But. We just watched literally everyone grate butter. Do they know this key, Paul?
Steven has gone to the Mediterranean for his flavours.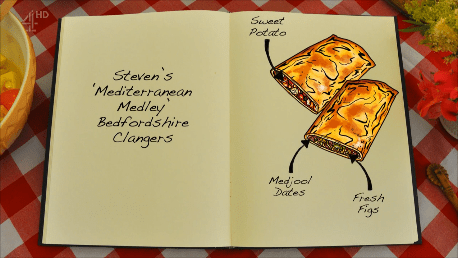 Kate Lyon shows Sandi how to sprinkle flour for kneading on, which Sandi attempts to do by shaking the jar.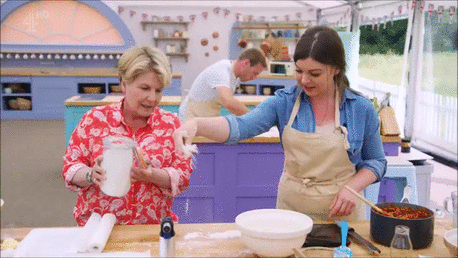 I love Sandi. I'm so sad we're losing her in the future, but we've got her now!
Liam Charles is making dipping sauces for his clangers, Paul pulls a face.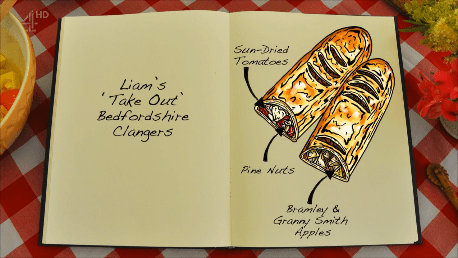 Shhh, you go ahead, Liam, it's all good, I like to dip a sausage here and again.
Stacy Hart is making our sole wet filling, but she compared it to a fancy pickle and I thought we already went over sausages?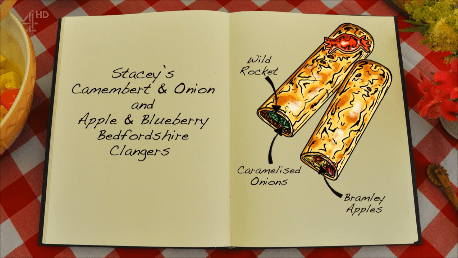 I have literally no idea what Sophie Faldo is talking about but I love her hair braids, so there.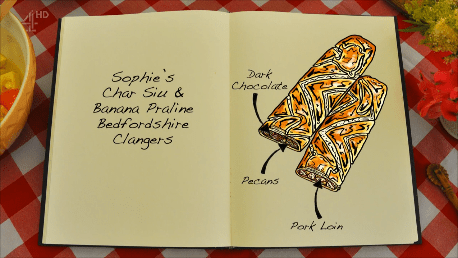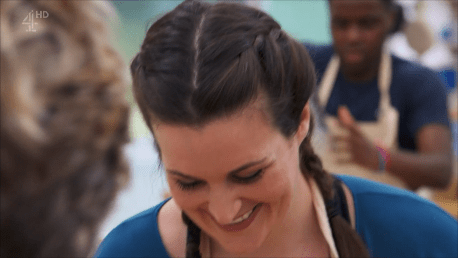 I really expected Kate to be using the weird flavours, not Sophie, but Kate's come through with a Mexican-inspired set of whatsits.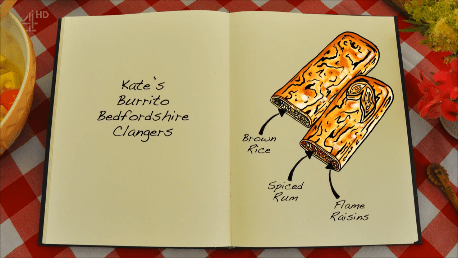 Somehow, we're already left with only 30 minutes and nobody has even started baking their snausages yet. Nobody knows if they're going to be cooked in time, or leak all over everything, nobody!
Stacey cries when she sees hers have leaked, this is serious business, people!
There is only one minute left so everyone starts pulling out their bakes, Steven's got four massive clangers.
It looks as though they've all leaked, Stacey, it's okay if they all leak! Oh no, Kate's still got hers in the oven, it'll finish on the platter, kiddos, get it plated!
Oh but don't move so fast, you'll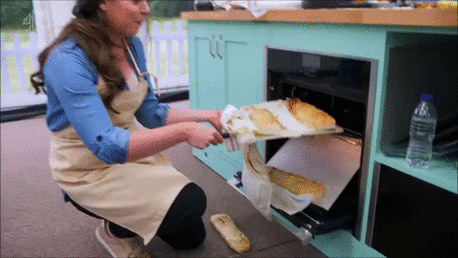 Drop one.
And we're in judging already, starting with Kate's breakfast burritos which are not only a mess and under-baked, they're under-seasoned.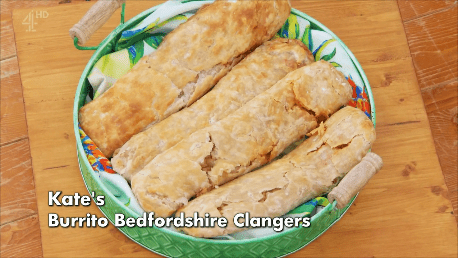 Liam's flavours have always been fantastic, but his pastry was just too delicate for a clanger.
Sophie does alright with her clangers, the pastry is just a bit too thick.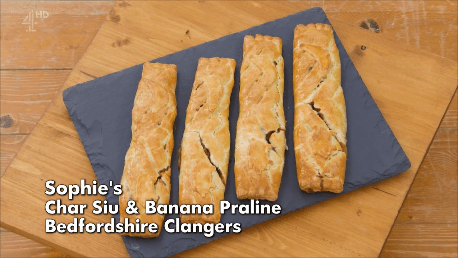 Steven's are quite dark, aren't they? Paul haaates the little paper thingies.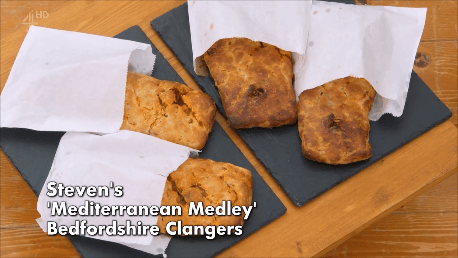 The flavours pull through, for once Steven is substance and NOT style.
C'mon Stacey, it'll be fine, even with the leaking!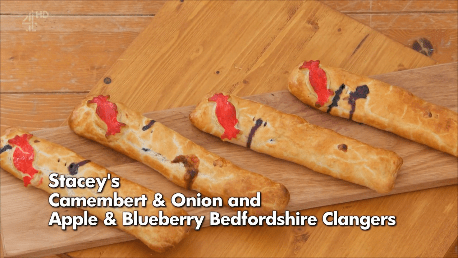 She holds her breath, on the verge of tears again until Paul pronounces them excellent.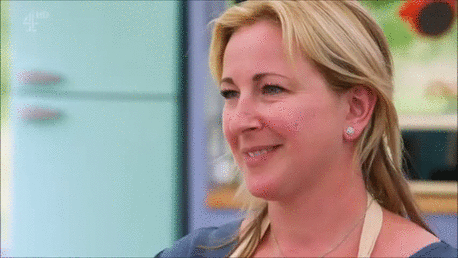 The sheer JOY! And that's before she got another Hollywood Handshake, great job Stacey!!
On to Paul's Technical Challenge which is all about precision! What's a Cumberland rum nicky? Nobody knows! But online it sort of looks like a pie.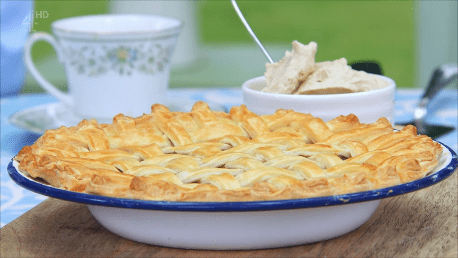 Full of rum-soaked raisins, hard pass. The hardest of passes. You may have allllll my rum nicky!
Paul has set quite the obstacle course for our bakers, they've got no mixer or measuring cups. Let's see how they do!
Not great to start, I don't know how pouring a liquid over your hands is measuring anything but any port in a storm I guess. The lattice is the next large stumbling block, and I shall remember this should I find myself being tortured on national TV. Since the pie has alcohol in it, it's important to leave large gaps to let the alcohol burn off. Kate is quite worried about her traditional lattice-work as Steven is making a new-fangled easy one (cutting slits in top then pulling apart) but she's actually following the key large gap rule without knowing it.
Disaster strikes Steven as he puts on his cheater lattice.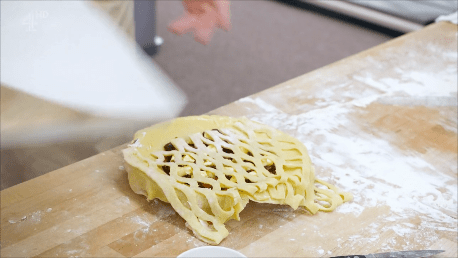 He starts over but I think they have less than half an hour now, Paul said the pie had to bake for 35 minutes! I don't understand why Sophie only did the inside of the pie plate? Her lattice is too tight also. Liam's was looking awesome until he broke the one side and messed with it some more. His pie is completely raw when it's time to serve.
Judging! From least best to best, we have:
5th – Liam – totally raw
4th – Sophie – too tight lattice
3rd – Stacey for her single extra lattice strand, oh whatever
2nd – Kate
and Steven wins the Technical! when it should have been Kate, 100%
Just when you think Kate will be send home for dropping an under-seasoned clanger, she roars back by being very sensible about a tricky challenge.
Onto the Show Stopper Challenge where our baketestants will be trying their hands at (usually inedible) Savoy Cakes. They feature no leavening agent and no fat, so…have a good time, bakers! Sandi takes us through the history, here's what they're supposed to look like.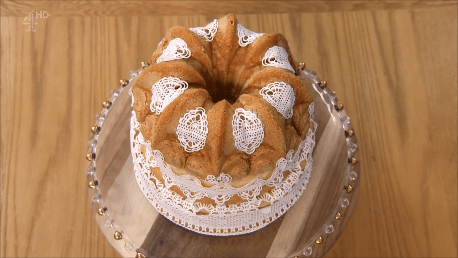 Stacey's clearly lost her mind with all the elements she thinks she's going to have time to make.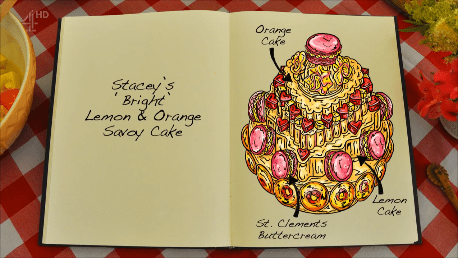 She's got a tonne to do, so to save time she's folding her egg whites really quickly and did she not read the part above where I said that's literally the only thing that will make this cake stand up??
I'm starting to think none of these people can hear me.
Steven's using fondant again. You know you can pipe buttercream flowers, right?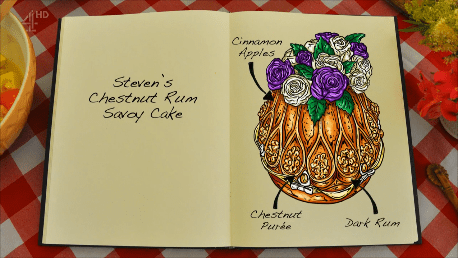 Kate is using 60 eggs. 60!! I bet nobody can eat 60 eggs.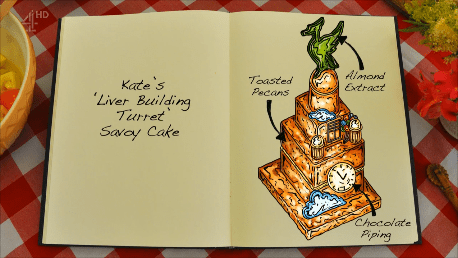 Liam isn't going quite as fancy but he's got spun sugar all over everything, so that's pretty cool.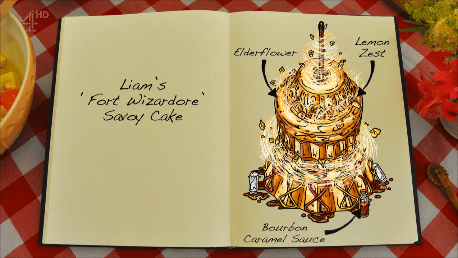 What's interesting is that the bundt pans or whathaveyou must be oiled/smeared with fat then coated heavily with icing sugar to give the Savoy Cake it's signature sugar crust.
Oooh Sophie's inedible cake looks awesome!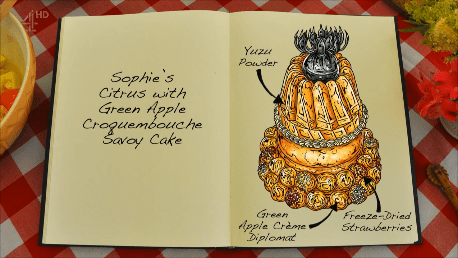 Steven's roasting his pecans in a frying pan, he warns everyone to stand back because "you don't want a hot nut in your face, do you?"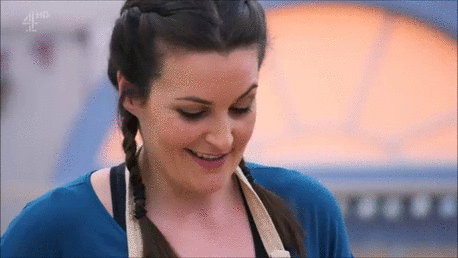 Sophie's face says "don't threaten me with a good time!"
I wonder if there are tours of the Bake Off tent available for tourists, you know, when the world isn't on fire.
The first layers are done and out of the oven, it's time to unmold! This is high tension on GBBO, one un-smeared corner uncovered with icing sugar and we're in Lopsided City, population: your cake.
I wish I was this happy about anything as Liam unmolding literally anything.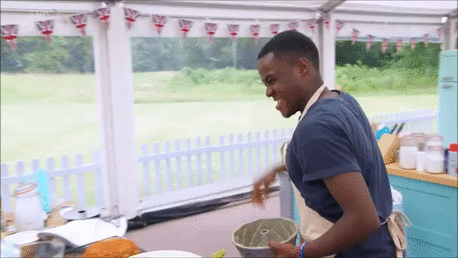 Bakes are flying in and out, macarons are sitting, all is well until Stacey breaks her oven.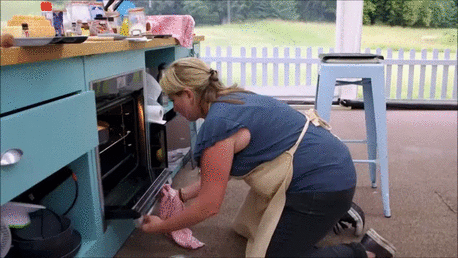 She leans up against the oven, holding the door in place because she's not giving up now! It's unfortunate she has so many other things she needs to be doing right now.
Kate's luck has run out with sticking.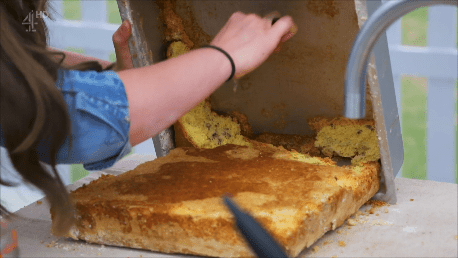 Everyone decorates and makes petals and drops choux bun after choux bun on the floor and wow Stacey's macarons are huge and then Liam is done early but he put on his spun sugar too early and now it's melted into the cake.
Time for judging! Sophie has just a tiny bit left to complete and tries to do it after time is called, Sandi has to admonish her LOL.
Stacey is first, look how many elements she got on that cake?!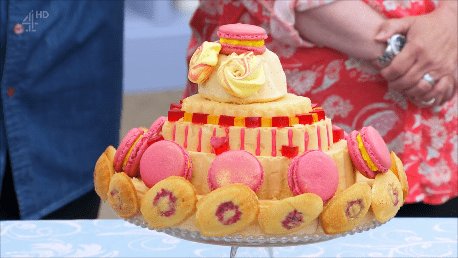 She gets kudos for her flavours and a couple of little things could have been better: overall a great job, Stace!
Liam's is flavourless and dense, perhaps overmixed again.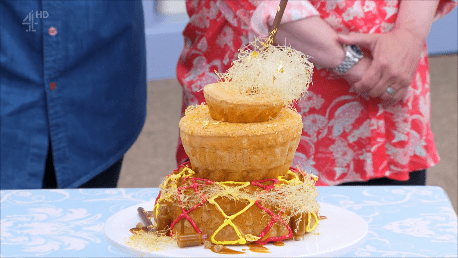 The judges rave about Sophie's cake, it's like they don't know it looks exactly like the Stanley Cup.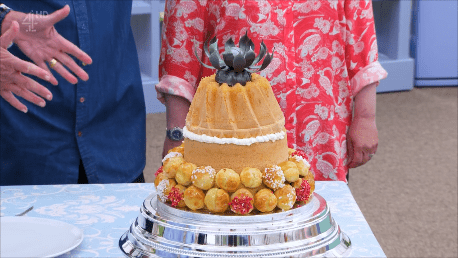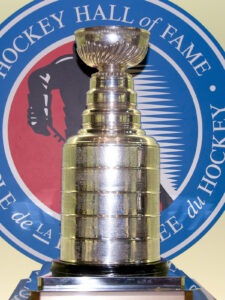 Paul loves everything about the cake, 100%.
Next to Sophie's Stanley Savoy, Steven's cake looks tiny.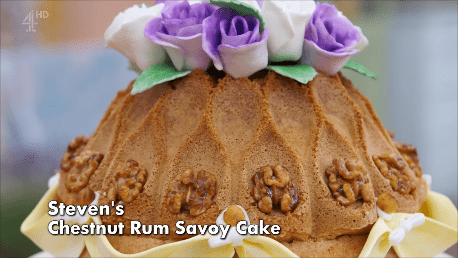 Paul points out that surely Steven used all his time on the fondant roses, I mean, look at all the things Stacey shoved on hers.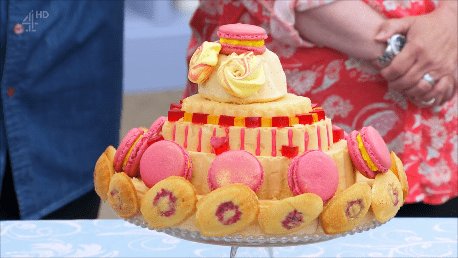 Time for Kate's critique, which is unfortunately not a good one. All but one of her cakes is dry.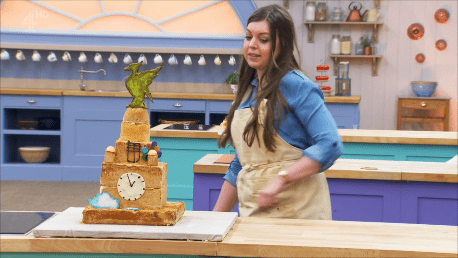 How are we at the end already? I can't seem to get a handle on having so few bakers and bakes in the tent!
It's really called Forgotten Bakes Week? For real? All right, I'll change the title. We have a Star Baker in the offing but we know we're going to lose either Liam or Kate. They're both 12, lots of time to rebound! I'm so glad Stacey has made it this far, she's been so worried all along.
And Stacey is Star Baker! Oh we're crying, she's so lovely and redfaced and good for you, lady!!
Ahhh and it's Liam going home this week, we all cry with Sandi as she tells him, maaaan. He's only 19, he did so bloody well.
I'll see you next time for the semi-final Patisserie Week. Cheers!