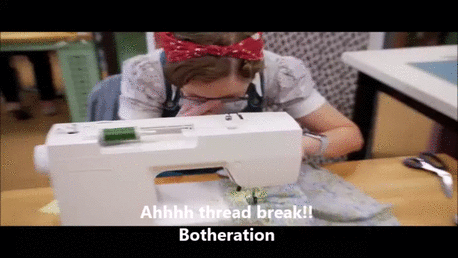 Hello! It's time to raid the haberdashery on the Great British Sewing Bee and I'm excited! It's not a regular week, it's Children's Week and here I shall learn all the things I cannot make for my kiddos. Let's roll into GBSB S6:E03 Children's Week after the break!
Last time was Holiday Week, Mark pulled off a Garment of the Week with his Dance of The Invisible Pockets thanks to his superpower, pattern matching.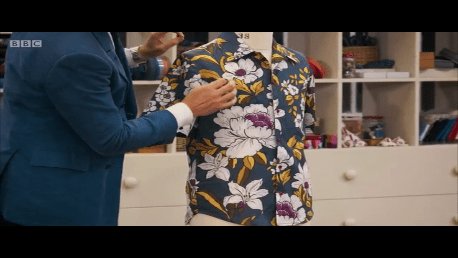 Unfortunately, competitive ballroom dancer Alex was lost to his stretchy fabric choice, as it usually the case. Just say no to lycra! Fiona got a stay of execution, her work definitely had her up on the chopping block with Alex. make your time count, Fiona!
Mother of four and retired schoolteacher (I feel like one of those as COVID distance learning ended on Friday YAY) Therese is very much looking forward to making small garments with useless pockets.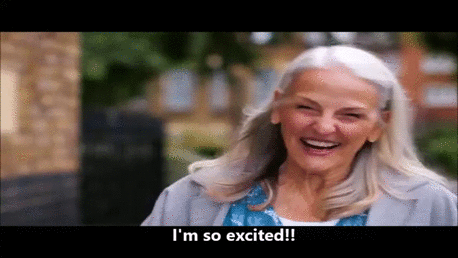 Host Joe Lycett reminds us that it's not all fun and games and tiny clothing on Children's Week, small things can still be quite intimidating. Unrelated, he immediately introduces diminutive judge Esme Young to laughs all around. Patrick Grant is the other judge, they're like twins! But only from the movie Twins.
We've got a lot of fun ahead of us, let's not waste any more time and swish directly into the Pattern Challenge. Our sewtestants will be making a child's smocked dress with visible lines of stitching.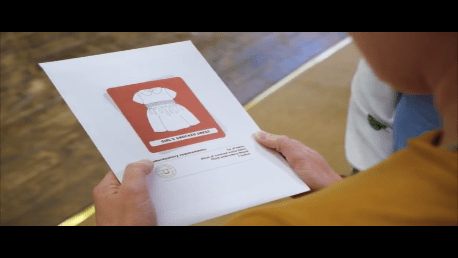 Fabric choice will be key here, as well as understanding what "smocking" is. THIS is smocking.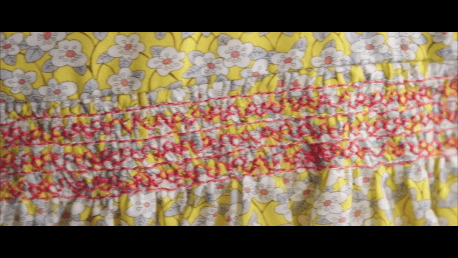 Gathery-bunchy-bits with embroidery on top. I thought stretchy too, but perhaps I'm mistaken.
Erm, Ali, is your child going clubbing in their red leopard smocked gear?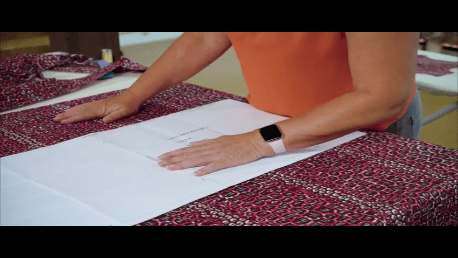 Therese has not only made exactly this type of dress before, she's made an even more complicated version previously. Look how beautiful this is?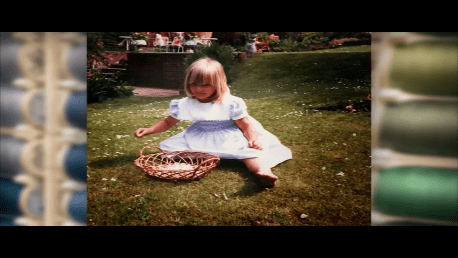 Matt typically only makes clothing for his drag queen partner Miss Martini and drag queen friends, this is going to be all new for him. Same with Hazel who has made children's clothing but for her male kiddo. She has no idea about smocking OR embroidery, hang on, Hazel, it's going to be a bumpy morning but you got this!
Now this is hilarious, Nicole has loads of children but no desire whatsoever to make clothing for them, what's the point? They just grow out of it. Wouldn't…that be the point? Save some money, make some awesome stuff? Plus, when you have more than one you can just pass them down the line, woooo!
Joe informs the sewers they have one hour left to "Smock their stitch up" and awwwww.
Therese is experienced but far too slow. She hasn't done any sewing and 60 minutes isn't a very long time to put 12 pieces together. I absolutely adore Peter's fabric, his dress is going to be amazing.
Oh no, Clare has chosen a "stretchy, floppy" fabric for her contrast collar, that's definitely one of the Ten Signs of Certain Failure on GBSB.
The Peter Pan collar is of primary importance in this challenge, Nicole messes hers up then decides to just keep moving, which is another of the TSOCF.
We learn all about the history of smocking then watch our sewers attempt it in real time. It's…not going well.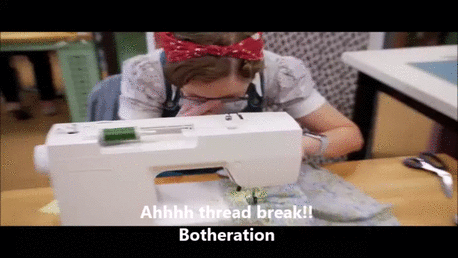 I've never seen anything so English in my entire life.
Oh no, we get down to one minute and Therese hasn't even finished sewing. I'm concerned with the people who are steaming directly onto their child-sized mannequins..
Time for judging!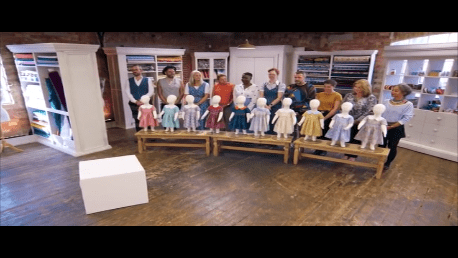 Matt absolutely knocks it out of the park.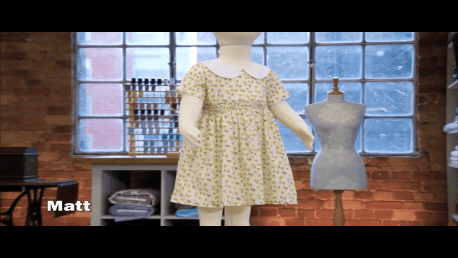 Nicole gets read for her gappy collar.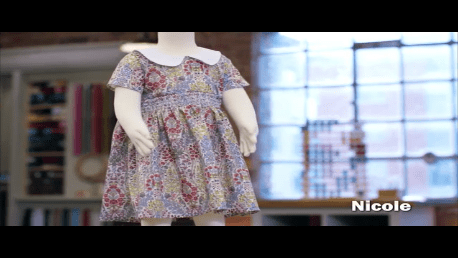 Ali, honestly, what is this fabric choice?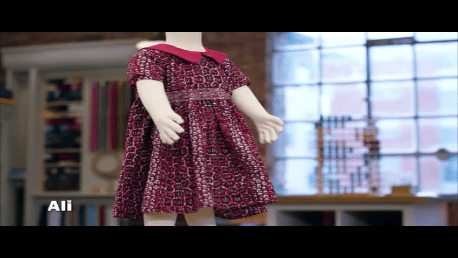 This is the first thing that Hazel has given us not in an African wax print, isn't it? I sort of miss it. She's done an excellent job for her first attempt at smocking and gathering.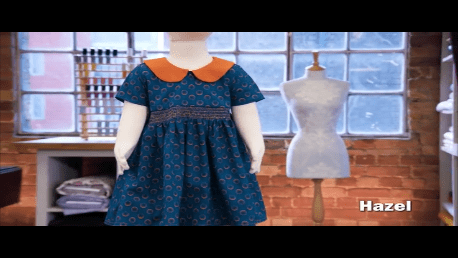 Liz's collar isn't sitting quite flat, I wonder if they'll notice.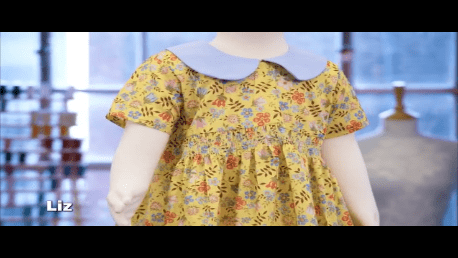 They do notice, sure it's a punk rebellion against the cleanness of the outfit! I legit thought she said "queerness" at first but after staring at the dress for quite some time, I've decided I misheard.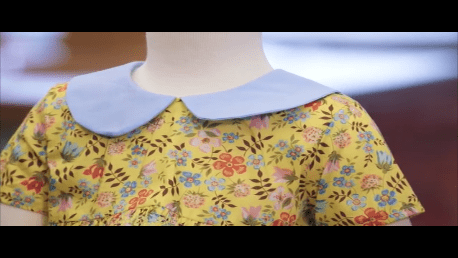 Mark has an adorable dress that doesn't fit quite right.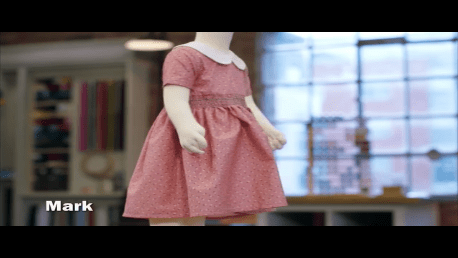 His embroidery over smocking is a right mess.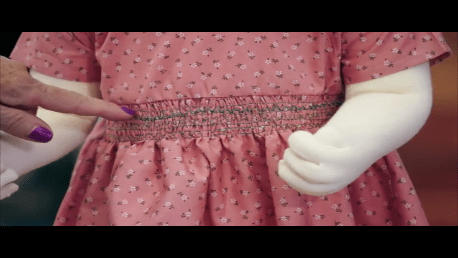 Peter's got a high spot on his dress, it's throwing off the proportions but I still love the fabric.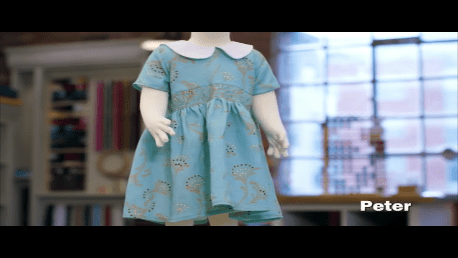 Fiona!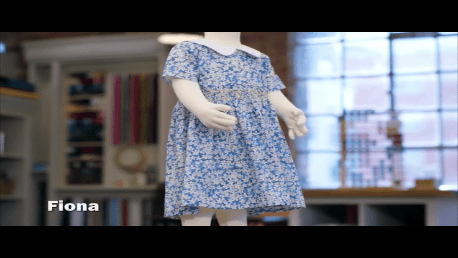 They don't even show us Clare's whole dress at first, just her unfortunate collar, I like her fabric too except for the "stretchy, crepey" collar.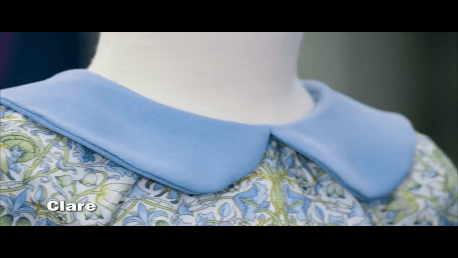 When reality competition contestants start to overthink things and forget how to do what they do, we call it "getting in their heads" and that's exactly what Therese did here.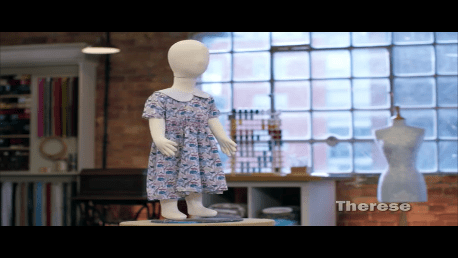 She actually comes in last in the challenge she should have easily won, here are the rest of the rankings:
10th – Therese
9th – Clare
8th – Peter
7th – Mark
6th – Fiona
5th – Nicole
4th – Hazel
3rd – Ali
2nd – Liz
and Matt wins the Children's Week Pattern Challenge with his perfect Peter Pan collar!
On to the Transformation Challenge, which is fancy dress….food…out of a sleeping bag. Fancy dress FOOD. What? That makes no sense. Is this still for children? Is this a food fight-related challenge? How do you make fancy dress out of a sleeping bag? That looks like FOOD? I'm taking a breather to mix up my sourdough, this show is mental.
They've only got 90 minutes, go!
I don't understand, Therese grabbed the best sleeping bag, one the exact shade of an eggplant and she's making a grape fancy dress outfit. Clare AND Fiona are making watermelons and now I'm wondering if the garments are meant to be flattering as well.
Ali is making pizza, Mark crisps (chips to us in North America) and Hazel a cheeseburger. Will that be a fancy dress cheeseburger, though?
Okay! These are still for children, whew, and that absolutely makes sense that they'd be wearing a packet of crisps for fancy dress. Peter's making…prawn sushi?
Therese's grape gear looks like when you spill water on a Gremlin that's eaten after midnight.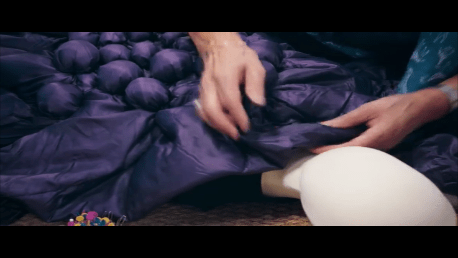 Liz is making a non-puffy pumpkin the exact same shade as her shirt, I've forgotten what Matt's doing but it looks like a giant pickle worn close around the neck. Oh. Apple. Huh. Apple slice?
These people are amazing, how did they even conceive of and execute a piece of food out of a sleeping bag in 90 minutes???? I can't even think what food I'd like to eat in that amount of time.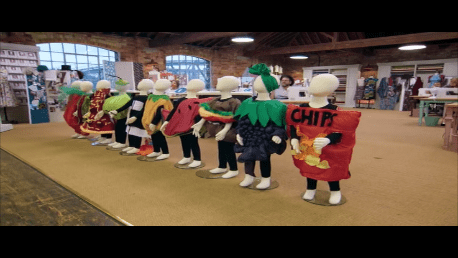 How could Esme not recognise this as a slice of pizza??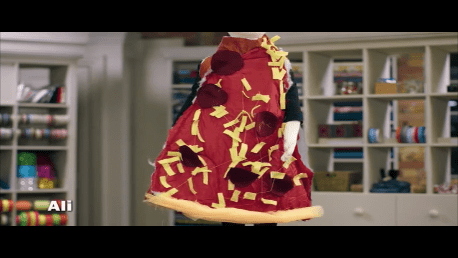 And then has no idea what sushi looks like? The mannequin has chopsticks in its hand and a Japanese flag headband!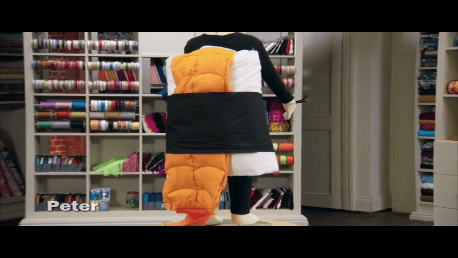 She finally gets it after calling it fish and the crown erupts in cheers.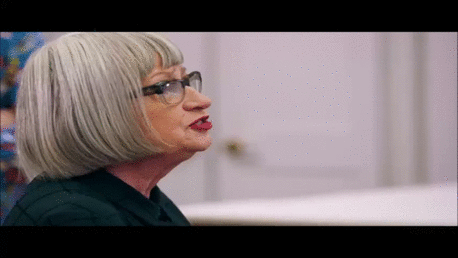 Ah Liz's is the sad trombone version of a pumpkin. It could even be an orange.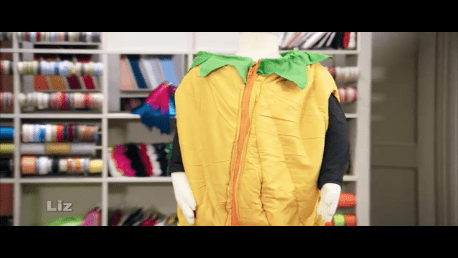 IS this a carrot, Nicole? I can't tell and it doesn't look at all like one. A radioactive carrot?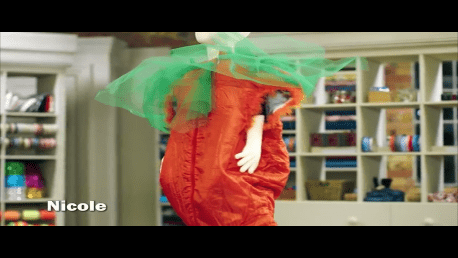 Hazel's done amazing with her cheeseburger.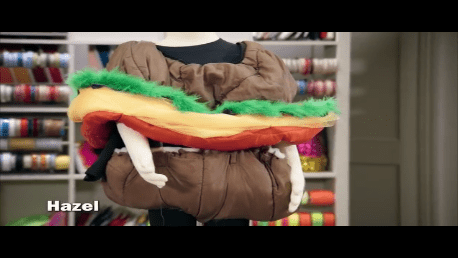 No way this isn't cheating, but we all love the barcode Mark stitched onto the back.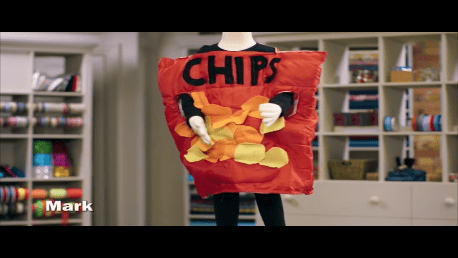 Clare has a brilliant watermelon, it's even fashionable!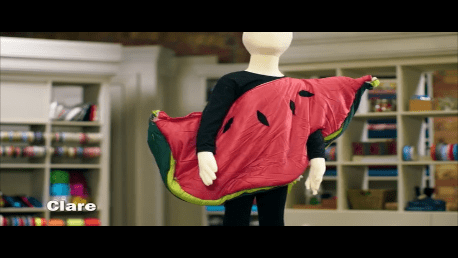 And then there is Fiona's watermelon.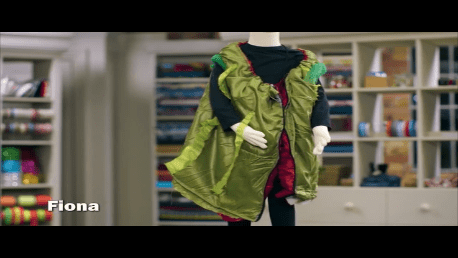 This looks nothing at all like an apple, Matt.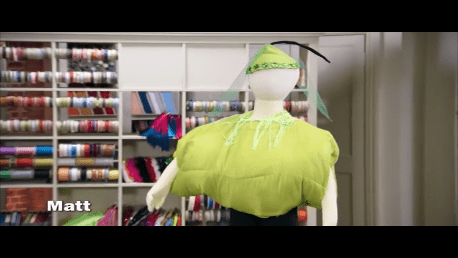 But I love Patrick Grant in that fab cap!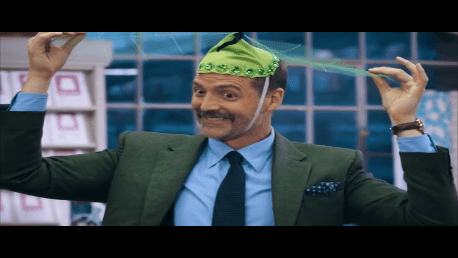 Alright, Therese, so it is a bunch of grapes after all. I'm just saying it would have made an amazing aubergine.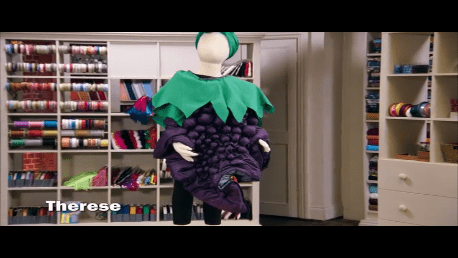 All the food, ranked!
10th – Matt in quite a turnabout from his win in the Pattern Challenge
9th – Fiona
8th – Nicole
7th – Liz
6th – Hazel
5th – Ali
4th – Mark
3rd – Peter
2nd – Clare
and Therese wins the Children's Week Transformation Challenge, completely redeeming herself from the debacle this morning.
On to the Made to Measure Challenge with tiny child models, what are we making this week, Joe? Dungarees!
Are those jeans? Blink if yes. I can't wait to see!
Liz is making shorty dungarees, just show me a picture so I know what the Sam Hill we're talking about here!
Ohhhhhhhhhhhhhh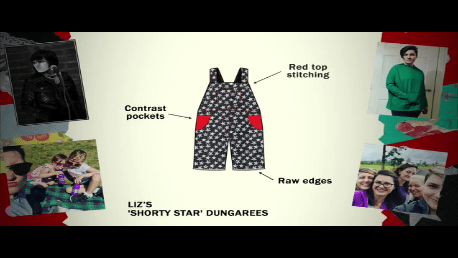 They're overalls! I love overalls, and especially overall shorts!! I wear them a minimum of three days a week, laundry depending.
Nicole has a nautical theme.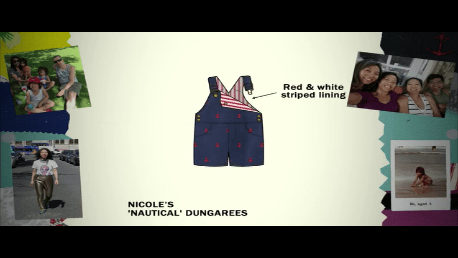 Patrick does not like Therese's light fabric, but I think you can wear overalls in any fabric at all. I used to have quite a collection! I love a good turned hem.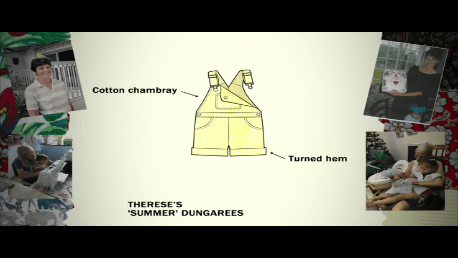 Hmmm, I think Clare's contrast fabric is ehhhh. I mean it's neat and represents Africa where her family is but it looks just splashed on.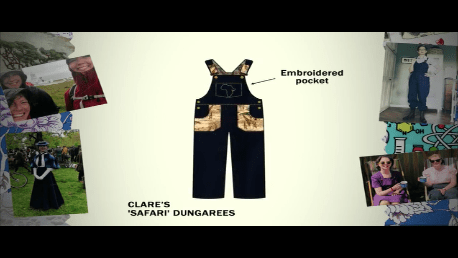 I didn't even know I could hate overalls!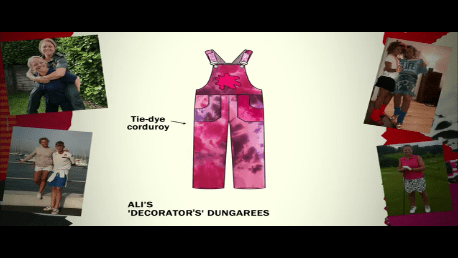 Matt sure likes mustard-coloured fabric, doesn't he? He gets his model Jamie to draw the bee for the pocket, that's brilliant.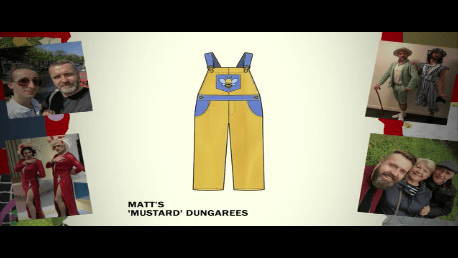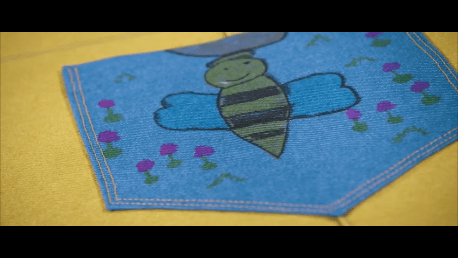 Fiona's going to run into problems with her pocket linings, another of the Ten Signs of Certain Failure is the judges looking concerned and explaining carefully how badly something will look if they can see the lining.
Peter is going with a Carhartt look for the outside of his overalls.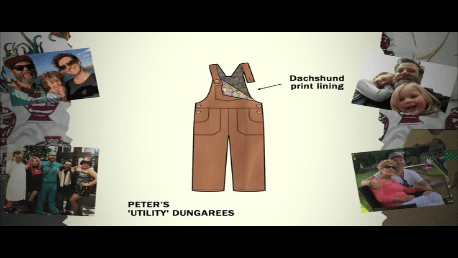 But look at this dachshund print inside!
Mark's fun flamingo print is just not visible enough.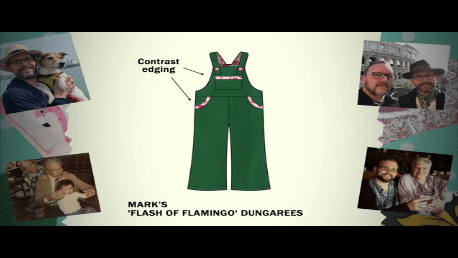 Oh! Hazel's got pockets on the back too, well done.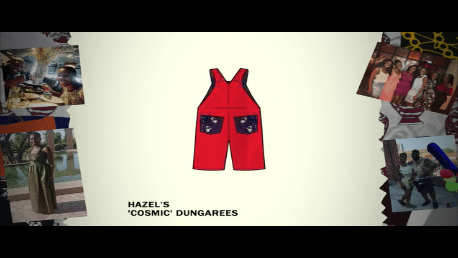 Disaster strikes when one pocket has upside down astronauts and the other does not.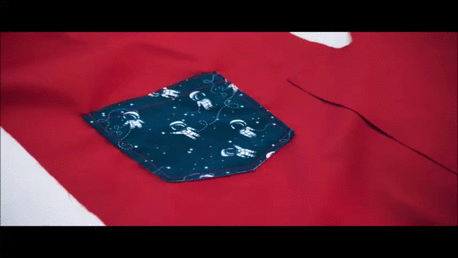 Nope, not a sentence I saw myself uttering a year ago.
The last fifteen minutes are a flurry of rivet pounding and button sewing, the models have to be dressed too! We're into judging and I'm sorry; I already love Liz's the most. Her model wants to take them home and I want her to make me a grown-up pair.
Matt!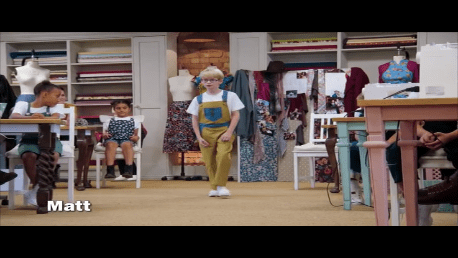 Clare!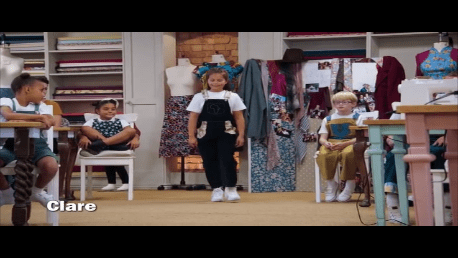 I love how Therese's model does just as many spins as she wants to during her modeling, get it girl!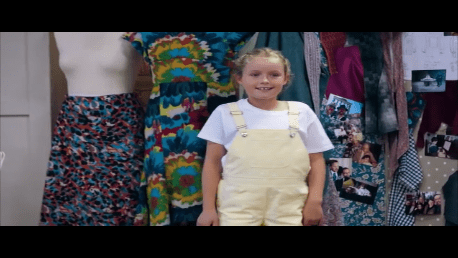 Oh Peter, you've drowned your ginger in too much Carhartt. I love how the model hunches her shoulders up in an effort to help him when Patrick points out how big they are on her. That's just good teamwork.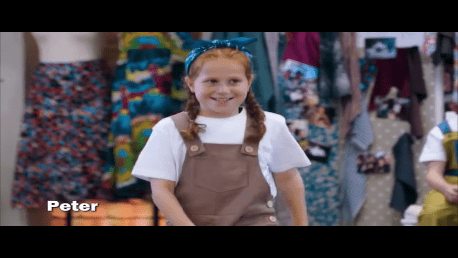 Liz's smashing dungarees!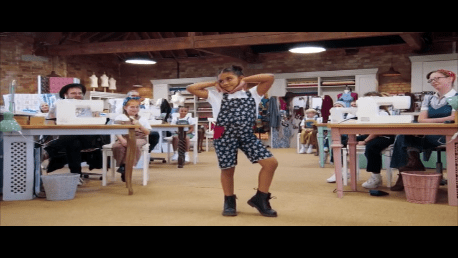 And then there are these.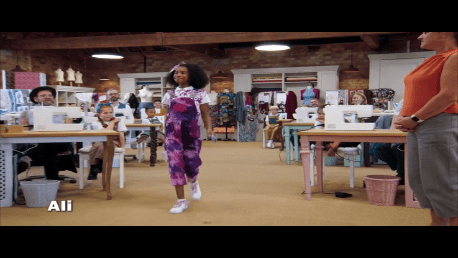 This is surprisingly muted for Nicole.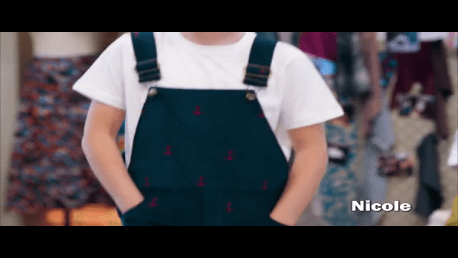 You never want your dungarees to be too tight, Mark.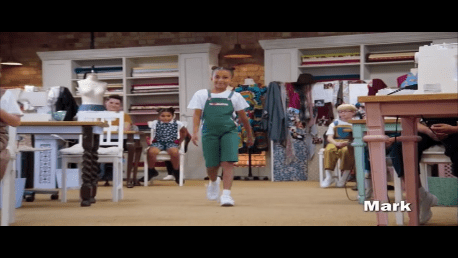 Fiona's unfinished overalls aren't helping her at all.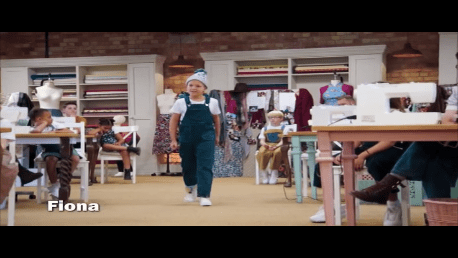 Hazel did an extra design detail to fix her upside down astronauts but I'm sorry to say: these are not exactly good.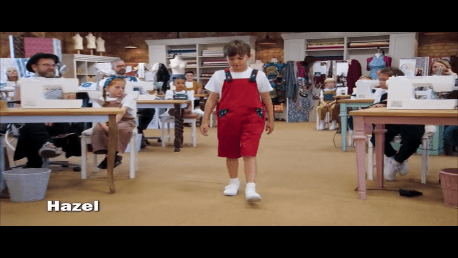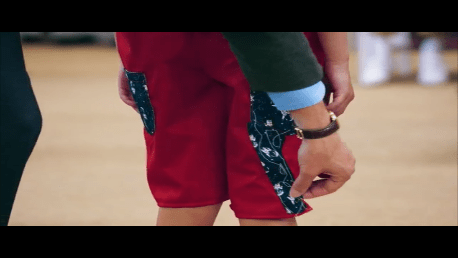 The judges deliberate, Therese is up for TWO Garments of the Week, which makes all the sense. I bet if she hadn't gotten in her head, she'd be up for three with a wee smocked dress.
And she wins for the fancy dress grapes outfit, aww!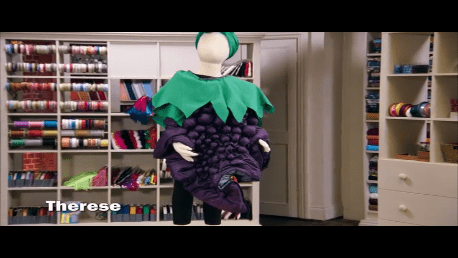 We lose our Irish Fiona today, she struggled with timing and focus, she really really likes to work on the inside of things more than the outside.
Top Ten in Britain, Fiona, you were magic! Congrats Therese, you are an excellent sewer and I've got you in my personal top three. Until next time! Cheers.