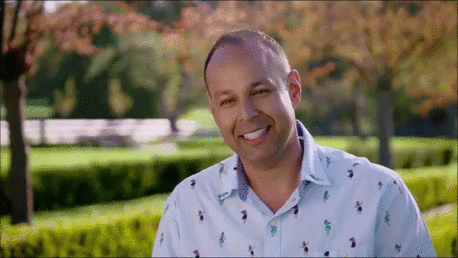 Hi everyone! It's time for the one of the most awesome parts of my week: the Great Canadian Baking Show! I didn't even know it, but we've got Dan Levy and Julia Chan heading up this most Canadian of shows (it's even more Canadian because it started out in the UK), let's roll into some fab bakes after the break in my GCBS S2:E02 Biscuits and Bars recap!
Wait. Do they mean English biscuits or Canadian biscuits? We're still talking cookies, right? Yeah, sure we are, let's go with that! I am legit so.excited because I just know I will have made ALL THESE BAKES wooooooo!
Is this how English home bakers feel watching GBBO? Asking for me.
Last week our sole West Coaster Andrei Gorgova took Star Baker and we lost Tim Chauvin to a series of undercooked edibles on Cake Week in a rousing season two opener. Onward we march with 9 bakers remaining, hosts Dan Levy and Julia Chan and judges Rochelle Adonis and Bruno Feldeisen.
Sachin Seth won the Cake Week Technical Challenge, but his speech patterns are giving me all Office Space all the time.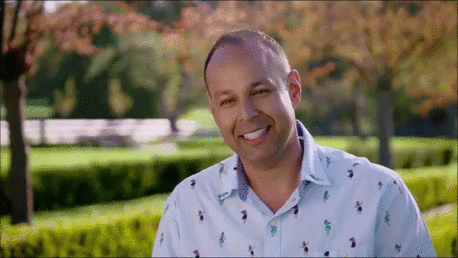 Let's dig into the Signature Challenge without further ado, the judges want to see 24 dessert bars/squares with at least three distinct layers in two hours. If I don't see Nanaimo Bars in this challenges, I will stop talking for a whole minute.
Rochelle tells us she doesn't want your grandmother's bake sale bar, they want to see an elevated square. I'm counting Robin Hood flour bags, it just makes me happy! I love Robin Hood flour, it's awesome.
I am also partial to Rogers, also an excellent flour but more difficult to find. Their whole grain whole wheat flour is the key to my regular loaf.
I can't understand why Mengling Chen is already getting up my nose, she has an adorable puppy named Nimbus that she shares her (I'm sure not chocolate) bakes with and great execution but yet. Is it the shouting thing?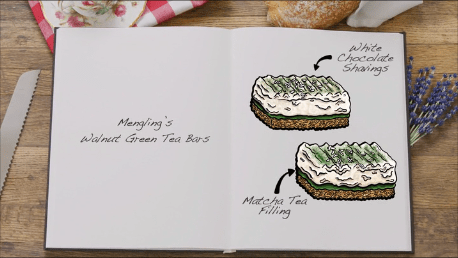 Devon Stolz from Saskatchewan has hazelnuts in his base, so I'm excited until I hear dates then I go back to staring at his hair. Just a tiiiiiiny bit too short. He's adorable, and out, and engaged to a dude in a very small town in a not-always-super-progressive province so I am feeling extremely maternal towards him. You got this, Devon!!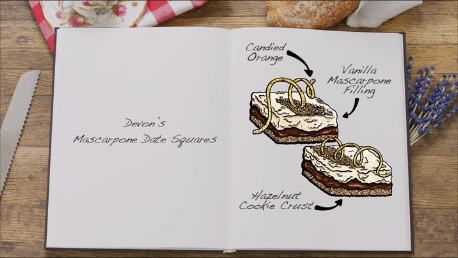 I don't mean to give the impression that Saskatchewan is full of raging homophobes, in fact some of the nicest people I've ever met have been from there.
Wendy MacIssac from P.E.I. is making a no-bake bar, sure, I like those. Baking just adds time when you're making multiple layers, I'm interested in her lime curd. I love a good tart lime curd.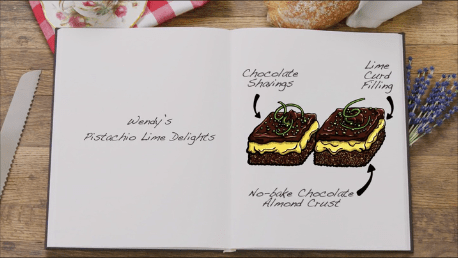 She accidentally doubled her butter in the crust so she's reworking that while we move over to see what Sadiya Hashmi of Edmonton (represent!) is preparing.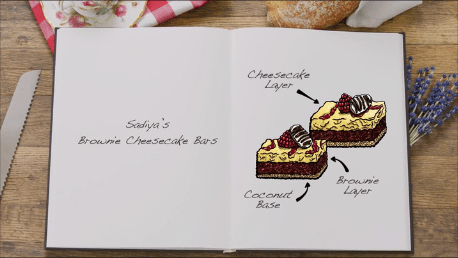 Awww, she made brownie cheesecake bars as her first dessert as a newlywed!
Whew, thank you Ann Marie Whitten from Ontario, I love coffee Nanaimo Bars! I love all flavours, to be honest, but coffee and mint have to be my favourites. Maybe hazelnut too. Hm. Is anyone making hazelnut Nanaimo Bars?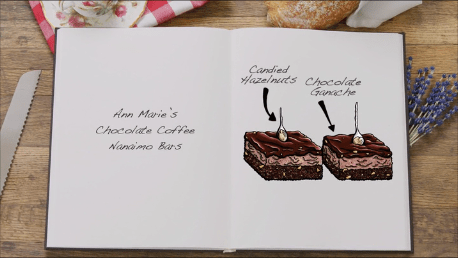 THERE'S A CANDIED HAZELNUT ON TOP WOOOOOOOOO!!!!
Timothy Fu (also of Edmonton, whoop whoop!) does not know how to cut nuts with a large knife *sad trombone* but then, that's more the rule than the exception. I am unfamiliar with most of the flavours in his bar but am willing to try just about anything. ONCE.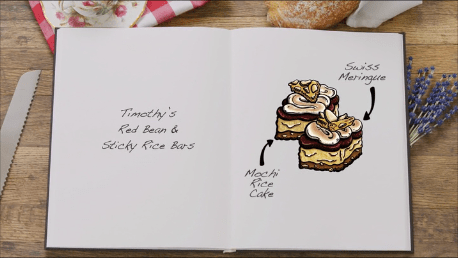 Sachin's pineapple curd sounds yummy but he's finishing it with butter so I'm reserving judgement. He even says "oh boy" during the b-roll with his family and you tell me what I'm supposed to do with that.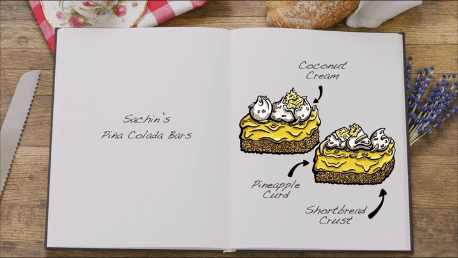 They have huge double fridge/freezers for cooling their bakes!! That's fantastic! GBBO has tiny but lickable-looking vintage-looking appliances.
Andrei is an opera singer in his spare time, of which he doesn't have any today. He's still baking his base while most others are cooling (or de-buttering) theirs.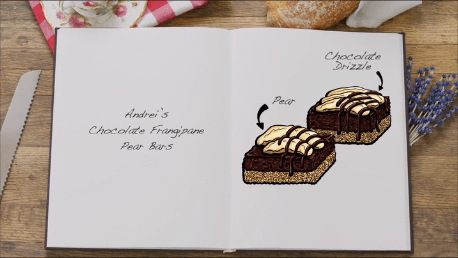 Megan Stasiewich from Leduc (by Edmonton!) has designed her bars around movie snacks, even boiling her own licorice.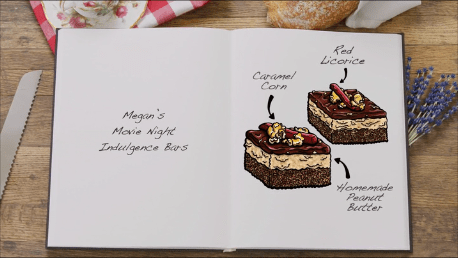 MEGAN MADE HER OWN LICORICE.
Dan's wandering around tasting everyone's stuff, this did not look like a positive review.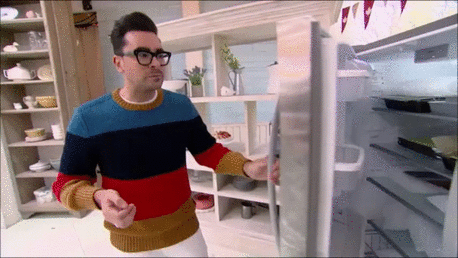 Sadiya and Wendy are in trouble with only fifteen minutes to the finish line. Sadiyas bars didn't bake and Wendy's crust did not rebound. Sadiya looks on the verge of tears but I don't even know how to describe Ann Marie's bars without using bathroom words.
With one minute left to spare, Mengling is done and asking Wendy if she can help, I love this franchise. People are awesome.
Sadiya's bars are still not baked, Megan offers her popcorn because that's kind of like helping.
Judging! Sachin is first and gets comments like 'sensational', 'refreshing' and 'perfection'.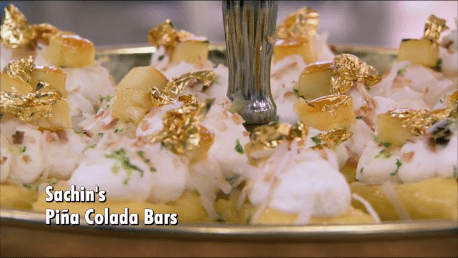 On to Andrei's pretty bars; I feel I've grown as a person because I'm not even flinching at the pears. I still wouldn't eat them; I've not lost my mind. Bruno nitpicks a little.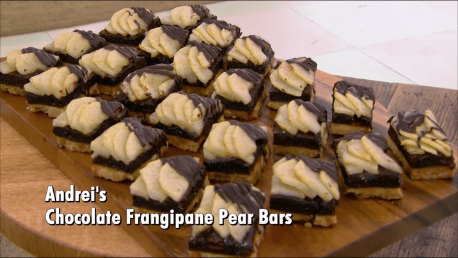 Devon's top two layers are excellent but his base is not crunchy enough. It's been all Bruno all the time so far, do he and Rochelle alternate weeks?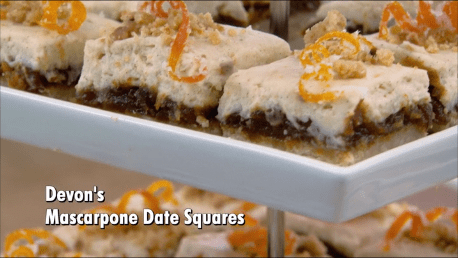 Then Rochelle gives all the feedback on Megan's bake, so let me shut up. Hahahaha just kidding. Megan's bars get decent feedback.
Ah yikes, Sadiya's bars are still melting. The problem was that her elements needed to be baked at different temperatures so nothing's quite right.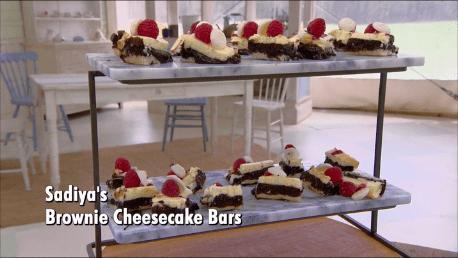 I am fully invested in Wendy's lime curd but we don't even find out what it tastes like. Rochelle just wants to talk about how it looks and it's not like it's the Great Canadian Food Slicing Show, Rochelle!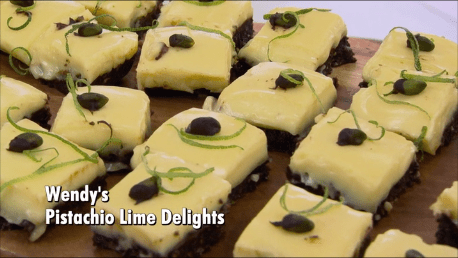 If it was, Mengling would win that fo SHO. Her flavours are clean and her bars are excellent.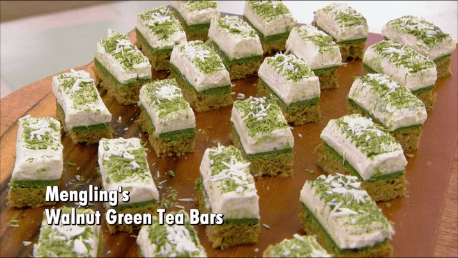 It's just unfortunate that Ann Marie had to follow that perfection.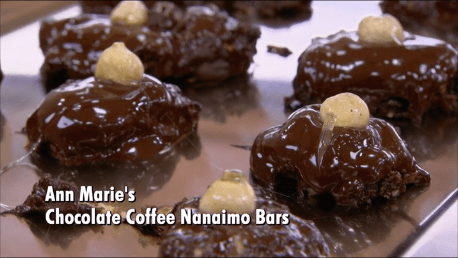 Ah Timothy did a great job! Is that sponge toffee on top??? IS IT?? Timothy, may I pretty please have that recipe?!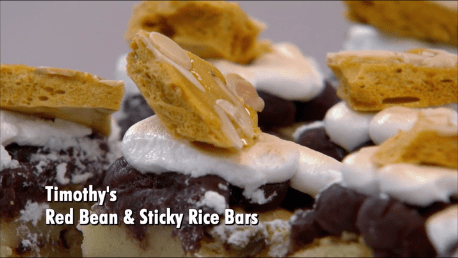 I mean, so pretty!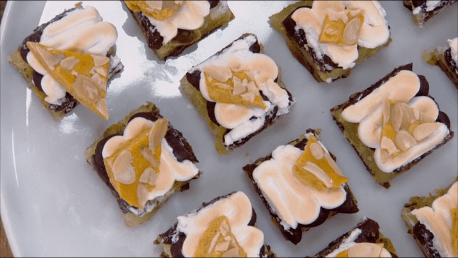 On we roll to the Technical Challenge which must be from Bruno as he tells the baketestants to "digest" their recipes and watch their "temper." His face is one large semaphore, I'm guessing a digestive biscuit with arrowroot flour and tempered chocolate on top.
HAHAHAHAHAHHAHAHAHAHAHAHAHAHAHA when am I ever that right??????????? I am right! I AM SO RIGHT! I haven't been this right since I guessed there was a body in the walls in The Stranger WOOOOO!!!
Okay, they say whole wheat bran flour, but the rest was right so I'm taking it.
WOOOOOOOOOO
Sorry sorry, enough about me, we need 18 in 90 minutes, thanks!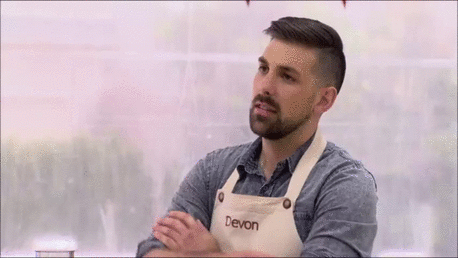 Awww, there's even a cookie stamp that says The Great Canadian Baking Show!
This is what they should look like: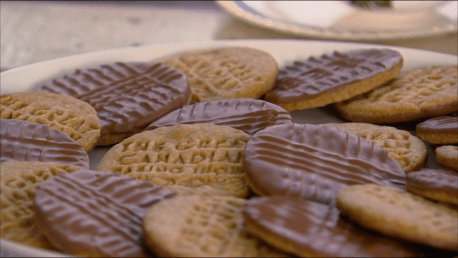 But the recipe instructions can only be called meager.
*Side note: one of my kiddos was baking cookies elsewhere for a school project, apparently he was not aware of the need to follow instructions and just added ingredients willy nilly. I had to stop watching when he added eggs to melted butter then reached for the vanilla.
The cookies are in, but there's no bake time, just instructions to look for brown around edges. Devon doesn't think this is enough information for a whole wheat cookie, but browned edges are browned edges, Devon.
With 60 minutes to go, the bakers turn their attention to tempering chocolate, which is not something everyone's done.
Now this is different, Sadiya is pressing the stamp into the cookie after they're baked, that's never a good sign. I have concerns about her baking in general at this point. But she's in the tent! Nobody gets in the tent without being an amazing baker.
Tempered chocolate doesn't stay that way long, swiftness is going to be critical to get all 18 good biccys done in time.
Times up! Offerings are left on ginger altar; let the judging commence! Megan and Sachin do the best, Mengling's in there as well.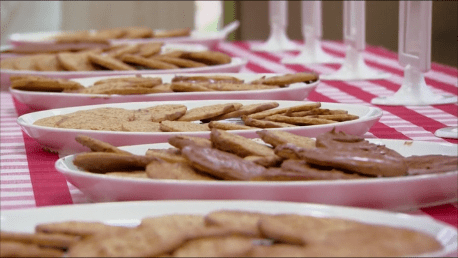 From least best to best:
9th – Wendy – dipping was whack and the cookies were too brittle
8th – Sadiya – underbaked, chocolate was not tempered
7th – Timothy
6th – Ann Marie
5th – Mengling
4th – Andrei for his forkwork
3rd – Devon
2nd – Sachin
and Megan wins the Technical Challenge!
On to the Show Stopper Challenge, Rochelle and Bruno are looking for 36 identical cookies placed in a biscuit box. That's right, an edible box full of bars in 4 and a half hours.
The first consideration must go to the structure of the box itself, tough dough is needed.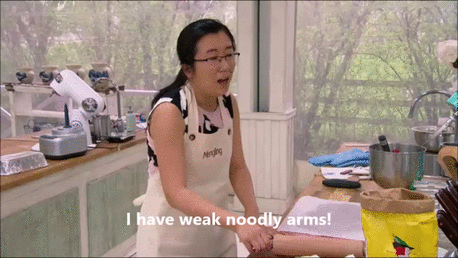 Devon's making a library shelf and I'm listening…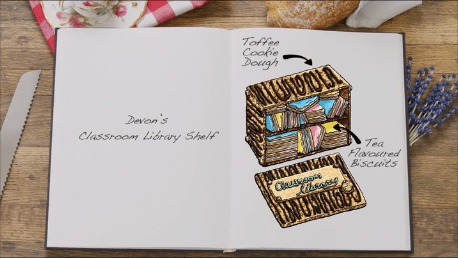 Andrei is making a piano that bakes all at the same time.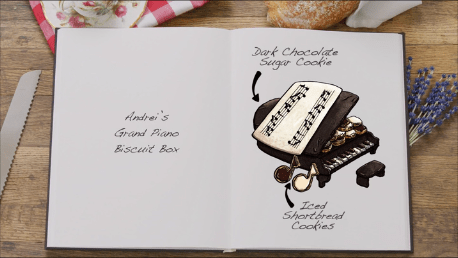 Wendy's looks fantastic!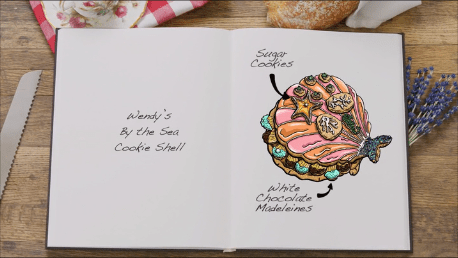 I don't know why Sadiya is so optimistic, but I'm right with her! You got this!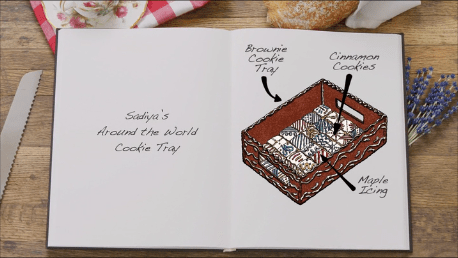 In case we just met, I think macarons are bullshite but I'm sure Timothy's Go game will be awesome.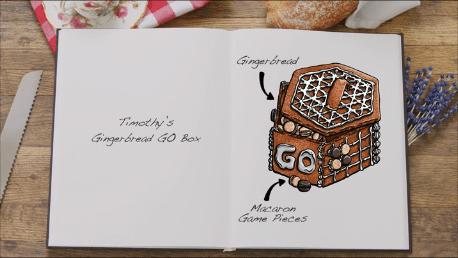 Mengling is using a flavour neither of the judges have used before, fingers crossed!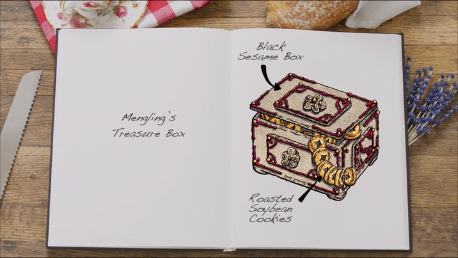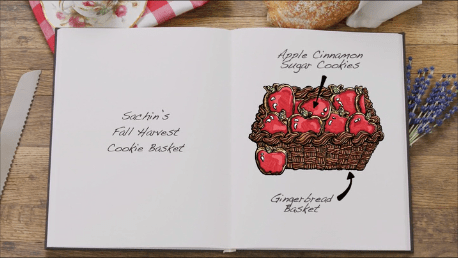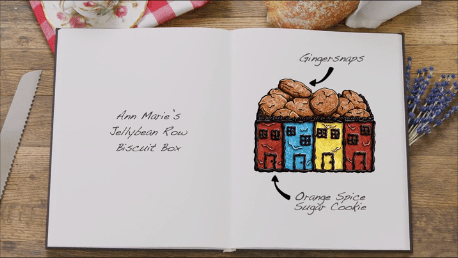 Oh yikes, Wendy's clamshell collapsed on first bake, she needs a rig like Andre has for his piano, VERY fancy.
Megan's biscuit box looks awesome, as expected.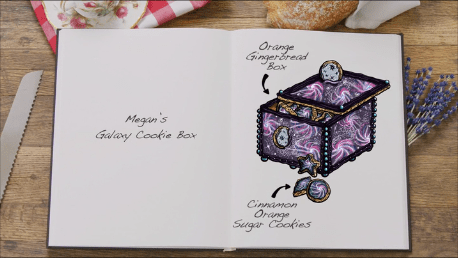 Look! I already have expectations for bakers! Like I knew Devon would use tea. Wendy is having a super stressful week, so is Sadiya and I'm concerned with Sachin's choice to hand-pipe his wicker basket effect.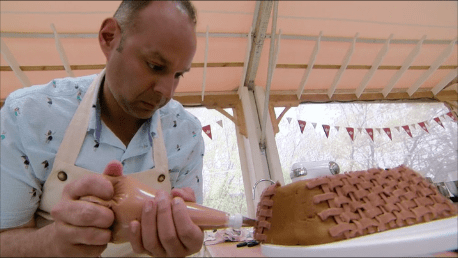 Time's up, hands up and now it's up to the judges! Mengling is first. Bruno and Rochelle LOVE the presentation but there needed to be a little more flavour.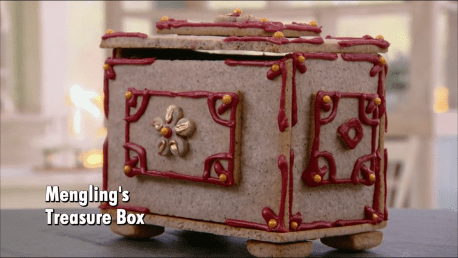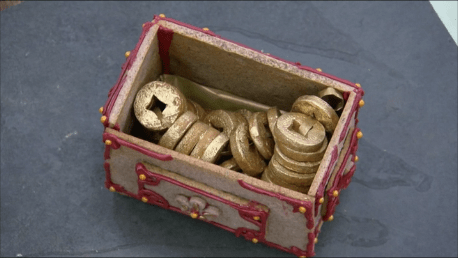 Megan's galaxy and cookies look amazing and taste great, but they're slightly underbaked.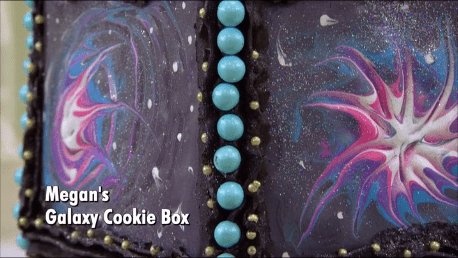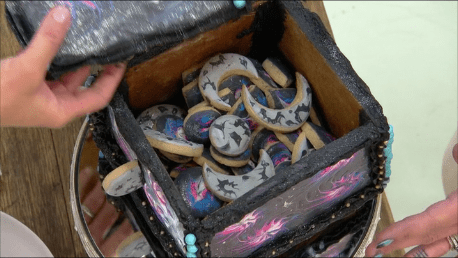 Timothy gets decent reviews, sorry they didn't show us the inside.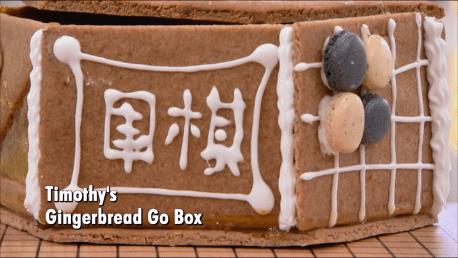 This is an amazing piano, right? I kind of hate that they have to break apart all the boxes to taste test.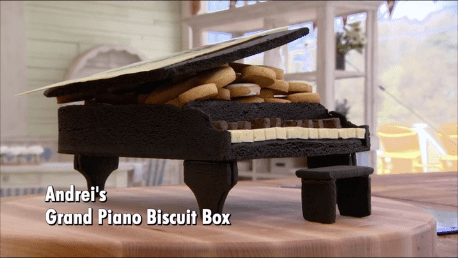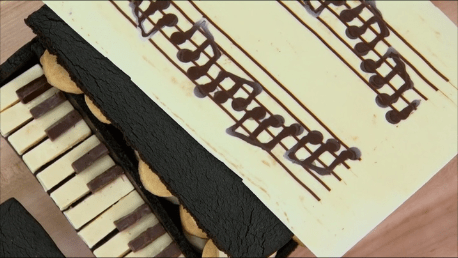 Andrei just didn't have time to glaze all his cookies and that is not a euphemism.
Ann Marie's sides fell off, but her cookies look fantastic.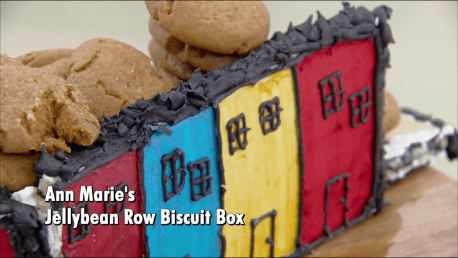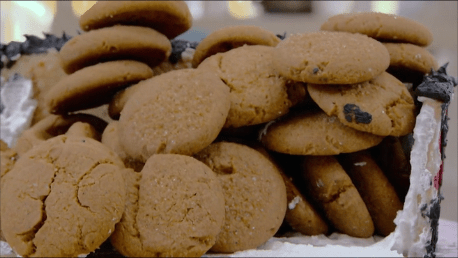 Devon's looks great but is slightly underbaked.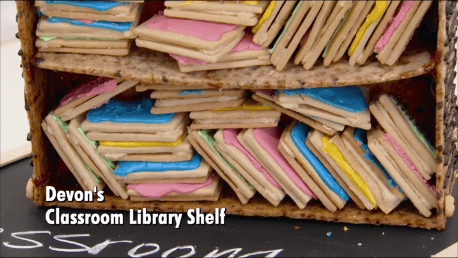 Lookit all the intricate piping on Sadiya's cookie box!!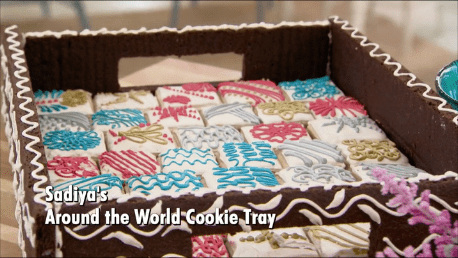 Wendy had to serve her cookies in the metal serving tray, but everything looks good otherwise.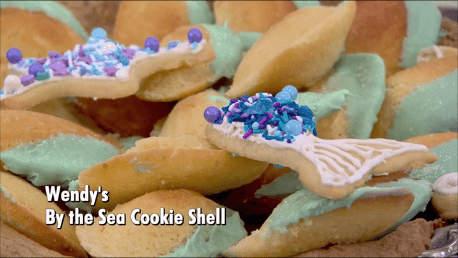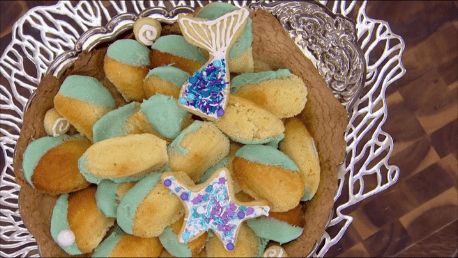 Sachin's piping paid off in looks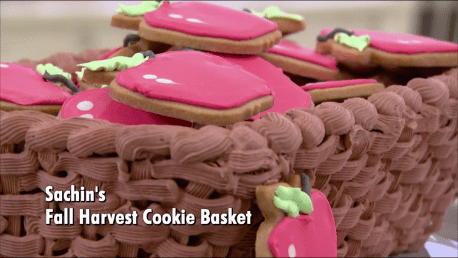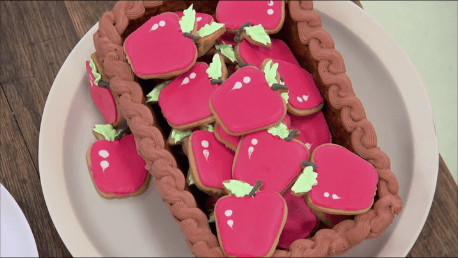 Consistent flavouring means he's in the running for Star Baker for sure.
The judges and hosts deliberate and already we're racing to the end findings.
Star Baker: Sachin Seth! I just said that! Wooo!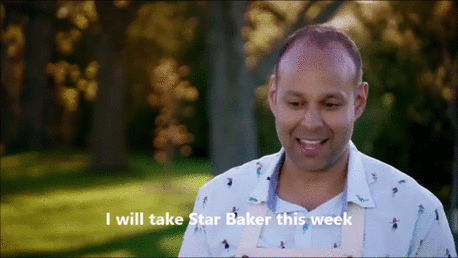 And leaving us today is: Wendy MacIssac. Devon and I cry because we're already attached.
Until next time, fellow baking fans, when we're back for Bread Week, my FAVOURITE, wooooooo! Cheers.