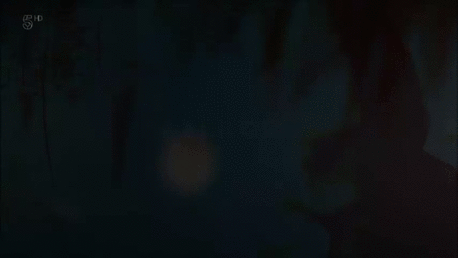 This is it, the finale of series one of Blood, which so far has confused me as to how we have another series after this one given what we learned at the end of last episode. I mean, I'm sure we've got some sweet-talking ahead of us knowing what we do about the principals involved. Without further ado, let's head into Blood S1:E1.6 after the break.
We ended at an unusual place for a penultimate episode of a series, with the admission of guilt by murderer Jim Hogan (Adrian Dunbar) to his daughter Cat Hogan (Carolina Main from Unforgotten!).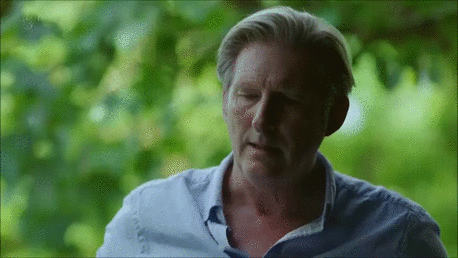 We open back on the day Jim killed Mary Hogan (Ingrid Craigie), he awoke alone in his room then went about his day taking care of his wife of decades. It's touching to watch him care for her so kindly, she's all vulnerability and he's compassion incarnate.
Michael comes in for a cuddle just after Patricia (Geraldine MacAlinden) comes in, Patricia braces Jim in the hall about her missing pay. Ah this can't be the last day of Mary's life, there wasn't a caregiver present, I'm pretty sure.
Mary seems exhausted when everyone finally troops out.
Jim asks Michael to see if he can cut his shifts to stay home and care for his mother to give her a break, but Michael's not fooled. He knows Patricia isn't being paid AND he even knows where the money is going, to Jim's assistant and lover Sarah (Shereen Martin) for her rent.
Erm. Sarah's married. How does she explain that to her husband? Her rent is paid by her boss for why? I have been wondering why Jim's so broke, that goes a little ways toward that explanation.
However, that throws a big old WHAT into the theory Michael and everyone was peddling to Cat that everyone, including their mum, knew about Sarah and were happy about the situation.
What is clear is that Jim is under an immense amount of stress. He may even suffer a cardiac arrest after seeing Barry (Cillian O'Gairbhi). Sarah is very much invested in her relationship with Jim.
A lovely relaxed chat between Mary and Michael, it's gorgeous to see them interact without one of them being dead and the other being wracked with guilt. She very much knew his sexual orientation and seemed to understand why he didn't tell his dad. She told him to use the picture she took on a dating app, but Michael pooh-poohed it.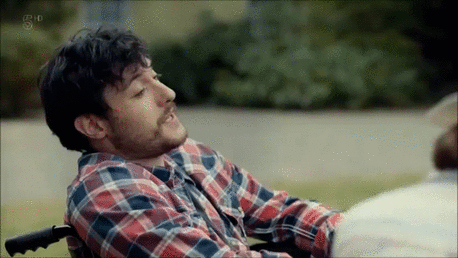 And window cleaners!
I understand it's not the point, but I do wonder how he had time to set up a dating profile and start dating Wicko (Jamie O'Neill) between this cozy scene and his mam's death two days later.
Jim stops by to see his patient Rita (Áine Ní Mhuirí) who we've met three times now, once when she was worried because someone had stolen from her, most lately when she returned $5000 euros to Dr. Jim's practice and now when she missed her appointment.

On this, which must be first in the timeline, they drink booze out of teacups and sing songs until they fall asleep sitting up.
(I'm trying to picture any of these occurrences with my current GP and coming up blank)
Ahhh Jim has drugged them both, he wakes up first and goes looking for money.
A rather uncomfortable breakfast with Jim and Mary the next day, she's very much aware of both Sarah and the fact that they're broke. She'd like to have a proper talk about the future but he's not willing.
Jim heads to work where policeman Dez Breen (Sean Duggan) is in talking to Sarah about Rita being robbed, only thing is she can't remember which day it was. We already know Dez has it out for Jim but you can't see it here.
I've spent this whole time trying to figure out if Jim murdered Mary or Mary asked him to end her life. Either situation is plausible, I still can't tell!
We see a miserable man being crushed under the pressure of his own life, an awesome wife unable to care for herself physically, an attached mistress, a reputation, a family he can't get his head 'round. It's all on him.
Michael wanders around the house screaming for a white shirt while Mary gets a disappointing text from Cat; she can't make Friday. Tired of listening to Michael carrying on, she gets herself up with a walker and goes into Jim's room, where she finds a white shirt and all of Rita's missing money. Jim's not exactly a criminal mastermind, he's stuck the cash inside the prescription bag he brought with him.
Mary calls Jim's phone and leaves a message telling him to drop his plans and come home right now and explain this, that's when he leaves a threatening message on her phone that her daughter will later hear.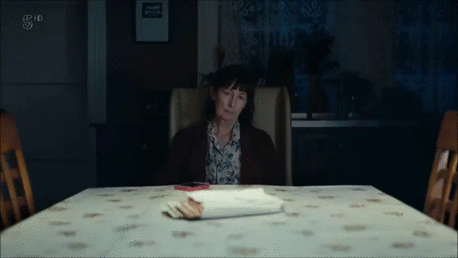 Now the showdown, Mary's been trying to make Jim see her reality for awhile now. She doesn't want to cling on like this. It's not about him.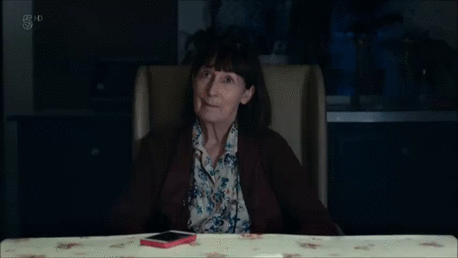 He begs for the weekend, surely she'll see it differently after that or he'll help her. Just three more days to make her see.
I wonder now if he did so much work to hide things so that she could be buried in consecrated ground. If she was an assisted suicide, maybe she couldn't have been.
So that's why he didn't go into work the next day, he planned to spend time with her. They're in the garden by the pond working on planters when she has an almost fall and needs to lie down.
Before that, she tells him that Cat won't be coming down again, asking him to take care of her. She won't ask for help, but she needs it.
They have an absolutely beautiful last evening together, he's arranged a night of memories and closeness with her, ending in tucking her into her bed under his arm. He loved her so much.
It's the last day now, Wicko comes by for his pay, saying hello to Mary on her way down on the stairclimber. She heads out to the pond and Jim stays inside to clean up the detritus of their dinner the night before. It's only a minute when he looks out the window and sees she's fallen.
He rushes to her side, but she begs him to not call an ambulance, begs him to end her life, please, Jim. He suffocates her with his hand and a bloody towel, it's heartwrenching and terrible and peaceful for her, finally. He did love her so.
Thanks for that awful scene/scenes, dragging us into a beautiful tragedy by pretending it's a murder mystery.
Ah wait, that's JIM's version of events, which he just told to Cat. She says "I never got to say goodbye" and before we can say "you had the CHANCE, CAT" the sirens become audible.
Whoops.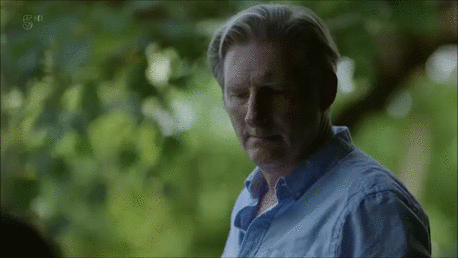 He'll tell them everything.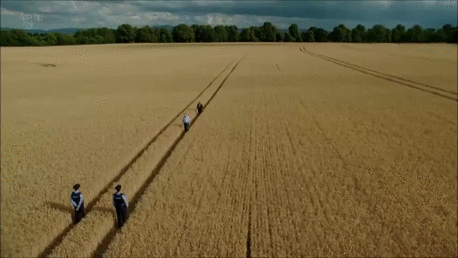 And that's where we'll leave it for now.
But. Was that actually the truth? It definitely shows Jim in a positive light and it certainly explained most things. There was a weird moment where he pushed the frog statue into the water after suffocating Mary, that's not how you'd chip a frog's face or what you'd do, is it? I mean, I'm no expert but it seemed disconnected from what happened. All the best to you, until next time. Cheers.