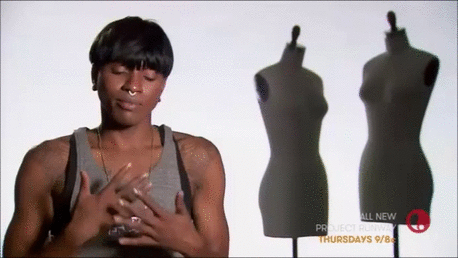 Hi guys! Lookit: Project Runway twice in one week; it's like I'm on top of shite or something! Probably "or something" but anyway, lets roll our first team challenge after the break, because those always go really well and nobody ever gangs up on the most talented designer ever *cough Ashley Nell Tipton cough*
Alex, Cornelius and Rik are all sharing a room, AND all the glory of being top three in the last challenge. Rik won last week with his stunning Harlequin-inspired bathing suit and we lost anxious Sarah from Portland for her child's bathing suit.
Alex is trying really hard to make this a Room 310 team thing, but ask Rolaskatox how well that did for anyone. Plus Roberi's RIGHT THERE, shhhhh. His work is awesome, he'll be fine. We get a little Alex backstory, he used to look MUCH different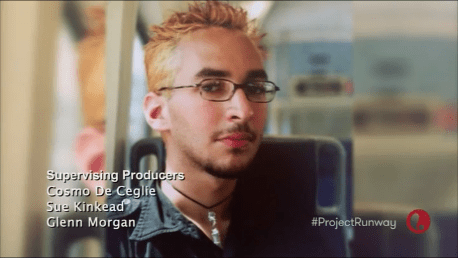 But didn't we all? Didn't we? We did
Alex now: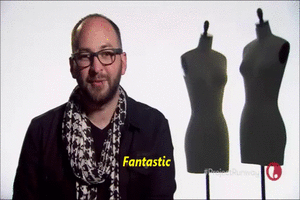 Challenge time! Tim comes out on with Louis Casco, aka our Mary Kay suit, who will be explaining our inspiration this week. I canea believe the amount of sponsor integration this season, I thought it was bad last year, but apparently they were just getting warmed up! Ohhhhh and Louis calls their makeup (selling their makeup?) Empowering so I had to excuse myself to rant on Twitter for a second.
Tangent!! I've just been to a bunch of panels at our city's annual LitFest, which is non-fiction, including memoirs, and political books like "We Were Feminists Once" by Andi Zeisler. It's essentially about Marketplace Feminism, which has used whatever it can of the feminist movement to sell stuff to women. In particular, Capital Industry likes to use the word "Empower" as a buzzword for just about everything, to no realistic purpose. It's empowering to wear and / or sell makeup? What? Tangent over! As you were
The Mary Kay Challenge will also be their first team event, yay! Those usually go right off the rails. Last year was so Mean Girls, I really hope the vibe is different this time, although I have my eye on Alex and Cornelius.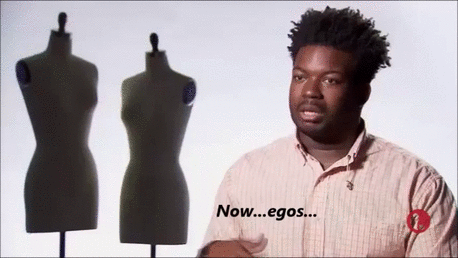 Oh but there's a twist! There is no set budget; it will be determined by how well they pitch their idea, just like in the real world! Alex thinks he has this, he calls himself a "business scholar" and cut it out, Alex! I'm trying to like you!
There's five thousand dollar cash prizes each for the winning team members on the line, henny! Woot! Now let's pick some teams with the infamous button bag!
Rik gets to choose first for Team MustWinAtAllCosts: Alex, Roberi, Cornelius, Mah-Jing, Natalia
TeamNiceGuys: Brik, Tasha, Laurence, Erin, Dexter, Jenni
Mah-Jing is perplexed by his inclusion into TMWAAC, the other guys are all roommates and they don't talk to him much
TMWAAC is thinking professional businesswoman washable wools (??) while TNG is going with panels? And fun and badass while the other team is all black and grey and boring. Alex wants to do the pitch, everyone agrees by not saying anything. Dexter is talked into pitching on TNG, awww, he's so adorable and he is just so awesome! Go Dexter!
Erin calls their team Team Button Bag and that's fine, if you don't want to use Team Nice Guys, whatever, it was just an idea. No worries. FINE
Time for TMWAAC to pitch! Guess who they're pitching to?? NO, GUESS??!! Heidi, Nina and Zac! Alex looks stunned, but rallies to throw his pitch at the judges.Oh good lord, he talks about f*cking Empowerment, see rant above. He does really well, though, he seems professional and he's clearly done this before.
Team Button Bag is represented well by Dexter, he's slightly more nervous than Alex and whiffs the pricepoint question, but overall: the judges seem happy.
Now we see where each of the judges decide to spend their $1,000.00, but first TMWAAC debuts their new name: Team Unity. Fine. That's fine, sure, crisp, clear, to the point. FINE
Team Button Bag's money: $800 (Zac), $600 (Heidi), $800 (Nina) which means: $2,200.00
Team Unity: $200 (Zac), $400 (Heidi), $200 (Nina) which totals: $800 and they got SMOKED, son!
It just goes to prove: a good pitch won't save boring designs
Mood Time! Team BB is nervous about the judges expectations, but Natalie thinks a good print can save Team Unity. It's gotten ugly FAST on Team Not So Unified, with the roomies overruling Mah-Jing without a second thought. He is very much odd man out and will probably be blamed if they fail with their boring clothing in fabrics they won't let him pick out.
Team Button Bag has decided that name is gross and how about Team Nice Guys??!! Oh. Fine, House of Bouton works too, Dexter, sure. And your pronunciation is fine.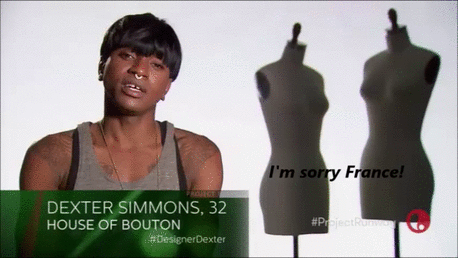 Alex is asking Mah-Jing for design feedback at least, although he thinks it's Mah-Jong. Sigh. Mah-Jing Wong, it's not an impossible mistake, but you could make sure, couldn't you? I have a weird name, I do my best to explain it properly, but I get a lot of that as well.
Alex is excited to be working with Mary Kay, because they represent every woman and whoa whoa whoa, sailor! You can't say that! Dial it back, ho!
TimTique Time! Tim calls their looks "modern" which is what we're calling grey garbage bags now I guess. He calls it a somber palate and Mah-Jing and I are in the back shouting THAT'S WHAT WE SAID!! Mah-Jing tries to explain later in the lunchroom, but Natalia waves him off with: we're going to win, don't worry!
Tim gives a fairly severe critique to the House of Bouton; the colours are awesome, but the collection is not cohesive. There are a couple of different generations represented in the clothing and Tim's not sure how they will pull it together. Cornelius just thinks the yellow looks like vomit
Model Fitting Time! Alex likes everything from Team Unity except his dress, which is faaaarrrr too tight.
The House of Bouton is all OVER the place, they don't know how they're going to get it finished in time. Me either, but I still love it.
So much running around for the House of Bouton, while Team Unity carefully completes their looks with composure and organization. Just: it's so boring!
Runway Time! The guest judge is Sabrina Carpenter (?)
Team Unity's looks: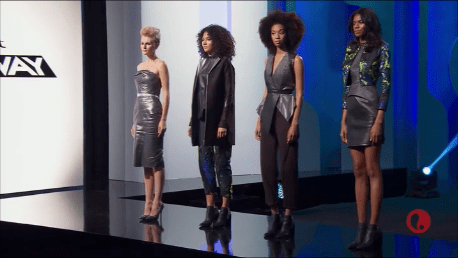 House of Bouton: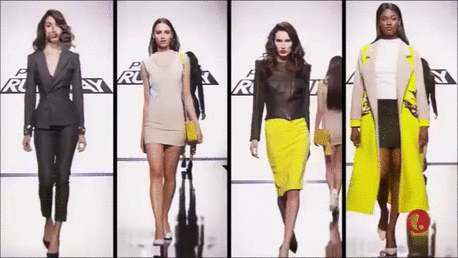 Eeeh, I don't know. The judges really liked the first but hey! House of Bouton wins! Yay!! They cry (except Laurence) and I'm so happy that Team Positivity won! And they all got $5,000!!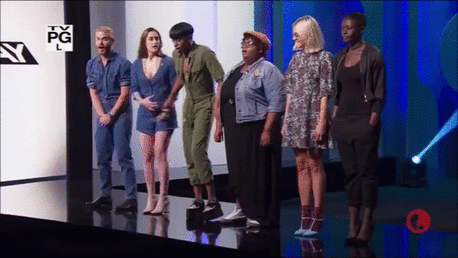 Oh dang, that means Team Unity is gonna throw Mah-Jing under the bus.
I hope Dexter wins the challenge, he's awesome! He was all over the place helping everyone and did the pitch and yay! Everyone thinks that too!
Team Unity lost because of over-designing; let's review. Alex's dress gets called out for not being as good as the rest, but Roberi sticks up for it. Alex cries as he affirms for everyone. Ah fella. Nina pretends to be compassionate and then starts slamming around "Fred Flintstone" clothes and the like. This is not daytime wear; this is pure evening, which is NOT what their pitch was.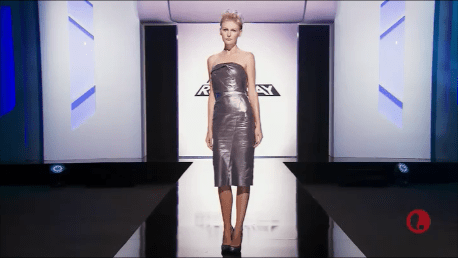 Natalie and Alex's looks are the worst: but nobody wants to throw anyone under the bus. Roberi actually names himself to go home, Cornelius cries and can't name ANYONE, so names himself too, Natalia same, and awww, I love these guys. The only one that names anyone is Mah-Jing, who names Alex for his incorrect pitch. EVERYONE wants to throw themselves out and awww, honestly you guys!! I love you all!!!!!!
The winner is: Dexter, yay!!!! I love him! OH! And there's a second part of the win, he gets to be in a Mary Kay spread in Marie Claire! Awww, Dexter. He says his heart is full of a million butterflies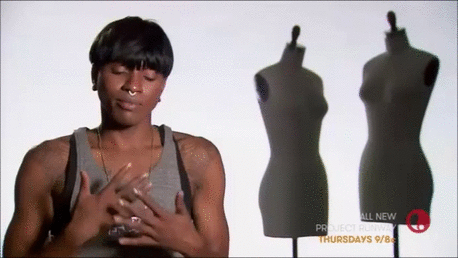 Roberi and Alex are in the bottom, and going home is... Alex. Aww, I'm sorry, Alex, you really did great at the end and I know you'll be fine. Even TIM cries, oh man. Everyone claps and Alex explains how Tim changed his life after he tried out in season 4. You guys are killing me!
And I just LOVED that challenge! You guys! I did not expect to come out of a love-in like that! How fantastic. Until next time!