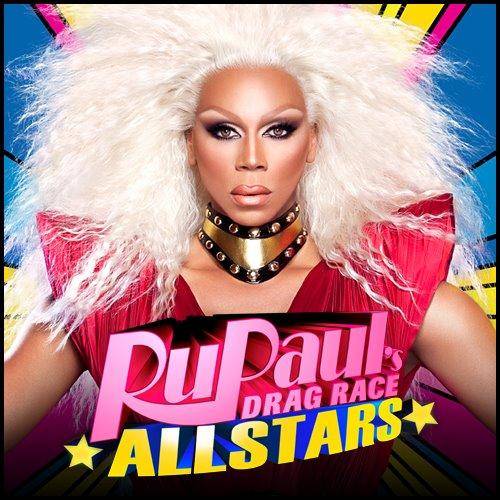 Halllooooooo huntys!! It's ONE of your fave Drag Hags, TTM, back to recap the awesomeness of RuPaul's All Stars season 2!! Woo hoo!! BeckyMae and I will be taking turns until the finale, but don't get it twisted, kitty gurls, we have you covered! Come! Snatch a wig with us on RDPGASS2!
First up is Katya!!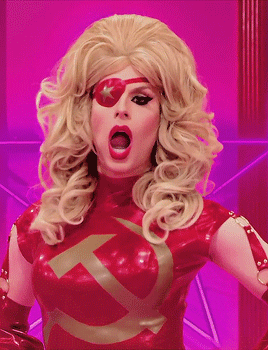 I loved Katya on season seven, cried with her a little when she talked about being figuratively addicted to dramz and literally one year sober, but I saw her live on the RuPaul Best Of The Seasons Tour and...somehow she made me an unbeliever. I am looking forward to seeing her rock this shizznit even further than last time.
And now we have Detox from season 5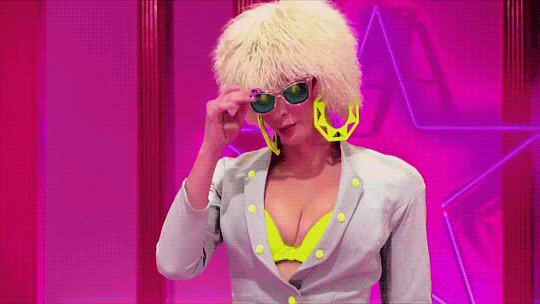 She looks fantastic, but her sillyputty puss puts me off like yesterday's eggs served fresh today. I do love her confidence, gahd knows you need it in this day and age, I just...find her a little hard to take. Her Andy Warhol yellow wig with matching yellow eyebrows in interview is not giving me life
ALYSSA EDWARDS!!!!!!!! I love Alyssa Edwards!!!!!! From season 5 and she looks FABU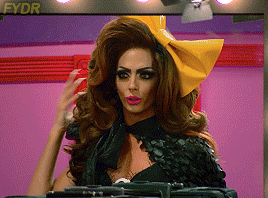 She's dressed like Little Red Riding Ho and hunty can do no wrong in my eyes. I SAID SHE CAN DO NO WRONG. Katya makes fun of Alyssa making love the mirror for five full minutes, but if I looked as good as her, I'd have one strapped to my chest, about two feet away from my face. And someone to guide me.
Phi Phi O'Hara rolls on in
And I'm not a hater, I just don't think she's transcended Pageant, you know? She looks beautiful, did a full year of character pics on InstaGraham and got engaged and basically got worldwide recognition. She okay. She  struggled with bookings after her Mean Girl turn on the show (I love Sharon Needles, didn't then, always will forevermore now: she's an artist) but she's dealt with her anger and she's not there to sabotage anyone. This time.
Ohhhhhhh gurl, it's my main squeeze Ginger Minj!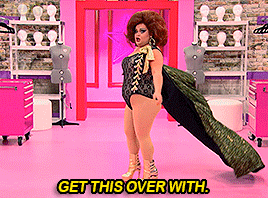 Season 7s Glamour Toad is in the building and DAMN she looks good! That bawdayawdayawday!! She thinks season 7 got a lot of grief for being lackluster, but I disagree! I think the winner sucked, but so does Ginger Minj.She did go get a corset,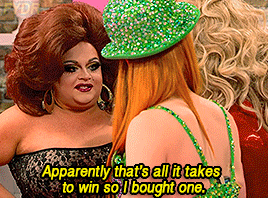 If you do not know that was shaddddyyyyyyyy shade under the shade tree: that was about Violet Twhatever, who won season seven by looking like a latex fetish doll. Hard pass. In her live act, all she did was bend over, and one day, grabbing your ankles isn't going to be enough, sweetie.
I need a drank and a timeout before I get any more spitty about Miss Violet
Roxxxy Andrews is up next, representing Thick and Juicy from Season 5 but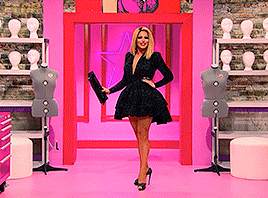 She doesn't look all that thick and juicy. I mean, she looks good, if completely unrecognisable (another pageant queen) but she lost a BUNCH of weight. Her and Detox are besties.
HAHAHAHHAHA Miss Coco Montrese, aka Alyssa Edward's nemesis (Alyssa accepted an award Coco won. By accident) is here too!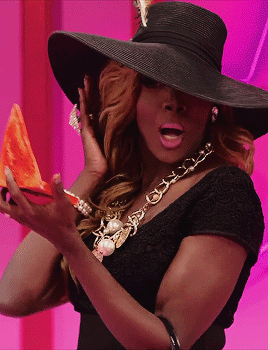 But they "done buried the hatch!" Shade immediately between her and Roxxxy, woot!
YAY!!!! Alaska is here!!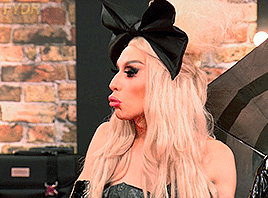 That means Ro-Laska-tox could be back on, but I sure fcuking hope not. I LOVE Alaska, she's so farking funny. WHAT are those huge rubbery lips?? Her and Sharon Needles broke up, so she's focused on winning and not what people are thanking, so you go hunty. That makes 5 from season 5, that seems like a lot, hey?
Um. Now it's Tatianna. Who?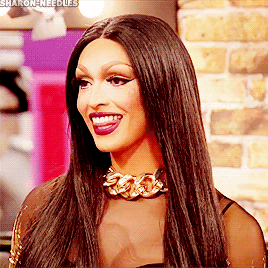 She was from season 2 and I'm pretty sure I watched that, was she the pretty one that got carried into the final 3 even though it should have been Jade with the unfortunately meaty tuck? I got nothin'. She's pretty but I forgot her already.
Oh hayull yes, it's my favourite drag dressing stoner Adore! Party!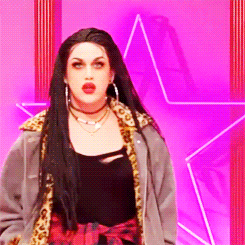 She calls herself a "messy slut" and I do NOT like to body shame, but there have either been a lot of post-pot Doritos lately in Ms. Delano's life or she's fighting an injury with steroids. It's that marked of a change. Katya calls Adore's look "smell my punani poetic justice realness" and Adore DOES look exactly like Lisa Bonet in Poetic Justice! I dunno, man....she calls her drag based on 90s riot grrrlls, but Imma have to call it LazyAFOnADime realness myself.
And that's it, that's all of them and we have RuMail! Somebody better be packing, a gorgeous girl is going home TONIGHT! What, too soon? Hahahahha. *angry face* I call Tatianna already; bai hunty!
Mama Ru invited all these kitty girls back because she felt they still had something to prove to their fans. Now. I may jive on and on about these ladies but I know better than anything that they are the best of the best and going home here is still going home in the top 12, you know? This season is about their LEGACY, Ru tells them, and one more little thing: she will not be eliminating any queens this season. We're all confused, but nobody more than Alyssa. She so dumb and purty.
Raven is the sole extry judge tonight, woo hoo! Let's find out how this is going to work! Ohhhhhh, instead of the Bottom Two lipsyncing for their lives, Ru will be rewarding success and every episode the two top queens will be Lipsyncing for Their Legacy and $10,000. TEN THOUSAND DOLLARS every week! Whut! Alyssa cracked me up with her "b*tch better have my money!" PLUS the chance at $100,000 at the end and the best part: NOBODY'S GOING HOME!!!!! We getts see dese betches every week for the WHOLE SEASON!!!!!!!!! Seriously, SO EXCITED!!! Sorry, Tatianna. Nothing personal.
And to make tonight even more awesome, we're starting with everyone Reading, because it is FUNDAMENTAL! Wooooooooo! *I'm like a noisemaker at the end of a party, so overwhelmed, can only make faint screeching noises
Phi Phi is up first, "it's hard when they're you're friends!... which is why this should be easy" and I fully believe that there are no Ginger Minj friends: she is alllllll redhead ambition with a coned bra. Phi Phi starts with Adore: "you know what Adore and the Dollar Menu have in common? They're both cheap and full of fat." Alyssa REALLY liked that one, but then, she and Adore couldn't be more different. The best was for Tatianna, though, even Ru puckered up on this one "honey, I'm sorry, if you don't have a wristband, you can't be in here."
Everyone else does allright, but a couple of highlights: Katya "and Ginger Minj, the rightful winner of season seven....of TLCs I Didn't Know I Was Pregnant" and then Katya said she thinks of Roxxxy Andrews, whenever she's at a bus stop and REALLY QUEEN? You just made fun of her being abandoned by her parents as a young child? That is COLD
Coco is doing rhymes, but she isn't funny but I was just waiting for Ginger! She did okay. Tatianna did too and is she banging Mama Ru? I can't figure out why she's here and maybe I'll find oot! Adore looks... terrible. Drugs are bad, you guys. She gets Roxxxy good, though, "it's good to see a filler bitch this season, and I'm not talking about that ass." I'm pretty sure she was talking about Tatianna, right?
Alaska knocked it out of the park; me and Mama Ru agree and she's won $2000 dollars worth of glasses from LA Eyewear (wheres mah cheque??)
Maxi Challenge is: All Star Talent Show Extravaganza! The queens are stripping down, Detox and Roxxxy playing around but I didn't think Alaska would be down with dat. She's a one-woman show and how Ru was laughing? Taking it all the way I betcha
For the talent show, Katya's dancing, Phi Phi's singing, but a capella. You can almost hear the record scratch while Ginger explains how difficult singing a capella is, not at all like on Pitch Perfect.
Adore will be singing, of course, and wearing underwear a fan gave her (whut? Like on her body?) and she's like Tom Jones, but no, David Cassidy and honestly, Adore, honey. Whatever you're doing, it's not a good look. The Britney BullNeck look peaked in 2002. Roxxxy thinks Adore's her biggest competition and she WISHES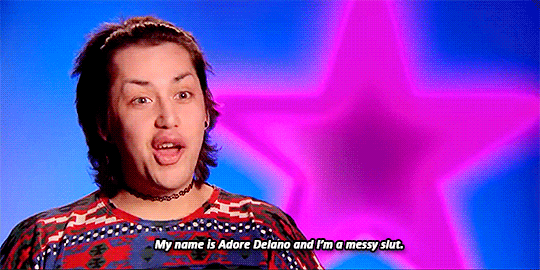 Mirror time! Tatianna wants to show she knows how NOT to shop at Wet Seal before RPDG, but Alaska's awesome and backs her up, the show HAS evolved over the years. It used to be ready to wear but now the girls have to step that p*ssy up. Couture and homemade are the rule of the day. Phi Phi wants to redeem herself and Tatianna goes right for her "you mean everyone thinking you were a bitch?" and Phi Phi WAS an "angry orange little monster." She's embarrassed about how she was acting and her drag is mostly about cosplay now. Phi Phi looks almost exactly like Guy Pearce out of drag, I LOVE both faces!
Roxxxy owns up to playing dirty against my beloved Jinkx Monsoon in season 4 and you can shove your apology, Rox. That was a calculated attack against someone who was better than you and you didn't just get dirty, you got in the GUTTER. Jinkx won anyway, so I wish you well on your redemption tour. People can change, people are evolving all the time and I'll give her another chance.
Katya's not looking to redeem anything. She's there to WIN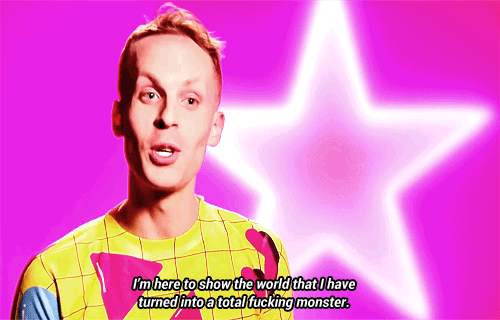 Runway time! Oooh, RuPaul has a gorgeous diaphanous sparkling golden gown and soft retro curled hair and I WANT IT ALL. Judges are: Michelle Visage (yay!), Carson Kressly, Todrick Hall and Raven Simonye. Ru's eyes look exactly like Tyra Banks!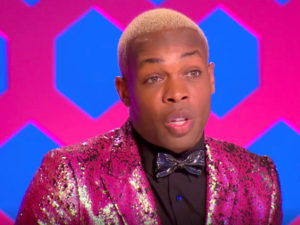 Talent Show Time! Adore is up first, singing of course! She has a great voice, truly. Alyssa Edwards is a ventriloquist...? It's not good. And then it IS!!! Typical Alyssa Variety Show: ossum
Coco will be dancing, of course, oh but it's s bad. I mean, it's pretty, but it's music from the 20s and it makes COCO seem like she's from the 20s. I've always felt that Coco just doesn't quite... get it and that performance seals that. As Tatianna says "we all make choices. That was a choice."
Detox is "singing" her own song, but really she's like a stripper with an art major drumming glow paint all over herself, then rubbing it all over her body, and then twerking and yeah. That was a choice.
Ginger is singing and she looks GORGEOUS in blue. She has a great voice! Light a lighter!
Katya is doing gymnastics because of course she is, HAHAHHA I do love Katya. She may just not be good in person, doing stand up on the road every night for a long time is probably very wearing. Phi Phi is doing her a capella singing and and bless her heart, she tried. She needs to wax her mo, yo
Roxxxy is doing burlesque, and it's fantastic! Until she turns around and I think I see her halo and I did not want to
Alaska's singing too! In a full Lady Bunny gear and channeling Jinkx. She's hilarious. I'm confused: Tatianna's doing Spoken Word? IT WAS THE BEST EVER. Seriously, I was almost crying after okay gurl, I see you, I'm gagging
In judging, Ru confirms that she will not be sending anyone home, but wait, what? They will be eliminating each other?? I THOUGHT I GOTTA KEEP EVERYONE!! And how will they do that anyway??
Oh the winning queen gets to eliminate one of the bottom girls, dayum. How do you eliminate a friend? You know these ladies all hang out in between shows!
Judging: Alyssa, Detox and Katya are safe, step aside. Adore is up first and Michelle starts right in, like I knew she would. To sum up: Adore's drag is LazyAF and Michelle expected MOAR. She ripped Adore pretty hard.
Todrick gives Coco props for her old Hollywood glamour, but overall: it wasn't good. She didn't paint her hands either, which I didn't notice but the judges didn't like. Ginger's song was nice but meh, apparently, and Michell couldn't stop staring at Ginger's vagina / vagedgy. Phi Phi gets conflicting feedback on her dress, and universal shit for singing a capella. She needed support
Everyone loves Roxxxy! Almost as much as they love Tatianna! And finally Alaska, who managed to out-gay Carson.
Holy shite, Roxxxy and Tatianna are top two! WHUT? Adore, Coco and Phi Phi are bottom three and WHAT IS WITH ADORE'S LIPS?? She had the same bee sting her that got Alaska!
Back chillin' in the Absolut lounge (where's ma cheque???), the girls all discuss how this will be handled. Everyone wants the eliminations to be fair, but right now it's just Roxxxy and Tatianna who get to decide. I could see how you would want to take out stronger competition but THAT'S not right. I don't want a bunch of mediocre all star arses left behind! Tatianna reserves the right to be "strategic."
Roxxxy calls over all three girls, one at a time, so she can talk to them but Tatianna don't curr. Her mind is already made up. If it was my choice to eliminate someone, I would go straight for Coco Montrese.
Adore cries with Roxxxy, she does punk rock drag shows and she doesn't think she belongs here, back to being nagged into cinching her waist and all that shite. She's crying all over everyone and Bianca del Rio dressed her? Whut? She's just found her groove, being back here to get trashed for not looking like everyone else is bringing her down, man.
Oh come on, Roxxxy and Tatianna have fancy boxes to put their votes in? Hahahahaha. Lipsynch for Your Legacy time!
Roxxxy hasn't seen Tatianna since season 2 (I wish someone would have mentioned she was from all the way back in season 2!), she don't know if "she kick,if she split, if she buck" but Roxxxy has a whooollle lotta shaking, so. And it's to Shake it Off! Roxxxy got this. She's having fun with it! That was awesome
Her choice for elimination is: Coco. I knew it, she was def the right choice. Roxxxy cries because it's so HAAAARD to eliminate someone ELSE.
Coco's in the back muttering about having a lot to give when the RuMail noise comes on; oh it's not over! There's still a chance she could come back to get her RuVenge and
RUPAUL. What the Sam Hill is going on??
Until next week, huntys!
*pics all borrowed from Tumblrs: fuckyeahdragdrace, delriodelano, sharon-needles or as noted.
Join us! One of us! One of us!