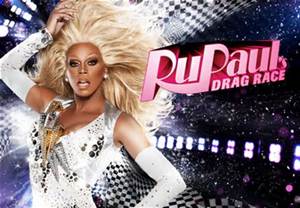 I can't even believe it, this season on RuPaul's Drag Race, I got to recap Snatch Game AND I getta do the Book Ball! WHUT?? Woo hoo! We roll, huntys!
I am so excited. I love books and I love Balls almost as much! Just as a quick recap, the last two weeks we lost two of my top contenders, Robbie Turner (who couldn't get out of her heed) and Thorgy Thor (there is NO explanation for how that happened - and Derrick Barry remains?? WHET??); so things are getting tense and taut in Drag Race Land. Well. They always been tight. Onward!
We're at the room after Thorgy's shocking exit, Kim Chi (ANOTHER one note queen, albeit a gorgeous note - still here while Thorgy is sent packing) and I can't believe it. The awesomesauce BeckyMae thinks that the lipsync is much more important this season and I can see that; it's ChiChi Devayne's strength fo sho; she took me to church on Dreamgirls last week.
Thorgy's left a shaaaaady lipstick missive on the mirror; telling the girl to take out Bob and calling the top three: Naomi, Bob and Derrick. Kim is partic taken aback, but Bob doesn't pay the T no mind, she's gonna miss Thorgy.
They give ChiChi all the kudos for her lipsync, that was truly epic. That was almost Latrice Royale-level. Naomi and everyone were shocked, nay, appalled that Derrick wasn't in the bottom, she handles it a little better than usual. Maybe that 43 minute monologue helped her get that stick back up her arse to get her back straight.
The girls all jump in on Derrick with "help" for her look, her brows need blocking, she needs to stop painting like a real woman paints and I have two fcuking words for y'all motherhumpers: Courtney Act. She rode her singing talent and Barbie Bawday Look to the top three, so they can't never discount a fishy lady.
I miss Adore. She's like the kid sister that strips for drug money that is just so much fun when she's awake - I loved her. A messy giant heart. Party! As you were!
ChiChi is talking ALLLLS the shite about Derrick, you know, just like Thorgy was last week about her. And Derrick. I just want to say that if Drag Race eliminates my top three in a three week period, I will be inconsolable.
Amy and David Sedaris are the guest judges tonight, they funny! Or she is anyway, I assume some of it rubbed off on him.
The Fantastic Five rolls dancing into the workroom, wooo they already done had herses! It's all about books!! Tuck your bookworm! MamaRu is in a festive suit featuring either happy faces or neon buttons, a pink cravat and a royal blue hat. Perfect!
At this point of the party, Ru says, they should be like sisters! And they're gonna have some family bonding time over...puppets! Because everybody loves puppets!
Kim Chi gets to pick her puppet first, it's ChiChi! ChiChi is next and I don't know why, but I see a fist going into a hole...and I miss Orange is the New Black. 2 more months! She gets Bob the Drag Queen, but with hair! Derrick gets Naomi, which leaves Naomi with...Derrick. Oh and Bob still gets to pick, he gets Kim Chi. Hmmm, I think I have underestimated our Naomi, probably due to her young age. I don't think people are real until they're 30, I know, I'm working onnit. Anyway, she was much funnier than Bob in that part, I think we need to watch her.
Time to drag up their dolls! Naomi and Derrick are capital T Tahred of each other; pick pick picking like actual sisters. Derrick closes it with "keep giving me material, honey" and I have to use that!
Time's up! Bob is up first, and all he read Kim for is her weight and lisp, which, you know, if it had been funny? The water bottle maybe.
Kim does every worse with Cheap Queen ChiChi, who admits maybe she could blend in her hair bump a little...I'm starting to feel desperate, I thought for SURE Bob was gonna be amazing, and that was...not. I didn't expect much from Kim.
Derrick gets MEAN and now Bob makes me laugh; "bitch is cutting deep; this is a puppet show! Kids are here!" and Naomi takes it in the spirit it was intended and is mad AF: she would NEVER wear some shake and go Beyonce wig! But she DOES speak in a monotone, hahaha.
She's up next, and gets a couple of licks in, but you see her age in the first insults, Derrick's butthole size? Really queen?
Oh ChiChi made me CRY with her Bob puppet!! "I'm doing well! I talk a lot! I work at every club in New York! I have a big mouth! I think I'm all that even though my wigs look like ChiChi's! Jokes! Jokes! Jokes! Jokes!" we're ALL crying and it's AWESOME cause it's with laughter for the first time on this show!
ChiChi wins of course, yay! Humorist David Sedaris will be helping them put together three outfits for the Book Ball; categories are:
Baby Drag Realness
That's My Mama Realness - a tribute to their mothers
Autobiographical Eleganza Extravaganza - couture from books!
Work time! Derrick and Naomi will just NOT let up; these ladies HATE each other. Well, Naomi doesn't hate Derrick, just her drag. Ohhhh, it's getting severe up in here!
It hurts me that they're cutting up BOOKS!!!! Gah!! But it also looks like magazines and most importantly, Ru's pictures in her book. Ru wants to talk about Derrick's drag, though, he needs to shave those brows, bring it up and paint an illusion on his face! And SHAVE, dahling, although that may have just been me.
ChiChi is up next for mentoring; his momma is a party girl who knows how to cut a rug, mmm hmm. Ru reminds her that they wanna see an elevated but real ChiChi, she country, and country is in (eeeen).
Ru just cuts straight to the chase with Bob; he gon do glamazon or what? Michelle said! Bob is doing a high-end geometric shaped piece but yeah, you can call his drag ratchet, it doesn't offend him. He does 90 minute shows, he isn't doing it in big gowns and sculptured hair, he's in a leotard and ...is it okay if I say THAT IS TOTALLY NOT DRAG then? He makes me tear up right after, though, so I take it back. His mamma is really sick with a rare form of cancer and she just looks like skin and bone. He cries in interview and maybe it gets a little misty everywhere.
Naomi makes me worry; she doesn't seem to understand the challenge and while I LOVE that she loves her mamma as she is, it sounds super simple and...she needs to stop doing that.
MammaRu is razor sharp, y'all, she sounds like she's just funning and passing the day, but not a thing gets by her and she gets ALLS the answers.
Ahhhhh Kim Chi gets me next. She's very excited about the Mama Realness Drag, she has a traditional Korean gown to wear, but no, her mom doesn't know Kim will be wearing it or that Kim does drag. MamaChi thinks Kim is a makeup artist. It's just heartbreaking to me that Kim hasn't told her mom because she doesn't like to be vulnerable in front of her mom. I mean. These queens, that's usually all they GOT, a mamma who understands and loves them anyway, the dads, nowhere near as much. That just makes me so sad that Kim is so hard on herself and doesn't even have her mom in her corner, maybe because she hasn't given her mom the chance. Ru challenges Kim to own how talented she is, right now, not later, NOW. Kim swears she has. I sure hope so.
Ru's leaving, but first she has news! The other guest judge will be Amy Sedaris! Oh and they have to do an opening number in drag based on her character Jerri Blank from her hit show Strangers with Candy. THIS is what their look is based on.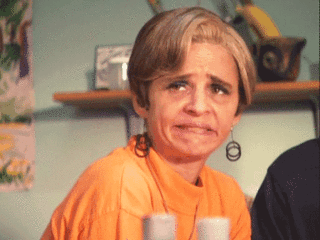 Nobody is 'cited. Oh, and ChiChi will be choreographing, yay! Gurl can DANCE!
Side note: I watch Drag Race on OUTtv in Canada, and the commercials (Boy Butter personal lubricant shout oot) are the BEST. I also get snippets of homorazzi, which is awesome sometimes, and used to watch 1 Girl 5 Gays obsessively. I will say that for a LGBTQ channel, it seems to skew mostly male, but some of the shows are MAGIC.
Choreography practice time! Derrick points out the ChiChi doesn't even need the special teeth! And when called on being a shady bitch sputters "we can't just say things in jest?" *wide innocent smile* but that's the FUN part, Bob!
Kim is having such a hard time with the choreo! Like SO BAD! ChiChi points out that Bob can actually dance, and that's what I always say! Bob covers up how good he is at things (like dancing, like singing), he's too cool for school and doesn't want to seem like he's trying. I mean.
Naomi doesn't know from Strangers from Candy OR Jerri Blank, she's just modeling and doing her usual vogueing. Derrick is waaaay over the top caveman but ChiChi figures that's Derrick's problem: he top five. That scarcity mentality can bite ladies in the butt is all I'm saying, ChiChi. Bring the love, let them fail without your help, and succeed with it. It will just mean more when you win anyway.
Bob is a little confused about the challenge, making his book dress out of cardboard, so...ChiChi says SOMEBODY gotta go home. Given typical RPDR editing, I am horribly certain it will be her.
In yakking while working, somehow Derrick ends up shading Bob again; he just doesn't see RuPaul's beauty and grace in Bob. Kim doesn't see any MAKEUP, saying she's seen Bob's videos online: super funny, but literally only lips and lashes. Naomi keeps using "literally" in sentences because she thinks it's an adverb, but that word: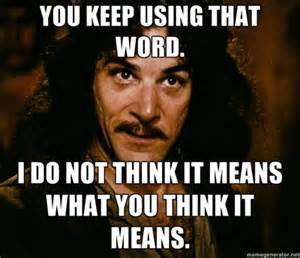 Unless someone actually lit a bonfire under her ass and roasted marshmallows when she was bottom two. Then I will stand down.
Bob tries to defend his makeup, nobody's having it! Kim and Naomi read her for her it; there is a standard of drag, especially for RuPaul's Drag Race, but Bob thinks he's not about beauty, he's an entertainer. He sure is! But that's not a drag queen either, ya dig?
The Library is open again, huntys! Kim gets some popcorn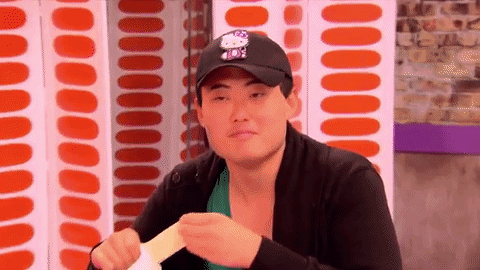 Derrick and Naomi are going AT IT and this time Naomi's found her fangs and she carefully and clearly explains to Derrick that her makeup is pretty, but it isn't DRAG. And Derrick ISN'T Britney, either, bitch: who's Derrick Barry? Even Bob shuts up after a while, it's heated and Derrick isn't rolling or joking back; Naomi is straight-up saying Derrick doesn't deserve to be here, she doesn't have her own aesthetic. AND GLUE DOWN YOUR BROWS! We even get more than a Paris Hilton monotone out of Naomi! I kind of get what Derrick's saying, them asking him to carve out his face to change the shape doesn't really make it more HIM, clearly, but he just doesn't understand that he needs to do more than The Britney, thank you genetics.
The next day is challenge day and Naomi feels bad; her mamma would have slapped her hand over her reading of Derrick, so she's there to help Derrick as much as possible. Derrick is going for three different glued brow looks; let's see where this goes! Naomi is there for the shaping.
Derrick isn't close with his mamma either; surprisingly. He came out to her at 19 and she did not take it will, holding him at arm's length and wanting to keep it a secret. It got better, but he identifies with Kim Chi, saying that when someone's parents break you, it will always be at the back of your mind. And his mom broke him. Aww man.
Bob breaks up the mood with a review of Derrick's so-bad new makeup: "I'm seeing someone's dad doing drag for the first time. Welcome to the stage"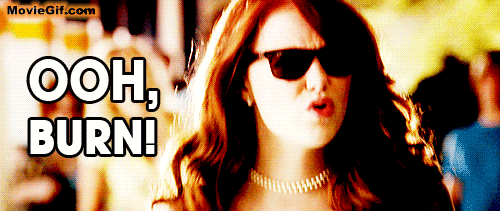 But he's right! Derrick can't go out on stage like that! He looks so BASIC.
Runway time! RuPaul is a vision in lemon meringue, Bob puppet straw wig and frown.
All the judges have brought their own books to show off for the Book Ball; I didn't know Michelle Visage wrote the Gay Bible!
Opening number! I don't get it. But I can tell ChiChi nailed it! Derrick looks CRAZY.
Now we have the three different categories of runway, starting with Baby Drag Realness. Kim Chi looks gorgeous (apparently can't walk cutely in ANY shoes) but I'm not getting ANYthing about babies or sprouting or anything that she said she was going for. Naomi goes the other way, too literal with her diaper and pacifier.
I don't understand Bob's Pebbles Flintstone Couture. Derrick is a sad Little Mermaid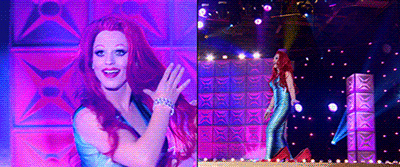 but ChiChi looks GORGEOUS.
Now That's My Mama Realness! Kim Chi looks so beautiful, my gawd. I GAG. Oh no, Kim's mom's face is blurred out, she didn't give permission and I feel so bad again for Kim.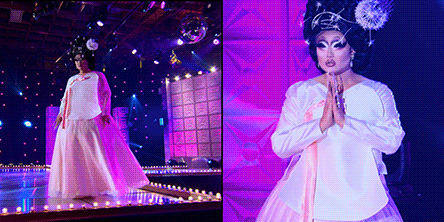 Naomi looks great, and quite a bit like her mother, all sleek bob and rainbow babies on her arms.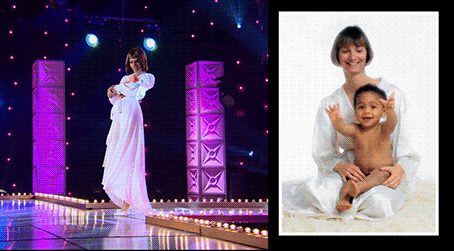 Bob looks EXACTLY like his mom, who looks sort of like Viola Davis.
Derrick Barry is wearing a sheer blue nightie and I don't really get it. Her wig looks so ratchet that I forgot to look at her brows.
ChiChi's mamma Albertine is into high heels and long lashes, ChiChi's in a skintight leopard print dress and I GAG!!
Book Dresses! Kim looks beautiful, of course, and wow, so does Naomi. Bob looks fine. Derrick is wearing a really REALLY short dress with a hip side flaps, like a showgirl from the 40s. It is no bueno. ChiChi's spiky white short dress is adorable! Very well made; country queen realness.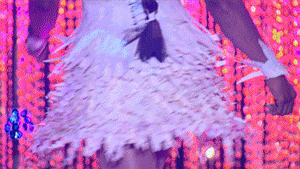 OOOOOH!!! Commericals tell me I also get A-List Dallas here on OUTtv, woo hoo!!
Judging! Kim's outfit is AWESOME for the last! Sah pretty. Naomi also gets rave reviews for her looks, and cries when they ask about her mama. She loves her so much, it's just so sweet.
Bob gets good reviews, Amy Sedaris especially likes Bob's dress, even though Michelle questions her not using ANY of the actual books for the challenge, just straight up cardboard. We'll see what Ru thinks.
Derrick is complimented for trying, but Ross reads him firmly and thoroughly for not being at the same level as the other girls; Derrick looks like he swallowed 50 eggs.
ChiChi gets awesome feedback, Ross loves her final dress and her mom, he says it was "Real Housewives of I hope my neighbourhood" and ChiChi says "THANK you JEEBUS" and it's.on. David likes her "country girl with dreams" and they all laugh.
In deliberation, they all love Kim Chi's look, but think her mother not knowing she does drag is holding her back, she's too tentative. I'm so sad, flashing back to that picture of her and her mom with her face pixelated oot.
Naomi is called Miss Underdog 2016; everyone is impressed by how she's stepping up and she really has come from behind. It would be easy to write her off as a model, but I'm just not seeing a lot of personality yet. I am seeing more than just those legs now, though!
They argue over the construction of Bob's cardboard dress, but Amy's just happy it had some colour. Now, I don't know much of Amy Sedaris (cover your ears, Becks!) but I don't like what I do know, so I will have to hit up some YouTube apres, y'all.
Michelle HATES Derrick, so much HATE! Everything was a miss for her, and she gives no props for trying. I'll just say that Britney made it much farther in the competition than I thought she would.
ChiChi is ADORED. I love her too!! She has real star power, and is Seabiscuit? She's separating from the pack is what Ross means, and she's established herself as a leader. Thank sweet baby Thor, I was working myself up in case all her interviewing meant she was going home.
At elimination; ChiChi is safe, Kim Chi wins and we're ignoring that she can't sing, dance or walk in heels, are we? Naomi is also safe, but it was a crowded top three this week. Bob and Derrick facing off in the lip sync battle was just a matter of numbers, we know Derrick is going home, one of those hennys just had to be there to usher her out the door. Come through, queen!
Derrick is just happy that Bob's next to her, and guuurl, she just can't help herself with that mouth, can she?? Bob is funny, of course, but surprisingly Derrick is just a pointer sister. She's in Vegas, she doesn't know from back flips? COME ON! Bob gets to stay, of course, but gives props to Derrick as she goes. I don't know how long Derrick's speech goes on, but it's sweet and I am so happy that she made it this far. I also love that we got to know her a little tiny bit too, she hasn't really opened up at all until now. We oot!
For final thoughts, I just have to say that I think Bob and Kim Chi are the real two unique talents in this season; I just haven't worked out how Kim Chi's will translate to the stage just yet. She does amazing moving art, but doesn't dance, sing, walk or talk. Ru knows better than I, though.
I still don't think Bob is a drag queen, truly, I think he's a great shock comedian and part of his act is the ironic Drag Queen. I mean. Lips and lashes do not a queen make. Once again, MamaRu might be going in a different direction this year, like last year when she chose a Model with a Secret as the winner. See you next week, huntys, when the fabulous BeckyMae does epi 9!
**I borrowed all of the gifs from joeyguerra on Tumblr, save the Emma Stone one. Thank you!!