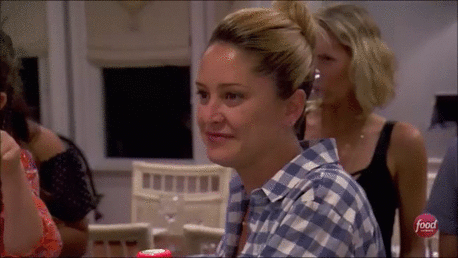 Hi guys, can you believe we're down to the Final Four already on Top Chef Charleston? ME EITHER! Can you further believe who that includes, or rather does not include? ME EITHER! Well in some cases. Let's roll E11 where we're going to see James Beard! Or his kitchen. Probably his kitchen.
I definitely can believe Brooke Williamson and Sheldon Simeon are in the final four, but John Tesar? I did not see that coming. Neither did I notice Shirley Chung all that much, she's been solidly middle of the pack for me. John wasn't expecting to make it through either.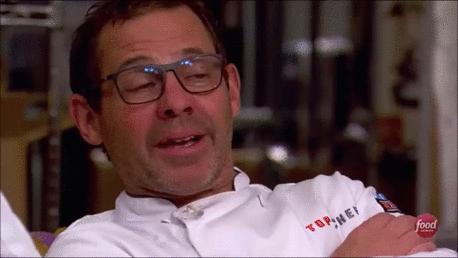 Brooke felt like she starting hitting her stride a couple of challenges back during her season (that's really a thing! When you feel like you could run forever and a day) and she hasn't gotten there lately. Her dishes have faced uneven reception, but I would have been pissssed if she'd gone home last week over that stupid cronut challenge.
The chefs meet Padma Lakshmi in an eerily quiet kitchen for their last Quickfire Challenge of the season; Brooke's worried about the partitions between stations. Is there going to be a test? If so, Michael Solomonov will be administering it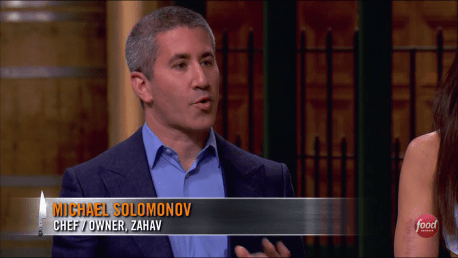 This challenge is about communication; they will be shouting orders for food preparation to a mystery partner on the other side of the partitions.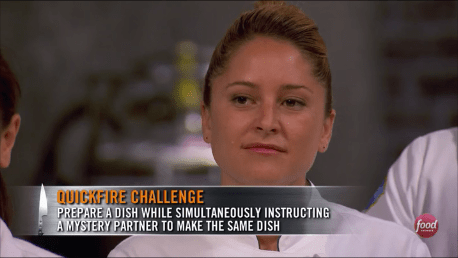 The winner gets 10 grand and a sous-vide machine, Sheldon figures he will go to Las Vegas and do some balling. Sorry, I'm sure he meant PUT HIS ADORABLE KIDS THROUGH COLLEGE.
Ahh the mystery guests are family, yay!
But the weird thing is that nobody recognises their partner's voices! Or taught their spouses how to dice an onion, I mean, come ON Shirley. Her wedding picture is gorgeous but he looks very different!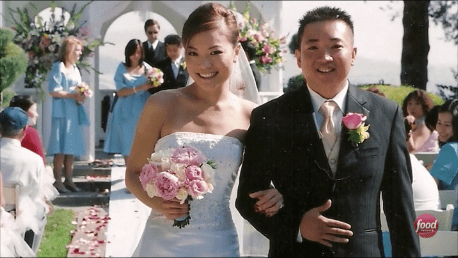 John's wife is not enjoying this OR sharing her name with her husband, in fact it is only Sheldon who knows he's talking to his wife. How can they not know?? Sheldon is very excited his wife is in this challenge with him, I gained a lot of respect for him right there. He knows she can't cook and he's just happy she's there with him.
Shirley is just squawking away non-stop, which means Brooke can't hear anything but Shirley don't curr. 10 large is on the line, screw Brooke. Right about there I lost respect for Shirley, how odd.
Judging and reveal time! John can't believe they convinced his shy wife Tracy on TV, he's blown away. Their food looks fairly similar, Tracy just needed more sauce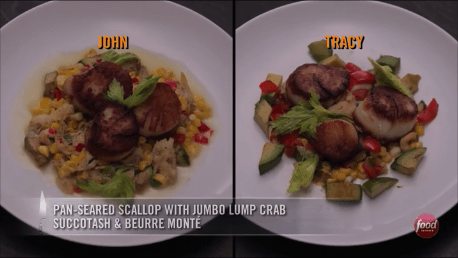 Shirley is happy to see her husband too, who seasoned his dish even a little better!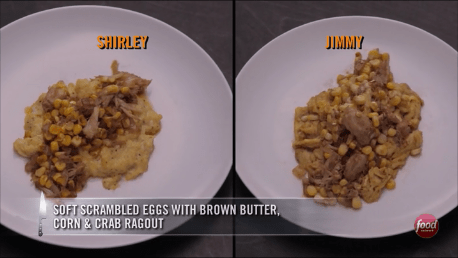 Brooke can't believe she didn't recognise her sister's voice! Me EITHER!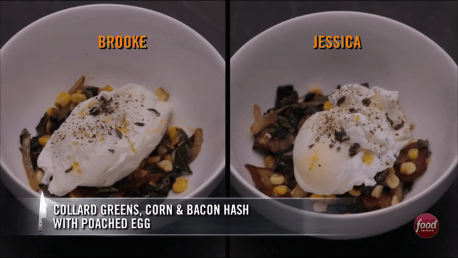 Sheldon can't wait to see his wife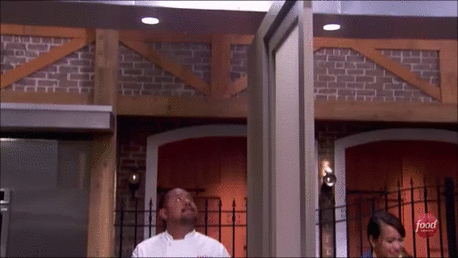 He's like a little kid! Their dishes look great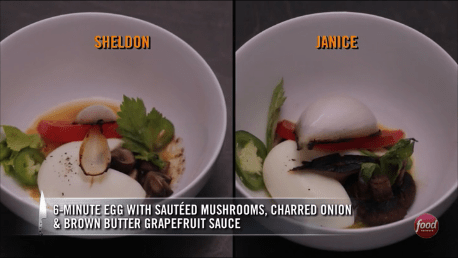 And they win! Yay!!! 10 thousand dollars AND a sous-vide machine! Sheldon will maybe not go to Vegas after all now that the War Department knows about it up front, buzzkill bummer!
Now for the elimination challenge! We've got Mary Sue Milliken from the James Beard Foundation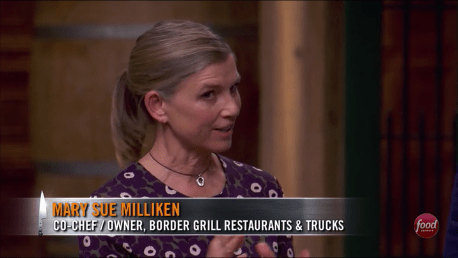 Everyone but Brooke has been nominated for a James Beard award, eehh awkward. The challenge is for the cheftestants to create a dish representing their journey to this point in the competition; the winner's main dish will be served at the world-famous James Beard House.
The mystery chefs get to come for dinner, yay! ANd Padma's cooking!
*record scratch*
WAS TOM COLICCHIO BUSY???
Last Whole Foods shop! Sheldon is pushing his limits, serving okra to Tom and something with rice...I dunno, I'm sure it will be amazing.
Brooke is going with pork tenderloins and radishes; literal interpretations are her friends.
Shirley is making fish and crackling, yum! John is going back to scallops, since he got to make some with his wife today.
Sheldon is having trouble with his rice, I hope he pulls it together! Off they go for the night, back to the house where Padma is already cooking. She takes a moment to promote her own line of organic frozen rice; me and Brooke: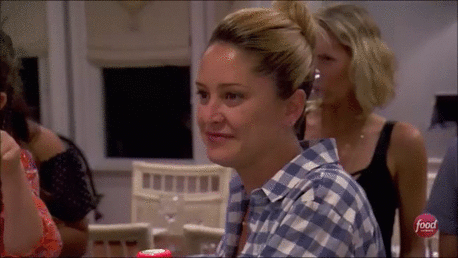 A lovely meal later, Sheldon can't stop worrying about his dish. John is fixated on his kiddo, he's only 5! Wow. Tracy must be much younger, since he said he was in his 50s.
Brooke is sous-vide-ing her pork tenderloin and Sheldon is adding flour, they're having a rough semi-final.
Time for tasting! Who are our guest judges? Gail Simmons is there, of course, disguy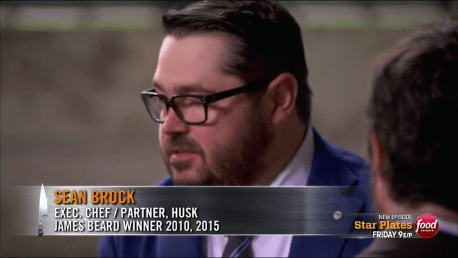 And disguy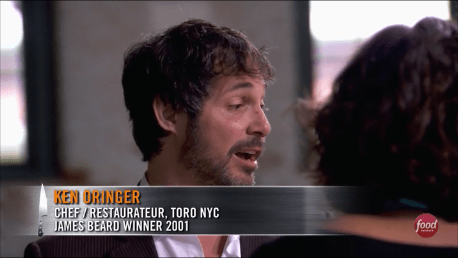 and disgurl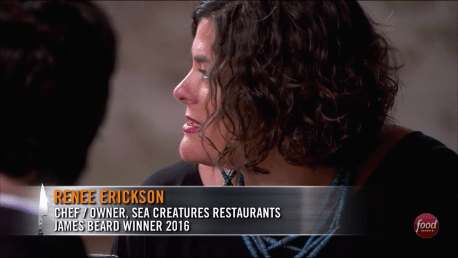 Along with Mary Sue Milliken and MichaelnSolomonov from before and Tom Colicchio of COURSE..
John's scallops are up first, Padma thinks they're purty and they like how simple he went, but they universally hate that he left the skin on his peppers. Since he gave us a whole tutorial on how that was on purpose, I assume he'll get to explain that at judging.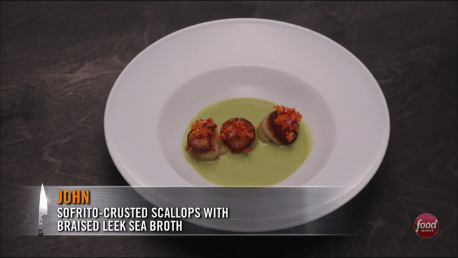 Shirley is getting verklempt in the kitchen, she feels as though she's cooking for herself and for her grandparents. They love how is smells, it's like a hug! She cries as they compliment her the strength of the flavour of her broth.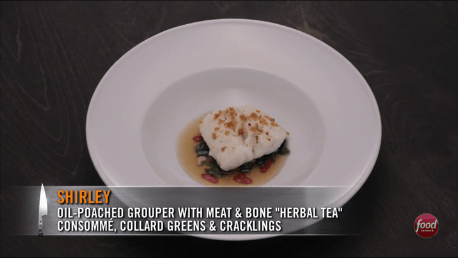 Eeeh, Brooke's dish does not look yummy and she's not in love with it either. She gets read for her over-sweet dish, she gets that a LOT. The judges aren't impressed with her sous-vide usage either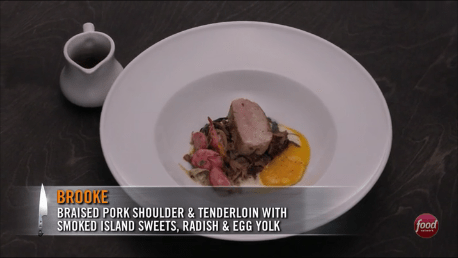 Sheldon's up with his Carolina gold rice and okra, woot! It turned out how he wanted, and he even has a little pork belly, which has been missing entirely this season. One of the chefs calls is "insanely good", YAY! He's gonna steal this technique even.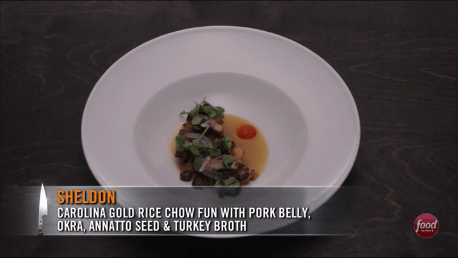 And that's it, now we find out who makes it to Mexico for the semi-final. Shirley and Sheldon are the tops, I predict that Sheldon will take it and John will go home. Let's see how that plays out
Shirley and Sheldon give and get kudos for their dishes but Tom makes Sheldon cry when he insists that he set aside his humbleness; he will one day be among the great chefs of their time.
Sean announces the winner: Sheldon! YAY!
So now we have Brooke and John in the bottom: Brooke cries and I cross my fingers. Please have her move on. The judges are stymied, so many beautiful dishes to choose between and it seems matched between John and Brooke. EEEH.
AND BROOKE IS GOING HOME????? AND JOHN IS STAYING?????? WHAT??????
Oh man. I saw that, I saw that when she said she has a hard time pulling ideas out of air and then used the sous-vide machine. I'm so sad. Do you think she'll make it back out of Last Chance Kitchen? That's what happened last time! That makes me so sad, and Brooke too because what she really wanted was to go further than she did last time, which could only be winning.
John cries too, this is a very teary semi-final, you guys! He can't believe he's going to the finale at 58 and I did the math and I don't think I would want to be able to have a child at 53. Sorry, sorry focus!
Until next time, you guys, which is the last time. Cheers