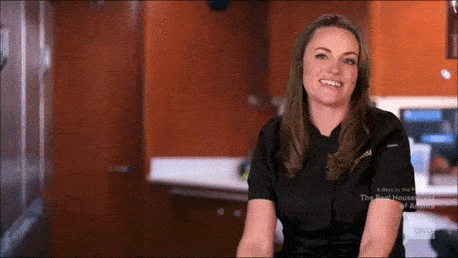 Hi! We're back Below Deck already for some Champagne Wishes and Caviar Screams, are you ready for this jelly? I don't think you're ready. For this jelly. Kelly? Rolling into my recap of Below Deck S8:E05 after the break!
We left our crew of hawtyawties cleaning My Seanna in preparation for our next charter, that's where we open. Not everyone is working their adorable bums off scrubbing deck, deckhand Shane Coopersmith has taken himself off for a nap, so he can be at his best tomorrow.
Shane shares a room with his boss, bosun Eddie Lucas, who is none too happy to see his most junior deckhand slacking asleep wearing an eyeshade with the legend "Do Not Disturb" across the front.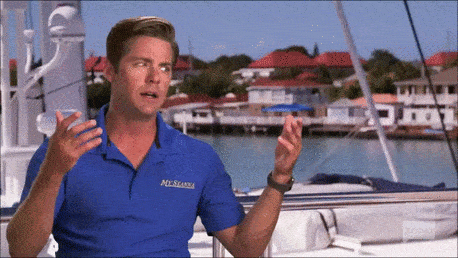 Eddie...is a sweetheart, but he's not exactly Atilla The Manager. He doesn't have the energy to deal with Shane's lack of energy, he'll let him sleep.
Everyone else continues working and eating, chief steward Francesca Rubi sends third steward (but should be second steward) Ashling Lorger to clean Captain Lee Rosbach's cabin but before she can, he comes barging into the crew mess.
Awwwww lookit!! This is Captain Lee and his wife years ago, you see why I call him Skinny Kenny Rogers??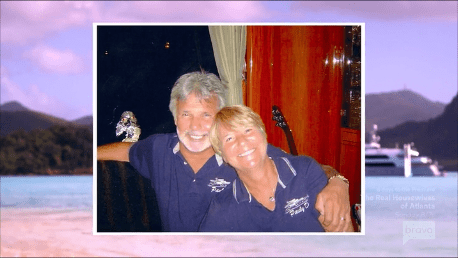 She was his chief stew!
Awwwwww.
Chef Rachel Hargrove: "so fraternization works out?"
Hahahaha. Sounds like Captain Lee brought his wife into yachting so they could spend that time together and I love that.
This makes Rachel miss her adorable tiny Italian boyfriend Vincenzo, awww.
I don't even feel like barfing, I must be feeling optimistic!
Wooo time for a pre-charter preference sheet meeting in the crew mess! Eddie, Francesca, Rachel, get your arses down here! Beth Fegan and Tim Scott are coming! I only saw one other name so far, Liz Moroney, who else we got coming on this here boat? We've got Nancy and Lee Leibig too!
Rachel thinks these people are her spirit animal because
She can't count
She doesn't understand how angry that makes almost every indigenous person ever
They're not Charley Walters OR the Getaround Gang that was just there, and she thinks their maturity levels match
I am guessing it will not be exactly that easy.
Shane wakes up after a couple of hours (something like that?) and is directed into the water to clean the bottom side of the boat and tender. Okay!
(But it's like, IN the water?)
I've been giving deckhand James Hough a really hard time because of the way he talks about women and how he talks in general. It seems I may have assumed far too much arrogance about our young deckhand, he's got cripplingly low self-esteem thanks to a lifetime of bullying by his older brothers (people SAY they'll grow up to be great friends) and works out compulsively to keep the demons at bay. Honestly, I'm sorry, I forget you really can not judge a book by its cover. Just because he's extremely conventionally attractive I forget that people don't always see themselves that way.
Rachel and Francesca plan the menus for the next charter, Francesca just doesn't get Rachel's raunchy sense of humour. To be fair, Rachel says every single dish is going to eff somebody in the mouth, so.
Eddie stops by for a glass of wine while deckhand Isabelle 'Izzy' Wouters warns lazy Shane in the crew mess to step up his game, and hard. I kind of love that she did that, they're already forming a good team on deck.
Shane heeds this warning, heading straight to Eddie to ask what he can do to help. Eddie's too tired for this bullshit, he tells him that ship has sailed and he should try harder tomorrow without the naps.
Francesca's not happy with her crew either, second steward Elizabeth Frankini just isn't stepping up or caring all that much either. Francesca calls Elizabeth out the next morning for her lack of tidyness, Elizabeth tells us she's starting to take this personally. I love that a producer stops things right there.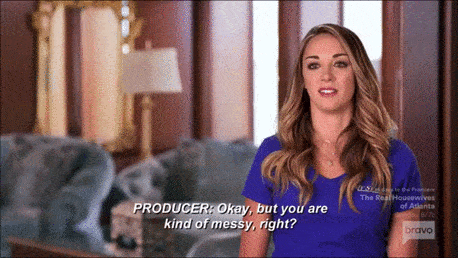 She calls herself a messy artist but...she's in service...not art. Ashling has picked up on all the strife between her two Interior crewmates, she wants nothing to do with this fight. She doesn't understand why Elizabeth has crystals in her bra, either.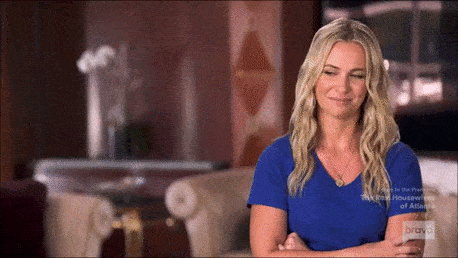 It's only three hours to charter, so we've got provisions woooo! There's some fancy caviar, watch that because it's going to be important later.
After a short camel-toe sitch with Izzy's too-tight pants, guests are here!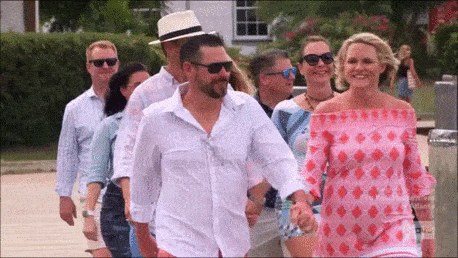 After a lovely boat tour, they settle in on one of the decks and Rachel sends up some cheese.
You know, it's the weirdest thing. Everyone is very excited by the charcuterie boards but I have that sort of thing around periodically and I feel kind of ehhh about restaurant versions. About restaurant food, even, I had someone ask me my favourite meal and I said I like to cook spaghetti the most. Apparently, I was supposed to reference a meal I didn't cook and I couldn't think of anything! Maybe steak? Oooh, or RAMEN.
BACK ON THE BOAT, service...is not great. Elizabeth is okay when directly closely but ask her to do three things and she'll maybe do one. It's like she's has a different list in her head, one with much less silverware and drink orders or sunscreen.
Rachel is veeeery excited about these foodie guests of hers, they are somewhat less impressed with her plating design.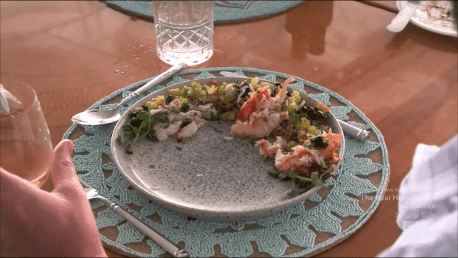 Her marinated snowcrab is compared to canned crab meat, are we sure these guests are foodies?
To his credit, Shane has been trying really hard on this charter already. He's off cleaning the bow on his own while the rest of the deckies get out the water toys. Primary Tim has requested the slide, ALL the crew hates the slide wooooo!
Inside, Elizabeth's Reign of Laziness continues, but it's not like she's doing nothing. She's just not doing everything asked, you know? I can't figure out if Francesca is just super picky or not. I would think Elizabeth would know how to set a table, but after she misses out on a bunch of stuff, Francesca sends her for a break. Elizabeth goes for a 'total reset' by calling a friend for positive vibes.
Uh.
Huh.
Look. I like Rachel. Even if we don't share a sense of humour, I think she's funny and an excellent chef. But. Her food is...kind of pedestrian so far. Like fancy pedestrian, but still pretty middle of the road. She's making herb-crusted lamb, which is all anyone ever does with lamb. Before that is foie gras with brioche, ehhh, you know? But I dig that she digs her food.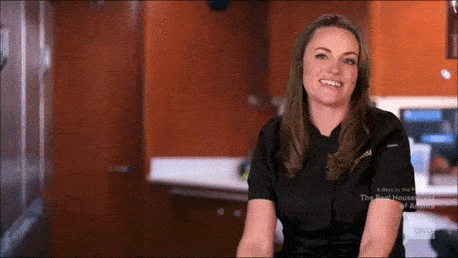 Shane is struggling on this ship, it's as hard as it was for me not to title this episode Dear Diary.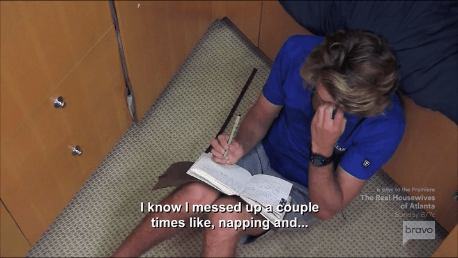 He's used to excelling, to being the best and he is just not achieving that success on My Seanna.
Rachel is ready to do something profane to this dinner party, time to goooo! Primary Tim is schwasted, it's an unusual relationship with Primary Beth. She's treating him like a naughty child and he's exactly 50 years old tomorrow. Huh.
He even leaves before supper, he's that loaded. Wow.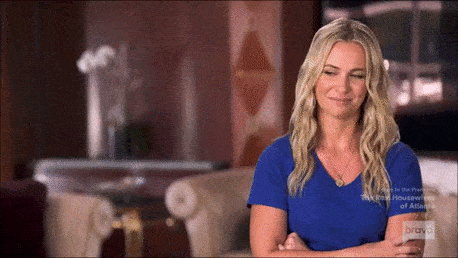 Rachel's food is so LITTLE.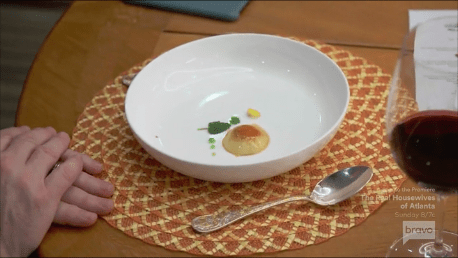 And she always references bathing suit parts, I dunno, man.
The guests roll out early, so Francesca sends Elizabeth to bed and Shane finishes the clean-up on deck. He does a great job but...leaves the swim deck door "laz" wide open. That seems bad.
Ashling is up bright and early and making detox shots for the guests, Francesca loves her, she goes above and beyond. What exactly does she love about her?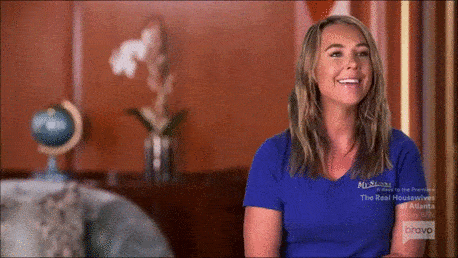 Of course.
Eddie talks to Shane about leaving the back door open on the superyacht, Shane apologizes to him and then Captain Lee, whom he confesses to. It's hard not to like Shane, he's trying really hard to get better at something he hasn't done before.
The guests finish up brekkie and make straight for the waterslide while the deck crew sets up the beach picnic. I have to say that Izzy seems much, much happier as part of the deck team than she ever was working inside as a stew.
There are some pretty big failings in the Interior crew; for one thing: they don't communicate. For another: Elizabeth. Naw, that's mean, I'm sure she's fine but she just doesn't seem very with it. There's a 1:00 pm lunch which Ashling set up for relatively quickly but Rachel can't get anyone to help her load food on the tender. Elizabeth has noticed she's not being sent to the beach and she's worried, making her...slower.
The guests have an amazing time on their picnic, which comes with its own menu and a truly beautiful outdoor table setting. The view of Five Harbours...it's unreal. If I was ever going to have an obscene amount of money: this is what I would spend it on.
Let's do a little check against last week's picnic:
7 tender trips to the beach last time for forgotten items last week; only one there and back this time
The guests stay two and a half hours, snorkeling and sunbathing and enjoying the beautiful view; I think they stayed for only an hour last week because it sucked arse
The guests are happy, content and relaxed this week as opposed to last week where the crew lost most of their tip after cranky young people hit the ceiling on being treated like shite
So just one little White Party Birthday Party and then this day is done, right? Okay, it's a tasting menu but Rachel's got this! But she doesn't have any of the caviar Primary Tim requested specifically for his birthday, at least she can't find it. We leave her tearing apart the galley looking for the right caviar, can she get it in time?
I'm a little confused because we actually saw her receive two batches of caviar. One this time, but also just before the first charter she got a little black bag that she opened and drooled all over. We haven't been shown her serving any of it, look for the little black bag, Rachel!
And we're out! Until next time, cheers!