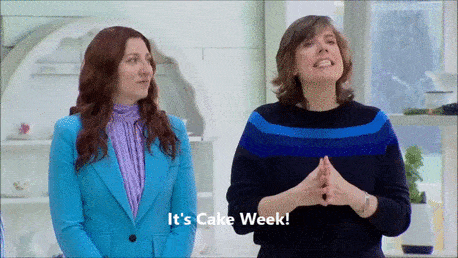 We're back (several years ago) on the Great Canadian Baking Show for season 3!! I pledge to thee and thous that I will not take longer than one month to complete this here season of baking extravaganza. Should I stray from that target, I invite you to email me at [email protected] to hurl invective and receive my most sincere apologies. Rolling into my recap of GCBS S3:E01 Cake Week after the break because don't we ALL need a little more Dan Levy in our lives? We do. We do.
Oh. OH. We do not have any more Dan Levy in our lives, but we DO have a whole lot of Aurora Browne and Carolyn Taylor! I didn't know they changed hosts per season! I'm excited. I love DL but the Baroness Von Sketch show is epic and I'm suddenly that much more engaged. It's like Kids in the Hall but funnier (sorry) (we'll always have Girl Drink Drunk tho).
Hey! We have a new judge too! Bruno Feldeisen is back but Rochelle Adonis has moved on to other Greek pastures and we have Kyla Kennaley with the good hair and the extensive pastry chef experience.
I get chills.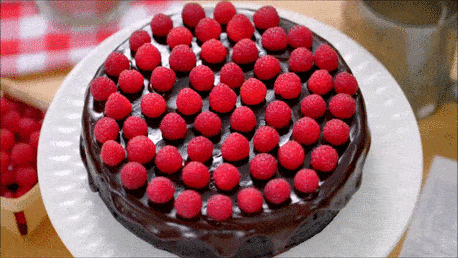 Who've we got? I'm going to throw them all out here with the surnames I could find without spoiling myself:
Liam Harrap of Revelstoke! I have many, many unkind things to say about Revelstoke, but that's only because I've been there
Jasmine Linton of Richmond Hill, ON and I'm just sad I used my good hair line already because hers is GORGEOUS. Fluffy.
Betty Chan from Vancouver
Chris Koo from Edmonton (YEG REPRESENT) (Wait. We're leading in COVID in the country right now) is a multi-tasking doctor
Colin Asuncion of Toronto or the TDot is adorable but mostly I like that he sings his mistakes
Jay Smidt from Quebec who will be sporting a phanton "ch" in his name in my head.
Jodi Robson of Regina with the beautiful dress Day 1.
Mary Lou Snow from Newfoundland
Andrea? I can see her in an apron but she wasn't in the non-spoilery list I found so we may have to wait until the end to find out
I see a Natalia too, no clue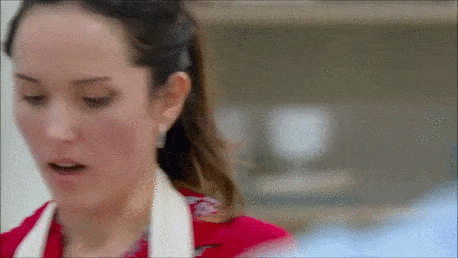 So what are we making today for our Signature Challenge?? And what's our theme this week anyway?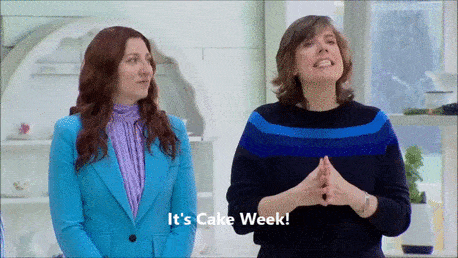 I am just as excited as Aurora!! I love Cake Week! But this one has to be baked in the shape of everyone's favourite or lucky number…okay…mine is 8! In case anyone wanted to know, because it's round and comfortable looking and that should not be extrapolated whatsoever towards my physique THANKYOUVERYMUCH.
Chris is making 2!! 8s!!!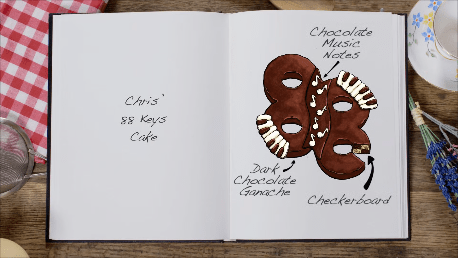 (He's the doctor from Edmonton, too, so…sorry I picked a favourite already…)
Jodi is Nakoda Cree and her lucky number is 4; which has cultural significance. I love that she's married to a professional wrestler!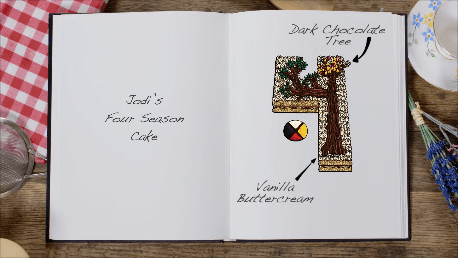 Wait! Colin is in a boy band so he sings EVERYTHING! I love a music theatre major woooooooo! Okay, what's he baking? Three members in his boy band! (They look like men, for the record)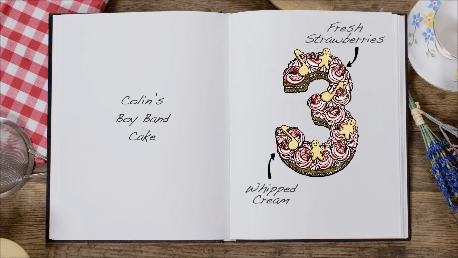 On to Betty from Vancouver, who learned French pastry chef stuff in…France. She's doing an 8 because that's it's considered a fortunate number in her Asian culture.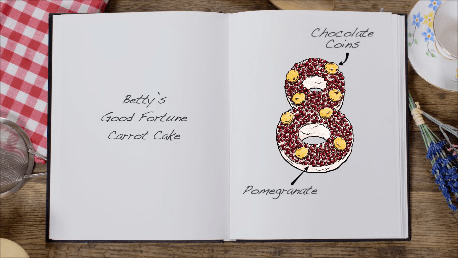 Moar 8s wooooooo!
Natalia is from the Ukraine, where 8 is also kind of a big deal. March 8 is the one day of the year when the men cook? I may have that wrong. Hey, she's also from Edmonton, I recognise the bridge in the b-roll they shot of her!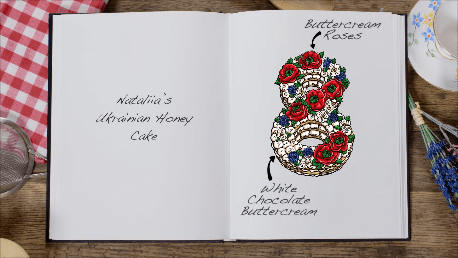 Sigh. I love that Andrea is from Comox, BC and I love that she wants to celebrate her two adorable daughters but: Earl Grey and white chocolate.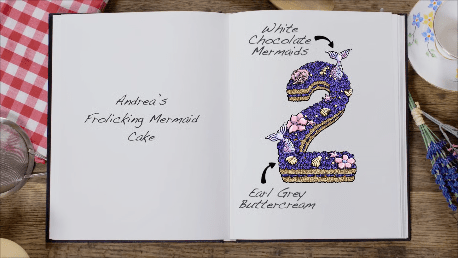 Hm. They're making Revelstoke look mountain-y and "rustic" in Liam's promo roll, is that so we don't notice he's a walking hairball?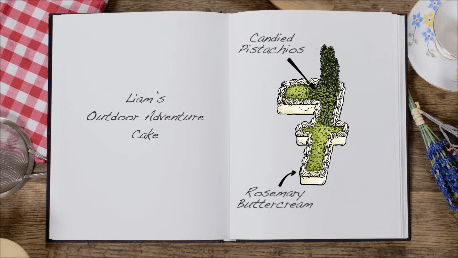 I mean, there are mountains and it is a small town, I'm just pretty sure there are stoves too and people don't create over open fires all the time.
Mary Lou (who!) is making a chocolate cake for her husband of one gazillion years.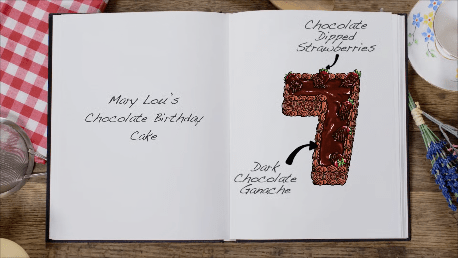 Jasmine must be a teenager or close to it, she's going for an oozing blood effect.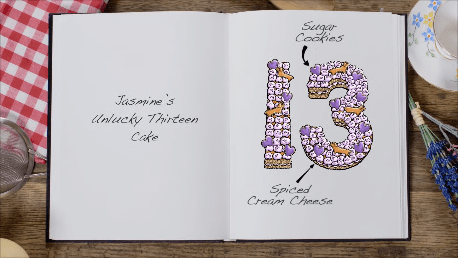 Wow, the chemistry between the hosts is just so awesome this year, I love it! And they're both funny!!!
Most of the sponges are baked, but Andrea used too little oil on her pan so she's got a delicious cake in pieces.
Oh. Jay is making salted caramel because I can't have nice things. His husband plays rugby, I think, at least Jay supports the local gay rugby team with treats so you can't hate that.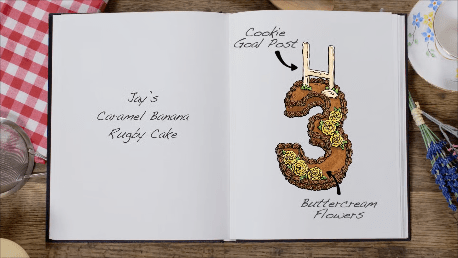 I may have ruined a whole season of the Great British Bake Off for myself by focusing too much on workstation untidiness, but Chris, honestly, you're a doctor, man.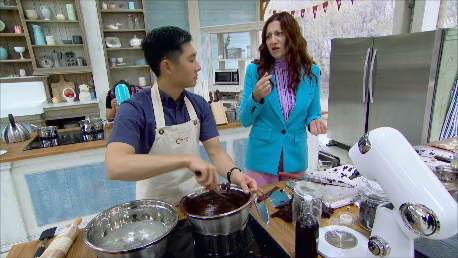 Aurora and Carolyn cheer on the final few minutes of decorating.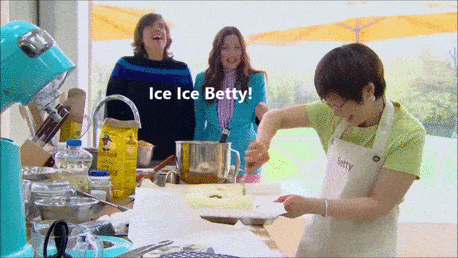 I have an estranged sibling who taught my kiddos to sing "Ice Ice Baby, go slow, go slow" when walking across ice; it will be their legacy, mark my words!
We're already ready for judging in our first Signature Challenge of season three of the Great Canadian Baking Show!
Andrea's cake looks amazing! Slightly under-flavoured, it earns a thumbs-up nonetheless.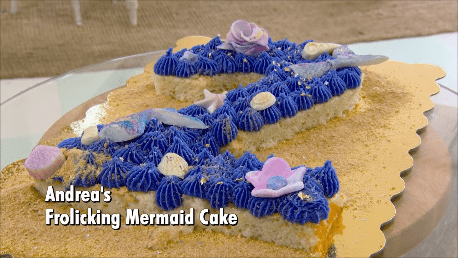 Liam's cake is a little dry, but good overall.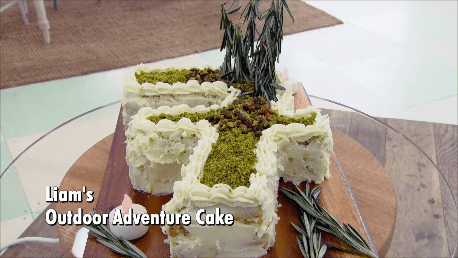 Jasmine's cake is stylish with not quite enough substance.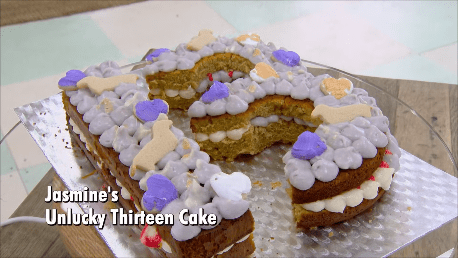 Mary Lou has left the tops on her strawberries, perplexing me, but the judges love her cake and everything on it.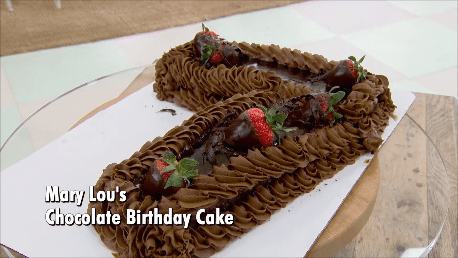 Betty's lucky fortune cake is a bit dry and slightly under-flavoured.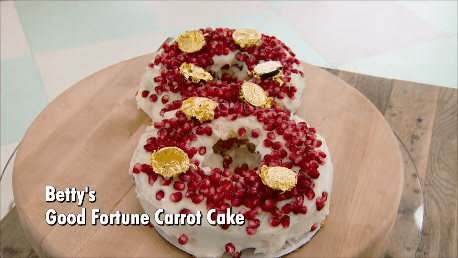 Wooooo gay rugby league cake! Oh right, salted caramel.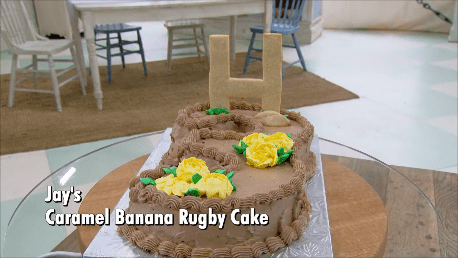 The cake is legit half icing, hahahaha.
Boyyyyy bands are my fave! Even ones that use matcha (feh). It is well received.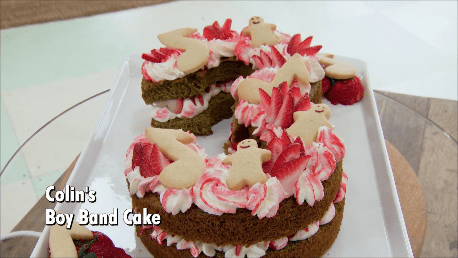 Oh wow, I love Natalia's cake, but is it a cake? It's icing with a cracker in between, amirite?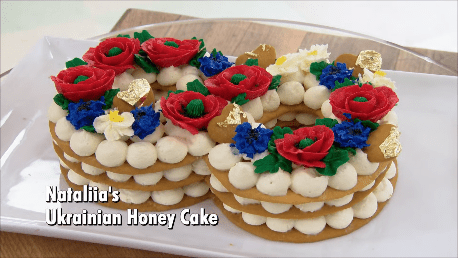 Chris had a teensy bit of trouble with his icing, good thing it tastes great!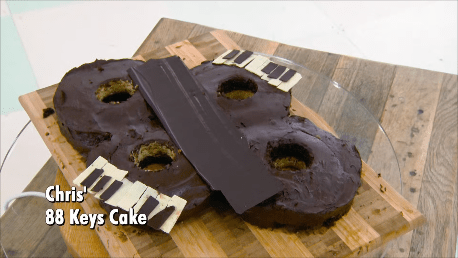 Jodi is a master, you can tell. That is some beautiful decorating; it's flavourful and moist with it.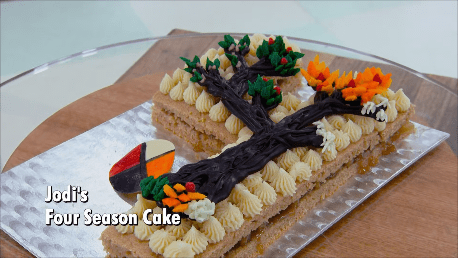 It's time for our first Technical Challenge of the third season of the Great Canadian Baking Show, whatswegot?? Oh. A strawberry roulade. That oughta be easy! Make a thin sponge in a cookie sheet, slap in some filling: done!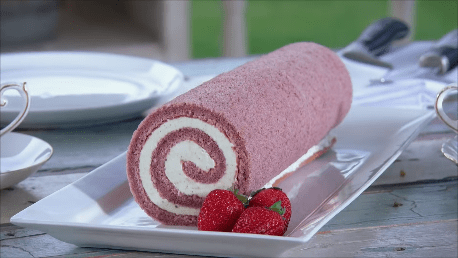 Says the person sitting comfortably at home with all the time in the world.
I mean, they only have 90 minutes, so that will be the challenge part. Hmmmmm Jodie's never made one but it's a favourite of Andrea's.
The sponge is the first challenge, Natalia actually forgets to add sugar, which seems of the utmost importance. You add the sugar after this stage, gleefully demonstrated by our sprightly Colin, who, like me, calls everyone "girl."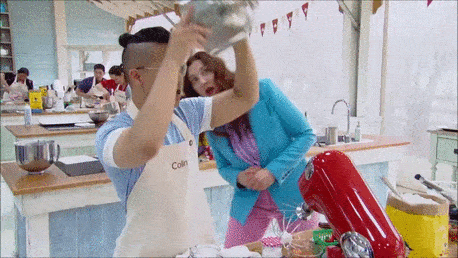 The sponges are rolled up in a clean tea towel while warm to encourage later shaping, Colin's bright cake comes out with a zillion cracks and all his dismay. I mean, at least he has sugar innit.
Oh no Chris.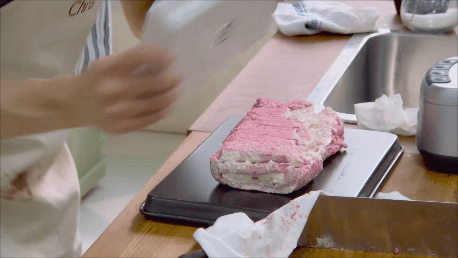 Judging runs from least best to most awesome, they are: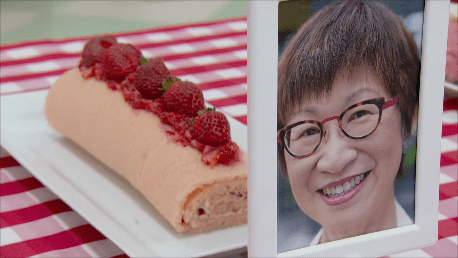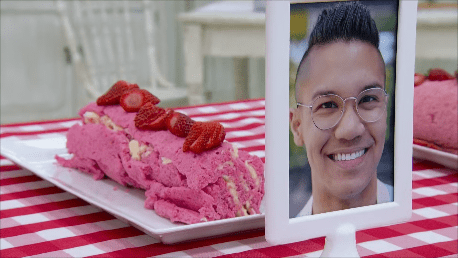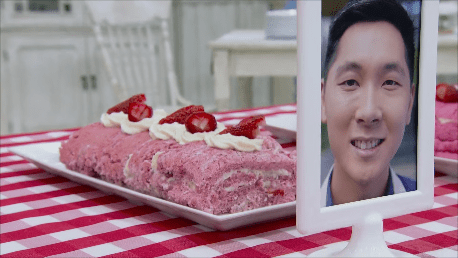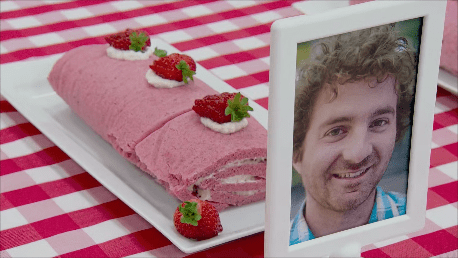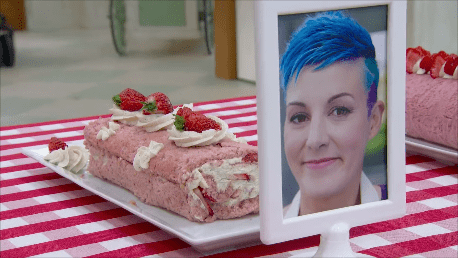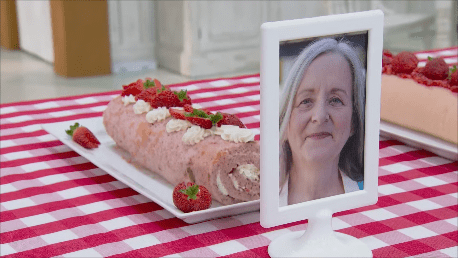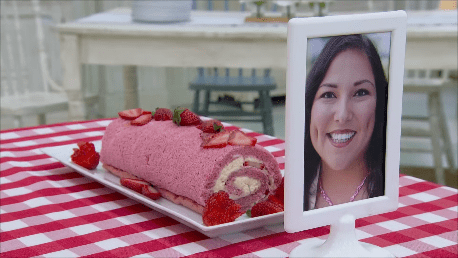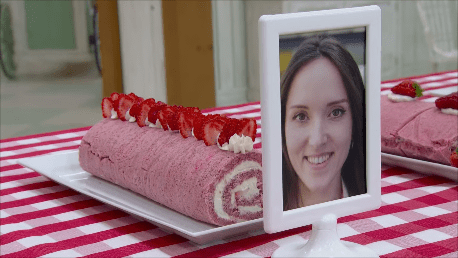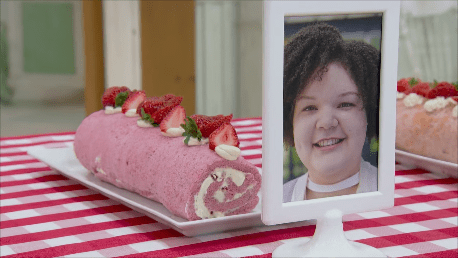 And that means Jay wins the first technical challenge of season 3!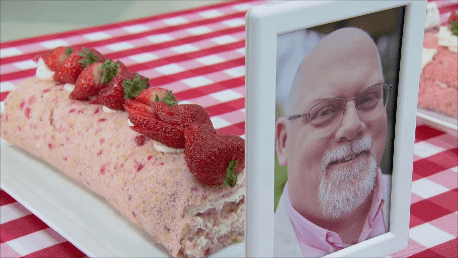 He's extremely Canadian in his "who me?" acknowledgement of his win, Natalia is less when she declares she would have won first place with more sugar. I will say she does fantastic decorating, the other bakers better be on their game.
The judges were also mad that everyone kept putting fresh strawberries inside their rolls, it wasn't in the recipe you guys!
Oh wow, the Show Stopper challenge is only three hours! How are they supposed to create a provincial flag cake in only three hours? Well. I guess it's a decorated rectangle, so.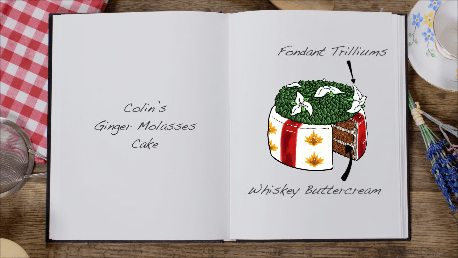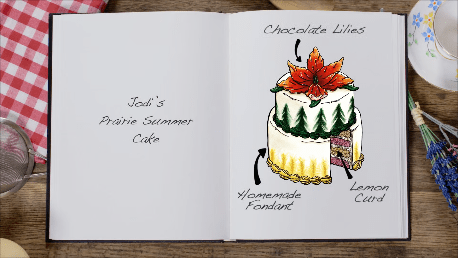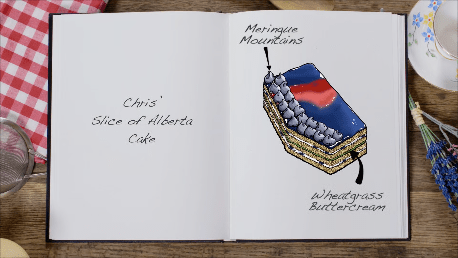 Huh. Cold-pressed canola oil sounds like something Chris and Alberta came up with to keep up with the Olive Oils.
Lots of BC cakes, that's where I'm from!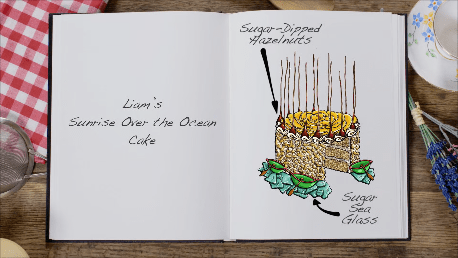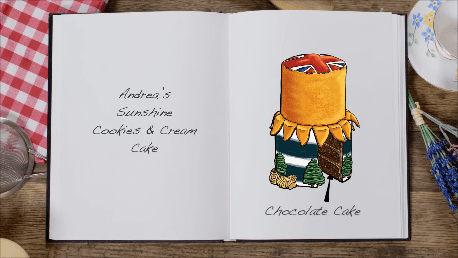 I'm worried about all that Jodi has to do in three hours, maybe don't make the fondant!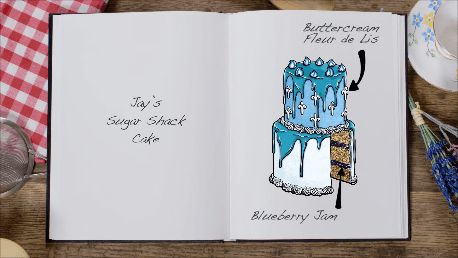 Jay's one of those people who can't say anything without referencing his spouse. We get it, you and Mary Lou are happily married to your longterm partners, wooooooo.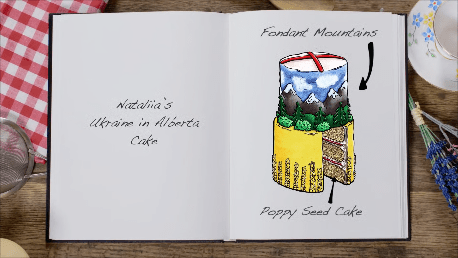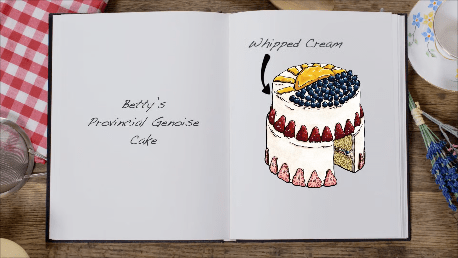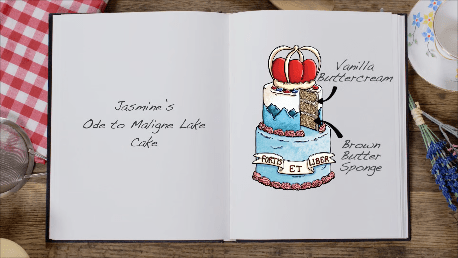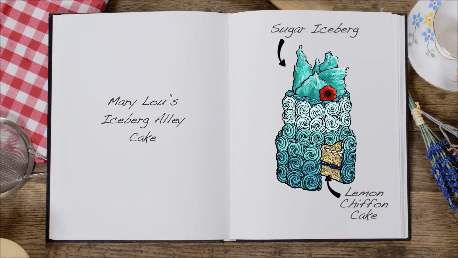 Oooh, that looks like Tim's icing from GCBS S2:E01 Cake Week!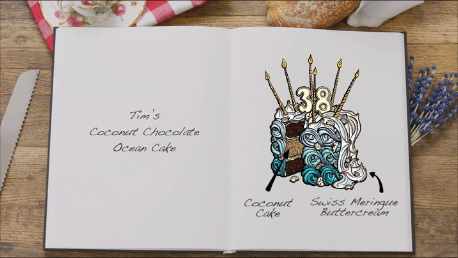 Three hours fly by, nobody drops a sponge or anything! We're in judging before we can ever say: HOW many icebergs in Newfoundland, Mary Lou??
Colin's beautifully decorated cake is up first, lookit that piping work!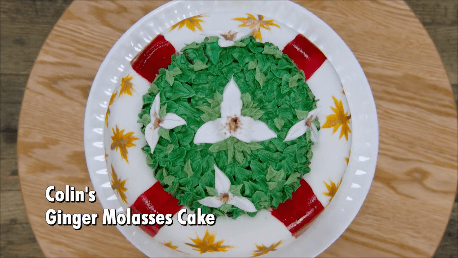 Unfortunately, Jay's got the Leaning Tower of Quebec instead of what he was going for, and a salty cake. That's…weird.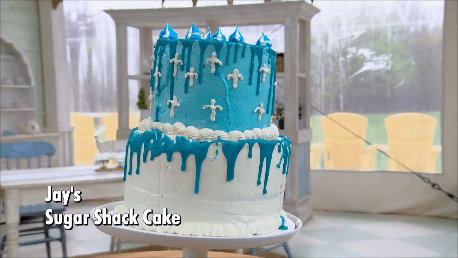 Chris's choice of cold-pressed canola oil resulted in a super yummy cake, good job! His relief is palpable, which always worries me a little.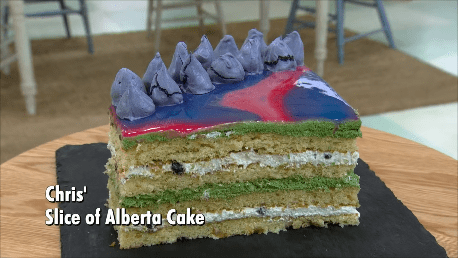 The judges love Nataliia's cake, ehh.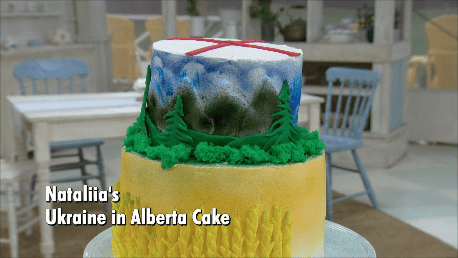 Okay, even on the inside.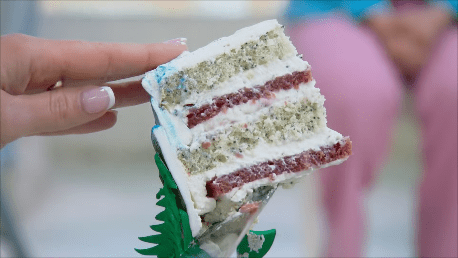 Betty's cake tastes like it looks: slightly less than.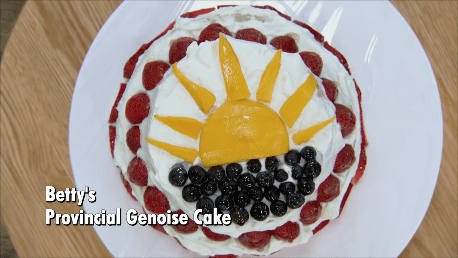 I'm just not sure it's a compliment when Kyra calls Jodi's piping "simple and consistent." The cake itself is slightly underbaked.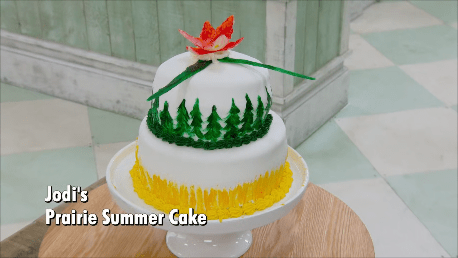 Jasmine is almost in tears over how her cake looks, so Bruno and Kyra are extra Canadian with her.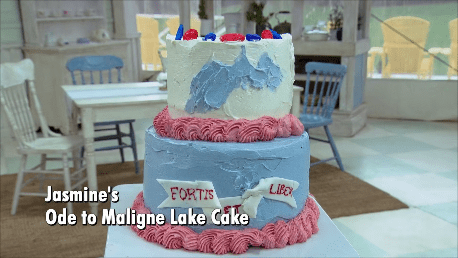 Andrea didn't get much critique on her yummy chocolate cake.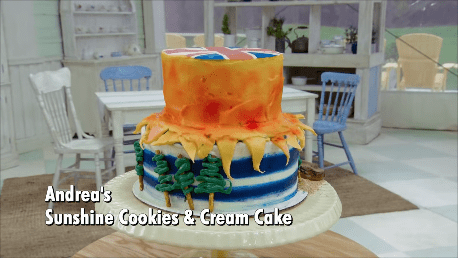 Hm. Liam's cake looks like Revelstoke.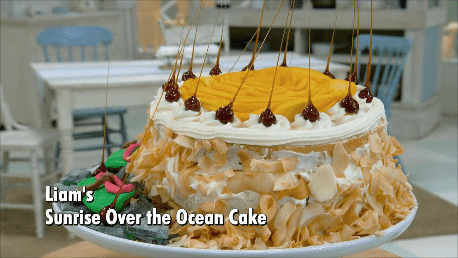 Mary Lous' cake was amazing inside and out. Lemon blueberry sponge wooooo!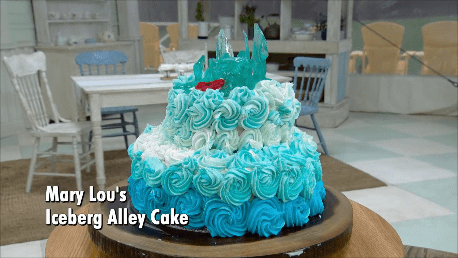 So who's staying and reigning supreme and who is going?? I can't tell yet. Jay did great in the Technical and Signature but his provincial cake was not a smash. Natalia has to be in there for Star Baker, she did great decorating all day. As for who's going home, I don't want anyone to go home yet but I especially would die mad about Colin leaving at this point. Girl.
Let's see what the judges thought!
Star Baker: Natalia! Hahahaha she screamed and got up and high fived every other baker, she so doesn't get Canadian reticence and self-deprecation. I love that, get it girl! You earned it!
And leaving us tonight is: Betty. Awwww. She did great and I'm sorry she is leaving already.
Until next time, everyone! Cheers!