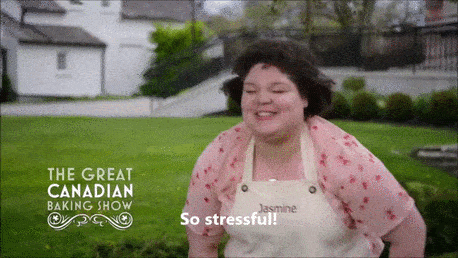 Hai! Welcome back to 2019 (wasn't it a GLORIOUS year??) and the Great Canadian Baking Show where we're one down but 9 lovely bakers to go. Rolling into my recap of GCBS S3:E02 Biscuit Week after the break!
But. Why don't they call it Cookie Week? Now that we're in the Colonies and all, right? Biscuit Week just confuses me and lots of dim people like me.
Liam Harrap of Revelstoke (snort) has been practicing affirmations, he can do this! He's done this, he can do it again and he absolutely has. It must be terrifying (and exciting) to be under those lights and the pressure of the clock.
Hosts Aurora Brown and Carolyn Taylor from The Baroness Von Sketch Show introduce this week's Signature Challenge for our wily judges Bruno Feldeisen and Kyla Kennaley.  Okay, that's why they couldn't call it Cookie Week, because we're also making crackers FINE. 36 identical savoury crackers, to be specific, with a yummy spread.
Nataliia and I don't get why we're baking crackers, they're $9.99 for 1000 at Costco. Andrea is excited, though I feel as though Andrea is going to be excited about all these challenges.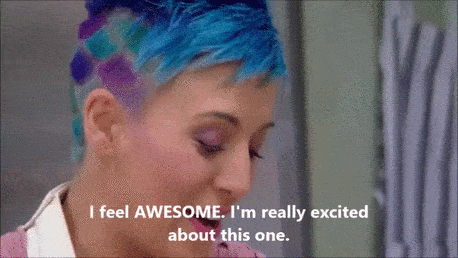 Liam, I got you.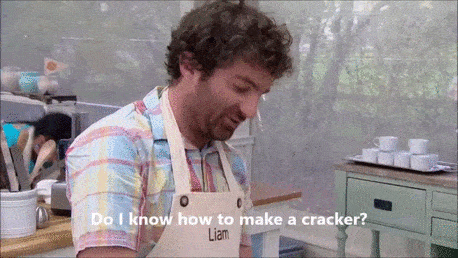 I remember when the kickarse blonde chef on Top Chef made excellent crackers using parmesan rind, that's what I'm looking for. What was her name.......
Colin Asuncion of Toronto serenades us because he's awesome and amazing and I hope he never ever goes home.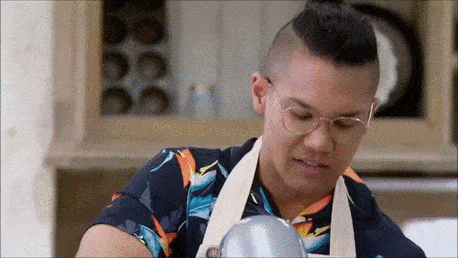 He's making spicy crackers because okay.
Jasmine Linton, also from Ontario, has done something untoward to her hair. Or didn't do something toward her hair. Was she attacked by scissors in the dark?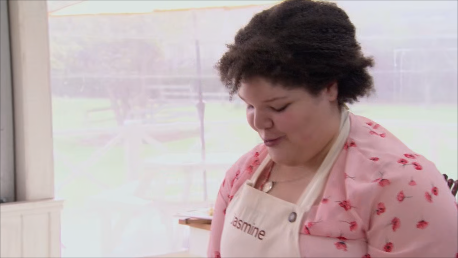 She's so cute. Anyway! She's making Jamaican crackers for her dad, this leads to a montage of her family eating her three-layer pink cake, what's THAT??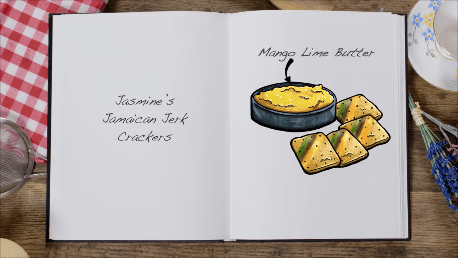 Liam is adorable, he swallows his chin as he tells us he's making somethingsomethingwith harissa.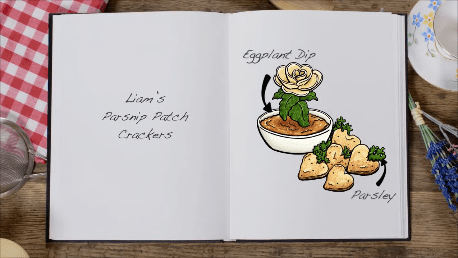 Nataliia is using beets therefor I have nothing to say.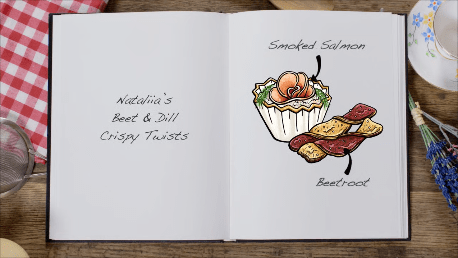 Okay fine, they do look pretty neat. It's a shame they're going to taste like dirt.
Jodi Robson is using beet powder for her flower petal shaped biscuits. Sigh.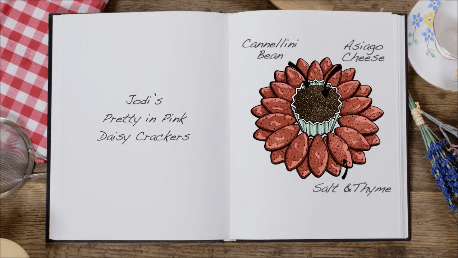 She beaded her own necklace (and matching earrings?) to calm herself yesterday, it's coloured to match some of her ingredients like cuttlefish ink. CUTTLEFISH INK.
Why is everyone using beets?? Have you all eaten beets?? Andrea.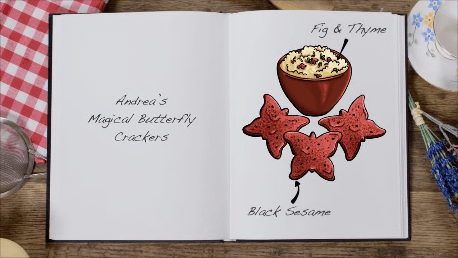 Whew, okay, Jay Smidt skipped the dirt veg at least. I realised I didn't get a gif of him last week, here he is with his husband Carl.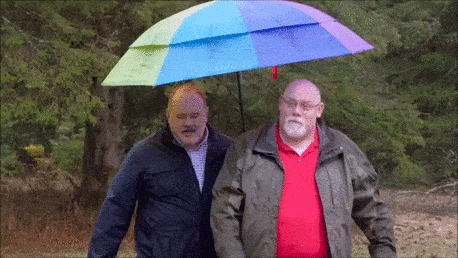 Looks are deceiving here, Jay looks normal height but he and his partner are giants, they must be close to at least six and a half feet tall.
Anyway, he calls his biscuits "Nordic" but Juniper berries make me think G&T, so we'll agree to disagree.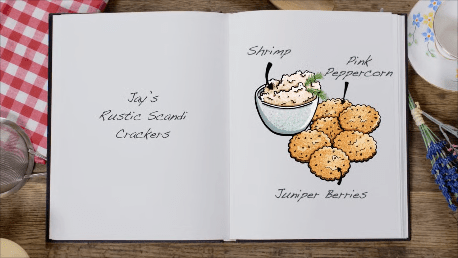 Jay can't get through a sentence without mentioning his hubs, maybe they met and married late in life.
I will be taking a hard pass on everything Mary Lou Snow is offering, sorry. Mustard sauce and salt cod, hmmm, nope.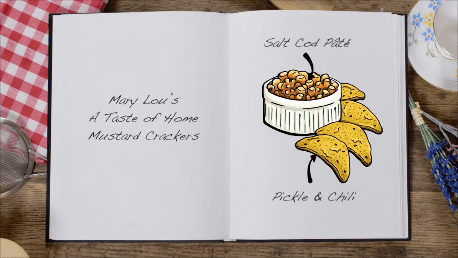 I'm so fussy.
Chris Koo why are you adding fish eggs to your stuff?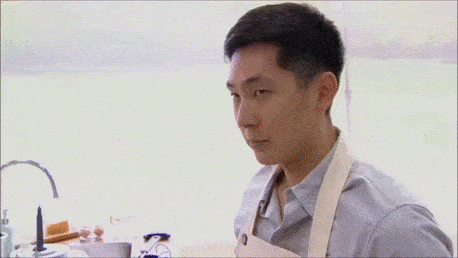 I dunno, the rest sounds good though!
How can everyone still be baking with only 5 minutes left?? Don't they need to DECORATE??
At one minute to go the bakers are reminded to count their crackers, oh no, Jodi's are hella burnt and she doesn't have spares like Jay made.
The judging starts with Andrea and her butterfly biscuits knocking it out of the park.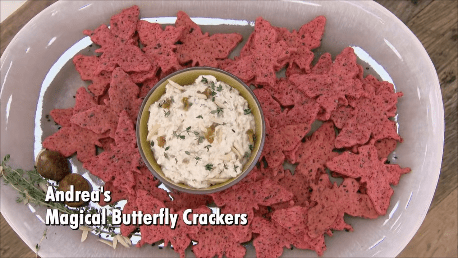 Jay's flavours held up well, he just needs to control the bake.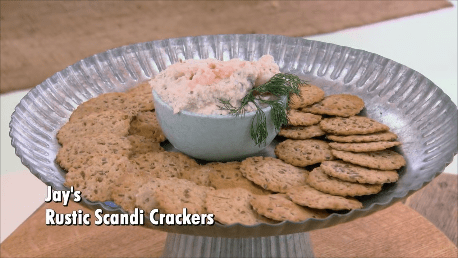 Nataliia is allll about the presentation but she has good flavours and snap too.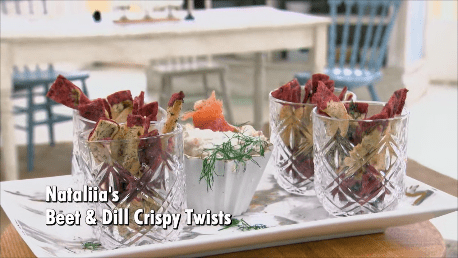 Liam thinks his heart-shaped crackers look like parsnips.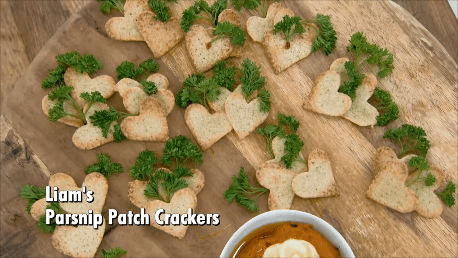 The judges lose the ability to speak because Colin's crackers are a leeeeetle spicy.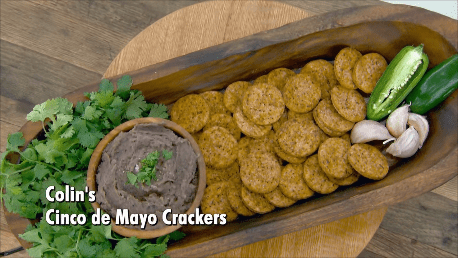 Ah yes. The taste of Newfoundland. Mary Lou doesn't get much feedback, she struggled with consistency as did everyone.
C'mon Jasmine! Ahh they look great but no snap, too soft.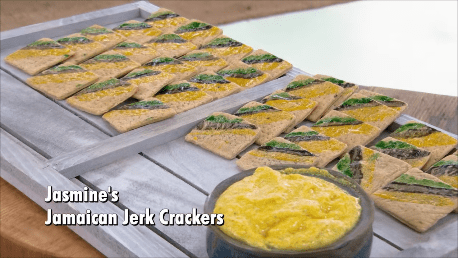 I hope the burned crackers don't take Jodi down.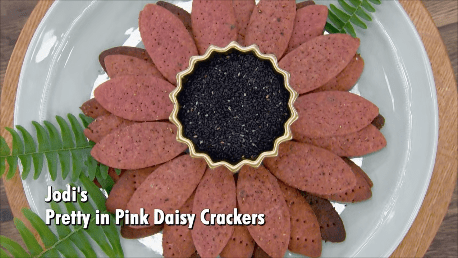 Kyla cannot WAIT to show Jodi how bad. She did this with Colin, not so sure about our Kyla yet.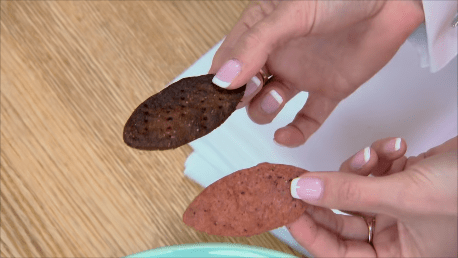 I think Chris gets good feedback but Kyla just keep talking and I couldn't tell.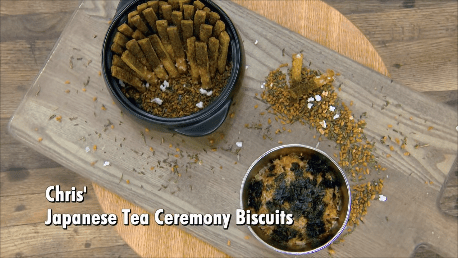 Jasmine is about done.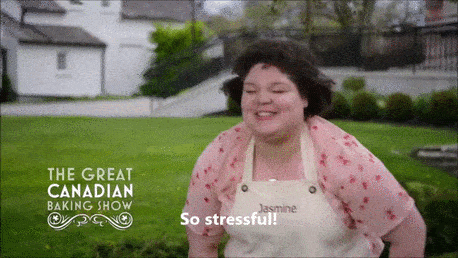 Wooooo onto the Technical Challenge which is 12 marshmallow puffs! I used to love those when I was a kid...mmmmm...now I want marshmallow puffs...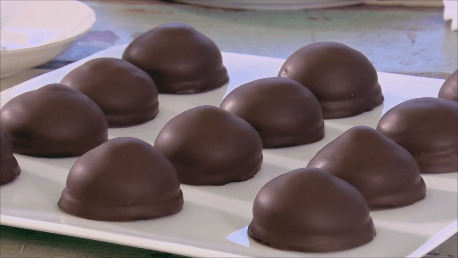 There are a lot of technical elements to this cookie I have never contemplated previously. They have to make jam! And strain it! The marshmallows and tempered chocolate, I tell you, these look tricky.
Let's go to judging, where the judges have ranked our wee cookies in this order:
9th place - Liam, who did not temper his chocolate and did something unfortunate to his biscuit base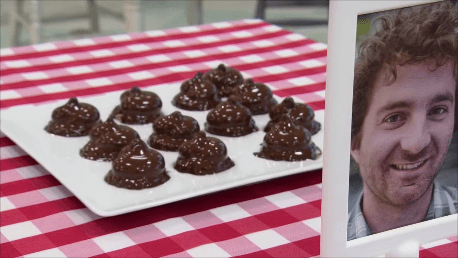 8th place - Jasmine, whose chocolate got away from her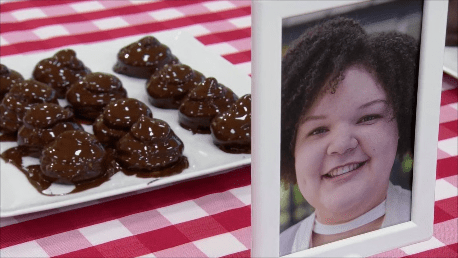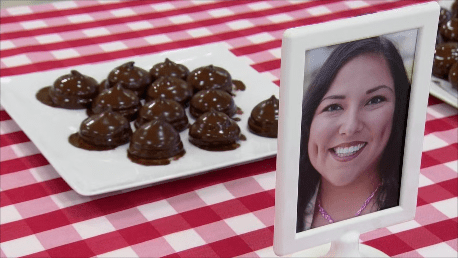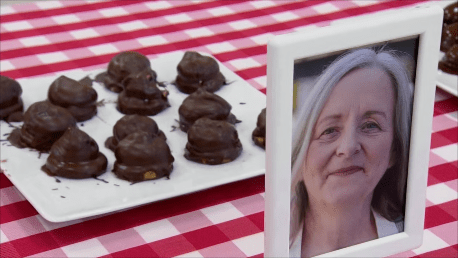 5th place - Colin who did not temper but made a lovely jam for a first attempt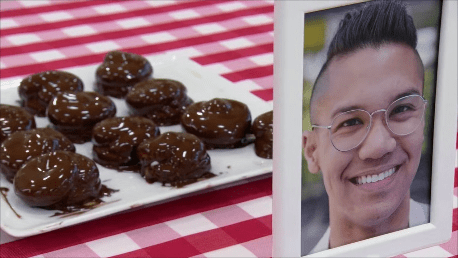 4th place - Nataliia who did not strain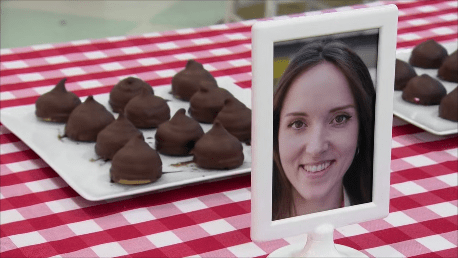 3rd place - Andrea who was technically perfect save for unwieldy marshmallow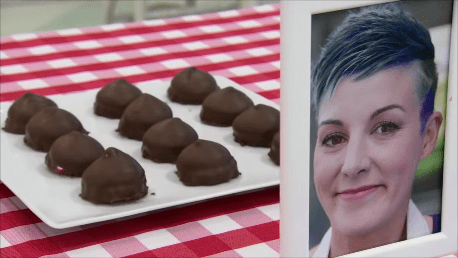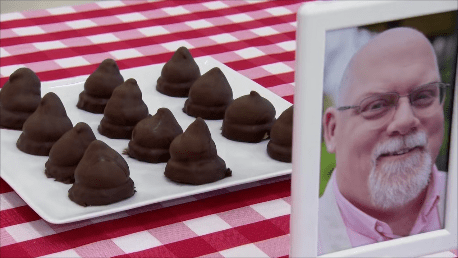 and Chris Koo wins the second Technical Challenge of season three of the Great Canadian Baking Show!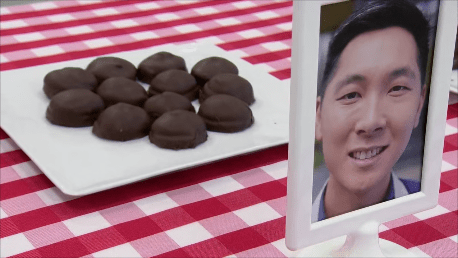 They look almost better than the example marshmallow puff!
I don't know if I understand the Show Stopper Challenge this week...they need to create a fantasy out of biscuits? I have a weird thing about food being used for. Oh. Okay, a G-rated fantasy. Huh. Weird, right?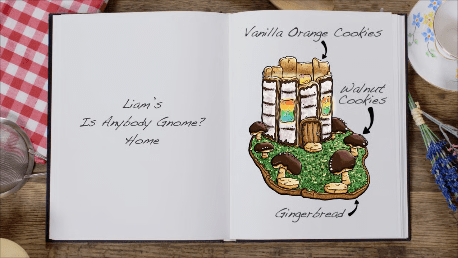 I like Colin's octopus!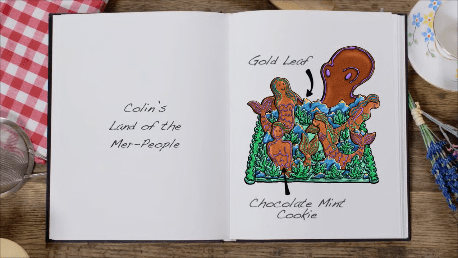 Jay is making a dog sanctuary so I love him and his cookie refuge.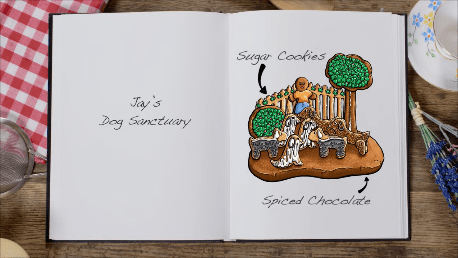 I like meringues!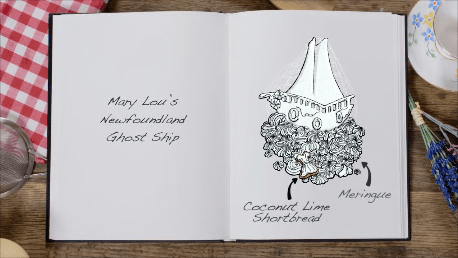 Of course Andrea is doing a fairy diorama. Of COURSE.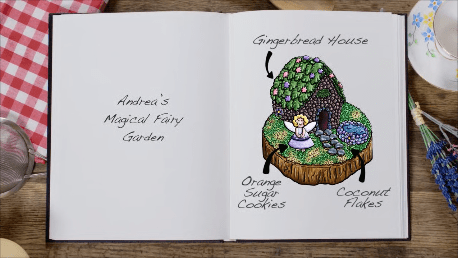 City in SPAAAAACCEEEE!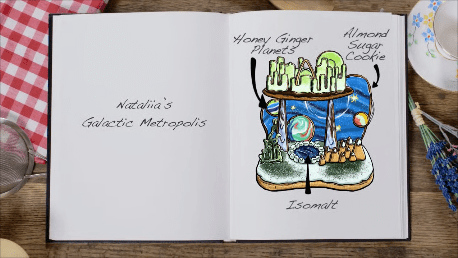 We have a dragon named Jodi!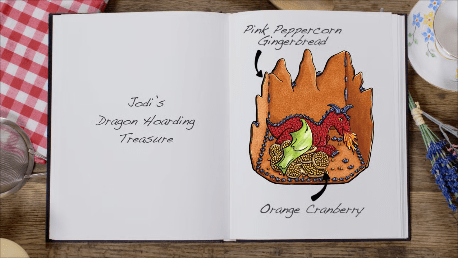 And another one named...Chris? Chris! Why are you making four different cookie doughs?! You don't have time for that!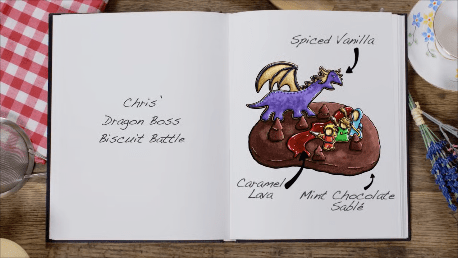 Oh. Right. Fantasies.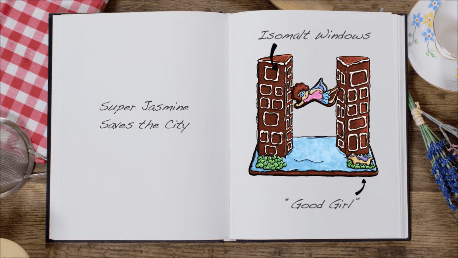 It's a super challenging day in the tent. We all held our breath with Jay.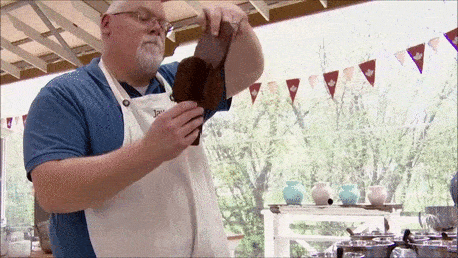 Then helped Liam hug Mary Lou after her bowl bottom stuck.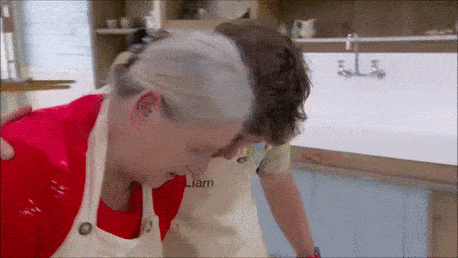 It is super crazy in the tent, even Super Jasmine has a wobble.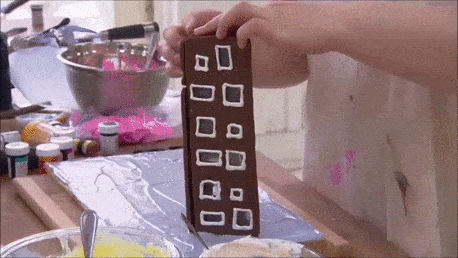 Jodi has chosen to make her dragon scales out of icing, I have a tonne of respect for that. So much extra work but it tastes one million times better.
We're to judging ALREADY!
Nataliia is first with her space station - "delicious"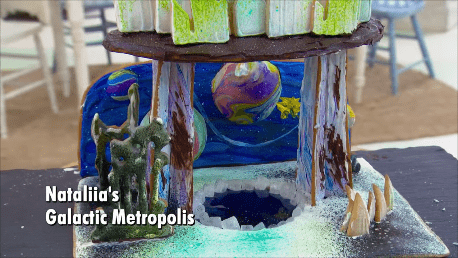 Liam's rough and ready gnome's home - "so much fun"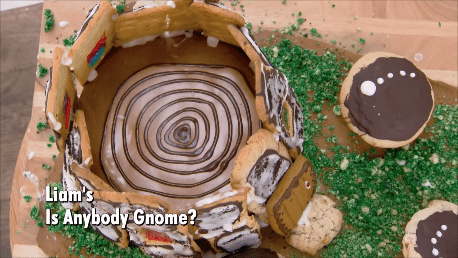 Andrea has a lot going on here - "underbaked but good flavour"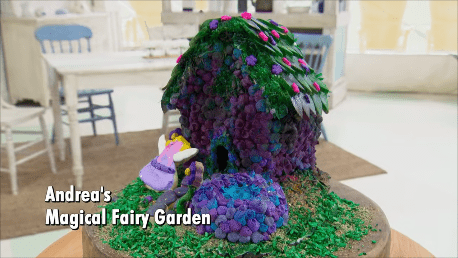 Dragon one! Unfortunately, Chris over-promised and under-delivered.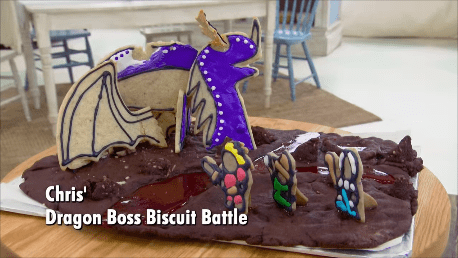 I think we're getting ready to bid our young Jasmine adieu, super or otherwise. Her cookie fantasy is just too basic. And lying on the ground.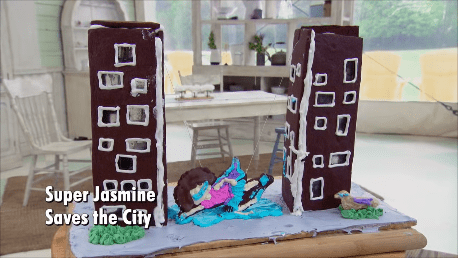 Jay had to scale his tree down to a bush, but he got lots of dogs! That's not quite enough for four hours of baking and decorating time, though.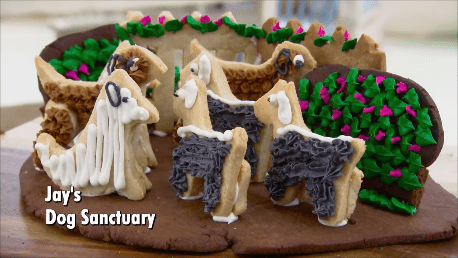 Dragon Two! Jodi's effort is full of excellent little details that the judges love.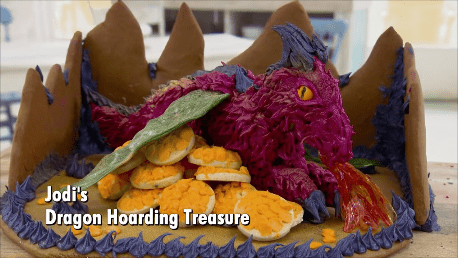 Wow. I can't even make this out, gawdluv Mary Lou for having something at all to present.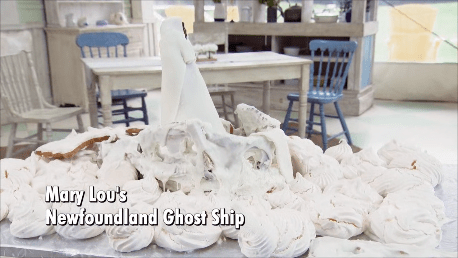 I love Colin's merpeople! They're perfectly baked, whew! Hey! Where's the octopus??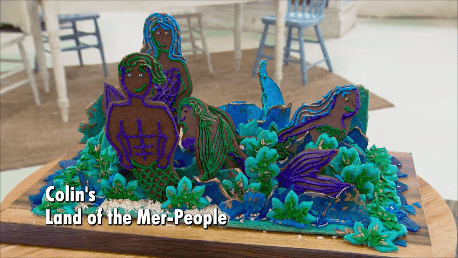 So that's it! Mary Lou and Jasmine are at risk today, who is taking the crown? Hmmmmmmmmmmmmm. I don't know! Maybe Nataliia again?
The judges see it this way: Star Baker is: Nataliia! I was right! So why am I sad about that?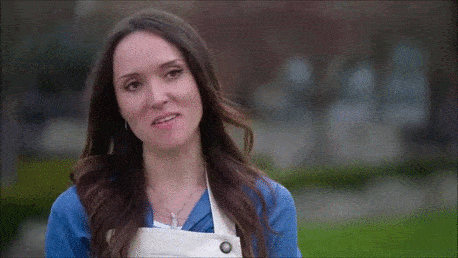 And going home: Mary Lou.
Aww, top 9 in Canada, no shame in that game! Until next time, everyone, when it's Bread Week woooooooo! Cheers.