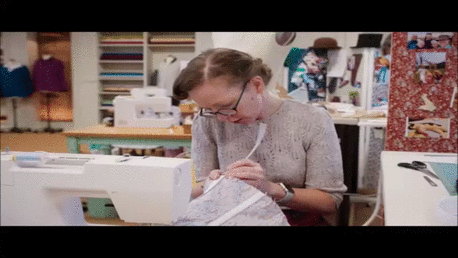 We're back after all that eleganza to celebrate the home sewer once again on the Great British Sewing Bee! We roll into my recap of GBSB S6:E05 Lingerie and Sleepwear after the break!
Last week Ali won Garment of the Week with her stretchy tennis dress avec ball pocket and we lost Hazel to an unfortunately designed set of tennis whites. We will miss her!
We're back in London with host Joe Lycett displaying his wares: his own line of women's lingerie!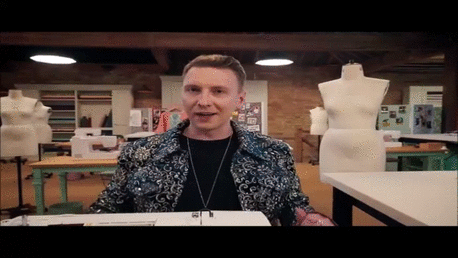 The hardest of passes for my tatas.
Most of the female sewers are comfortable making lingering and sleepwear but we've got a bumper crop of only gay men and they're looking nervous. Although our Matt Gage does design such delicates for his drag queen partner Miss Martini so he may have a chance!
Judges Patrick Grant and Esme Young distribute the pattern challenge packets, what are we making today?
A boned basque, you say?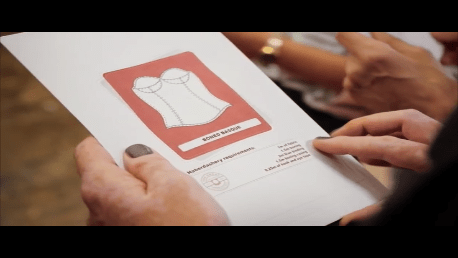 I thought that would look more like a sweaty man of French descent, weird.
Now this is unusual, the obviously British sewers saunter over to the haberdashery in a leisurely fashion, Nicole Akong and Clare Bradley even choose the same fabric for their basques and they wish each other well.
I'm remembering clearly a gaggle of American drag queens throwing elbows to get at a dumpster full of trash in order to build their outfits.
The difference between a basque and a corset is that a corset is adjustable and a basque is not. Interesting!
Esme explains the truly tricky part.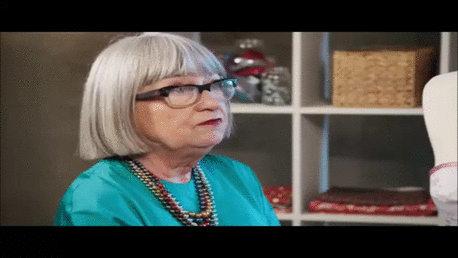 Therese hasn't made underwear, anything with boning or used hooks and eyes, so this is probably not her favourite Great British Sewing Bee week. She and Mark Francis immediately mess up their bra cups.
Once the cups are all attached, it's time to do the boning *snicker*. I can't be the only one laughing like an 11 year old boy, can I? Okay, Joe and Matt snort like schoolboys and I feel as though I've found my tribe.
Boning is tricky because you have to choose the right size sleevy-thingy and attach it carefully to the inside seam.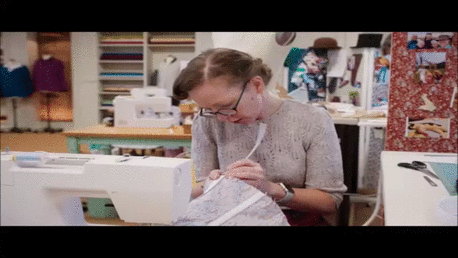 Joe and Fashion Historians Amber Butchart and Susanna Cordner give us a rundown on boning and the humble basque of Spanish origin.
So boning got a whole segment but hooks and eyes sound like a complete nightmare. Ali spent quite a lot of time pattern matching earlier, she's sunk. With only 15 minutes to go she's hasn't even got hooks and eyes on and she's going to attempt to speedread the instructions.
Peter Cant looks like he's been rode hard and put up wet more than once, he's struggling too. I don't expect that everyone is going to finish all the instructions in this challenge.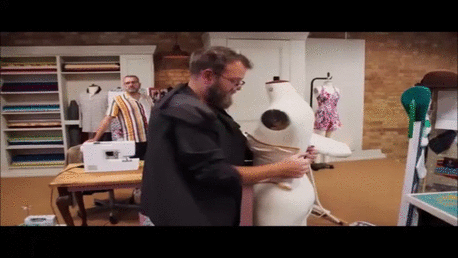 He missed an entire panel!
On to judging, here we have our gang from least best to least worst:
In eighth place: Peter with his missing two panels.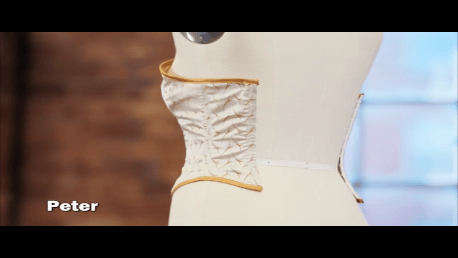 Seventh place is for Therese, who didn't finish even though she had all her panels.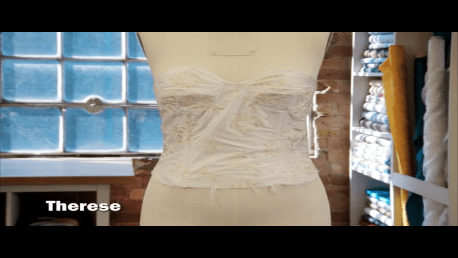 Sixth is for Ali who skipped the part of the instructions calling for boning in the hook and eye area.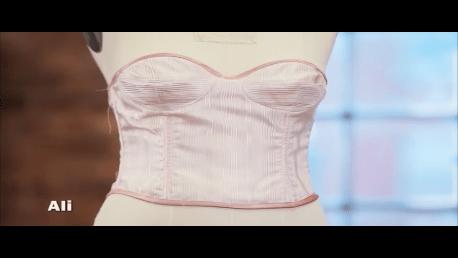 Fifth place goes to Matt and his too big basque.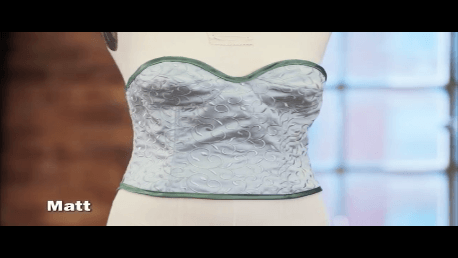 Fourth is for Mark who did fairly well given his only previous experience with laundry was with his mother's brassiere and a washing line.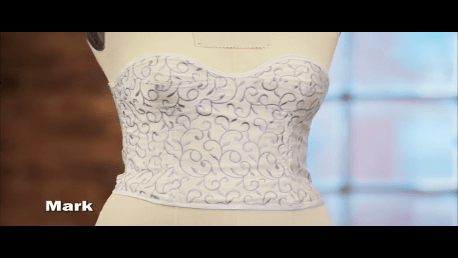 Third is Liz (and if one more person says black satin is "goth" just because it's black I swear to god I will)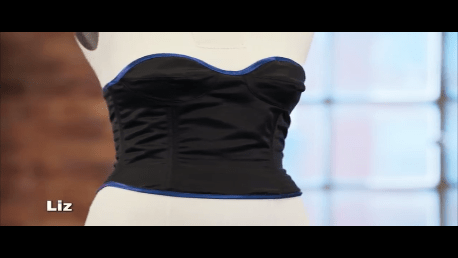 Leaving out two matching fabrics going head to head in the top two. Who will take it??
Nicole lands second place with her immaculate basque in brocade.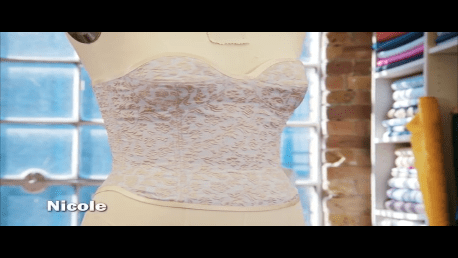 And Clare wins it with her perfect fit!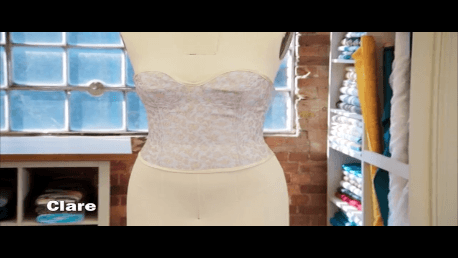 On we roll to the Transformation Challenge where our seamsters will be creating a lady's summer daywear look out of Nana's nightie and Pop's pajamas.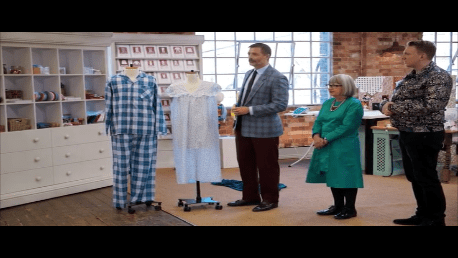 What do they come up with? I'm glad you asked!
From 8th to 1st, they are:
8 – Liz's ehhhh frill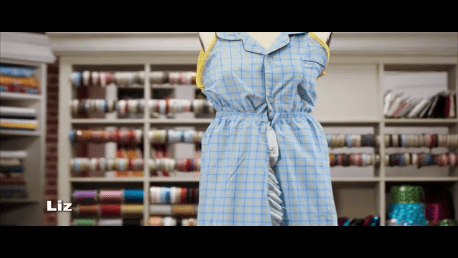 7 – Therese didn't do much with her nightie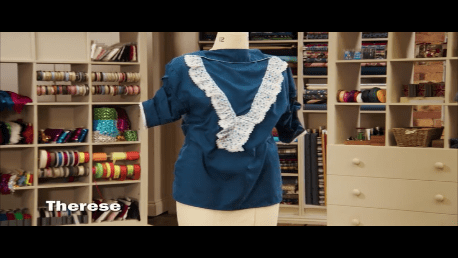 6 – Ali's outfit was ill-fitting if well conceived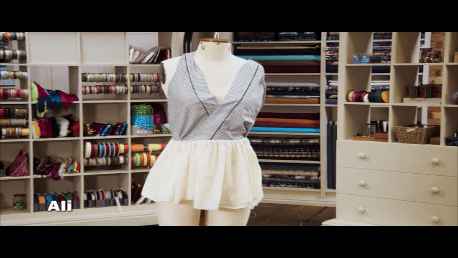 5 – Mark's skirt was a 'substantial' transformation but fairly simple.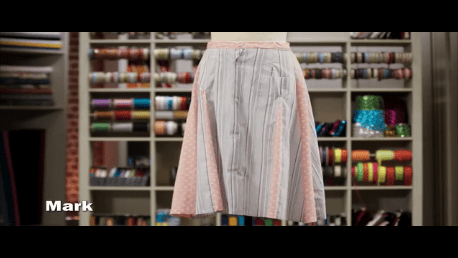 4 – Clare gave us a weird, oddly shaped dress but they liked it?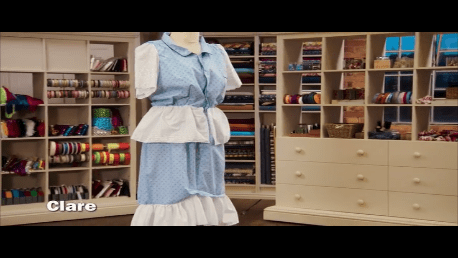 3 – I adored Matt's sketchy little effort.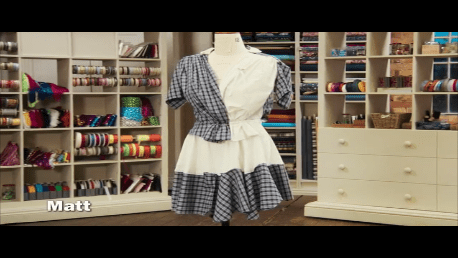 2 – They called Peter's look "Austrian Nanny" and they're not wrong, are they?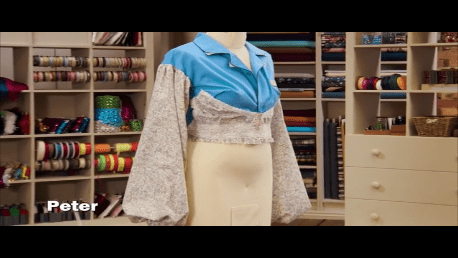 That leaves Nicole as the winner of the Transformation Challenge, she's definitely the front-runner today!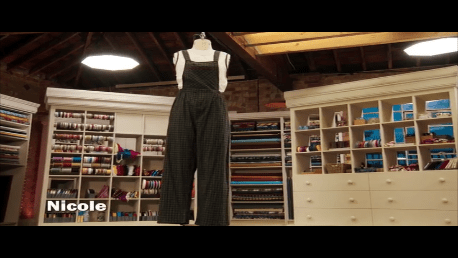 We're into our second day of this week and our third challenge: the sewtestants will be making a two-piece sleepset for their models in the Made to Measure Challenge.
Lots of running around and measuring underwear in front of loads of people, you get the picture. Here are all the planned looks: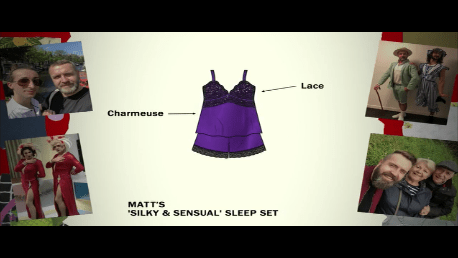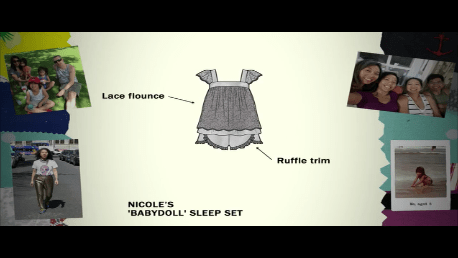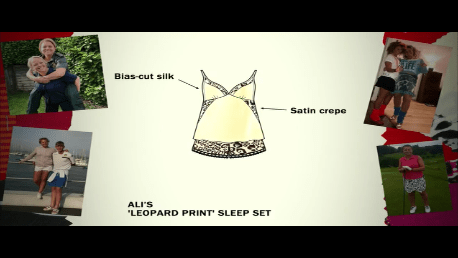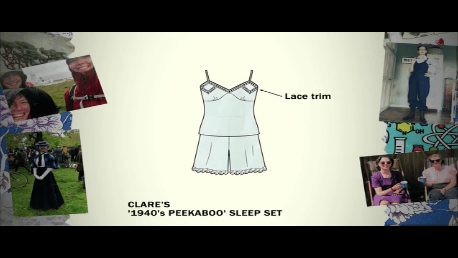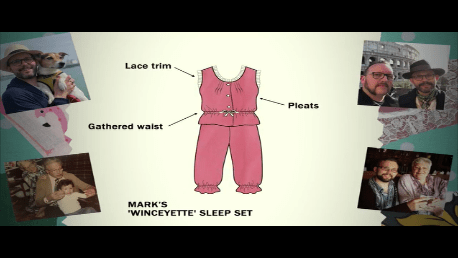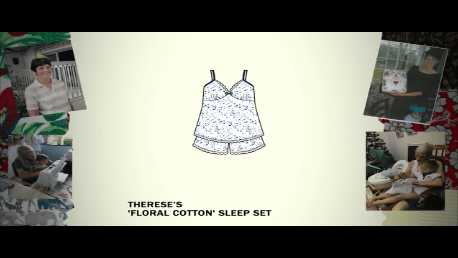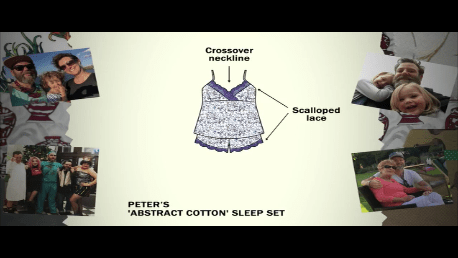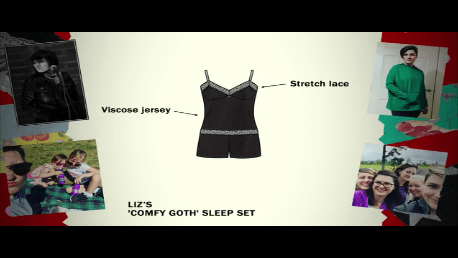 And I learned another new thing! I've heard about material "cut on the bias" but I didn't exactly know what that meant. It's when you cut material at a 45 degree angle, that cut results in more stretch and a better hang. The more you know! Most of the sewers are cutting their material on the bias, we've got everything from huge swaths of lace to the most gorgeous blue silk you can imagine. That would look AMAZING on me, Matt!
Everyone manages to complete their looks but we can tell that Nicole is in trouble. She went into this day far ahead of everyone else, so she'll be fine.
Judging!
Liz's sleepset fits perfectly, it's in the top few for sure.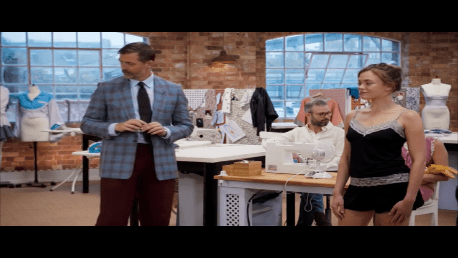 I adore the peekaboo nature of Clare's outfit, but it's both over and under-sized.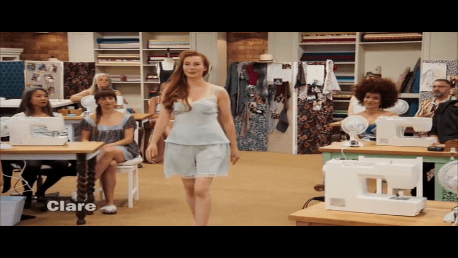 What in the Sam Hill, Mark?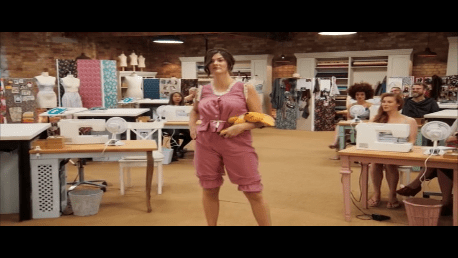 Peter's would have been perfect if he'd had time to cut out the scalloped lace edges on the bottom of the shorts as well.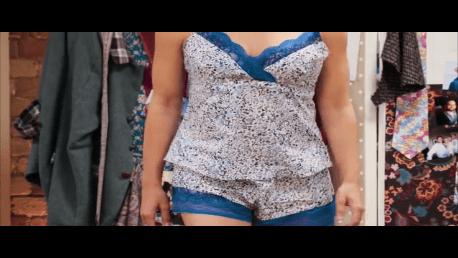 I don't know why the judges hated Matt's work so much, this would look absolutely amazing on me!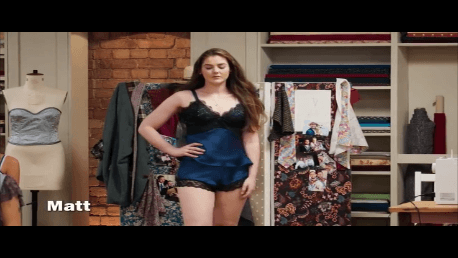 This wasn't Ali's best effort but I like the colour combination.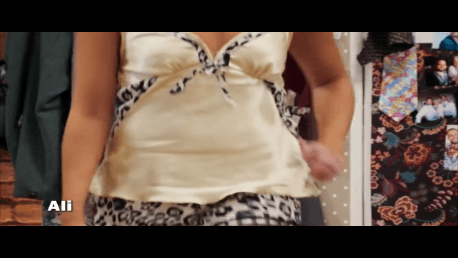 It might be hard to tell but Therese's work was flawless and very well made.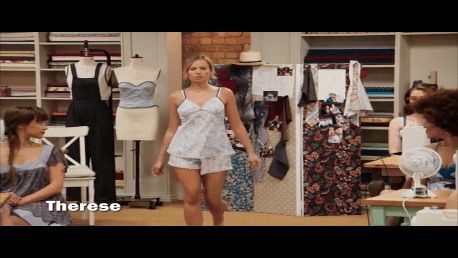 Nicole's….was not.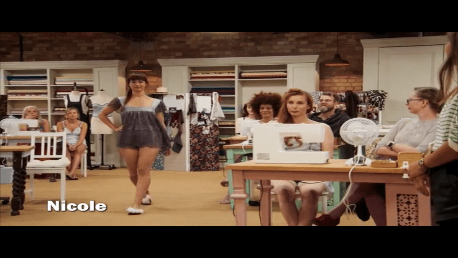 There aren't any clear winners in this set, but Liz and Therese did turn in excellent sewing jobs so they have to be considered in the top. Ali and Matt are not having their best days.
The judges deliberate and come back with their Garment of the Week: Therese's sleep set! She's such a tidy sewer.
Unfortunately, Ali is sent home to her central heating in the north for a trio of ill-fitting garments best left for donation.
Until next time!