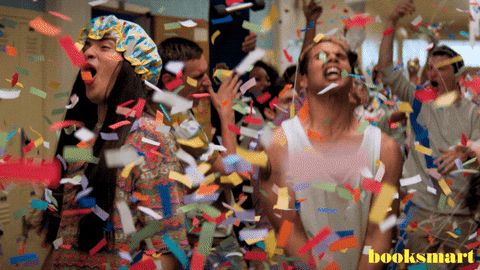 Hi everyone! It's time for my end of the year wrap-up and also the GingesBeCray regular newsletter so I'm combining!! Which is cool and not lazy, right?? RIGHT? So what happened on the site in 2019 and the rest of the tenty-oughts? I'm glad you asked!
First off: thank you so much to each and every one of you for reading. For sharing, for commenting too but just for even taking the time to read a recap or follow a tweet or a Facebook something, you're all awesome. ALL of you.
2019 has been a year of transition for me personally, a continuation of all the changes that started at the end of 2016. When I started this site then, I was a married stay at home mom recapping with a group of friends when I had time. Now I am a single parent with two day jobs and the only recapper for the site, so it's much, much less posting.
I can't foresee giving up posting on the site ever, but it's certainly slowed down. I did institute a Patreon account for anyone wanting to help support the site and get stuff emailed to them directly, but I am horrendously embarrassed at any self-promotion so I don't mention it as much as I probably should.
Movies!
I think the best movies of the year (in no order) were:
Booksmart
Knives Out
Queen & Slim
Parasite
Little
Yesterday
Hustlers
They all had their bits that I loved, and I would have included Once Upon a Time…in Hollywood if not for the last half hour because it was GARBAGE. Peanut Butter Falcon was also sweet, but Uncut Gems felt like the worst way for me to spend a night. It was…not my favourite.
Now! Drumroll please….I will share the most read television recaps of 2019 and the whole decade, woooooo!
2019
No surprise at all as to which shows were in the top five for recaps this year, they were exciting, they took us places and mostly, they seemed to confuse us and require a lot of explanation. They are:
The Five! Every single year, this is the most read recap, I believe for two reasons. A) Some of the happenings were confusing (how could Jesse be in two places? Who shot who in the face) and B) a LOT of happenings happened.  The number one recap of The Five was the finale: S1:E10 The Third Act
Fleabag! Of course Fleabag is in this list, it was my very favourite show of the year (I meant to save that reveal for the end but I'm super bad at waiting) with creator/actor/writer Phoebe Waller-Bridge taking us on an epic journey. She's sneaky, though, she makes us think it's about the funny and shocking then she breaks our hearts and we fall in love anyway. Andrew Scott was a genius addition to the second series, Fleabag will not be forgotten soon by anyone who's watched it.

The number one recap for Fleabag was S1:E01 Pilot, followed closely by the season one finale S1:E06 The Sexhibition
Below Deck! You could have knocked me over with a feather when I saw this, I thought for SURE it's upstart cousin Below Deck Mediterranean would outpace this reality fave, but nope! A combination of Kate Chastain's wit, Captain Lee Rosbach's steady hand and everyone else's general incompetence led to this show's guilty pleasure cachet.

The most popular Below Deck recap on the site came from season 5, Below Deck S5:E09 Hot Mess Express , aka the one before Captain Lee did a little something extra to impress (above).
Doctor Foster! I'm not going to lie, I was expecting a Suranne Jones show to make it into the top five, but I thought it would be her transcendent turn as Anne Lister in Gentleman Jack. No matter, she's in there and her second series of a wronged wife turned wolf had everyone riveted. The second series made me a little bit shouty at times, but it was well -executed, if not strictly necessary inmyopinionthankyouverymuch.


The number one Doctor Foster recap was S1:E01 which I called The Mourning Bride

Annnnnnd rounding out our top five on GingesBeCray is a second show from novelist Harlan Coben: Safe!

Safe stars Michael C. Hall from Dexter (okay, really Six Feet Under but whatever), Amanda Abbington from Sherlock and Cuffs and several other people we recognize like Hannah Arterton from The Five.

The number one Safe recap was of the sixth episode, S1:E06 The Affair(s)
—————————————————————————————————————————————-
So that's 2019! You'll notice that loads of these appeared in last year's top five, it appears you like the same kind of things! Or maybe that my site pulls higher on these shows? Who knows? Let's just enjoy it!
As I mentioned, my favourite show of the year was Fleabag, which was beautifully wrought by one of the best writers in the game: Phoebe Waller-Bridge.
Statistics aside, we had a pretty good year for other shows too! My adored Sarah Lancashire was in two shows. TWO. I could only stomach one (MotherFatherSon was…not for me) but The Accident was worth every minute.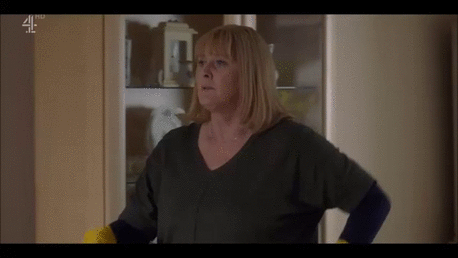 Next year we have another series of Last Tango In Halifax to watch AND possibly even Happy Valley. How awesome is that??
Another one of my favourite shows did very well, the Great British Bake Off came back to a roaring finale of bliss for me.
Black Mirror came back for an abbreviated fifth season, including my beloved Andrew Scott and some other huge cameos.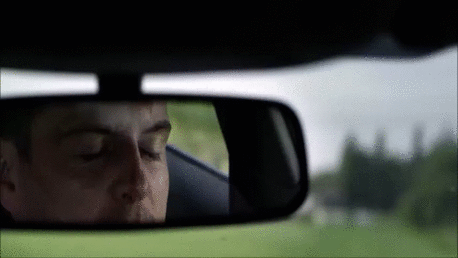 True Detective brought a dour drama with the superb acting of Mahershala Ali in 2019, one of the first seasons I recapped properly. Well. "Properly"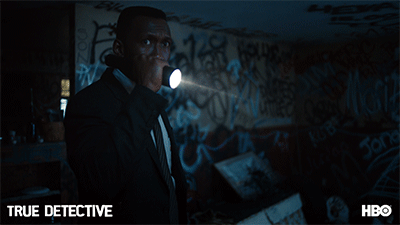 Years and Years was a truly excellent show from BBC One that you must check out. I was timely and political and screamingly watchable even for that, go watch! It even has our Anne Reid from Last Tango in Halifax!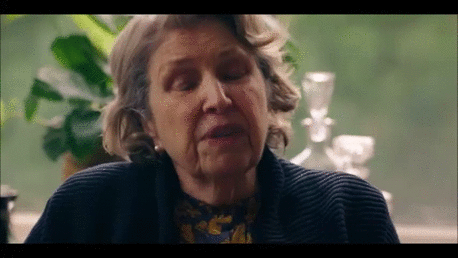 I started a ridiculous amount of shows that I haven't yet finished (see above about time management), but they were new, so I'm including them. Shows like
Good Omens from Amazon Prime – based on my favourite book, currently stalled out at E3. Maybe because I know what's going to happen? I don't know, I promise I'll get back to it!
The Hills: New Beginnings saw our old (but young) pals from The Hills back, including Brody Jenner, Spencer Pratt and Heidi Montag mixing things up with Audrina Patridge, Stephanie Pratt and Justin Bobby. It was fun! I will finish!
Russian Doll from Netflix is one of the best shows of the year, it's a dream to recap and it's only time and the timing for reality shows that's kept me from finishing it already. I'm on it!
I said goodbye to Billions for good in 2019. I enjoyed recapping the first four seasons, but feel its recaps are better left to superfans not paying too much attention to sharkjumping.
2016-2019
On to the decade! I can only claim recaps for 4 years of the last decade, but here are those shaken out by most read:
Just go on and read the list above. It's exactly the same, except that the two top Fleabag episodes switched spots. What are the odds of that?? Way to go, Harlan Coben and Red Production Company, I look forward to your next collaboration in The Stranger coming at the end of January 2020.
There are loads of things coming up in the next year that I am looking forward to, including a collaboration with the website www.WERRRK.com, a LBGTQ website that has been selected for preservation by the US Library of Congress, aka: A Big Deal.
Thanks again for reading! As always, I can be reached on Twitter as @gingesbecray or in email at ginges[email protected] and also on Facebook however you like. Cheers!!